Abstract
We report a case of water-clear cell adenoma associated with primary hyperparathyroidism. A 59-year-old woman with a history of renal stones and bone fracture was referred for investigation of hypercalcemia and an elevated serum parathyroid hormone level. Skeletal X-rays showed osteopenia and ultrasound showed enlarged tumors in both sides of the inferior thyroid region. Computed tomography demonstrated a tumor in the posterior aspect of the left thyroid lobe but no lesion in the right aspect of the neck. Grossly, we found a 500 mg left lower parathyroid gland (PTG) and a 100 mg right lower PTG. Histologically, the left lower PTG comprised mainly water-clear cells (WCCs) containing numerous vacuoles. Chief cells were dispersed among the WCCs, but the right lower PTG showed normal parathyroid tissue. Several investigators have speculated that WCCs are derived from chief cells, and we diagnosed WCC adenoma. Following this case report, we review the relevant literature.
Access options
Buy single article
Instant access to the full article PDF.
US$ 39.95
Tax calculation will be finalised during checkout.
Subscribe to journal
Immediate online access to all issues from 2019. Subscription will auto renew annually.
US$ 79
Tax calculation will be finalised during checkout.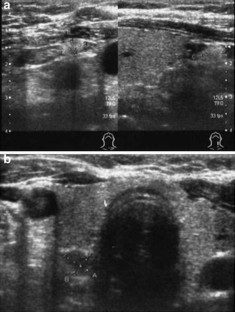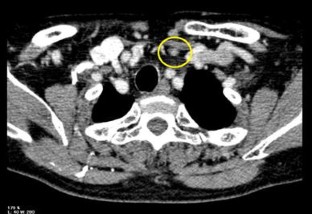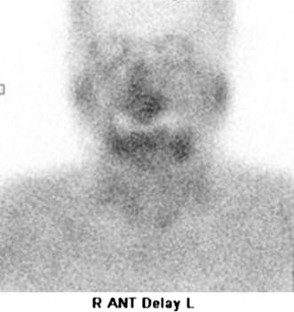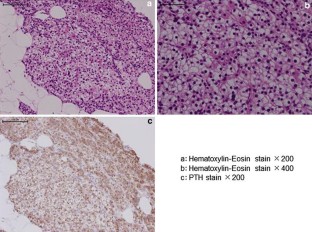 References
1.

Kovacs K, Horvath E, Ozawa Y, Yamada S, Matushita H. Large clear cell adenoma of the parathyroid in a patient with MEN-1 syndrome. Ultrastructural study of the tumour exhibiting unusual RER formations. Acta Biol Hung. 1994;45:275–84.

2.

Grenko RT, Anderson KM, Kauffman G, Abt AB. Water-clear cell adenoma of the parathyroid. A case report with immunohistochemistry and electron microscopy. Arch Pathol Lab Med. 1995;119:1072–4.

3.

Begueret H, Belleannee G, Dubrez J, Trouette H, Parrens M, Velly JF, et al. Clear cell adenoma of the parathyroid gland: a rare and misleading lesion. Ann Pathol. 1999;19:316–9.

4.

Dundar E, Grenko RT, Akalin A, Karahuseyinoglu E, Bildirici K. Intrathyroidal water-clear cell parathyroid adenoma: a case report. Hum Pathol. 2001;32:889–92.

5.

Kuhel WI, Gonzales D, Hoda SA, Pan L, Chiu A, Giri D, et al. Synchronous water-clear cell double parathyroid adenomas a hitherto uncharacterized entity? Arch Pathol Lab Med. 2001;125:256–9.

6.

Kanda K, Okada Y, Tanikawa T, Morita E, Tsurudome Y, Konishi T, et al. A rare case of primary hyperparathyroidism with clear cell adenoma. Endocr J. 2004;51:207–12.

7.

Prasad KK, Agarwal G, Krishnani N. Water-clear cell adenoma of the parathyroid gland: a rare entity. Indian J Pathol Microbiol. 2004;47:39–40.

8.

Kodama H, Iihara M, Okamoto T, Obara T. Water-clear cell parathyroid adenoma causing primary hyperparathyroidism in a patient with neurofibromatosis type 1: report of a case. Surg Today. 2007;37:884–7.

9.

Liang Y, Mojica W, Chen F. Water-clear cell adenoma of parathyroid gland: a case report and literature review. N Am J Med Sci. 2010;3:194–8.

10.

Roth SI. The ultrastructure of primary water-clear cell hyperplasia of the parathyroid glands. Am J Pathol. 1970;61:233–48.

11.

Emura S, Shoumura S, Isono H. Ultrastructure of the water-clear cell in the rabbit parathyroid gland. Arch Histol Cytol. 1992;55:159–66.

12.

Baloch ZW, LiVolsi VA. Double adenoma of the parathyroid gland: does the entity exist? Arch Pathol Lab Med. 2001;125:178–9.

13.

Albright F, Bloomberg E, Castleman B. Hyperparathyroidism due to diffuse hyperplasia of all parathyroid glands rather than adenoma of one. Arch Intern Med. 1934;54(3):315–29.

14.

Hoefler H, Denk H, Lackinger E, Helleis G, Polak JM, Heitz PU. Immunocytochemical demonstration of intermediate filament cytoskeleton proteins in human endocrine tissues and (neuro-) endocrine tumours. Virchows Arch A Pathol Anat Histopathol. 1986;409:609–26.

15.

Miettinen M, Clark R, Lehto VP, Virtanen I, Damjanov I. Intermediate-filament proteins in parathyroid glands and parathyroid adenomas. Arch Pathol Lab Med. 1985;109:986–9.

16.

Chen H, Emura S, Shoumura S. Ultrastructure of the water-clear cell in the parathyroid gland of SAMP6 mice. Tissue Cell. 2006;38:187–92.

17.

Dawkins RL, Tashjian AH Jr, Castleman B, Moore EW. Hyperparathyroidism due to clear cell hyperplasia. Serial determinations of serum ionized calcium, parathyroid hormone and calcitonin. Am J Med. 1973;54:119–26.
Conflict of interest
The authors have no conflict of interest to declare.
About this article
Cite this article
Murakami, K., Watanabe, M., Nakashima, N. et al. Water-clear cell adenoma associated with primary hyperparathyroidism: report of a case. Surg Today 44, 773–777 (2014). https://doi.org/10.1007/s00595-013-0568-7
Received:

Accepted:

Published:

Issue Date:
Keywords
Water-clear cell

Adenoma

Primary hyperparathyroidism