Abstract
A 69-year-old man with jaundice was diagnosed with cancer of the ampulla of Vater by endoscopic retrograde cholangiopancreatography and abdominal computed tomography. A screening gastrointestinal endoscopy showed middle thoracic esophageal cancer and early gastric cancer on the anterior wall of the lower gastric body. We chose a two-stage operation for synchronous triple primary cancer of the esophagus, stomach, and ampulla of Vater, in order to safely perform the curative resection of these three cancers. The first-stage operation consisted of a right transthoracic subtotal esophagectomy with mediastinal and cervical lymph node dissection, an external esophagostomy in the neck, and a gastrostomy. Thirty-five days after the first surgery, a total gastrectomy with regional lymph node dissection, and a pancreatoduodenectomy with Child's reconstruction were performed as the second-stage surgery. Esophageal reconstruction was achieved using the ileocolon via the percutaneous route without vascular anastomosis.
Access options
Buy single article
Instant access to the full article PDF.
USD 39.95
Price excludes VAT (USA)
Tax calculation will be finalised during checkout.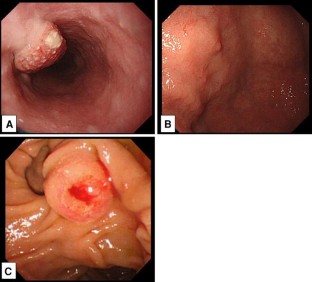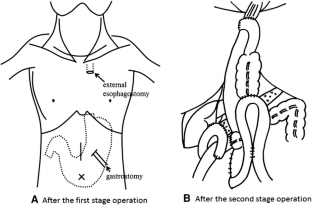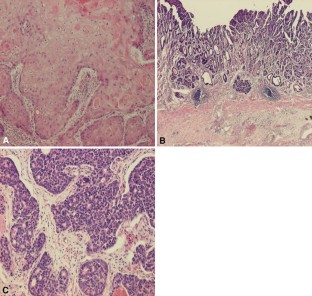 References
Kato H, Watanabe H, Tachimori Y, Iizuka T. Evaluation of neck lymph node dissection for thoracic esophageal carcinoma. Ann Thorac Surg. 1991;51:931–5.

Butte JM, Waugh E, Parada H, De La Fuente H. Combined total gastrectomy, total esophagectomy, and D2 lymph node dissection with transverse colonic interposition for adenocarcinoma of the gastroesophageal junction. Surg Today. 2011;41(9):1319–23.

Japanese Society of Biliary Surgery (JSBS). Classification of biliary tract carcinoma. Second English edition. Tokyo: Kanehara; 2004.

Bassi C, Dervenis C, Butturini G, Fingerhut A, Yeo C, Izbicki J, et al. Postoperative pancreatic fistula: an international study group (ISGPF) definition. Surgery. 2005;138(1):8–13.

Shibuya H, Wakita T, Nakagawa T, Fukuda H, Yasumoto M. The relation between an esophageal cancer and associated cancers in adjacent organs. Cancer. 1995;76:101–5.

Tsurumaru M, Utakata S, Kajiyama Y. Multiple primary cancer in patients with cancer of the esophagus. Gekachiryo. 1982;67:401–7.

Makuuchi H, Tanaka H, Shimada H, Chino O, Nishi T, Machimura T, et al. Esophageal cancer and multiple primary cancer. Gan to Kagaku Ryoho. 1997;24:1–7.

Kurosaki I, Hatakeyama K, Nihei K, Suzuki T, Tsukada K. Thoracic esophagetomy combined with pylorus-preserving pancreatoduodenectomy in a one-stage procedure: report of a case. Surg Today. 2000;30:168–72.

Motoyama S, Yamamoto Y, Maruyama K, Uchinami H, Hasegawa M, Shindo Y, et al. A new two-stage esophagectomy followed by pancreaticoduodenectomy. Am Surg. 2010;76:1442–4.

Kim JY, Hanasono MM, Fleming JB, Berry MD, Hofstetter WL. Combined esophagectomy and pancreaticoduodenectomy: expanded indication for supercharged jejunal interposition. J Gastrointest Surg. 2011;15:1893–5.

Yasuda T, Shiozaki H. Esophageal reconstruction with colon tissue. Surg Today. 2011;41:745–53.

Diener MK, Knaebel HP, Heukaufer C, Antes G, Buchler MW, Seiler CM. A systematic review and meta-analysis of pylorus-preserving versus classical pancreaticoduodenectomy for surgical treatment of periampullary and pancreatic carcinoma. Ann Surg. 2007;245:187–200.

Sano T, Sasako M, Yamamoto S, Nashimoto A, Kurita A, Hiratuka M, et al. Gastric surgery: morbidity and mortality results from a Prospective Randomized Controlled Trial comparing D2 and extended para-aortic lymphadenectomy-Japan Clinical Oncology Group Study 9501. J Clin Oncol. 2004;22:2767–73.

Sugimachi K, Kitamura M, Maekawa S, Matsufuji H, Kai H, Okudaia Y. Two-stage operation for poor-risk patients with carcinoma of the esophagus. J Surg Oncol. 1987;36:105–9.

Saito K, Shimoda K, Shigemitsu Y, Kinoshita T, Miyahara M, Kobayashi M. Extensive lymphadenectomy for thoracic esophageal carcinoma: a two-stage operation for high-risk patients. Surg Today. 1994;24:610–5.
Conflict of interest
Masahide Fukaya and the coauthors have no conflicts of interest to declare.
About this article
Cite this article
Fukaya, M., Abe, T., Yokoyama, Y. et al. Two-stage operation for synchronous triple primary cancer of the esophagus, stomach, and ampulla of Vater: report of a case. Surg Today 44, 967–971 (2014). https://doi.org/10.1007/s00595-013-0549-x
Received:

Accepted:

Published:

Issue Date:

DOI: https://doi.org/10.1007/s00595-013-0549-x
Keywords