Abstract
Liver function assessment is important to ensure safe surgical procedures in patients with hepatocellular disease. Because the liver influences a wide variety of functions, including protein synthesis and metabolic, immune and storage functions, no single parameter is sufficient to adequately address all of these functions. We reviewed the relevant literature concerning the scoring systems, functional tests, plasma parameters and imaging modalities currently used to evaluate the liver function in an attempt to determine which parameters provide the most comprehensive and useful results. While the Child–Pugh scoring system is the gold standard for liver disease assessment, the liver damage grading system recommended by the Liver Cancer Study Group of Japan is also useful. Various models for end-stage liver disease scoring are used for organ allocation. While the indocyanine green clearance test is widely accepted throughout the world, other assessments have not been used routinely for clinical evaluations. The levels of plasma proteins, including albumin, prealbumin, retinol binding protein, apolipoprotein, coagulation factors and antithrombin III, represent the liver productivity. Liver fibrotic markers also correlate with liver function. Imaging modalities such as 99mTc-galactosyl serum albumin scintigraphy, 99mTc-mebrofenin hepatobiliary scintigraphy and transient elastography are also available, but future studies are needed to validate their clinical efficacy.
Access options
Buy single article
Instant access to the full article PDF.
US$ 39.95
Tax calculation will be finalised during checkout.
Subscribe to journal
Immediate online access to all issues from 2019. Subscription will auto renew annually.
US$ 79
Tax calculation will be finalised during checkout.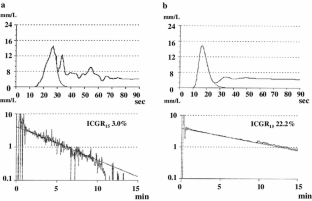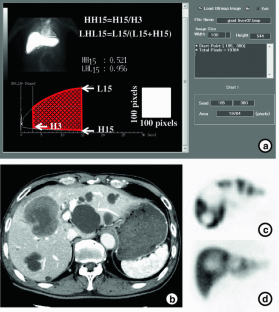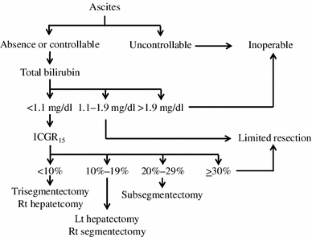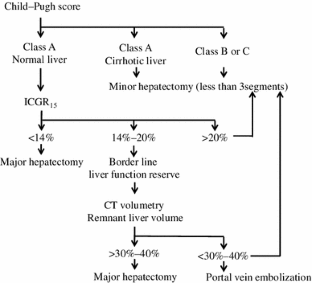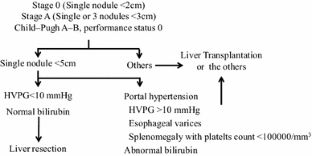 References
1.

Chow PK. Resection for hepatocellular carcinoma: is it justifiable to restrict this to the American Association for the Study of the Liver/Barcelona Clinic for Liver Cancer criteria? J Gastroenterol Hepatol. 2012;27:452–7.

2.

Hoekstra LT, de Graaf W, Nibourg GA, Heger M, Bennink RJ, Stieger B, et al. Physiological and biochemical basis of clinical liver function tests: a review. Ann Surg. 2012 [Epub ahead of print]. doi:10.1097/SLA.0b013e31825d5d47.

3.

Schneider PD. Preoperative assessment of liver function. Surg Clin North Am. 2004;84:355–73.

4.

Sakka SG. Assessing liver function. Curr Opin Crit Care. 2007;13:207–14.

5.

Yamamoto M, Ariizumi S. Surgical outcomes of intrahepatic cholangiocarcinoma. Surg Today. 2011;41:896–902.

6.

Child CG, Turcotte JG. Surgery and portal hypertension. Major Probl Clin Surg. 1964;1:1–85.

7.

Pugh RN, Murray-Lyon IM, Dawson JL, Pietroni MC, Williams R. Transection of the oesophagus for bleeding oesophageal varices. Br J Surg. 1973;60:646–9.

8.

Nakamura Y, Mizuguchi T, Kawamoto M, Meguro M, Harada K, Ota S, et al. Cluster analysis of indicators of liver functional and preoperative low branched-chain amino acid tyrosine ration indicate a high risk of early recurrence in analysis of 165 hepatocellular carcinoma patients after initial hepatectomy. Surgery. 2011;150:250–62.

9.

Quinlan GJ, Martin GS, Evans TW. Albumin: biochemical properties and therapeutic potential. Hepatology. 2005;41:1211–9.

10.

Kamisako T, Kobayashi Y, Takeuchi K, Ishihara T, Higuchi K, Tanaka Y, et al. Recent advances in bilirubin metabolism research: the molecular mechanism of hepatocyte bilirubin transport and its clinical relevance. J Gastroenterol. 2000;35:659–64.

11.

Trotter JF. Coagulation abnormalities in patients who have liver disease. Clin Liver Dis. 2006;10:665–678, x–xi.

12.

Omagari K, Ohba K, Kadokawa Y, Hazama H, Masuda J, Kinoshita H, et al. Comparison of the grade evaluated by "Liver damage" of Liver Cancer Study Group of Japan and Child–Pugh classification in patients with hepatocellular carcinoma. Hepatol Res. 2006;34:266–72.

13.

Cholongitas E, Marelli L, Shusang V, Senzolo M, Rolles K, Patch D, et al. A systematic review of the performance of the model for end-stage liver disease (MELD) in the setting of liver transplantation. Liver Transpl. 2006;12:1049–61.

14.

Huo TI, Lee SD, Lin HC. Selecting an optimal prognostic system for liver cirrhosis: the model for end-stage liver disease and beyond. Liver Int. 2008;28:606–13.

15.

Huo TI, Lin HC, Huo SC, Lee PC, Wu JC, Lee FY, et al. Comparison of four model for end-stage liver disease-based prognostic systems for cirrhosis. Liver Transpl. 2008;14:837–44.

16.

Imamura H, Sano K, Sugawara Y, Kokudo N, Makuuchi M. Assessment of hepatic reserve for indication of hepatic resection: decision tree incorporating indocyanine green test. J Hepatobiliary Pancreat Surg. 2005;12:16–22.

17.

Morris-Stiff G, Gomez D, Prasad R. Quantitative assessment of hepatic function and its relevance to the liver surgeon. J Gastrointest Surg. 2009;13:374–85.

18.

Sheng QS, Lang R, He Q, Yang YJ, Zhao DF, Chen DZ. Indocyanine green clearance test and model for end-stage liver disease score of patients with liver cirrhosis. Hepatobiliary Pancreat Dis Int. 2009;8:46–9.

19.

Oellerich M, Armstrong VW. The MEGX test: a tool for the real-time assessment of hepatic function. Ther Drug Monit. 2001;23:81–92.

20.

Reichen J. MEGX test in hepatology: the long-sought ultimate quantitative liver function test? J Hepatol. 1993;19:4–7.

21.

Ranek L, Andreasen PB, Tygstrup N. Galactose elimination capacity as a prognostic index in patients with fulminant liver failure. Gut. 1976;17:959–64.

22.

Afolabi P, Wright M, Wootton SA, Jackson AA. Clinical utility of (13)C-liver-function breath tests for assessment of hepatic function. Dig Dis Sci. 2012 [Epub ahead of print]. doi:10.1007/s10620-012-2340-z.

23.

Devoto G, Gallo F, Marchello C, Racchi O, Garbarini R, Bonassi S, et al. Prealbumin serum concentrations as a useful tool in the assessment of malnutrition in hospitalized patients. Clin Chem. 2006;52:2281–5.

24.

Mizuguchi T, Kawamoto M, Meguro M, Nakamura Y, Harada K, Kukita K, et al. Prognostic impact of preoperative the branched-chain amino acid to the tyrosine ratio in hepatocellular carcinoma patients after initial hepatectomy. J Gastrointest Surg. 2011;15:1433–9.

25.

Goodman DS. Plasma retinol-binding protein. Ann N Y Acad Sci. 1980;348:378–90.

26.

Blaner WS. Retinol-binding protein: the serum transport protein for vitamin A. Endocr Rev. 1989;10:308–16.

27.

Monroe P, Vlahcevic ZR, Swell L. In vivo evaluation of lipoprotein cholesterol ester metabolism in patients with liver disease. Gastroenterology. 1983;85:820–9.

28.

Duhamel G, Nalpas B, Goldstein S, Laplaud PM, Berthelot P, Chapman MJ. Plasma lipoprotein and apolipoprotein profile in alcoholic patients with and without liver disease: on the relative roles of alcohol and liver injury. Hepatology. 1984;4:577–85.

29.

Katsuramaki T, Hirata K, Kimura Y, Nagayama M, Meguro M, Kimura H, et al. Changes in serum levels of apolipoprotein A-1 as an indicator of protein metabolism after hepatectomy. Wound Repair Regen. 2002;10:77–82.

30.

Kawamoto M, Mizuguchi T, Nagayama M, Nobuoka T, Kawasaki H, Sato T, et al. Serum lipid and lipoprotein alterations represent recovery of liver function after hepatectomy. Liver Int. 2006;26:203–10.

31.

Castelino DJ, Salem HH. Natural anticoagulants and the liver. J Gastroenterol Hepatol. 1997;12:77–83.

32.

Mannucci L, Dioguardi N, Del Ninno E, Mannucci PM. Value of normotest and antithrombin 3 in the assessment of liver function. Scand J Gastroenterol Suppl. 1973;19:103–7.

33.

Rodzynek JJ, Preux C, Leautaud P, Abramovici J, Di Paolo A, Delcourt AA. Diagnostic value of antithrombin III and aminopyrine breath test in liver disease. Arch Intern Med. 1986;146:677–80.

34.

Mizuguchi T, Kawamoto M, Meguro M, Son S, Nakamura Y, Harada K, et al. Serum antithrombin III level is well correlated with multiple indicators for assessment of liver function and diagnostic accuracy for predicting postoperative liver failure in hepatocellular carcinoma patients. Hepatogastroenterology. 2012;59:551–7.

35.

Iwako H, Tashiro H, Amano H, Tanimoto Y, Oshita A, Kobayashi T, et al. Prognostic significance of antithrombin III levels for outcomes in patients with hepatocellular carcinoma after curative hepatectomy. Ann Surg Oncol. 2012;9:2888–96.

36.

Azuma Y, Maekawa M, Kuwabara Y, Nakajima T, Taniguchi K, Kanno T. Determination of branched-chain amino acids and tyrosine in serum of patients with various hepatic diseases, and its clinical usefulness. Clin Chem. 1989;35:1399–403.

37.

Niguma T, Yumura M, Yamasita Y, Maeda K, Kimura T, Yamamura M, et al. Ratio of branched chain amino acid to tyrosine after hepatectomy. Surg Today. 1999;29:825–7.

38.

Gressner AM, Gao CF, Gressner OA. Non-invasive biomarkers for monitoring the fibrogenic process in liver: a short survey. World J Gastroenterol. 2009;15:2433–40.

39.

Castera L. Noninvasive methods to assess liver disease in patients with hepatitis B or C. Gastroenterology. 2012;142(1293–1302):e1294.

40.

Wai CT, Greenson JK, Fontana RJ, Kalbfleisch JD, Marrero JA, Conjeevaram HS, et al. A simple noninvasive index can predict both significant fibrosis and cirrhosis in patients with chronic hepatitis C. Hepatology. 2003;38:518–26.

41.

Lin ZH, Xin YN, Dong QJ, Wang Q, Jiang XJ, Zhan SH, et al. Performance of the aspartate aminotransferase-to-platelet ratio index for the staging of hepatitis C-related fibrosis: an updated meta-analysis. Hepatology. 2011;53:726–36.

42.

Laurent TC, Dahl IM, Dahl LB, Engstrom-Laurent A, Eriksson S, Fraser JR, et al. The catabolic fate of hyaluronic acid. Connect Tissue Res. 1986;15:33–41.

43.

Oh S, Afdhal NH. Hepatic fibrosis: are any of the serum markers useful? Curr Gastroenterol Rep. 2001;3:12–8.

44.

McGary CT, Raja RH, Weigel PH. Endocytosis of hyaluronic acid by rat liver endothelial cells. Evidence for receptor recycling. Biochem J. 1989;257:875–84.

45.

Tamaki S, Ueno T, Torimura T, Sata M, Tanikawa K. Evaluation of hyaluronic acid binding ability of hepatic sinusoidal endothelial cells in rats with liver cirrhosis. Gastroenterology. 1996;111:1049–57.

46.

Engstrom-Laurent A, Loof L, Nyberg A, Schroder T. Increased serum levels of hyaluronate in liver disease. Hepatology. 1985;5:638–42.

47.

Mizuguchi T, Katsuramaki T, Nobuoka T, Kawamoto M, Oshima H, Kawasaki H, et al. Serum hyaluronate level for predicting subclinical liver dysfunction after hepatectomy. World J Surg. 2004;28:971–6.

48.

Kokudo N, Vera DR, Tada K, Koizumi M, Seki M, Matsubara T, et al. Predictors of successful hepatic resection: prognostic usefulness of hepatic asialoglycoprotein receptor analysis. World J Surg. 2002;26:1342–7.

49.

Kaibori M, Ha-Kawa SK, Maehara M, Ishizaki M, Matsui K, Sawada S, et al. Usefulness of Tc-99m-GSA scintigraphy for liver surgery. Ann Nucl Med. 2011;25:593–602.

50.

Harada K, Mizuguchi T, Katagiri Y, Kawamoto M, Nakamura Y, Meguro M, et al. Area between the hepatic and heart curves of (99m)Tc-galactosyl-human serum albumin scintigraphy represents liver function and disease progression for preoperative evaluation in hepatocellular carcinoma patients. J Hepatobiliary Pancreat Sci. 2011 [Epub ahead of print]. doi:10.1007/s00534-011-0486-2.

51.

Sugahara K, Togashi H, Takahashi K, Onodera Y, Sanjo M, Misawa K, et al. Separate analysis of asialoglycoprotein receptors in the right and left hepatic lobes using Tc-GSA SPECT. Hepatology. 2003;38:1401–9.

52.

Bennink RJ, Dinant S, Erdogan D, Heijnen BH, Straatsburg IH, van Vliet AK, et al. Preoperative assessment of postoperative remnant liver function using hepatobiliary scintigraphy. J Nucl Med. 2004;45:965–71.

53.

Sandrin L, Fourquet B, Hasquenoph JM, Yon S, Fournier C, Mal F, et al. Transient elastography: a new noninvasive method for assessment of hepatic fibrosis. Ultrasound Med Biol. 2003;29:1705–13.

54.

Kawamoto M, Mizuguchi T, Katsuramaki T, Nagayama M, Oshima H, Kawasaki H, et al. Assessment of liver fibrosis by a noninvasive method of transient elastography and biochemical markers. World J Gastroenterol. 2006;12:4325–30.

55.

Makuuchi M, Kosuge T, Takayama T, Yamazaki S, Kakazu T, Miyagawa S, et al. Surgery for small liver cancers. Semin Surg Oncol. 1993;9:298–304.

56.

Vauthey JN, Dixon E, Abdalla EK, Helton WS, Pawlik TM, Taouli B, et al. Pretreatment assessment of hepatocellular carcinoma: expert consensus statement. HPB (Oxford). 2010;12:289–99.

57.

Urata K, Kawasaki S, Matsunami H, Hashikura Y, Ikegami T, Ishizone S, et al. Calculation of child and adult standard liver volume for liver transplantation. Hepatology. 1995;21:1317–21.

58.

Poon RT, Fan ST. Hepatectomy for hepatocellular carcinoma: patient selection and postoperative outcome. Liver Transpl. 2004;10:S39–45.

59.

Forner A, Llovet JM, Bruix J. Hepatocellular carcinoma. Lancet. 2012;379:1245–55.

60.

Belghiti J, Kianmanesh R. Surgical treatment of hepatocellular carcinoma. HPB (Oxford). 2005;7:42–9.

61.

Eguchi S, Kanematsu T, Arii S, Okazaki M, Okita K, Omata M, et al. Comparison of the outcomes between an anatomical subsegmentectomy and a non-anatomical minor hepatectomy for single hepatocellular carcinomas based on a Japanese nationwide survey. Surgery. 2008;143:469–75.

62.

Tomimaru Y, Eguchi H, Marubashi S, Wada H, Kobayashi S, Tanemura M, et al. Equivalent outcomes after anatomical and non-anatomical resection of small hepatocellular carcinoma in patients with preserved liver function. Dig Dis Sci. 2012;57:1942–8.
Acknowledgments
We thank Sandy Tan for help in preparing this manuscript and for valuable discussions. A part of this study was supported by a Grant-in-Aid for Scientific Research from the Ministry of Education, Culture, Sports, Science and Technology, Japan (No. 23591993) and Yuasa Memorial Foundation.
Conflict of interest
The authors declare that they have no conflict of interest to disclose.
About this article
Cite this article
Mizuguchi, T., Kawamoto, M., Meguro, M. et al. Preoperative liver function assessments to estimate the prognosis and safety of liver resections. Surg Today 44, 1–10 (2014). https://doi.org/10.1007/s00595-013-0534-4
Received:

Accepted:

Published:

Issue Date:
Keywords
Liver function

Hepatocellular carcinoma

Liver resection