Abstract
Aims
People with type 2 diabetes (T2D) suffer from sleep disorders, with the mechanism not clearly understood. In T2D, the light transducing retinal photoreceptors that regulate sleep behaviours are dysfunctional; hence, we determine here whether supplemental light exposure ameliorates sleep quality and daytime sleepiness in T2D.
Methods
Supplemental light (10,000 Lux, polychromatic) was self-administered for 30 min every morning for 14 days by ten participants with T2D with no diabetic retinopathy (DR). The effectiveness of supplemental light was assessed by comparing subjective sleep questionnaire (PSQI and ESS) scores and salivary dim light melatonin onset (DLMO) before and after the light exposure as well as with a self-maintained sleep diary during the light exposure.
Results
Compared to the baseline, supplemental light significantly improved the excessive daytime sleepiness score (p = 0.004) and phase-advanced the DLMO on average by ~ 23 min. Sleep diary analyses showed that afternoon nap duration significantly shortened over the first week of supplemental light exposure (p = 0.019). Afternoon naps and midnight awakening were significantly longer in diabetic participants with thinner perifoveal retina.
Conclusions
In this case series, we provide initial evidence that supplemental bright light improves daytime sleepiness in T2D with no DR, with the critical period of light exposure showing a beneficial effect after one week. We infer that supplemental light augments photoreceptor signalling in T2D and therefore optimises circadian photoentrainment leading to improved sleep. Our findings inform the development of tailored light therapy protocols in future clinical trials for improving sleep architecture in diabetes.
Access options
Buy single article
Instant access to the full article PDF.
USD 39.95
Price excludes VAT (USA)
Tax calculation will be finalised during checkout.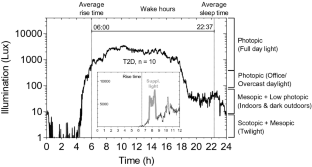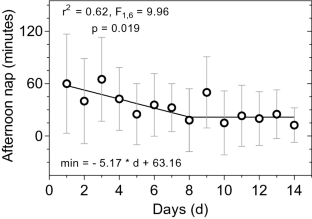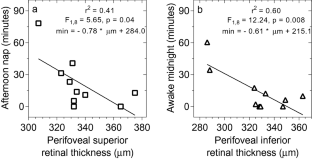 Data availability
The datasets used and/or analysed during the current study are available from the corresponding authors upon reasonable request.
References
Dumpala S, Zele AJ, Feigl B (2019) Outer retinal structure and function deficits contribute to circadian disruption in patients with type 2 diabetes. Invest Ophthalmol Vis Sci 60:1870–1878. https://doi.org/10.1167/iovs.18-26297

Trento M, Broglio F, Riganti F, Basile M, Borgo E, Kucich C et al (2008) Sleep abnormalities in type 2 diabetes may be associated with glycemic control. Acta Diabetol 45:225–229. https://doi.org/10.1007/s00592-008-0047-6

Tan NYQ, Chew M, Tham YC, Nguyen QD, Yasuda M, Cheng CY et al (2018) Associations between sleep duration, sleep quality and diabetic retinopathy. PLoS ONE 13:e0196399. https://doi.org/10.1371/journal.pone.0196399

Sakurai T, Mieda M, Tsujino N (2010) The orexin system: roles in sleep/wake regulation. Ann N Y Acad Sci 1200:149–161. https://doi.org/10.1111/j.1749-6632.2010.05513.x

Leproult R, Copinschi G, Buxton O, Van Cauter E (1997) Sleep loss results in an elevation of cortisol levels the next evening. Sleep 20:865–870

Buckley TM, Schatzberg AF (2005) On the interactions of the hypothalamic-pituitary-adrenal (HPA) axis and sleep: normal HPA axis activity and circadian rhythm, exemplary sleep disorders. J Clin Endocrinol Metab 90:3106–3114

Chiodini I, Di Lembo S, Morelli V, Epaminonda P, Coletti F, Masserini B et al (2006) Hypothalamic-pituitary-adrenal activity in type 2 diabetes mellitus: role of autonomic imbalance. Metabolism 55:1135–1140. https://doi.org/10.1016/j.metabol.2006.04.010

Hikichi T, Tateda N, Miura T (2011) Alteration of melatonin secretion in patients with type 2 diabetes and proliferative diabetic retinopathy. Clin Ophthalmol 5:655–660. https://doi.org/10.2147/OPTH.S19559

Liu H, Bravata DM, Cabaccan J, Raff H, Ryzen E (2005) Elevated late-night salivary cortisol levels in elderly male type 2 diabetic veterans. Clin Endocrinol (Oxf) 63:642–649. https://doi.org/10.1111/j.1365-2265.2005.02395.x

Barone MT, Menna-Barreto L (2011) Diabetes and sleep: a complex cause-and-effect relationship. Diabetes Res Clin Pract 91:129–137. https://doi.org/10.1016/j.diabres.2010.07.011

Altimus CM, Güler AD, Villa KL, McNeill DS, LeGates TA, Hattar S (2008) Rods-cones and melanopsin detect light and dark to modulate sleep independent of image formation. Proc Natl Acad Sci 105:19998. https://doi.org/10.1073/pnas.0808312105

Lahouaoui H, Coutanson C, Cooper HM, Bennis M, Dkhissi-Benyahya O (2014) Clock genes and behavioral responses to light are altered in a mouse model of diabetic retinopathy. PLoS ONE 9:e101584. https://doi.org/10.1371/journal.pone.0101584

Obara EA, Hannibal J, Heegaard S, Fahrenkrug J (2017) Loss of melanopsin-expressing retinal ganglion cells in patients with diabetic retinopathy. Invest Ophthalmol Vis Sci 58:2187–2192. https://doi.org/10.1167/iovs.16-21168

Park JC, Chen YF, Blair NP, Chau FY, Lim JI, Leiderman YI et al (2017) Pupillary responses in non-proliferative diabetic retinopathy. Sci Rep 7:44987. https://doi.org/10.1038/srep44987

Feigl B, Zele AJ, Fader SM, Howes AN, Hughes CE, Jones KA et al (2012) The post-illumination pupil response of melanopsin-expressing intrinsically photosensitive retinal ganglion cells in diabetes. Acta Ophthalmol 90:e230–e234. https://doi.org/10.1111/j.1755-3768.2011.02226.x

Ferreira JT, Alves M, Dias-Santos A, Costa L, Santos BO, Cunha JP et al (2016) Retinal neurodegeneration in diabetic patients without diabetic retinopathy. Invest Ophthalmol Vis Sci 57:6455–6460. https://doi.org/10.1167/iovs.16-20215

van Dijk HW, Verbraak FD, Kok PH, Stehouwer M, Garvin MK, Sonka M et al (2012) Early neurodegeneration in the retina of type 2 diabetic patients. Invest Ophthalmol Vis Sci 53:2715–2719. https://doi.org/10.1167/iovs.11-8997

Videnovic A, Klerman EB, Wang W, Marconi A, Kuhta T, Zee PC (2017) Timed light therapy for sleep and daytime sleepiness associated with Parkinson disease: a randomized clinical trial. JAMA Neurol 74:411–418. https://doi.org/10.1001/jamaneurol.2016.5192

Hanford N, Figueiro M (2013) Light therapy and Alzheimer's disease and related dementia: past, present, and future. J Alzheimers Dis 33:913–922. https://doi.org/10.3233/jad-2012-121645

Åkerstedt T (2003) Shift work and disturbed sleep/wakefulness. Occup Med 53:89–94

Hargens TA, Kaleth AS, Edwards ES, Butner KL (2013) Association between sleep disorders, obesity, and exercise: a review. Nat Sci Sleep 5:27

Magee CA, Caputi P, Iverson DC, Huang XF (2008) An investigation of the dimensionality of the pittsburgh sleep quality index in Australian adults. Sleep Biol Rhythm 6:222–227. https://doi.org/10.1111/j.1479-8425.2008.00371.x

Joyce DS, Zele AJ, Feigl B, Adhikari P (2019) The accuracy of artificial and natural light measurements by actigraphs. J Sleep Res. https://doi.org/10.1111/jsr.12963

Van Someren EJW, Nagtegaal E (2007) Improving melatonin circadian phase estimates. Sleep Med 8:590–601. https://doi.org/10.1016/j.sleep.2007.03.012

Pullman RE, Roepke SE, Duffy JF (2012) Laboratory validation of an in-home method for assessing circadian phase using dim light melatonin onset (DLMO). Sleep Med 13:703–706. https://doi.org/10.1016/j.sleep.2011.11.008

Zele AJ, Feigl B, Smith SS, Markwell EL (2011) The circadian response of intrinsically photosensitive retinal ganglion cells. PLoS ONE 6:e17860. https://doi.org/10.1371/journal.pone.0017860

Markwell EL, Feigl B, Zele AJ (2010) Intrinsically photosensitive melanopsin retinal ganglion cell contributions to the pupillary light reflex and circadian rhythm. Clin Exp Optom 93:137–149. https://doi.org/10.1111/j.1444-0938.2010.00479.x

Kennaway DJ (2020) Measuring melatonin by immunoassay. J Pineal Res e12657

Terman M, Terman JS (2005) In principles and practice of sleep medicine: light therapy, 4th edn. Elsevier, Philadelphia

Gradisar M, Dohnt H, Gardner G, Paine S, Starkey K, Menne A et al (2011) A randomized controlled trial of cognitive-behavior therapy plus bright light therapy for adolescent delayed sleep phase disorder. Sleep 34:1671–1680. https://doi.org/10.5665/sleep.1432

Mishima K, Okawa M, Hishikawa Y, Hozumi S, Hori H, Takahashi K (1994) Morning bright light therapy for sleep and behavior disorders in elderly patients with dementia. Acta Psychiatr Scand 89:1–7. https://doi.org/10.1111/j.1600-0447.1994.tb01477.x

Westheimer G (1966) The maxwellian view. Vision Res 6:669–682. https://doi.org/10.1016/0042-6989(66)90078-2

Adhikari P, Zele AJ, Feigl B (2015) The Post-Illumination Pupil Response (PIPR). Invest Ophthalmol Vis Sci 56:3838–3849. https://doi.org/10.1167/iovs.14-16233

Zele AJ, Adhikari P, Cao D, Feigl B (2019) Melanopsin and cone photoreceptor inputs to the afferent pupil light response. Front Neurol 10:529

Adhikari P, Feigl B, Zele AJ (2016) Rhodopsin and melanopsin contributions to the early redilation phase of the Post-Illumination Pupil Response (PIPR). PLoS ONE 11:e0161175. https://doi.org/10.1371/journal.pone.0161175

Gamlin PD, McDougal DH, Pokorny J, Smith VC, Yau KW, Dacey DM (2007) Human and macaque pupil responses driven by melanopsin-containing retinal ganglion cells. Vision Res 47:946–954. https://doi.org/10.1016/j.visres.2006.12.015

Kelbsch C, Strasser T, Chen Y, Feigl B, Gamlin PD, Kardon R et al (2019) Standards in pupillography. Front Neurol 10:129. https://doi.org/10.3389/fneur.2019.00129

Short MA, Gradisar M, Lack LC, Wright H, Carskadon MA (2012) The discrepancy between actigraphic and sleep diary measures of sleep in adolescents. Sleep Med 13:378–384. https://doi.org/10.1016/j.sleep.2011.11.005

Voultsios A, Kennaway DJ, Dawson D (1997) Salivary melatonin as a circadian phase marker: validation and comparison to plasma melatonin. J Biol Rhythms 12:457–466. https://doi.org/10.1177/074873049701200507

Terman JS, Terman M, Lo ES, Cooper TB (2001) Circadian time of morning light administration and therapeutic response in winter depression. Arch Gen Psychiatry 58:69–75. https://doi.org/10.1001/archpsyc.58.1.69

Minors DS, Waterhouse JM, Wirz-Justice A (1991) A human phase-response curve to light. Neurosci Lett 133:36–40. https://doi.org/10.1016/0304-3940(91)90051-t

Khalsa SB, Jewett ME, Cajochen C, Czeisler CA (2003) A phase response curve to single bright light pulses in human subjects. J Physiol 549:945–952. https://doi.org/10.1113/jphysiol.2003.040477

Reppert S, Moore R (1991) Suprachiasmatic nucleus: the mind's clock. Oxford University Press, USA

Rizza S, Longo S, Piciucchi G, Romanello D, Mavilio M, Montagna M et al (2020) Carotid intimal medial thickness in rotating night shift is related to IL1β/IL6 axis. Nutr Metab Cardiovasc Dis 30:1826–1832

Zhu B, Hershberger PE, Kapella MC, Fritschi C (2017) The relationship between sleep disturbance and glycaemic control in adults with type 2 diabetes: an integrative review. J Clin Nurs 26:4053–4064

Drager LF, Lopes HF, Maki-Nunes C, Trombetta IC, Toschi-Dias E, Alves MJN et al (2010) The impact of obstructive sleep apnea on metabolic and inflammatory markers in consecutive patients with metabolic syndrome. PLoS ONE 5:e12065

Rizza S, Pietroiusti A, Farcomeni A, Mina G, Caruso M, Virgilio M et al (2020) Monthly fluctuations in 25-hydroxy-vitamin D levels in day and rotating night shift hospital workers. J Endocrinol Invest 43:1655–1660

Spranger J, Kroke A, Möhlig M, Hoffmann K, Bergmann MM, Ristow M et al (2003) Inflammatory cytokines and the risk to develop type 2 diabetes: results of the prospective population-based European prospective investigation into cancer and nutrition (EPIC)-potsdam study. Diabetes 52:812–817

Zoto E, Cenko F, Doci P, Rizza S (2019) Effect of night shift work on risk of diabetes in healthy nurses in Albania. Acta Diabetol 56:811–813

Federici M, Hribal ML, Menghini R, Kanno H, Marchetti V, Porzio O et al (2005) Timp3 deficiency in insulin receptor–haploinsufficient mice promotes diabetes and vascular inflammation via increased TNF-α. J Clin Invest 115:3494–3505

Akyar I, Akdemir N (2013) The effect of light therapy on the sleep quality of the elderly: an intervention study. Aust J Adv Nurs 31:31–38

Holfort SK, Klemp K, Kofoed PK, Sander B, Larsen M (2010) Scotopic electrophysiology of the retina during transient hyperglycemia in type 2 diabetes. Invest Ophthalmol Vis Sci 51:2790–2794. https://doi.org/10.1167/iovs.09-4891

Fortune B, Schneck ME, Adams AJ (1999) Multifocal electroretinogram delays reveal local retinal dysfunction in early diabetic retinopathy. Invest Ophthalmol Vis Sci 40:2638–2651

Ishibashi F, Tavakoli M (2020) Thinning of macular neuroretinal layers contributes to sleep disorder in patients with type 2 diabetes without clinical evidences of neuropathy and retinopathy. Front Endocrinol. https://doi.org/10.3389/fendo.2020.00069
Acknowledgements
This study was supported by the Australian Research Council Future Fellowship ARC-FT180100458 (AJZ) and IHBI Vision and Eye Program 2019 Vision Research Development Grant (PA, AJZ, BF).
Ethics declarations
Conflict of interests
The authors declare that they have no competing interests.
Ethics approval
All procedures were conducted in accordance with a QUT University Human Research Ethics Committee approval (no. 1700000699) and the 1964 Helsinki Declaration and its later amendments.
Consent to participate
A written informed consent was obtained from each participant before the experiment.
Informed consent
A written informed consent was obtained from each participant for publication.
Additional information
Managed by Massimo Federici .
Publisher's Note
Springer Nature remains neutral with regard to jurisdictional claims in published maps and institutional affiliations.
About this article
Cite this article
Adhikari, P., Pradhan, A., Zele, A.J. et al. Supplemental light exposure improves sleep architecture in people with type 2 diabetes. Acta Diabetol 58, 1201–1208 (2021). https://doi.org/10.1007/s00592-021-01712-y
Received:

Accepted:

Published:

Issue Date:

DOI: https://doi.org/10.1007/s00592-021-01712-y
Keywords