Abstract
Aim
To examine the effect of walking before dinner on 24-h glycemic control in individuals with type 2 diabetes using the standardized multi-site Exercise-Physical Activity and Diabetes Glucose Monitoring (E-PAraDiGM) Protocol.
Methods
Eighty participants were studied under two conditions (exercise vs. non-exercise control) separated by 72 h in a randomized crossover design. Each condition lasted 2 days during which standardized meals were provided. Exercise consisted of 50 min of treadmill walking at 5.0 km/h before the evening meal, while control involved 50 min of sitting. The primary outcome measure was mean glucose during the 24-h period following exercise (or sitting) measured by continuous glucose monitoring.
Results
Of the 80 participants who were initially randomized, 73 completed both exercise and control. Sixty-three participants [29 males, 34 females; age = 64 ± 8 years, body mass index = 30.5 ± 6.5 kg/m2 and HbA1c = 51 ± 8 mmol/mol (6.8 ± 0.7%), mean ± SD] complied with the standardized diets and had complete continuous glucose monitoring data. Exercise did not affect mean 24-h glucose compared to control (0.03 mmol/L; 95% CI − 0.17, 0.22, P = 0.778) but individual differences between conditions ranged from − 2.8 to +1.8 mmol/L. Exercise did not affect fasting glucose, postprandial glucose or glucose variability. Glucose concentrations measured by continuous glucose monitoring were reduced during the 50 min of walking in exercise compared to sitting in control (− 1.56 mmol/L; 95% CI − 2.18, − 0.95, p < 0.001).
Conclusion
Contrary to previous acute exercise studies, 50 min of walking before dinner in the E-PAraDiGM protocol did not affect 24-h glucose profiles. However, highly heterogeneous responses to exercise were observed.
Trial registration: NCT02834689.
Access options
Buy single article
Instant access to the full article PDF.
USD 39.95
Price excludes VAT (USA)
Tax calculation will be finalised during checkout.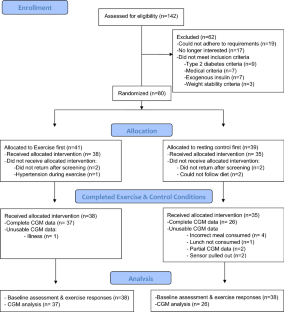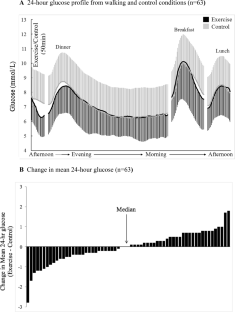 References
Devlin JT, Hirshman M, Horton ED, Horton ES (1987) Enhanced peripheral and splanchic insulin sensitivity in NIDDM after single bout of exercise. Diabetes 36:434–439

Perseghin G, Price T, Petersen KF et al (1996) Increased glucose transport-phosphorylation and muscle glycogen synthesis after exercise training in insulin-resistant subjects. New Engl J Med 335:1357–1362

Sigal RJ, Armstrong MJ, Bacon SL et al (2018) Clinical practice guidelines for the prevention and management of diabetes in Canada: physical activity and diabetes. Can J Diabetes 42(2018):S54–S63

Colberg SR, Sigal RJ, Yardley JE et al (2016) Physical activity/exercise and diabetes: a position statement of the American Diabetes Association. Diabetes Care 39(11):2065–2079

MacLeod SF, Terada T, Chahal BS, Boule NG (2013) Exercise lowers postprandial glucose but not fasting glucose in type 2 diabetes: a meta-analysis of studies using continuous glucose monitoring. Diabetes Metab Res Rev 29(8):593–603

Savikj M, Gabriel B, Alm P et al (2019) Afternoon exercise is more efficacious than morning exercise at improving blood glucose levels in individuals with type 2 diabetes: a randomised crossover trial. Diabetologia 62(2):223–237

Sealed Envelope LTD, Create a blocked randomization, (2017) Available from: https://www.sealedenvelope.com/simple-randomiser/v1/lists

Freckmann G, Baumstark A, Jendrike N, et al (2010) System accuracy evaluation of 27 blood glucose monitoring systems according to DIN EN ISO 15197, Diabetes Technol Ther 12(3)

Forbes CC, Plotnikoff RC, Courneya KS, Boule NG (2010) Physical activity preferences and type 2 diabetes: exploring demographic, cognitive, and behavioral differences. Diabetes Educ 36(5):801–815

Tanaka H, Monahan KD, Seals DR (2001) Age-predicted maximal heart rate revisited. J Am Coll Cardiol 37(1):153–156

Donahoo WT, Levine JA, Melanson EL (2004) Variability in energy expenditure and its components. Curr Opin Clin Nutr Metab Care 7:599–605

Dworatzek PD, Arcudi K, Gougeon R et al (2013) Canadian diabetes association 2013 clinical practice guidelines for the prevention and management of diabetes in Canada: nutrition therapy. Can J Diabetes 37(Suppl 1):S45–S55

F.J. Service (2013) Glucose variability. Diabetes 62(5):1398–1404

Manders RJ, Van Dijk JW, van Loon LJ (2010) Low-intensity exercise reduces the prevalence of hyperglycemia in type 2 diabetes. Med Sci Sports Exerc 42(2):219–225

Terada T, Wilson BJ, Myette-Cote E et al (2016) Targeting specific interstitial glycemic parameters with high-intensity interval exercise and fasted-state exercise in type 2 diabetes. Metab Clin Exp 65(5):599–608

DiPietro L, Bribok A, Stevens MS, Hamm LF, Rumpler W (2013) Three 15-min bouts of moderate postmeal walking significantly improves 24-h glycemic control in older people at risk for impaired glucose tolerance. Diabetes Care 36(10):3262–3268

MacDonald AL, Philp A, Harrison M, Bone AJ, Watt PW (2006) Monitoring exercise-induced changes in glycemic control in type 2 diabetes. Med Sci Sports Exerc 38(2):201–207

Praet SF, Manders RJ, Lieverse AG et al (2006) Influence of acute exercise on hyperglycemia in insulin-treated type 2 diabetes. Med Sci Sports Exerc 38(12):2037–2044

Karstoft K, Winding K, Knudsen SH et al (2013) The effects of free-living interval-walking training on glycemic control, body composition, and physical fitness in type 2 diabetic patients: a randomized, controlled trial. Diabetes Care 36(2):228–236

Bacchi E, Negri C, Trombetta M et al (2012) Differences in the acute effects of aerobic and resistance exercise in subjects with type 2 diabetes: results from the RAED2 randomized trial. PLoS ONE 7(12):e49937

van Dijk JW, Manders RJ, Tummers K et al (2012) Both resistance- and endurance-type exercise reduce the prevalence of hyperglycaemia in individuals with impaired glucose tolerance and in insulin-treated and non-insulin-treated type 2 diabetic patients. Diabetologia 55(5):1273–1282

Van Dijk JW, Manders RJ, Canfora EE et al (2013) Exercise and 24-h glycemic control: equal effects for all type 2 diabetes patients? Med Sci Sports Exerc 45(4):628–635

Oberlin DJ, Mikus CR, Kearney ML et al (2014) One bout of exercise alters free-living postprandial glycemia in type 2 diabetes. Med Sci Sports Exerc 46(2):232–238

Poirier P, Tremblay A, Catellier C et al (2000) Impact of time interval from last meal on glucose resoponse to exercise in subjects with type 2 diabetes. J Clin Endocrinol Metab 85(8):2860–2864

Gaudet-Savard T, Ferland A, Broderick TL et al (2007) Safety and magnitude of changes in blood glucose levels following exercise performed in the fasted and the postprandial state in men with type 2 diabetes. Eur J Cardiovasc Prev Rehabil 14:831–836

Colberg SR, Zarrabi L, Bennington L et al (2009) Postprandial walking is better for lowering the glycemic effect of dinner than pre-dinner exercise in type 2 diabetic individuals. JAMDA 10(6):394–397

Dasgupta K, Joseph L, Pilote L et al (2010) Daily steps are low year-round and dip lower in fall/winter: findings from a longitudinal diabetes cohort. Cardiovasc Diabetol 9:81
Acknowledgements
We are grateful for the support of Noah Schwabe, Micah Medinski, Jasmine Paquin, Camille Genest, Michele Bisson and Larissa Wilhelm for data collection and analysis.
Funding
The E-PAraDIGM protocol was developed with funding from a Canadian Institutes of Health Research (CIHR) Planning and Dissemination Grant (Application #334972). An investigator-initiated grant awarded to JPL and NGB from Medtronic Canada provided continuous glucose monitors and sensors in-kind and partially supported provision of standardized diets. The authors acknowledge Johnson & Johnson for providing glucometers, test strips and lancets at the Sherbrooke site, as well as Solo GI Nutrition for in-kind provision of SoLo GI bars. JPL is supported by a CIHR New Investigator Salary Award (MSH-141980) and a Michael Smith Foundation for Health Research (MSFHR) Scholar Award (16890). CMP is supported by a CIHR New Investigator Salary Award and the Campus Alberta Research Chair Program. The study sponsors were not involved in the design of the study; the collection, analysis and interpretation of data; writing the report; or the decision to submit the report for publication.
Ethics declarations
Conflict of interest
JEY has received in-kind research support from Animas Canada, Dexcom Canada and Abbott Nutrition Canada. JPL is a scientific advisor and shareholder with Metabolic Insights Inc., a start-up company developing a noninvasive metabolic monitoring device. JPL is a volunteer chief scientific officer for the not-for-profit Institute for Personalized Therapeutic Nutrition (www.therapeuticnutrition.org).
Human and animal rights
All procedures performed in studies involving human participants were in accordance with the ethical standards of the institutional and/or national research committee (University of Alberta Health Research Ethics Board: Pro00059779, The University of British Columbia Clinical Research Ethics Board: H1600377, Conjoint Health Research Ethics Board at the University of Calgary: REB16-1049, University of Manitoba Health Research Ethics Board: HS20322, Hamilton Integrated Research Ethics Board: 1695, Comité d'éthique de la recherche du CIUSSS de l'Estrie-CHUS: #MP-31-2017-1601) and with the 1964 Helsinki declaration and its later amendments or comparable ethical standards. 
Informed consent
Informed consent was obtained from all individual participants included in the study.
Data availability
The datasets generated during and/or analyzed during the current study are not publicly available as participants did not provide consent to this form of data sharing. Aggregated data and additional analyses are available from the corresponding author on reasonable request.
Additional information
Managed by Massimo Porta.
Publisher's Note
Springer Nature remains neutral with regard to jurisdictional claims in published maps and institutional affiliations.
Electronic supplementary material
Below is the link to the electronic supplementary material.
About this article
Cite this article
Rees, J.L., Chang, C.R., François, M.E. et al. Minimal effect of walking before dinner on glycemic responses in type 2 diabetes: outcomes from the multi-site E-PAraDiGM study. Acta Diabetol 56, 755–765 (2019). https://doi.org/10.1007/s00592-019-01358-x
Received:

Accepted:

Published:

Issue Date:

DOI: https://doi.org/10.1007/s00592-019-01358-x
Keywords