Abstract
Aim
The relationship between maternal diabetes mellitus (DM) and neonatal respiratory distress syndrome (RDS) has long been recognized, but the conclusions of this relationship were non-consistent. We conducted this meta-analysis to explore the association between maternal DM and the risk of neonatal RDS.
Methods
We searched PubMed and Web of Science databases for cohort or case–control studies related to the association of maternal DM and neonatal RDS risk up to 25 August 2018. The pooled odds ratios (ORs) with 95% confidence intervals (CIs) were estimated by the use of random effect model. Meta-regression was used to explore potential sources of between-study heterogeneity.
Results
A total of 24 studies from 23 available articles were included in this meta-analysis. For the association between maternal DM and the risk of neonatal RDS, the pooled OR was 1.47 (95% CI 1.24–1.74), especially for cohort studies (1.39, 95% CI 1.17–1.65). The pooled OR of the risk of neonatal RDS was 1.57 (95% CI 1.28–1.93) for gestational diabetes mellitus (GDM) and 2.66 (95% CI 2.06–3.44) for pre-gestational diabetes mellitus (PGDM).
Conclusions
This meta-analysis suggests that maternal DM, including GDM and PGDM, is linked to an increased risk of neonatal RDS.
Access options
Buy single article
Instant access to the full article PDF.
USD 39.95
Price excludes VAT (USA)
Tax calculation will be finalised during checkout.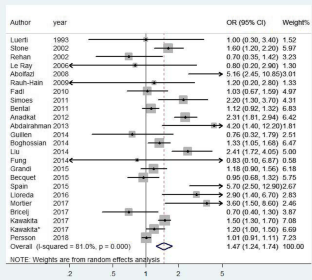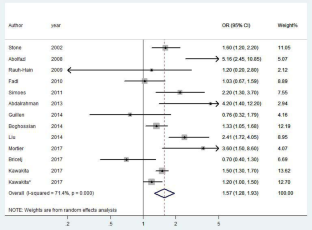 References
De Luca D, van Kaam AH, Tingay DG, Courtney SE, Danhaive O, Carnielli VP et al (2017) The Montreux definition of neonatal ARDS: biological and clinical background behind the description of a new entity. Lancet Respir Med 5:657–666

Tochie JN, Choukem SP, Langmia RN, Barla E, Koki-Ndombo P (2016) Neonatal respiratory distress in a reference neonatal unit in Cameroon: an analysis of prevalence, predictors, etiologies and outcomes. Pan Afr Med J 24:152

Garvey J (1975) Infant respiratory distress syndrome. Am J Nurs 75:614

Kamper J (1978) Long term prognosis of infants with severe idiopathic respiratory distress syndrome. II. Cardio-pulmonary outcome. Acta Paediatr Scand 67:71–76

Dani C, Reali MF, Bertini G, Wiechmann L, Spagnolo A, Tangucci M et al (1999) Risk factors for the development of respiratory distress syndrome and transient tachypnoea in newborn infants. Eur Respir J 14:155–159

Reed DM, Bakketeig LS, Nugent RP (1978) The epidemiology of respiratory distress syndrome in Norway. Am J Epidemiol 107:299–310

Rehan VK, Moddemann D, Casiro OG (2002) Outcome of very-low-birth-weight (< 1,500 grams) infants born to mothers with diabetes. Clin Pediatr 41:481–491

O'Sullivan JB (1961) Gestational diabetes. Unsuspected, asymptomatic diabetes in pregnancy. N Engl J Med 264:1082–1085

Hedderson MM, Darbinian JA, Ferrara A (2010) Disparities in the risk of gestational diabetes by race-ethnicity and country of birth. Paediatr Perinat Epidemiol 24:441–448

Metzger BE, Gabbe SG, Persson B, Buchanan TA, Catalano PA, Damm P et al (2010) International association of diabetes and pregnancy study groups recommendations on the diagnosis and classification of hyperglycemia in pregnancy. Diabetes Care 33:676–682

Leary J, Pettitt DJ, Jovanovic L (2010) Gestational diabetes guidelines in a HAPO world. Best Pract Res Clin Endocrinol Metab 24:673–685

DeSisto CL, Kim SY, Sharma AJ (2014) Prevalence estimates of gestational diabetes mellitus in the United States, Pregnancy Risk Assessment Monitoring System (PRAMS), 2007–2010. Prev Chronic Dis 11:E104

McKenzie-Sampson S, Paradis G, Healy-Profitos J, St-Pierre F, Auger N (2018) Gestational diabetes and risk of cardiovascular disease up to 25 years after pregnancy: a retrospective cohort study. Acta Diabetol 55:315–322

Leybovitz-Haleluya N, Wainstock T, Landau D, Sheiner E (2018) Maternal gestational diabetes mellitus and the risk of subsequent pediatric cardiovascular diseases of the offspring: a population-based cohort study with up to 18 years of follow up. Acta Diabetol 55:1037–1042

Murphy HR, Steel SA, Roland JM, Morris D, Ball V, Campbell PJ et al (2011) Obstetric and perinatal outcomes in pregnancies complicated by Type 1 and Type 2 diabetes: influences of glycaemic control, obesity and social disadvantage. Diabet Med 28:1060–1067

Bellamy L, Casas JP, Hingorani AD, Williams D (2009) Type 2 diabetes mellitus after gestational diabetes: a systematic review and meta-analysis. Lancet 373:1773–1779

Balsells M, Garcia-Patterson A, Gich I, Corcoy R (2009) Maternal and fetal outcome in women with type 2 versus type 1 diabetes mellitus: a systematic review and metaanalysis. J Clin Endocrinol Metab 94:4284–4291

Michael Weindling A (2009) Offspring of diabetic pregnancy: short-term outcomes. Semin Fetal Neonatal Med 14:111–118

The HAPO Study Cooperative Research Group (2008) Hyperglycemia and adverse pregnancy outcomes: the HAPO Study Cooperative Research Group. Obstet Gynecol Surv 63:1991

Usher RH, Allen AC, McLean FH (1971) Risk of respiratory distress syndrome related to gestational age, route of delivery, and maternal diabetes. Am J Obstet Gynecol 111:826–832

Robert MF, Neff RK, Hubbell JP, Taeusch HW, Avery ME (1976) Association between maternal diabetes and the respiratory-distress syndrome in the newborn. N Engl J Med 294:357–360

Stone CA, McLachlan KA, Halliday JL, Wein P, Tippett C (2002) Gestational diabetes in Victoria in 1996: incidence, risk factors and outcomes. Med J Aust 177:486–491

Spain JE, Tuuli MG, Macones GA, Roehl KA, Odibo AO, Cahill AG (2015) Risk factors for serious morbidity in term nonanomalous neonates. Am J Obstet Gynecol 212:799.e1–799.e7

Simoes T, Queiros A, Correia L, Rocha T, Dias E, Blickstein I (2011) Gestational diabetes mellitus complicating twin pregnancies. J Perinat Med 39:437–440

Persson M, Shah PS, Rusconi F, Reichman B, Modi N, Kusuda S et al (2018) Association of maternal diabetes with neonatal outcomes of very preterm and very low-birth-weight infants: an international cohort study. JAMA Pediatr 172:867–875

Mortier I, Blanc J, Tosello B, Gire C, Bretelle F, Carcopino X (2017) Is gestational diabetes an independent risk factor of neonatal severe respiratory distress syndrome after 34 weeks of gestation? A prospective study. Arch Gynecol Obstet 296:1071–1077

Lloreda-Garcia JM, Sevilla-Denia S, Rodriguez-Sanchez A, Munoz-Martinez P, Diaz-Ruiz M (2016) Perinatal outcome of macrosomic infants born to diabetic versus non-diabetic mothers. Endocrinol Nutr 63:409–413

Liu J, Yang N, Liu Y (2014) High-risk factors of respiratory distress syndrome in term neonates: a retrospective case–control study. Balkan Med J 31:64–68

Kawakita T, Bowers K, Hazrati S, Zhang C, Grewal J, Chen Z et al (2017) Increased neonatal respiratory morbidity associated with gestational and pregestational diabetes: a retrospective study. Am J Perinatol 34:1160–1168

Abolfazl M, Hamidreza TS, Narges M, Maryam Y (2008) Gestational diabetes and its association with unpleasant outcomes of pregnancy. Pak J Med Sci 24:566–570

Boghossian NS, Yeung E, Albert PS, Mendola P, Laughon SK, Hinkle SN et al (2014) Changes in diabetes status between pregnancies and impact on subsequent newborn outcomes. Am J Obstet Gynecol 210:431.e1–431.e14

Anadkat JS, Kuzniewicz MW, Chaudhari BP, Cole FS, Hamvas A (2012) Increased risk for respiratory distress among white, male, late preterm and term infants. J Perinatol 32:780–785

Abdalrahman Almarzouki A (2013) Maternal and neonatal outcome of controlled gestational diabetes mellitus versus high risk group without gestational diabetes mellitus: a comparative study. Med Glas 10:70–74

Rauh-Hain JA, Rana S, Tamez H, Wang A, Cohen B, Cohen A et al (2009) Risk for developing gestational diabetes in women with twin pregnancies. J Matern Fetal Neonatal Med 22:293–299

Le Ray C, Boithias C, Castaigne-Meary V, l'Helias LF, Vial M, Frydman R (2006) Caesarean before labour between 34 and 37 weeks: what are the risk factors of severe neonatal respiratory distress? Eur J Obstet Gynecol Reprod Biol 127:56–60

Guillen MA, Herranz L, Barquiel B, Hillman N, Burgos MA, Pallardo LF (2014) Influence of gestational diabetes mellitus on neonatal weight outcome in twin pregnancies. Diabet Med 31:1651–1656

Grandi C, Tapia JL, Cardoso VC (2015) Impact of maternal diabetes mellitus on mortality and morbidity of very low birth weight infants: a multicenter Latin America study. J Pediatr 91:234–241

Fung GP, Chan LM, Ho YC, To WK, Chan HB, Lao TT (2014) Does gestational diabetes mellitus affect respiratory outcome in late-preterm infants? Early Hum Dev 90:527–530

Fadl HE, Ostlund IK, Magnuson AF, Hanson US (2010) Maternal and neonatal outcomes and time trends of gestational diabetes mellitus in Sweden from 1991 to 2003. Diabet Med 27:436–441

Bricelj K, Tul N, Lucovnik M, Kronhauser-Cerar L, Steblovnik L, Verdenik I et al (2017) Neonatal respiratory morbidity in late-preterm births in pregnancies with and without gestational diabetes mellitus. J Matern Fetal Neonatal Med 30:377–379

Bental Y, Reichman B, Shiff Y, Weisbrod M, Boyko V, Lerner-Geva L et al (2011) Impact of maternal diabetes mellitus on mortality and morbidity of preterm infants (24–33 weeks' gestation). Pediatrics 128 E848-E55

Becquet O, El Khabbaz F, Alberti C, Mohamed D, Blachier A, Biran V et al (2015) Insulin treatment of maternal diabetes mellitus and respiratory outcome in late-preterm and term singletons. BMJ Open 5:e008192

Luerti M, Parazzini F, Agarossi A, Bianchi C, Rocchetti M, Bevilacqua G (1993) Risk factors for respiratory distress syndrome in the newborn. A multicenter Italian survey. Study Group for Lung Maturity of the Italian Society of Perinatal Medicine. Acta Obstet Gynecol Scand 72:359–364

Moher D, Liberati A, Tetzlaff J, Altman DG (2009) Preferred reporting items for systematic reviews and meta-analyses: the PRISMA statement. Ann Intern Med 151:264–269, w64

Higgins JPT, Thompson SG (2002) Quantifying heterogeneity in a meta-analysis. Stat Med 21:1539–1558

Higgins JPT, Thompson SG, Deeks JJ, Altman DG (2003) Measuring inconsistency in meta-analyses. Br Med J 327:557–560

Higgins JPT, Thompson SG (2004) Controlling the risk of spurious findings from meta-regression. Stat Med 23:1663–1682

Egger M, Davey Smith G, Schneider M, Minder C (1997) Bias in meta-analysis detected by a simple, graphical test. BMJ 315:629–634

Piper JM (2002) Lung maturation in diabetes in pregnancy: if and when to test. Semin Perinatol 26:206–209

Leung-Pineda V, Gronowski AM (2010) Biomarker tests for fetal lung maturity. Biomark Med 4:849–857

Miakotina OL, Dekowski SA, Snyder JM (1998) Insulin inhibits surfactant protein A and B gene expression in the H441 cell line. Biochim Biophys Acta 1442:60–70

Westgate JA, Lindsay RS, Beattie J, Pattison NS, Gamble G, Mildenhall LF et al (2006) Hyperinsulinemia in cord blood in mothers with type 2 diabetes and gestational diabetes mellitus in New Zealand. Diabetes Care 29:1345–1350

Bonafe L, Rubaltelli FF (1996) The incidence of acute neonatal respiratory disorders in Padova county: an epidemiological survey. Acta Paediatr 85:1236–1240
Funding
This research did not receive any specific grant from funding agencies in the public, commercial, or not-for-profit sectors.
Ethics declarations
Conflict of interest
The authors declare that they have no competing interests.
Ethical approval
This article does not contain any studies with human participants or animals performed by any of the authors.
Informed consent
Not applicable.
Additional information
Managed by Antonio Secchi.
Publisher's Note
Springer Nature remains neutral with regard to jurisdictional claims in published maps and institutional affiliations.
Electronic supplementary material
Below is the link to the electronic supplementary material.
About this article
Cite this article
Li, Y., Wang, W. & Zhang, D. Maternal diabetes mellitus and risk of neonatal respiratory distress syndrome: a meta-analysis. Acta Diabetol 56, 729–740 (2019). https://doi.org/10.1007/s00592-019-01327-4
Received:

Accepted:

Published:

Issue Date:

DOI: https://doi.org/10.1007/s00592-019-01327-4
Keywords
Epidemiology studies

Maternal diabetes

Meta-analysis

Neonatal respiratory distress syndrome