Abstract
Aims
Probiotics and/or prebiotics could be a promising approach to improve metabolic disorders by favorably modifying the gut microbial composition.
Objectives
To assess the effects of probiotics and synbiotic on glycemic indices in prediabetic individuals who are at risk of type 2 diabetes and its complications.
Methods
In a double-blind, randomized, placebo-controlled parallel-group clinical trial, 120 prediabetic adults participated and were randomly allocated to receive either probiotics or synbiotic or placebo supplements for 24 weeks. Anthropometric measurements, food record, physical activity and glycemic biomarkers including glycated hemoglobin (HbA1C), fasting plasma glucose (FPG), fasting insulin levels (FIL), homoeostasis model assessment for insulin resistance (HOMA-IR), quantitative insulin sensitivity check index (QUICKI), and β-cell function (HOMA-B) were assessed at baseline and repeated at 12 and 24 weeks and compared within and between three groups using repeated measure ANOVA.
Results
Compared with the placebo, synbiotic supplementation resulted in a higher significant reduction in FPG (− 6.5 ± 1.6 vs. − 0.82 ± 1.7 mg/dL, P = 0.01), FIL (− 2.6 ± 0.9 vs. − 0.8 ± 0.8 µIU/mL, P = 0.028), and HOMA-IR (− 0.86 ± 0.3 vs. − 0.16 ± 0.25, P = 0.007), and a significant elevation in the QUICKI (+ 0.01 ± 0.003 vs. + 0.003 ± 0.002, P = 0.006). In addition, significant decreases in HbA1C was seen following the supplementation of probiotics and synbiotic compared with the placebo (− 0.12 ± 0.06 and − 0.14 ± 0.05 vs. +0.07 ± 0.06%, P = 0.005 and 0.008, respectively). HOMA-B was not found to be different between or within the three groups.
Conclusion
Glycemic improvement by probiotics and particularly synbiotic supplements in prediabetic individuals has been supported by current study. However, further studies are required for optimal recommendations in this important area of patient treatment.
Trial registration
Iranian Registry of Clinical Trials: IRCT201511032321N2, Date registered February 27, 2016.
This is a preview of subscription content,
to check access.
Access this article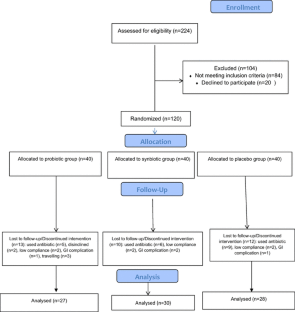 References
Rokana N, Duary RK, Panwar H, Batish VK, Grover S (2012) Management of metabolic syndrome through probiotic and prebiotic interventions. Indian J Endocrinol Metab 16(1):20–27

Daniele G, Abdul-Ghani M, DeFronzo RA (2014) What are the pharmacotherapy options for treating prediabetes? Expert Opin Pharmacother 15(14):2003–2018

Bansal N (2015) Prediabetes diagnosis and treatment: a review. World J Diabetes 6(2):296–303

He M, Shi B (2017) Gut microbiota as a potential target of metabolic syndrome: the role of probiotics and prebiotics. Cell Biosci 7:54

Sato J, Kanazawa A, Watada H (2017) Type 2 diabetes and bacteremia. Ann Nutr Metab 71(Suppl 1):17–22

Upadhyaya S, Banerjee G (2015) Type 2 diabetes and gut microbiome: at the intersection of known and unknown. Gut Microbes 6(2):85–92

Hulston CJ, Churnside AA, Venables MC (2015) Probiotic supplementation prevents high-fat, overfeeding-induced insulin resistance in human subjects. Br J Nutr 113(4):596–602

Sáez-Lara MJ, Robles-Sanchez C, Ruiz-Ojeda FJ, Plaza-Diaz J, Gil A (2016) Effects of probiotics and synbiotics on obesity, insulin resistance syndrome, type 2 diabetes and non-alcoholic fatty liver disease: a review of human clinical trials. Int J Mol Sci 17(6):928

Louis P, Flint HJ, Michel C (2016) How to manipulate the microbiota: prebiotics. Adv Exp Med Biol 902:119–142

de Vrese M, Schrezenmeir J (2008) Probiotics, prebiotics, and synbiotics. Adv Biochem Eng Biotechnol 111:1–66

Marchesi JR, Adams DH, Fava F, Hermes GD, Hirschfield GM, Hold G et al (2016) The gut microbiota and host health: a new clinical frontier. Gut 65(2):330–339

Guiné RPF, Silva ACF (2017) Probiotics, Prebiotics and synbiotics. In: Nelson DL (ed) Functional foods: sources, health effects and future perspectives. Chapter 5. Nova Publishers, New York, 143–207

Poppitt S (2017) Hyperglycaemia, pre-diabetes and diabesity: can we choose who to 'fast-track'into diabetes prevention? Curr Res Diabetes Obes J 2(3):1–3

Pandis N, Chung B, Scherrer R, Elbourne D, Altman D (2017) CONSORT extension for reporting within-person randomised trials. BMJ 357:1–22

Eslamparast T, Zamani F, Hekmatdoost A, Sharafkhah M, Eghtesad S, Malekzadeh R et al (2014) Effects of synbiotic supplementation on insulin resistance in subjects with the metabolic syndrome: a randomised, double-blind, placebo-controlled pilot study. Br J Nutr 112(3):438–445

Matthews D, Hosker J, Rudenski A, Naylor B, Treacher D, Turner R (1985) Homeostasis model assessment: insulin resistance and β-cell function from fasting plasma glucose and insulin concentrations in man. Diabetologia 28(7):412–419

Hřebíček J, Janout V, Malinčíková J, Horáková D, Čížek L (2002) Detection of insulin resistance by simple quantitative insulin sensitivity check index QUICKI for epidemiological assessment and prevention. J Clin Endocrinol Metab 87(1):144

Mossavar-Rahmani Y (2017) Reducing measurement error in nutrition assessment: potential research implications for Iran. Nutr Food Sci Res 4(1):3–10

Strath SJ, Kaminsky LA, Ainsworth BE, Ekelund U, Freedson PS, Gary RA et al (2013) Guide to the assessment of physical activity: clinical and research applications. Circulation 128(20):2259–2279

Yao K, Zeng L, He Q, Wang W, Lei J, Zou X (2017) Effect of probiotics on glucose and lipid metabolism in type 2 diabetes mellitus: a meta-analysis of 12 randomized controlled trials. Med Sci Monit 23:3044–3053

Festi D, Schiumerini R, Eusebi LH, Marasco G, Taddia M, Colecchia A (2014) Gut microbiota and metabolic syndrome. World J Gastroenterol WJG 20(43):16079

Abrams SA, Griffin IJ, Hawthorne KM, Ellis KJ (2007) Effect of prebiotic supplementation and calcium intake on body mass index. J Pediatr 151(3):293–298

Pedersen C, Lefevre S, Peters V, Patterson M, Ghatei MA, Morgan LM et al (2013) Gut hormone release and appetite regulation in healthy non-obese participants following oligofructose intake. A dose-escalation study. Appetite 66:44–53

Franz MJ, VanWormer JJ, Crain AL, Boucher JL, Histon T, Caplan W et al (2007) Weight-loss outcomes: a systematic review and meta-analysis of weight-loss clinical trials with a minimum 1-year follow-up. J Am Diet Assoc 107(10):1755–1767

Taghizadeh M, Asemi Z (2014) Effects of synbiotic food consumption on glycemic status and serum hs-CRP in pregnant women: a randomized controlled clinical trial. Hormones 13(3):398–406

Tabrizi R, Moosazadeh M, Lankarani KB, Akbari M, Heydari ST, Kolahdooz F et al (2017) The effects of synbiotic supplementation on glucose metabolism and lipid profiles in patients with diabetes: a systematic review and meta-analysis of randomized controlled trials. Probiot Antimicrob Proteins. https://doi.org/10.1007/s12602-017-9299-1

Triplot N, Leber B, Blattl D (2012) Effect of supplementation with Lactobacillus casei Shirota on insulin sensitivity, b-cell function, and markers of endothelial function and inflammation in subjects with the metabolic syndrome—a pilot study. J Dairy Sci 96:89–95

Barazzoni R, Deutz N, Biolo G, Bischoff S, Boirie Y, Cederholm T et al (2017) Carbohydrates and insulin resistance in clinical nutrition: recommendations from the ESPEN expert group. Clin Nutr 36(2):355–363

Cani PD, Amar J, Iglesias MA, Poggi M, Knauf C, Bastelica D et al (2007) Metabolic endotoxemia initiates obesity and insulin resistance. Diabetes 56(7):1761–1772

Allin KH, Nielsen T, Pedersen O (2015) Mechanisms in endocrinology: gut microbiota in patients with type 2 diabetes mellitus. Eur J Endocrinol 172(4):R167–R177

Cani PD, Bibiloni R, Knauf C, Waget A, Neyrinck AM, Delzenne NM et al (2008) Changes in gut microbiota control metabolic endotoxemia-induced inflammation in high-fat diet-induced obesity and diabetes in mice. Diabetes 57(6):1470–1481

Cani PD, Possemiers S, Van de Wiele T, Guiot Y, Everard A, Rottier O et al(2009) Changes in gut microbiota control inflammation in obese mice through a mechanism involving GLP-2-driven improvement of gut permeability. Gut 58(8):1091–1103

Gao Z, Yin J, Zhang J, Ward RE, Martin RJ, Lefevre M et al (2009) Butyrate improves insulin sensitivity and increases energy expenditure in mice. Diabetes 58(7):1509–1517

Lin HV, Frassetto A, Kowalik EJ Jr, Nawrocki AR, Lu MM, Kosinski JR et al (2012) Butyrate and propionate protect against diet-induced obesity and regulate gut hormones via free fatty acid receptor 3-independent mechanisms. PloS One 7(4):e35240

Wichmann A, Allahyar A, Greiner TU, Plovier H, Lundén G, Larsson T et al (2013) Microbial modulation of energy availability in the colon regulates intestinal transit. Cell Host Microbe 14(5):582–590

Russo F, Riezzo G, Chiloiro M, De Michele G, Chimienti G, Marconi E et al (2010) Metabolic effects of a diet with inulin-enriched pasta in healthy young volunteers. Curr Pharm Des 16(7):825–831

Kim Y, Keogh J, Clifton P (2017) Probiotics, prebiotics, synbiotics and insulin sensitivity. Nutr Res Rev 17:1–17

Tolhurst G, Heffron H, Lam YS, Parker HE, Habib AM, Diakogiannaki E et al (2012) Short-chain fatty acids stimulate glucagon-like peptide-1 secretion via the G-protein-coupled receptor FFAR2. Diabetes 61(2):364–371
Acknowledgements
We would like to thank the study participants for their time and cooperation and the Endocrine and Metabolism Research Center stuff for their collaboration.
Funding
This project was funded by the Isfahan University of Medical Sciences. The funding body played no role in the design, collection, and analysis, interpretation of data, writing of the manuscript or the decision to submit the manuscript for publication.
Ethics declarations
Conflict of interest
The authors declare no other competing interests.
Ethical approval
This study has been reviewed by the ethics committee of Isfahan University of Medical Sciences and was in accordance with the ethical standards in the last version of Declaration of Helsinky.
Informed consent
All persons gave their informed consent prior to inclusion in the study.
Additional information
Managed by Antonio Secchi.
About this article
Cite this article
Kassaian, N., Feizi, A., Aminorroaya, A. et al. The effects of probiotics and synbiotic supplementation on glucose and insulin metabolism in adults with prediabetes: a double-blind randomized clinical trial. Acta Diabetol 55, 1019–1028 (2018). https://doi.org/10.1007/s00592-018-1175-2
Received:

Accepted:

Published:

Issue Date:

DOI: https://doi.org/10.1007/s00592-018-1175-2
Keywords