Abstract
Aims
Dipeptidyl peptidase-4 inhibitors (DPP4-Is) represent a promising class of agents for type 2 diabetes treatment. Experimental models and clinical studies have reported positive effects of DPP4-Is on bone; however, how DPP4-Is positively impact bone homeostasis in humans remains an unanswered question. Aim of this study investigated the relationship between treatment with DPP4-Is and vitamin D balance in patients with type 2 diabetes.
Methods
This is a cross-sectional study. A total of 295 consecutive individuals with type 2 diabetes referring to our diabetes outpatient clinics were enrolled; among them, 53 % were in treatment with DPP4-Is. Metabolic profile and routine biochemistry were assessed by standard methods; serum 25(OH) vitamin D levels [25(OH)D] were measured by colorimetric method (LAISON, DiaSorin).
Results
DPP4-Is-treated participants had significantly higher serum 25(OH)D levels then those undertaking other antidiabetic therapies (18.4 ± 10.7 vs. 14.9 ± 8.6 ng/ml, p = 0.004); this association persisted after adjusting for all major confounders. Increased 25(OH)D concentrations also correlated with the duration of DPP4-Is treatment and with a stronger DPP4 inhibitory activity.
Conclusions
DPP4-Is treatment is associated with improved vitamin D balance in people with type 2 diabetes; our findings suggest that vitamin D may underlie the link between DPP4-Is and bone metabolism.
Access options
Buy single article
Instant access to the full article PDF.
USD 39.95
Price includes VAT (USA)
Tax calculation will be finalised during checkout.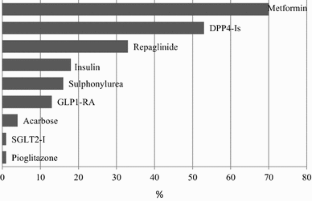 References
1.

Leslie WD, Rubin MR, Schwartz AV, Kanis JA (2007) Type 2 diabetes and bone. J Bone Miner Res 27:223–2237

2.

Reyes-García R, Rozas-Moreno P, López-Gallardo G, García-Martín A, Varsavsky M, Avilés-Perez MD et al (2013) Serum levels of bone resorption markers are decreased in patients with type 2 diabetes. Acta Diabetol 50(1):47–52

3.

Hamilton EJ, Rakic V, Davis WA, Paul Chubb SA, Kamber N, Prince RL (2012) A five-year prospective study of bone mineral density in men and women with diabetes: the fremantle diabetes study. Acta Diabetol 49:153–158

4.

Baerts L, Glorie L, Maho W, Eelen A, Verhulst A, D'Haese P et al (2015) Potential impact of sitagliptin on collagen-derived dipeptides in diabetic osteoporosis. Pharmacol Res 100:336–340

5.

Glorie L, Behets GJ, Baerts L, De Meester I, D'Haese PC, Verhulst A (2014) DPP IV inhibitor treatment attenuates bone loss and improves mechanical bone strength in male diabetic rats. Am J Physiol Endocrinol Metab 307:E447–E455

6.

Yamada C, Yamada Y, Tsukiyama K, Yamada K, Udagawa N et al (2008) The murine glucagon-like peptide-1 receptor is essential for control of bone resorption. Endocrinology 149:574–579

7.

Hegazy SK (2015) Evaluation of the anti-osteoporotic effects of metformin and sitagliptin in postmenopausal diabetic women. J Bone Miner Metab 33:207–212

8.

Nabeno M, Akahoshi F, Kishida H, Miyaguchi I, Tanaka Y, Ishii S et al (2013) A comparative study of the binding modes of recently launched dipeptidyl peptidase IV inhibitors in the active site. Biochem Biophys Res Commun 434(2):191–196

9.

Hirshberg B, Parker A, Edelberg H, Donovan M, Iqbal N (2014) Safety of saxagliptin: events of special interest in 9156 patients with type 2 diabetes mellitus. Diabetes Metab Res Rev 30:556–569

10.

Mosenzon O, Wei C, Davidson J, Scirica BM, Yanuv I, Rozenberg A et al (2015) Incidence of fractures in patients with type 2 diabetes in the SAVOR-TIMI 53 trial. Diabetes Care 38:2142–2150

11.

Bunck MC, Poelma M, Eekhoff EM, Schweizer A, Heine RJ, Nijpels G et al (2012) Effects of vildagliptin on postprandial markers of bone resorption and calcium homeostasis in recently diagnosed, well-controlled type 2 diabetes patients. J Diabetes 4:181–185

12.

Zheng T, Yang L, Liu Y, Liu H, Yu J, Zhang X et al (2015) Plasma DPP4 activities are associated with osteoporosis in postmenopausal women with normal glucose tolerance. J Clin Endocrinol Metab 100:3862–3870

13.

Monami M, Dicembrini I, Antenore A, Mannucci E (2011) Dipeptidyl peptidase-4 inhibitors and bone fractures: a meta-analysis of randomized clinical trials. Diabetes Care 34:2474–2476

14.

Gallagher EJ, Sun H, Kornhauser C et al (2014) The effect of dipeptidyl peptidase-IV inhibition on bone in a mouse model of type 2 diabetes. Diabetes Metab Res Rev 30:191–200

15.

Mabilleau G, Mieczkowska A, Chappard D (2014) Use of glucagon-like peptide-1 receptor agonists and bone fractures: a meta-analysis of randomized clinical trials. J Diabetes 6:260–266

16.

Su B, Sheng H, Zhang M, Bu L, Yang P, Li L et al (2015) Risk of bone fractures associated with glucagon-like peptide-1 receptor agonists' treatment: a meta-analysis of randomized controlled trials. Endocrine 48(1):107–115

17.

Driessen JH, Henry RM, van Onzenoort HA, Lalmohamed A, Burden AM, Prieto-Alhambra D et al (2015) Bone fracture risk is not associated with the use of glucagon-like peptide-1 receptor agonists: a population-based cohort analysis. Calcif Tissue Int 97(2):104–112

18.

Li R, Xu W, Luo S, Xu H, Tong G, Zeng L et al (2015) Effect of exenatide, insulin and pioglitazone on bone metabolism in patients with newly diagnosed type 2 diabetes. Acta Diabetol 52:1083–1091

19.

Wintermeyer E, Ihle C, Ehnert S et al (2016) Crucial role of vitamin D in the musculoskeletal system. Nutrients 8(6). doi:10.3390/nu8060319

20.

Maggi S, Siviero P, Brocco E, Albertin M, Romanato G, Crepaldi G (2014) Vitamin D deficiency, serum leptin and osteoprotegerin levels in older diabetic patients: an input to new research avenues. Acta Diabetol 51:461–469

21.

Tejera-Alhambra M, Casrouge A, de Andrés C, Ramos-Medina R, Alonso B, Vega J et al (2014) Low DPP4 expression and activity in multiple sclerosis. Clin Immunol 150(2):170–183

22.

Holick MF (2007) Vitamin D deficiency. N Engl J Med 357:266–281

23.

Dawson-Hughes B, Mithal A, Bonjour JP, Boonen S, Burckhardt P, Fuleihan GE et al (2010) IOF position statement: vitamin D recommendations for older adults. Osteoporos Int 21:1151–1154

24.

Röhrborn D, Wronkowitz N, Eckel J (2015) DPP4 in diabetes. Front Immunol 6:386

25.

Zoico E, Franceschetti G, Chirumbolo S, Rossi AP, Mazzali G, Rizzatti V et al (2014) Phenotypic shift of adipocytes by cholecalciferol and 1α, 25 dihydroxycholecalciferol in relation to inflammatory status and calcium content. Endocrinology 155(11):4178–4188

26.

Nimitphong H, Holick MF, Fried SK, Lee MJ (2012) 25-hydroxyvitamin D and 1,25-dihydroxyvitamin D promote the differentiation of human subcutaneous preadipocytes. PLoS One 7(12):e52171

27.

Landrier JF, Karkeni E, Marcotorchino J, Bonnet L, Tourniaire F (2016) Vitamin D modulates adipose tissue biology: possible consequences for obesity? Proc Nutr Soc 75(1):38–46 (Epub 2015 Nov 13)

28.

Karkeni E, Marcotorchino J, Tourniaire F, Astier J, Peiretti F, Darmon P et al (2015) Vitamin D limits chemokine expression in adipocytes and macrophage migration in vitro and in male mice. Endocrinology 156(5):1782–1793

29.

Krul-Poel YH, Agca R, Lips P, van Wijland H, Stam F, Simsek S (2015) Vitamin D status is associated with skin autofluorescence in patients with type 2 diabetes mellitus: a preliminary report. Cardiovasc Diabetol 14:89

30.

Yamagishi S, Fukami K, Matsui T (2015) Crosstalk between advanced glycation end products (AGEs)-receptor RAGE axis and dipeptidyl peptidase-4-incretin system in diabetic vascular complications. Cardiovasc Diabetol 14:2

31.

Schürmann C, Linke A, Engelmann-Pilger K, Steinmetz C, Mark M, Pfeilschifter J et al (2012) The dipeptidyl peptidase-4 inhibitor linagliptin attenuates inflammation and accelerates epithelialization in wounds of diabetic ob/ob mice. J Pharmacol Exp Ther 342(1):71–80
Ethics declarations
Conflict of interest
The authors declare that they have no conflict of interest.
Ethical standard
This study has been reviewed by the Ethics Committee of Policlinico Umberto I, Sapienza University of Rome, and has therefore been performed according to the ethical standards laid down in an appropriate version of the 1964 Declaration of Helsinki.
Human and animal rights
All procedures followed were in accordance with the ethical standards of the responsible committee on human experimentation (institutional and national) and with the Declaration of Helsinki 1975, as revised in 2008.
Informed consent
All persons gave their informed consent prior to their inclusion in the study; details that might disclose the identity of study participants have been omitted.
Additional information
Managed by Antonio Secchi.
About this article
Cite this article
Barchetta, I., Cimini, F.A., Bloise, D. et al. Dipeptidyl peptidase-4 inhibitors and bone metabolism: is vitamin D the link?. Acta Diabetol 53, 839–844 (2016). https://doi.org/10.1007/s00592-016-0882-9
Received:

Accepted:

Published:

Issue Date:
Keywords
Dipeptidyl peptidase 4 inhibitors

Type 2 diabetes

Vitamin D

Therapy