Abstract
Aims
Individuals with type 2 diabetes show shorter leukocyte telomere length (LTL) compared to people without diabetes. Reduced LTL is associated with increased carotid intima-media thickness (IMT) in healthy subjects. The aim of the study is to assess whether LTL also correlates with IMT in patients with diabetes.
Methods
In a cohort of 104 subjects with type 2 diabetes and atherogenic dyslipidemia, we assessed anthropometric, hemodynamic and metabolic parameters. Common carotid IMT was expressed as the maximum IMT. LTL was assessed by a specific real-time PCR reaction.
Results
At univariate analysis, IMT values were positively correlated with age (p < 0.001), previous history of cardiovascular events (p < 0.005), fasting plasma glucose (p < 0.01), HbA1c (p < 0.05) and negatively correlated with LTL (p < 0.05). In a multivariate model, age (p < 0.001) and LTL (p < 0.05) were the only independent predictors of maximum IMT, with an adjusted R 2 of 0.22.
Conclusions
LTL is an independent predictor of subclinical atherosclerosis pointing to a role of LTL as an early marker of vascular burden and cardiovascular disease also in type 2 diabetes.
This is a preview of subscription content, log in to check access.
Access options
Buy single article
Instant access to the full article PDF.
US$ 39.95
Tax calculation will be finalised during checkout.
Subscribe to journal
Immediate online access to all issues from 2019. Subscription will auto renew annually.
US$ 99
Tax calculation will be finalised during checkout.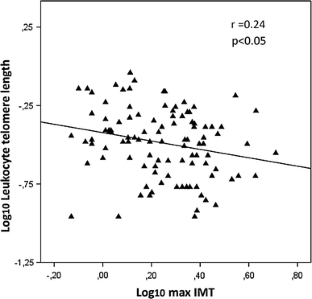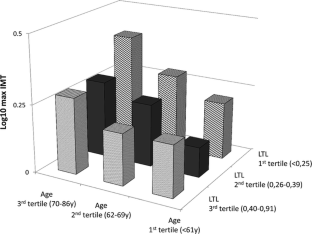 References
1.

Allsopp RC, Chang E, Kashefi-Aazam M et al (1995) Telomere shortening is associated with cell division in vitro and in vivo. Exp Cell Res 220:94–200

2.

Fyhrquist F, Saijonmaa O, Strandberg T (2013) The roles of senescence and telomere shortening in cardiovascular disease. Nat Rev Cardiol 10:274–283

3.

Sidorov I, Kimura M, Yashin A, Aviv A (2009) Leukocyte telomere dynamics and human hematopoietic stem cell kinetics during somatic growth. Exp Hematol 37:514–524

4.

Neuner B, Lenfers A, Kelsch R et al (2015) Telomere length is not related to established cardiovascular risk factors but does correlate with red and white blood cell counts in a German blood donor population. PLoS ONE 10:e0139308

5.

D'Mello MJ, Ross SA, Briel M, Anand SS, Gerstein H, Paré G (2015) Association between shortened leukocyte telomere length and cardiometabolic outcomes: systematic review and meta-analysis. Circ Cardiovasc Genet 8:82–90

6.

Sampson MJ, Winterbone MS, Hughes JC, Dozio N, Hughes DA (2006) Monocyte telomere shortening and oxidative DNA damage in type 2 diabetes. Diabetes Care 29:283–289

7.

Menke A, Casagrande S, Cowie CC (2015) Leukocyte telomere length and diabetes status, duration, and control: the 1999–2002 National Health and Nutrition Examination Survey. BMC Endocr Disord 15:52

8.

Verzola D, Gandolfo MT, Gaetani G et al (2008) Accelerated senescence in the kidneys of patients with type 2 diabetic nephropathy. Am J Physiol Renal Physiol 295:F1563–F1573

9.

Tentolouris N, Nzietchueng R, Cattan V et al (2007) White blood cells telomere length is shorter in males with type 2 diabetes and microalbuminuria. Diabetes Care 30:2909–2915

10.

Olivieri F, Lorenzi M, Antonicelli R et al (2009) Leukocyte telomere shortening in elderly Type 2 DM patients with previous myocardial infarction. Atherosclerosis 206:588–593

11.

Willeit P, Raschenberger J, Heydon EE (2014) Leucocyte telomere length and risk of type 2 diabetes mellitus: new prospective cohort study and literature-based meta-analysis. PLoS ONE 9:e112483

12.

Tamura Y, Izumiyama-Shimomura N, Kimbara Y et al (2014) β-cell telomere attrition in diabetes: inverse correlation between HbA1c and telomere length. J Clin Endocrinol Metab 99:2771–2777

13.

Shore AC, Colhoun HM, Natali A et al (2015) SUMMIT consortium. Measures of atherosclerotic burden are associated with clinically manifest cardiovascular disease in type 2 diabetes: a European cross-sectional study. J Intern Med 278:291–302

14.

O'Donnell CJ, Demissie S, Kimura M et al (2008) Leukocyte telomere length and carotid artery intimal medial thickness: the Framingham Heart Study. Arterioscler Thromb Vasc Biol 28:1165–1171

15.

Ardigò D, Bernini F, Borghi C et al (2010) Advanced diagnostic support in lipidology project: role for phenotypic and functional evaluation of lipoproteins in dyslipidemias. Clin Lipidol 5:329–337

16.

Akhter J (1997) The American diabetes Association's clinical practice recommendations and the developing world. Diabetes Care 20:1044e5

17.

Pugliese G, Solini A, Bonora E et al (2011) The Chronic Kidney Disease Epidemiology Collaboration (CKD-EPI) equation provides a better definition of cardiovascular burden associated with CKD than the Modification of Diet in Renal Disease (MDRD) Study formula in subjects with type 2 diabetes. Atherosclerosis 218:194–199

18.

Dei Cas A, Spigoni V, Franzini L et al (2013) Lower endothelial progenitor cell number, family history of cardiovascular disease and reduced HDL-cholesterol levels are associated with shorter leukocyte telomere length in healthy young adults. Nutr Metab Cardiovasc Dis 23:272–278

19.

Carulli L, Dei Cas A, Nascimbeni F (2012) Synchronous cryptogenic liver cirrhosis and idiopathic pulmonary fibrosis: a clue to telomere involvement. Hepatology 56:2001–2003

20.

Cawthon RM (2009) Telomere length measurement by a novel monochrome multiplex quantitative PCR method. Nucleic Acids Res 37:e21

21.

Adaikalakoteswari A, Balasubramanyam M, Mohan V (2005) Telomere shortening occurs in Asian Indian Type 2 diabetic patients. Diabet Med 22:1151–1156

22.

Adaikalakoteswari A, Balasubramanyam M, Ravikumar R, Deepa R, Mohan V (2007) Association of telomere shortening with impaired glucose tolerance and diabetic macroangiopathy. Atherosclerosis 195:83–89

23.

Salpea KD, Talmud PJ, Cooper JA et al (2010) Association of telomere length with type 2 diabetes, oxidative stress and UCP2 gene variation. Atherosclerosis 209:42–50

24.

Dudinskaya EN, Tkacheva ON, Shestakova MV et al (2015) Short telomere length is associated with arterial aging in patients with type 2 diabetes mellitus. Endocr Connect 4:136–143

25.

Sanders JL, Fitzpatrick AL, Boudreau RM et al (2012) Leukocyte telomere length is associated with noninvasively measured age-related disease: the Cardiovascular Health Study. J Gerontol A Biol Sci Med Sci 67(4):409–416

26.

Lorenz MW, Markus HS, Bots ML, Rosvall M, Sitzer (2007) Prediction of clinical cardiovascular events with carotid intima-media thickness—a systematic review and meta-analysis. Circulation 115:459–467

27.

Mundstock E, Sarria EE, Zatti H et al (2015) Effect of obesity on telomere length: systematic review and meta-analysis. Obesity (Silver Spring) 23:2165–2174

28.

Vasan RS, Demissie S, Kimura M et al (2008) Association of leukocyte telomere length with circulating biomarkers of the renin-angiotensin-aldosterone system: the Framingham Heart Study. Circulation 117:1138–1144

29.

Révész D, Milaneschi Y, Verhoeven JE, Lin J, Penninx BW (2015) Longitudinal Associations Between Metabolic Syndrome Components and Telomere Shortening. J Clin Endocrinol Metab 100:3050–3059

30.

Raschenberger J, Kollerits B, Ritchie J et al (2015) Association of relative telomere length with progression of chronic kidney disease in two cohorts: effect modification by smoking and diabetes. Sci Rep 5:11887

31.

Gardner M, Bann D, Wiley L et al (2014) Gender and telomere length: systematic review and meta-analysis. Exp Gerontol 51:15–27
Acknowledgments
This paper has been supported by the DiAL-ER/ADSL research grant from the Regional Health trust-University Program, Emilia-Romagna, Italy and by Local Funds for research "FIL" from the University of Parma of ADC.
Ethics declarations
Conflict of interest
The authors declare that they have no conflict of interest.
Ethical approval
All procedures performed in studies involving human participants were in accordance with the ethical standards of the institutional and/or national research committee and with the 1964 Helsinki Declaration and its later amendments or comparable ethical standards.
Informed consent
Informed consent was obtained from all individual participants included in the study.
Additional information
Managed by Massimo Porta.
About this article
Cite this article
Spigoni, V., Aldigeri, R., Picconi, A. et al. Telomere length is independently associated with subclinical atherosclerosis in subjects with type 2 diabetes: a cross-sectional study. Acta Diabetol 53, 661–667 (2016). https://doi.org/10.1007/s00592-016-0857-x
Received:

Accepted:

Published:

Issue Date:
Keywords
Telomere length

Intima-media thickness

Type 2 diabetes

Aging