Abstract
Aims
In 2011, we demonstrated that an individualized health management system employing advanced medical information technology, designated ubiquitous (u)-healthcare, was helpful in achieving glycemic control without hypoglycemia in patients with diabetes. Following this, we generated a new multidisciplinary u-healthcare system by upgrading our clinical decision support system (CDSS) rule engine and integrating a physical activity-monitoring device and dietary feedback into a comprehensive package.
Methods
In a randomized, controlled clinical trial, patients with type 2 diabetes aged over 60 years were assigned randomly to a self-monitored blood glucose (SMBG) group (N = 50) or u-healthcare group (N = 50) for 6 months. The primary endpoint was the proportion of patients achieving glycated hemoglobin (HbA1c) <7 % without hypoglycemia. Changes in body composition and lipid profiles were also investigated. The u-healthcare group was educated to use a specially designed glucometer and an activity monitor that automatically transferred test results to a hospital-based server. An automated CDSS rule engine generated and sent patient-specific messages about glucose, diet, and physical activity to their mobile phones and a Web site.
Results
After 6 months of follow-up, the HbA1c level was significantly decreased in the u-healthcare group [8.0 ± 0.7 % (64.2 ± 8.8 mmol/mol) to 7.3 ± 0.9 % (56.7 ± 9.9 mmol/mol)] compared with the SMBG group [8.1 ± 0.8 % (64.9 ± 9.1 mmol/mol) to 7.9 ± 1.2 % (63.2 ± 12.3 mmol/mol)] (P < 0.01). The proportion of patients with HbA1c < 7 % without hypoglycemia was greater in the u-healthcare group (26 %) than in the SMBG group (12 %; P < 0.05). Body fat mass decreased and lipid profiles improved in the u-healthcare group but not in the SMBG group.
Conclusion
This u-healthcare service provided effective management for older patients with type 2 diabetes (ClinicalTrial.Gov: NCT01137058).
Access options
Buy single article
Instant access to the full article PDF.
USD 39.95
Price excludes VAT (USA)
Tax calculation will be finalised during checkout.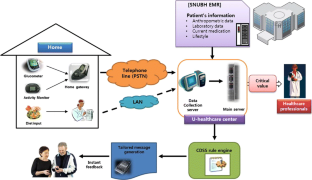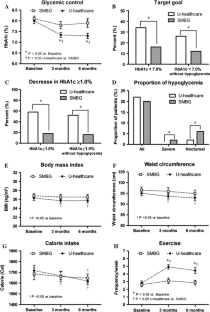 References
Ding H, Moodley Y, Kanagasingam Y, Karunanithi M (2012) A mobile-health system to manage chronic obstructive pulmonary disease patients at home. Conf Proc IEEE Eng Med Biol Soc 2012:2178–2181

Steventon A, Bardsley M, Billings J, Dixon J, Doll H, Hirani S, Cartwright M, Rixon L, Knapp M, Henderson C, Rogers A, Fitzpatrick R, Hendy J, Newman S (2012) Effect of telehealth on use of secondary care and mortality: findings from the Whole System Demonstrator cluster randomised trial. BMJ 344:e3874

de Jongh T, Gurol-Urganci I, Vodopivec-Jamsek V, Car J, Atun R (2012) Mobile phone messaging for facilitating self-management of long-term illnesses. Cochrane Database Syst Rev 12:CD007459

Alasaarela E, Oliver NS (2009) Wireless solutions for managing diabetes: a review and future prospects. Technol Health Care 17:353–367

Perez-Ferre N, Galindo M, Fernandez MD, Velasco V, de la Cruz MJ, Martin P, del VL, Calle-Pascual AL (2010) A telemedicine system based on Internet and short message service as a new approach in the follow-up of patients with gestational diabetes. Diabetes Res Clin Pract 87:e15–e17

Mulvaney SA, Rothman RL, Wallston KA, Lybarger C, Dietrich MS (2010) An internet-based program to improve self-management in adolescents with type 1 diabetes. Diabetes Care 33:602–604

Cho JH, Chang SA, Kwon HS, Choi YH, Ko SH, Moon SD, Yoo SJ, Song KH, Son HS, Kim HS, Lee WC, Cha BY, Son HY, Yoon KH (2006) Long-term effect of the Internet-based glucose monitoring system on HbA1c reduction and glucose stability: a 30-month follow-up study for diabetes management with a ubiquitous medical care system. Diabetes Care 29:2625–2631

Lim S, Kang SM, Shin H, Lee HJ, Won YJ, Yu SH, Kim SY, Yoo SY, Jung HS, Park KS, Ryu JO, Jang HC (2011) Improved glycemic control without hypoglycemia in elderly diabetic patients using the ubiquitous healthcare service, a new medical information system. Diabetes Care 34:308–313

Hu FB, Manson JE, Stampfer MJ, Colditz G, Liu S, Solomon CG, Willett WC (2001) Diet, lifestyle, and the risk of type 2 diabetes mellitus in women. N Engl J Med 345:790–797

Knowler WC, Barrett-Connor E, Fowler SE, Hamman RF, Lachin JM, Walker EA, Nathan DM (2002) Reduction in the incidence of type 2 diabetes with lifestyle intervention or metformin. N Engl J Med 346:393–403

Li G, Zhang P, Wang J, Gregg EW, Yang W, Gong Q, Li H, Li H, Jiang Y, An Y, Shuai Y, Zhang B, Zhang J, Thompson TJ, Gerzoff RB, Roglic G, Hu Y, Bennett PH (2008) The long-term effect of lifestyle interventions to prevent diabetes in the China Da Qing Diabetes Prevention Study: a 20-year follow-up study. Lancet 371:1783–1789

Wing RR, Bolin P, Brancati FL, Bray GA, Clark JM, Coday M, Crow RS, Curtis JM, Egan CM, Espeland MA, Evans M, Foreyt JP, Ghazarian S, Gregg EW, Harrison B, Hazuda HP, Hill JO, Horton ES, Hubbard VS, Jakicic JM, Jeffery RW, Johnson KC, Kahn SE, Kitabchi AE, Knowler WC, Lewis CE, Maschak-Carey BJ, Montez MG, Murillo A, Nathan DM, Patricio J, Peters A, Pi-Sunyer X, Pownall H, Reboussin D, Regensteiner JG, Rickman AD, Ryan DH, Safford M, Wadden TA, Wagenknecht LE, West DS, Williamson DF, Yanovski SZ (2013) Cardiovascular effects of intensive lifestyle intervention in type 2 diabetes. N Engl J Med 369:145–154

Gerstein HC, Miller ME, Byington RP, Goff DC Jr, Bigger JT, Buse JB, Cushman WC, Genuth S, Ismail-Beigi F, Grimm RH Jr, Probstfield JL, Simons-Morton DG, Friedewald WT (2008) Effects of intensive glucose lowering in type 2 diabetes. N Engl J Med 358:2545–2559

Patel A, MacMahon S, Chalmers J, Neal B, Billot L, Woodward M, Marre M, Cooper M, Glasziou P, Grobbee D, Hamet P, Harrap S, Heller S, Liu L, Mancia G, Mogensen CE, Pan C, Poulter N, Rodgers A, Williams B, Bompoint S, de Galan BE, Joshi R, Travert F (2008) Intensive blood glucose control and vascular outcomes in patients with type 2 diabetes. N Engl J Med 358:2560–2572

Munshi MN, Maguchi M, Segal AR (2012) Treatment of type 2 diabetes in the elderly. Curr Diab Rep 12:239–245

Kang SM, Kim MJ, Ahn HY, Yoon JW, Moon MK, Jung HS, Choi SH, Lim S, Park KS, Jang HC (2012) Ubiquitous healthcare service has the persistent benefit on glycemic control and body weight in older adults with diabetes. Diabetes Care 35:e19

Korean Diabetes Association (2007) Treatment guideline for diabetes. Korean Diabetes Association. http://www.diabetes.or.kr/english/

American Diabetes Association (2010) Standards of medical care in diabetes-2010. Diabetes Care 33(Suppl 1):S11–S61

Lee Y, Shin H, Vassy JL, Kim JT, Cho SI, Kang SM, Choi SH, Kim KW, Park KS, Jang HC, Lim S (2012) Comparison of regional body composition and its relation with cardiometabolic risk between BMI-matched young and old subjects. Atherosclerosis 224:258–265

Ko DH, Lim S, Song SH, Choi SH, Park YJ, Park KU, Jang HC, Song J (2010) Performance evaluation of the GlucoDr plus glucometer. Diabetes Technol Ther 12:307–312

Snell-Bergeon JK, Wadwa RP (2012) Hypoglycemia, diabetes, and cardiovascular disease. Diabetes Technol Ther 14(Suppl 1):S51–S58

McCoy RG, Van Houten HK, Ziegenfuss JY, Shah ND, Wermers RA, Smith SA (2012) Increased mortality of patients with diabetes reporting severe hypoglycemia. Diabetes Care 35:1897–1901

Lee HJ, Lee SH, Ha KS, Jang HC, Chung WY, Kim JY, Chang YS, Yoo DH (2009) Ubiquitous healthcare service using Zigbee and mobile phone for elderly patients. Int J Med Inform 78:193–198

Yoo HJ, Park MS, Kim TN, Yang SJ, Cho GJ, Hwang TG, Baik SH, Choi DS, Park GH, Choi KM (2009) A Ubiquitous Chronic Disease Care system using cellular phones and the internet. Diabet Med 26:628–635

World Medical Association declaration of Helsinki (1997) Recommendations guiding physicians in biomedical research involving human subjects. JAMA 277:925–926
Acknowledgments
This research was supported by the Korea Healthcare technology R&D Project, Ministry for Health, Welfare & Family Affairs, Republic of Korea (A090301). The funding source had no role in the collection of the data or in the decision to submit the manuscript for publication.
Conflict of interest
The authors declare that they have no conflict of interest.
Human and Animal Rights disclosure
All procedures performed in this study were in accordance with the ethical standards of the SNUBH institutional review board (see supplemental file for detailed study protocol) and with the Helsinki Declaration of 1975, as revised in 2008 [25].
Informed consent disclosure
Informed consent was obtained from all patients for being included in the study.
Additional information
Managed by Massimo Porta.
Electronic supplementary material
Below is the link to the electronic supplementary material.
About this article
Cite this article
Lim, S., Kang, S.M., Kim, K.M. et al. Multifactorial intervention in diabetes care using real-time monitoring and tailored feedback in type 2 diabetes. Acta Diabetol 53, 189–198 (2016). https://doi.org/10.1007/s00592-015-0754-8
Received:

Accepted:

Published:

Issue Date:

DOI: https://doi.org/10.1007/s00592-015-0754-8
Keywords