Abstract
Objective
Discordance between HbA1c and OGTT in screening pre-diabetes may occur because of lack of laboratory standardization, distinct underlying pathophysiological processes or different ethnicity. We evaluated HbA1c efficacy for screening OGTT-defined IFG and IGT conditions in a large Caucasian population using the newly revised IFCC protocol.
Research design and methods
A total of 501 consecutive subjects were screened for pre-diabetic conditions with OGTT with 75 g of glucose. Testing for HbA1c, lipid profile and fasting insulin levels was also performed. For detecting differences between continuous variables, ANOVA followed by Tukey's honestly significant difference (HSD) post hoc test was used. Logistic regression and ROC curve analysis were also performed for assessing HbA1c screening efficacy.
Results
ROC curve analysis showed that optimal HbA1c cut-off for detecting IFG was 5.6 % (sensitivity of 78 % and specificity of 63 %), while for IGT, the optimal cut-off was 5.9 % (sensitivity of 46 % and specificity of 84 %), with AUCs < 0.8. Screening with HbA1c identified 53.4 % of the 193 patients with IFG and/or IGT diagnosed at OGTT. As regards surrogate markers of insulin resistance, we observed a trend towards higher values of HOMA-IR and lower QUICKI values in subjects with IFG than in those with IGT. Patients with pre-diabetes at both tests had similar values of HOMA and QUICKI, compared with those with altered OGTT only.
Conclusions
IFCC-aligned HbA1c assay proved scarcely effective in detecting IFG and/or IGT in a large Caucasian population, identifying only half of the patients with abnormal OGTT. Moreover, adding HbA1c screening to OGTT may be of little benefit in identifying subjects with a worse metabolic profile.
This is a preview of subscription content, log in to check access.
Access options
Buy single article
Instant access to the full article PDF.
US$ 39.95
Price includes VAT for USA
Subscribe to journal
Immediate online access to all issues from 2019. Subscription will auto renew annually.
US$ 99
This is the net price. Taxes to be calculated in checkout.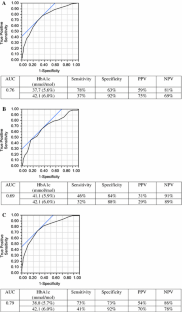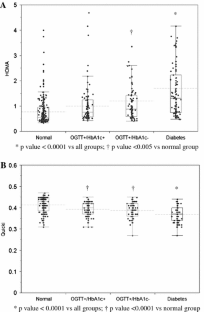 References
1.

Tabák AG, Herder C, Rathmann W, Brunner EJ, Kivimäki M (2012) Prediabetes: a high-risk state for diabetes development. Lancet 16(379):2279–2290

2.

Luijf YM, Hermanides J, Serlie MJ, Hoekstra JB, Soeters MR (2011) The added value of oral glucose tolerance testing in pre-diabetes. Curr Diabetes Rev 7(1):56–60

3.

Hollander P, Spellman C (2012) Controversies in prediabetes: do we have a diagnosis? Postgrad Med 124(4):109–118

4.

Hu Y, Liu W, Chen Y et al (2010) Combined use of fasting plasma glucose and glycated hemoglobin A1c in the screening of diabetes and impaired glucose tolerance. Acta Diabetol 47:231–236

5.

International Expert Committee (2009) International Expert Committee report on the role of the A1C assay in the diagnosis of diabetes. Diabetes Care 32:1327–1334

6.

Mosca A, Lapolla A, Gillery P (2013) Glycemic control in the clinical management of diabetic patients. Clin Chem Lab Med 51(4):753–766

7.

Lapolla A, Dalfrà MG, Fedele D (2010) Pregnancy complicated by diabetes: what is the best level of HbA1c for conception? Acta Diabetol 47(3):187–192

8.

American Diabetes Association (2013) Standards of medical care in diabetes—2013. Diabetes Care 36(Suppl 1):S11–S66

9.

Mbanya JC, Henry RR, Smith U (2011) President's statement on WHO recommendation on HbA 1c for diabetes diagnosis. Diabetes Res Clin Pract 93:310–311

10.

Vlaar EM, Admiraal WM, Busschers WB et al (2013) Screening South Asians for type 2 diabetes and prediabetes: (1) comparing oral glucose tolerance and haemoglobin A1c test results and (2) comparing the two sets of metabolic profiles of individuals diagnosed with these two tests. BMC Endocr Disord 13(1):8

11.

Bianchi C, Miccoli R, Bonadonna RC et al; GENFIEV Investigators (2012) Pathogenetic mechanisms and cardiovascular risk: differences between HbA(1c) and oral glucose tolerance test for the diagnosis of glucose tolerance. Diabetes Care 35(12):2607–2612

12.

Marini MA, Succurro E, Castaldo E et al (2012) Cardiometabolic risk profiles and carotid atherosclerosis in individuals with prediabetes identified by fasting glucose, postchallenge glucose, and hemoglobin A1c criteria. Diabetes Care 35(5):1144–1149

13.

Goldstein DE, Little RR, Lorenz RA et al (2004) Test of glycemia in diabetes. Diabetes Care 27:1761–1773

14.

WHO (2011) Use of glycated haemoglobin (HbA1c) in the diagnosis of diabetes mellitus. Abbreviated report of WHO consultation. Diabetes Res Clin Pract 93:299–309

15.

Matthews DR, Hosker JP, Rudenski AS et al (1985) Homeostasis model assessment: insulin resistance and beta-cell function from fasting plasma glucose and insulin concentrations in man. Diabetologia 28:412–419

16.

Zweig MH, Campbell G (1993) Receiver-operating characteristic (ROC) plots: a fundamental evaluation tool in clinical medicine. Clin Chem 39(4):561–577. Review. Erratum in: Clin Chem 39(8):1589

17.

Tankova T, Chakarova N, Dakovska L, Atanassova I (2012) Assessment of HbA1c as a diagnostic tool in diabetes and prediabetes. Acta Diabetol 49(5):371–378

18.

Mohan V, Vijayachandrika V, Gokulakrishnan K et al (2010) A1C cut points to define various glucose intolerance groups in Asian Indians. Diabetes Care 33:515–519

19.

Olson DE, Rhee MK, Herrick K, Ziemer DC, Twombly JG, Phillips LS (2010) Screening for diabetes and pre-diabetes with proposed A1C-based diagnostic criteria. Diabetes Care 33:2184–2189

20.

Lorenzo C, Wagenknecht LE, Hanley AJ, Rewers MJ, Karter AJ, Haffner SM (2010) A1C between 5.7 and 6.4% as a marker for identifying pre-diabetes, insulin sensitivity and secretion, and cardiovascular risk factors: the Insulin Resistance Atherosclerosis Study (IRAS). Diabetes Care 33:2104–2109

21.

Pinelli NR, Jantz AS, Martin ET, Jaber LA (2011) Sensitivity and specificity of glycated hemoglobin as a diagnostic test for diabetes and prediabetes in Arabs. J Clin Endocrinol Metab 96:E1680–E1683

22.

Zhang YH, Ma WJ, Thomas GN et al (2012) Diabetes and pre-diabetes as determined by glycated haemoglobin A1c and glucose levels in a developing southern Chinese population. PLoS ONE 7(5):e37260

23.

Lapolla A, Mosca A, Fedele D (2011) The general use of glycated haemoglobin for the diagnosis of diabetes and other categories of glucose intolerance: still a long way to go. Nutr Metab Cardiovasc Dis 21(7):467–475

24.

Zhang X, Gregg EW, Williamson DF et al (2010) A1C level and future risk of diabetes: a systematic review. Diabetes Care 33:1665–1673

25.

Selvin E, Steffes MW, Zhu H et al (2010) Glycated hemoglobin, diabetes, and cardiovascular risk in nondiabetic adults. N Engl J Med 362:800–811

26.

Otten J, Ahrén B, Olsson T (2014) Surrogate measures of insulin sensitivity vs the hyperinsulinaemic–euglycaemic clamp: a meta-analysis. Diabetologia 57(9):1781–1788

27.

Lorenzo C, Wagenknecht LE, Hanley AJ, Rewers MJ, Karter AJ, Haffner SM (2010) A1C between 5.7 and 6.4% as a marker for identifying pre-diabetes, insulin sensitivity and secretion, and cardiovascular risk factors: the Insulin Resistance Atherosclerosis Study (IRAS). Diabetes Care 33(9):2104–2109

28.

Saukkonen T, Jokelainen J, Timonen M et al (2012) Prevalence of metabolic syndrome components among the elderly using three different definitions: a cohort study in Finland. Scand J Prim Health Care 30(1):29–34

29.

Trikudanathan S, Raji A, Chamarthi B, Seely EW, Simonson DC (2013) Comparison of insulin sensitivity measures in South Asians. Metabolism 62(10):1448–1454

30.

Wu CZ, Pei D, Su CC et al (2010) Comparison of oral glucose insulin sensitivity with other insulin sensitivity surrogates from oral glucose tolerance tests in Chinese. Ann Acad Med Singapore 39(1):4–8

31.

Hanas R, John WG, International HbA1c Consensus Committee (2013) 2013 update on the worldwide standardization of the HbA1c measurement. Diabet Med 30:885–886

32.

Glad Working Group A1c Delegates WG, Mosca A, Branca MT, Carta M et al (2010) Recommendations for the implementation of international standardization of glycated hemoglobin in Italy. Clin Chem Lab Med 48(5):623–626
Conflict of interest
Nino Cristiano Chilelli, Chiara Cosma, Eugenio Ragazzi, Silvia Burlina, Martina Zaninotto, Mario Plebani and Annunziata Lapolla declare that they have no conflict of interest.
Ethical disclosure
Ethics approval was obtained from the institutional review board of the local Ethical Committee.
Human and animal rights disclosure
All procedures followed were in accordance with the ethical standards of the responsible committee on human experimentation (institutional and national) and with the Helsinki Declaration of 1975, as revised in 2008.
Informed consent disclosure
Informed consent was obtained from all patients for being included in the study.
Additional information
Managed by Antonio Secchi.
Electronic supplementary material
Below is the link to the electronic supplementary material.
About this article
Cite this article
Chilelli, N.C., Cosma, C., Ragazzi, E. et al. Screening with HbA1c identifies only one in two individuals with diagnosis of prediabetes at oral glucose tolerance test: findings in a real-world Caucasian population. Acta Diabetol 51, 875–882 (2014). https://doi.org/10.1007/s00592-014-0639-2
Received:

Accepted:

Published:

Issue Date:
Keywords
HbA1c

OGTT

Prediabetes

HOMA

QUICKI

Screening