Abstract
Insulin-mediated glucose disposal varies severalfold in apparently healthy individuals, and approximately one-third of the most insulin resistant of these individuals is at increased risk to develop various adverse clinical syndromes. Since direct measurements of insulin sensitivity are not practical in a clinical setting, several surrogate estimates of insulin action have been proposed, including fasting plasma insulin (FPI) concentration and the homeostasis model assessment of insulin resistance (HOMA-IR) calculated by a formula employing fasting plasma glucose (FPG) and FPI concentrations. The objective of this study was to compare FPI as an estimate of insulin-mediated glucose disposal with values generated by HOMA-IR in 758 apparently healthy nondiabetic individuals. Measurements were made of FPG, FPI, triglyceride (TG), and high-density lipoprotein cholesterol (HDL-C) concentrations, and insulin-mediated glucose uptake was quantified by determining steady-state plasma glucose (SSPG) concentration during the insulin suppression test. FPI and HOMA-IR were highly correlated (r = 0.98, P < 0.001). The SSPG concentration also correlated to a similar degree (P < 0.001) with FPI (r = 0.60) and HOMA-IR (r = 0.64). Furthermore, the relationship between FPI and TG (r = 0.35) and HDL-C (r = −0.40) was comparable to that between HOMA-IR and TG (r = 0.39) and HDL-C (r = −0.41). In conclusion, FPI and HOMA-IR are highly correlated in nondiabetic individuals, with each estimate accounting for ~40 % of the variability (variance) in a direct measure of insulin-mediated glucose disposal. Calculation of HOMA-IR does not provide a better surrogate estimate of insulin action, or of its associated dyslipidemia, than measurement of FPI.
Access options
Buy single article
Instant access to the full article PDF.
US$ 39.95
Tax calculation will be finalised during checkout.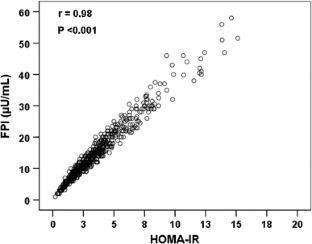 References
1.

Yeni-Komshian H, Carantoni M, Abbasi F, Reaven GM (2000) Relationship between several surrogate estimates of insulin resistance and quantification of insulin-mediated glucose disposal in 490 healthy nondiabetic volunteers. Diabetes Care 23:171–175

2.

Facchini FS, Hua N, Abbasi F, Reaven GM (2001) Insulin resistance as a predictor of age-related diseases. J Clin Endocrinol Metab 86:3574–3578

3.

Yip J, Facchini FS, Reaven GM (1998) Resistance to insulin-mediated glucose disposal as a predictor of cardiovascular disease. J Clin Endocrinol Metab 83:2773–2776

4.

Reaven GM (1988) Banting lecture 1988. Role of insulin resistance in human disease. Diabetes 37:1595–1607

5.

Einhorn D, Reaven GM, Cobin RH et al (2003) American College of Endocrinology position statement on the insulin resistance syndrome. Endocr Pract 9:237–252

6.

Reaven GM (2005) Why syndrome X? From Harold Himsworth to the insulin resistance syndrome. Cell Metab 1:9–14

7.

Matthews DR, Hosker JP, Rudenski AS, Naylor BA, Treacher DF, Turner RC (1985) Homeostasis model assessment: insulin resistance and beta-cell function from fasting plasma glucose and insulin concentrations in man. Diabetologia 28:412–419

8.

Olefsky J, Farquhar JW, Reaven G (1973) Relationship between fasting plasma insulin level and resistance to insulin-mediated glucose uptake in normal and diabetic subjects. Diabetes 22:507–513

9.

Greenfield MS, Doberne L, Kraemer F, Tobey T, Reaven G (1981) Assessment of insulin resistance with the insulin suppression test and the euglycemic clamp. Diabetes 30:387–392

10.

Pei D, Jones CN, Bhargava R, Chen YD, Reaven GM (1994) Evaluation of octreotide to assess insulin-mediated glucose disposal by the insulin suppression test. Diabetologia 37:843–845

11.

Shen SW, Reaven GM, Farquhar JW (1970) Comparison of impedance to insulin-mediated glucose uptake in normal subjects and in subjects with latent diabetes. J Clin Invest 49:2151–2160

12.

Laws A, Reaven GM (1992) Evidence for an independent relationship between insulin resistance and fasting plasma HDL-cholesterol, triglyceride and insulin concentrations. J Intern Med 231:25–30

13.

Tabak AG, Jokela M, Akbaraly TN, Brunner EJ, Kivimaki M, Witte DR (2009) Trajectories of glycaemia, insulin sensitivity, and insulin secretion before diagnosis of type 2 diabetes: an analysis from the Whitehall II study. Lancet 373:2215–2221

14.

Kahn SE, Haffner SM, Heise MA et al (2006) Glycemic durability of rosiglitazone, metformin, or glyburide monotherapy. N Engl J Med 355:2427–2443

15.

Reaven GM (1995) Effect of metformin on various aspects of glucose, insulin and lipid metabolism in patients with non-insulin-dependent diabetes mellitus with varying degrees of hyperglycemia. Diabetes Metab Rev 11(Suppl 1):S97–108

16.

Wu MS, Johnston P, Sheu WH et al (1990) Effect of metformin on carbohydrate and lipoprotein metabolism in NIDDM patients. Diabetes Care 13:1–8

17.

Kim SH, Reaven GM (2008) Isolated impaired fasting glucose and peripheral insulin sensitivity: not a simple relationship. Diabetes Care 31:347–352

18.

Bonora E, Targher G, Alberiche M et al (2000) Homeostasis model assessment closely mirrors the glucose clamp technique in the assessment of insulin sensitivity: studies in subjects with various degrees of glucose tolerance and insulin sensitivity. Diabetes Care 23:57–63

19.

Lansang MC, Williams GH, Carroll JS (2001) Correlation between the glucose clamp technique and the homeostasis model assessment in hypertension. Am J Hypertens 14:51–53

20.

Lorenzo C, Hazuda HP, Haffner SM (2012) Insulin resistance and excess risk of diabetes in Mexican-Americans: the San Antonio Heart Study. J Clin Endocrinol Metab 97:793–799

21.

Ikeda Y, Suehiro T, Nakamura T, Kumon Y, Hashimoto K (2001) Clinical significance of the insulin resistance index as assessed by homeostasis model assessment. Endocr J 48:81–86

22.

Lillioja S, Mott DM, Spraul M et al (1993) Insulin resistance and insulin secretory dysfunction as precursors of non-insulin-dependent diabetes mellitus. Prospective studies of Pima Indians. N Engl J Med 329:1988–1992

23.

Reaven G (2011) Wanted!: a standardized measurement of plasma insulin concentration. Arterioscler Thromb Vasc Biol 31:954–955
Acknowledgments
QDO was supported by NIDDK STEP-UP Program of the National Institutes of Health. The study was supported in part by the Clinical and Translational Science Award UL1 RR025744 from the NIH/NCRR.
Conflict of interest
None.
Additional information
Communicated by Guido Pozza.
About this article
Cite this article
Abbasi, F., Okeke, Q. & Reaven, G.M. Evaluation of fasting plasma insulin concentration as an estimate of insulin action in nondiabetic individuals: comparison with the homeostasis model assessment of insulin resistance (HOMA-IR). Acta Diabetol 51, 193–197 (2014). https://doi.org/10.1007/s00592-013-0461-2
Received:

Accepted:

Published:

Issue Date:
Keywords
Insulin resistance

Homeostasis model assessment of insulin resistance

Fasting insulin

Steady-state plasma glucose

Triglycerides

High-density lipoprotein cholesterol