Abstract
Type 2 diabetes is associated with risk of cancer. Hyperinsulinemia and insulin resistance may be the link with cancer, but whether this is independent of the diabetes status, obesity/visceral obesity and metabolic syndrome is uncertain and the present study wanted to address this issue. Fifteen-year all-cause, CVD and cancer mortality data were obtained through the Regional Health Registry in 2,011 out of 2,074 Caucasian middle-aged individuals of the Cremona Study, a population study on the prevalence of diabetes mellitus in Italy in which anthropometric and metabolic characteristics were collected. During the 15-year observation period, 495 deaths were registered: 221 CVD related and 180 cancer related. Age and sex were independently associated with all-cause, cancer and CVD mortality rates. Age- and sex-adjusted analysis showed that HOMA-IR, cigarette smoking and diabetes were independently associated with all-cause mortality; HOMA-IR, systolic blood pressure and fibrinogen were independently associated with CVD mortality; HOMA-IR and smoking habit were independently associated with cancer mortality. Individuals in the highest quintile of serum insulin had a 62% higher risk of cancer mortality (HR = 1.62 95% CI: 1.19–2.20; P < 0.0022) and 161% higher risk of gastrointestinal cancer mortality (HR = 2.61 95% CI: 1.73–3.94; P < 0.0001). Age- and sex-adjusted analysis showed that hyperinsulinemia/insulin resistance is associated with cancer mortality independently of diabetes, obesity/visceral obesity and the metabolic syndrome.
Access options
Buy single article
Instant access to the full article PDF.
US$ 39.95
Tax calculation will be finalised during checkout.
Subscribe to journal
Immediate online access to all issues from 2019. Subscription will auto renew annually.
US$ 79
Tax calculation will be finalised during checkout.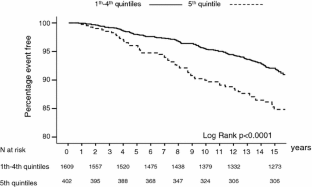 References
1.

Coughlin SS, Calle EE, Teras LR, Petrelli J, Thun MJ (2004) Diabetes mellitus as a predictor of cancer mortality in a large cohort of US adults. Am J Epidemiol 159:1160–1167

2.

Calle EE, Rodriguez C, Walker-Thurmond K, Thun MJ (2003) Overweight, obesity, and mortality from cancer in a prospectively studied cohort of US adults. N Engl J Med 348:1625–1638

3.

Giovannucci E, Michaud D (2007) The role of obesity and related metabolic disturbances in cancers of the colon, prostate, and pancreas. Gastroenterology 132:2208–2225

4.

Nicolucci A (2010) Epidemiological aspects of neoplasms in diabetes. Acta Diabetol 47:87–95

5.

Annunziata M, Granata R, Ghigo E (2011) The IGF system. Acta Diabetol 48:1–9

6.

Vigneri R, Frasca F, Sciacca L, Vigneri P, Frittitta L (2009) Re: insulin, insulin-like growth factor-I, and risk of breast cancer in postmenopausal women. J Natl Cancer Inst 101:1030–1031; author reply 1031–1032

7.

Garancini MP, Calori G, Manara E, Izzo A, Ebbli E, Galli L, Boari L, Gallus G (1993) An Italian population-based study of the prevalence of diabetes: some methodological aspects. Diabete Metab 19:116–120

8.

Garancini MP, Calori G, Ruotolo G, Manara E, Izzo A, Ebbli E, Bozzetti AM, Boari L, Lazzari P, Gallus G (1995) Prevalence of NIDDM and impaired glucose tolerance in Italy: an OGTT-based population study. Diabetologia 38:306–313

9.

National Cholesterol Education Program (NCEP) Expert Panel on Detection, Evaluation, and Treatment of High Blood Cholesterol in Adults (Adult Treatment Panel III) (2002) Third report of the national cholesterol education program (NCEP) expert panel on detection, evaluation, and treatment of high blood cholesterol in adults (Adult Treatment Panel III) final report. Circulation 106:3143–3421

10.

Perseghin G, Caumo A, Caloni M, Testolin G, Luzi L (2001) Incorporation of the fasting plasma FFA concentration into QUICKI improves its association with insulin sensitivity in nonobese individuals. J Clin Endocrinol Metab 86:4776–4781

11.

Giovannucci E (2001) Insulin, insulin-like growth factors and colon cancer: a review of the evidence. J Nutr 131:3109S–3120S

12.

Pischon T, Lahmann PH, Boeing H, Friedenreich C, Norat T, Tjonneland A, Halkjaer J, Overvad K, Clavel-Chapelon F, Boutron-Ruault MC, Guernec G, Bergmann MM, Linseisen J, Becker N, Trichopoulou A, Trichopoulos D, Sieri S, Palli D, Tumino R, Vineis P, Panico S, Peeters PH, Bueno-de-Mesquita HB, Boshuizen HC, Van Guelpen B, Palmqvist R, Berglund G, Gonzalez CA, Dorronsoro M, Barricarte A, Navarro C, Martinez C, Quiros JR, Roddam A, Allen N, Bingham S, Khaw KT, Ferrari P, Kaaks R, Slimani N, Riboli E (2006) Body size and risk of colon and rectal cancer in the European Prospective Investigation Into Cancer and Nutrition (EPIC). J Natl Cancer Inst 98:920–931

13.

Busik JV, Hootman SR, Greenidge CA, Henry DN (1997) Glucose-specific regulation of aldose reductase in capan-1 human pancreatic duct cells In vitro. J Clin Invest 100:1685–1692

14.

Ahmed RL, Schmitz KH, Anderson KE, Rosamond WD, Folsom AR (2006) The metabolic syndrome and risk of incident colorectal cancer. Cancer 107:28–36

15.

Aleksandrova K, Boeing H, Jenab M, Bueno-de-Mesquita HB, Jansen E, van Duijnhoven F, Fedirko V, Rinaldi S, Romieu I, Riboli E, Romaguera D, Overvad KK, Ostergaard JN, Olsen A, Tjonneland AA, Boutron-Ruault MC, Clavel-Chapelon F, Morois S, Masala G, Agnoli C, Panico S, Tumino R, Vineis P, Kaaks R, Lukanova A, Trichopoulou A, Naska A, Bamia C, Peeters PH, Rodriguez L, Buckland G, Sanchez MJ, Dorronsoro M, Huerta JM, Barricarte Gurrea A, Hallmans G, Palmqvist R, Khaw KT, Wareham NJ, Allen NE, Tsilidis KK, Pischon T (2011) Metabolic syndrome and risks of colon and rectal cancer: the European prospective investigation into cancer and nutrition study. Cancer Prev Res (Phila) 66:1873–1883

16.

Bowers K, Albanes D, Limburg P, Pietinen P, Taylor PR, Virtamo J, Stolzenberg-Solomon R (2006) A prospective study of anthropometric and clinical measurements associated with insulin resistance syndrome and colorectal cancer in male smokers. Am J Epidemiol 164:652–664

17.

Ausk KJ, Boyko EJ, Ioannou GN (2010) Insulin resistance predicts mortality in nondiabetic individuals in the US. Diabetes Care 33:1179–1185

18.

Bonora E, Targher G, Alberiche M, Bonadonna RC, Saggiani F, Zenere MB, Monauni T, Muggeo M (2000) Homeostasis model assessment closely mirrors the glucose clamp technique in the assessment of insulin sensitivity: studies in subjects with various degrees of glucose tolerance and insulin sensitivity. Diabetes Care 23:57–63

19.

Katz A, Nambi SS, Mather K, Baron AD, Follmann DA, Sullivan G, Quon MJ (2000) Quantitative insulin sensitivity check index: a simple, accurate method for assessing insulin sensitivity in humans. J Clin Endocrinol Metab 85:2402–2410

20.

Barone BB, Yeh HC, Snyder CF, Peairs KS, Stein KB, Derr RL, Wolff AC, Brancati FL (2008) Long-term all-cause mortality in cancer patients with preexisting diabetes mellitus: a systematic review and meta-analysis. JAMA 300:2754–2764

21.

Evans JM, Donnelly LA, Emslie-Smith AM, Alessi DR, Morris AD (2005) Metformin and reduced risk of cancer in diabetic patients. BMJ 330:1304–1305

22.

Bowker SL, Majumdar SR, Veugelers P, Johnson JA (2006) Increased cancer-related mortality for patients with type 2 diabetes who use sulfonylureas or insulin. Diabetes Care 29:254–258

23.

Currie CJ, Poole CD, Gale EA (2009) The influence of glucose-lowering therapies on cancer risk in type 2 diabetes. Diabetologia 52:1766–1777

24.

Li D, Yeung SC, Hassan MM, Konopleva M, Abbruzzese JL (2009) Antidiabetic therapies affect risk of pancreatic cancer. Gastroenterology 137:482–488

25.

Cazzaniga M, Bonanni B, Guerrieri-Gonzaga A, Decensi A (2009) Is it time to test metformin in breast cancer clinical trials? Cancer Epidemiol Biomarkers Prev 18:701–705

26.

Decensi A, Puntoni M, Goodwin P, Cazzaniga M, Gennari A, Bonanni B, Gandini S (2010) Metformin and cancer risk in diabetic patients: a systematic review and meta-analysis. Cancer Prev Res Phila 3:1451–1461

27.

Vigneri P, Frasca F, Sciacca L, Pandini G, Vigneri R (2009) Diabetes and cancer. Endocr Relat Cancer 16:1103–1123

28.

Monami M, Lamanna C, Balzi D, Marchionni N, Mannucci E (2009) Sulphonylureas and cancer: a case-control study. Acta Diabetol 46:279–284
Acknowledgments
This work was supported by Associazione Italiana per la Ricerca sul Cancro (AIRC, bando 5 × 1,000 N°12182 and Progetto IG N° 11783), by European Community's Seventh Framework Programme (EPC-TM net, project number 256974), by INAIL Research Grant and by a liberal donation by Angela Musazzi and Mario Stellato family.
Conflict of interest
Authors have no conflicts of interest to declare.
About this article
Cite this article
Perseghin, G., Calori, G., Lattuada, G. et al. Insulin resistance/hyperinsulinemia and cancer mortality: the Cremona study at the 15th year of follow-up. Acta Diabetol 49, 421–428 (2012). https://doi.org/10.1007/s00592-011-0361-2
Received:

Accepted:

Published:

Issue Date:
Keywords
Cancer

Hyperinsulinemia

Diabetes mellitus

Hyperglycemia

Obesity

Metabolic syndrome