Abstract
This study evaluated the association between serum C-peptide levels and chronic vascular complications in Korean patients with type 2 diabetes. Data for 1,410 patients with type 2 diabetes were evaluated cross-sectionally. Fasting and postprandial 2-hour serum C-peptide levels were analyzed with respect to diabetic micro- and macrovascular complications. In the group of patients with lower fasting serum C-peptide quartile, the prevalences of diabetic retinopathy and neuropathy were significantly higher (P = 0.035, P < 0.001, respectively). In the group of patients with lower delta C-peptide (postprandial − fasting C-peptide) quartile, the prevalences of diabetic retinopathy, nephropathy, and neuropathy were significantly higher (P < 0.001 for all). Low delta C-peptide quartile was also associated with increased severity of retinopathy and nephropathy. The age- and sex-adjusted odds ratios (ORs) for retinopathy, neuropathy, and nephropathy in the lowest versus the highest delta C-peptide quartile were 6.45 (95% confidence interval 3.41–12.22), 3.01 (2.16–4.19), and 2.65 (1.71–4.12), respectively. After further adjustment for the duration of diabetes, type of antidiabetic therapy, mean hemoglobin A1c, body mass index, and blood pressure, the ORs were reduced to 2.83 (1.32–6.08), 1.68 (1.12–2.53), and 1.61 (1.05–2.47), respectively, but remained significant. No significant difference was observed in the prevalence of macrovascular complications with respect to fasting or delta C-peptide quartiles. These results suggest that low C-peptide level is associated with diabetic microvascular, but not macrovascular complications in patients with type 2 diabetes mellitus.
Access options
Buy single article
Instant access to the full article PDF.
USD 39.95
Price excludes VAT (USA)
Tax calculation will be finalised during checkout.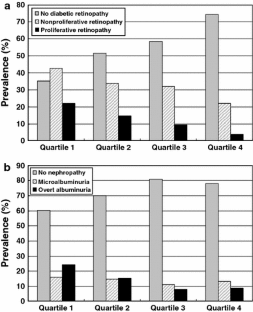 References
Prando R, Odetti P, Melga P, Giusti R, Ciuchi E, Cheli V (1996) Progressive deterioration of beta-cell function in nonobese type 2 diabetic subjects. Postprandial plasma C-peptide level is an indication of insulin dependency. Diabetes Metab 22:185–191

Haupt E, Haupt A, Herrmann R, Benecke-Timp A, Vogel H, Walter C (1999) The KID study V: the natural history of type 2 diabetes in younger patients still practising a profession. Heterogeneity of basal and reactive C-peptide levels in relation to BMI, duration of disease, age and HbA1. Exp Clin Endocrinol Diabetes 107:236–243

Johansson J, Ekberg K, Shafqat J et al (2002) Molecular effects of proinsulin C-peptide. Biochem Biophys Res Commun 295:1035–1040

Hills CE, Brunskill NJ, Squires PE (2010) C-peptide as a therapeutic tool in diabetic nephropathy. Am J Nephrol 31:389–397

Mughal RS, Scragg JL, Lister P et al (2010) Cellular mechanisms by which proinsulin C-peptide prevents insulin-induced neointima formation in human saphenous vein. Diabetologia 53:1761–1771

Suzuki K, Watanabe K, Motegi T, Kajinuma H (1989) High prevalence of proliferative retinopathy in diabetic patients with low pancreatic B-cell capacity. Diabetes Res Clin Pract 6:45–52

Steffes MW, Sibley S, Jackson M, Thomas W (2003) Beta-cell function and the development of diabetes-related complications in the Diabetes Control and Complications Trial. Diabetes Care 26:832–836

Panero F, Novelli G, Zucco C et al (2009) Fasting plasma C-peptide and micro- and macrovascular complications in a large clinic-based cohort of type 1 diabetic patients. Diabetes Care 32:301–305

Bo S, Cavallo-Perin P, Gentile L, Repetti E, Pagano G (2000) Relationship of residual beta-cell function, metabolic control and chronic complications in type 2 diabetes mellitus. Acta Diabetol 37:125–129

Sari R, Balci MK (2005) Relationship between C peptide and chronic complications in type-2 diabetes mellitus. J Natl Med Assoc 97:1113–1118

Inukai T, Matsutomo R, Tayama K, Aso Y, Takemura Y (1999) Relation between the serum level of C-peptide and risk factors for coronary heart disease and diabetic microangiopathy in patients with type-2 diabetes mellitus. Exp Clin Endocrinol Diabetes 107:40–45

Ahn HJ, Han KA, Kwon HR et al (2010) Small rice bowl-based meal plan versus food exchange-based meal plan for weight, glucose and lipid control in obese type 2 diabetic patients. Korean Diabetes J 34:86–94

Wilkinson CP, Ferris FL 3rd, Klein RE et al (2003) Proposed international clinical diabetic retinopathy and diabetic macular edema disease severity scales. Ophthalmology 110:1677–1682

Casellini CM, Barlow PM, Rice AL et al (2007) A 6-month, randomized, double-masked, placebo-controlled study evaluating the effects of the protein kinase C-beta inhibitor ruboxistaurin on skin microvascular blood flow and other measures of diabetic peripheral neuropathy. Diabetes Care 30:896–902

Pitei DL, Watkins PJ, Stevens MJ, Edmonds ME (1994) The value of the Neurometer in assessing diabetic neuropathy by measurement of the current perception threshold. Diabet Med 11:872–876

De Bacquer D, De Backer G, Kornitzer M, Blackburn H (1998) Prognostic value of ECG findings for total, cardiovascular disease, and coronary heart disease death in men and women. Heart 80:570–577

De Bacquer D, De Backer G, Kornitzer M (2000) Prevalences of ECG findings in large population based samples of men and women. Heart 84:625–633

Samnegard B, Jacobson SH, Jaremko G, Johansson BL, Sjoquist M (2001) Effects of C-peptide on glomerular and renal size and renal function in diabetic rats. Kidney Int 60:1258–1265

Djemli-Shipkolye A, Gallice P, Coste T et al (2000) The effects ex vivo and in vitro of insulin and C-peptide on Na/K adenosine triphosphatase activity in red blood cell membranes of type 1 diabetic patients. Metabolism 49:868–872

Ekberg K, Brismar T, Johansson BL, Jonsson B, Lindstrom P, Wahren J (2003) Amelioration of sensory nerve dysfunction by C-Peptide in patients with type 1 diabetes. Diabetes 52:536–541

Wahren J, Ekberg K, Johansson J et al (2000) Role of C-peptide in human physiology. Am J Physiol Endocrinol Metab 278:E759–E768

Forst T, De La Tour DD, Kunt T et al (2000) Effects of proinsulin C-peptide on nitric oxide, microvascular blood flow and erythrocyte Na+, K+-ATPase activity in diabetes mellitus type I. Clin Sci (Lond) 98:283–290

Nordquist L, Shimada K, Ishii T, Furuya DT, Kamikawa A, Kimura K (2010) Proinsulin C-peptide prevents type-1 diabetes-induced decrease of renal Na+, K+-ATPase alpha1-subunit in rats. Diabetes Metab Res Rev 26:193–199

Lee SK, Lee JO, Kim JH et al (2010) C-peptide stimulates nitrites generation via the calcium-JAK2/STAT1 pathway in murine macrophage Raw264.7 cells. Life Sci 86:863–868

Johansson BL, Kernell A, Sjoberg S, Wahren J (1993) Influence of combined C-peptide and insulin administration on renal function and metabolic control in diabetes type 1. J Clin Endocrinol Metab 77:976–981

Johansson BL, Borg K, Fernqvist-Forbes E, Kernell A, Odergren T, Wahren J (2000) Beneficial effects of C-peptide on incipient nephropathy and neuropathy in patients with type 1 diabetes mellitus. Diabet Med 17:181–189

Johansson BL, Wahren J, Pernow J (2003) C-peptide increases forearm blood flow in patients with type 1 diabetes via a nitric oxide-dependent mechanism. Am J Physiol Endocrinol Metab 285:E864–E870

Walcher D, Babiak C, Poletek P et al (2006) C-Peptide induces vascular smooth muscle cell proliferation: involvement of SRC-kinase, phosphatidylinositol 3-kinase, and extracellular signal-regulated kinase 1/2. Circ Res 99:1181–1187

Ido Y, Vindigni A, Chang K et al (1997) Prevention of vascular and neural dysfunction in diabetic rats by C-peptide. Science 277:563–566

Cotter MA, Ekberg K, Wahren J, Cameron NE (2003) Effects of proinsulin C-peptide in experimental diabetic neuropathy: vascular actions and modulation by nitric oxide synthase inhibition. Diabetes 52:1812–1817

Hovorka R, Chassin L, Luzio SD, Playle R, Owens DR (1998) Pancreatic beta-cell responsiveness during meal tolerance test: model assessment in normal subjects and subjects with newly diagnosed noninsulin-dependent diabetes mellitus. J Clin Endocrinol Metab 83:744–750

Pasquali R, Buratti P, Biso P et al (1987) Estimation of B-cell function by the urinary excretion rate of C-peptide in diabetic patients: comparison with C-peptide response to glucagon and to a mixed meal. Diabete Metab 13:44–51

Kim RS, Son YJ, Yang IM et al (1985) Postprandial 2-hr serum C-peptide concentration as a guide for insulin treatment in patients with NIDDM. Korean J Intern Med 28:779–786
Conflicts of interest
None of the authors had any conflicts of interest related to this study.
Electronic supplementary material
Below is the link to the electronic supplementary material.
About this article
Cite this article
Kim, BY., Jung, CH., Mok, JO. et al. Association between serum C-peptide levels and chronic microvascular complications in Korean type 2 diabetic patients. Acta Diabetol 49, 9–15 (2012). https://doi.org/10.1007/s00592-010-0249-6
Received:

Accepted:

Published:

Issue Date:

DOI: https://doi.org/10.1007/s00592-010-0249-6
Keywords