Abstract
Diabetic complication is comprised of a wide variety of pathophysiological factors involving proinflammatory cytokines, adipokines, and oxidative stress, among others. Each of these complications differs in their incidence and the stage of their occurrence. We examined cytokines and stress markers in 48 patients with type 2 diabetes mellitus and compared the difference of their contribution to pathogenesis between nephropathy and other diabetic complications. Hemoglobin A1c correlated with the level of low-density lipoprotein-cholesterol, and significantly elevated in the severe macroangiopathy group. Cystatin C increased in the severe microangiopathy groups but did not increase in the macroangiopathy group. The levels of interleukin 18 (IL-18), high-sensitive CRP (H-CRP), liver-type fatty acid binding protein, and 8-hydroxy-2-deoxyguanosine increased in the severe microangiopathy group. These data suggest the participation of proinflammatory signaling and oxidative stress in the progression of microangiopathy. In particular, IL-18 and H-CRP were significantly elevated only in the severe nephropathy group but did not significantly elevate in other complications. These data suggest another effect of IL-18 on glomerulus in addition to its proinflammatory effect. In conclusion, we propose that IL18 has a specific role that contributes more closely to the progression of diabetic nephropathy than other diabetic complications.
Access options
Buy single article
Instant access to the full article PDF.
USD 39.95
Price excludes VAT (USA)
Tax calculation will be finalised during checkout.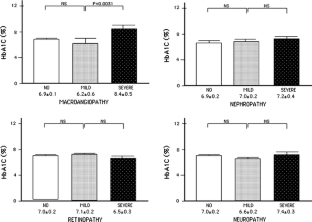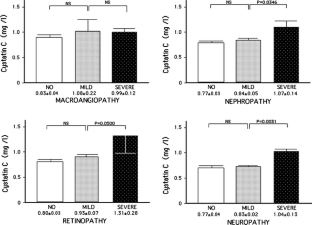 Similar content being viewed by others
References
Di Marzio D, Mohn A, Mokini ZH et al (2006) Macroangiopathy in adults and children with diabetes: from molecular mechanisms to vascular damage (part 1). Horm Metab Res 38:691–705

Bash LD, Selvin E, Steffes M et al (2008) Poor glycemic control in diabetes and the risk of incident chronic kidney disease even in the absence of albuminuria and retinopathy: Atherosclerosis Risk in Communities (ARIC) study. Arch Intern Med 168:2440–2447

Adams HP Jr (2009) Secondary prevention of atherothrombotic events after ischemic stroke. Mayo Clin Proc 84:43–51

Umemura T, Soga J, Hidaka T et al (2008) Aging and hypertension are independent risk factors for reduced number of circulating endothelial progenitor cells. Am J Hypertens 21:1203–1209

Odermarsky M, Andersson S, Pesonen E et al (2008) Respiratory infection recurrence and passive smoking in early atherosclerosis in children and adolescents with type 1 diabetes. Eur J Clin Invest 38:381–388

Kaneto H, Matsuoka TA, Katakami N et al (2007) Oxidative stress and the JNK pathway are involved in the development of type 1 and type 2 diabetes. Curr Mol Med 7:674–686

Koh KK, Han SH, Quon MJ (2005) Inflammatory markers and the metabolic syndrome: insights from therapeutic interventions. J Am Coll Cardiol 46:1978–1985

Pennathur S, Heinecke JW (2007) Oxidative stress and endothelial dysfunction in vascular disease. Curr Diab Rep 7:257–264

Taal MW, Zandi-Nejad K, Weening B et al (2000) Proinflammatory gene expression and macrophage recruitment in the rat remnant kidney. Kidney Int 58:1664–1676

Timoshanko JR, Kitching AR, Holdsworth SR et al (2001) Interleukin-12 from intrinsic cells is an effector of renal injury in crescentic glomerulonephritis. J Am Soc Nephrol 12:464–471

Reddy P (2004) Interleukin-18: recent advances. Curr Opin Hematol 11:405–410

Suchanek H, Myśliwska J, Siebert J et al (2005) High serum interleukin-18 concentrations in patients with coronary artery disease and type 2 diabetes mellitus. Eur Cytokine Netw 16:177–185

Araki S, Dobashi K, Kubo K et al (2006) High molecular weight, rather than total, adiponectin levels better reflect metabolic abnormalities associated with childhood obesity. J Clin Endocrinol Metab 91:5113–5116

Komaba H, Igaki N, Goto S et al (2006) Increased serum high-molecular-weight complex of adiponectin in type 2 diabetic patients with impaired renal function. Am J Nephrol 26:476–482

Wang G, Gong Y, Anderson J et al (2005) Antioxidative function of L-FABP in L-FABP stably transfected Chang liver cells. Hepatology 42:871–879

Kamijo-Ikemori A, Sugaya T, Obama A et al (2006) Liver-type fatty acid-binding protein attenuates renal injury induced by unilateral ureteral obstruction. Am J Pathol 169:1107–1117

Evans MD, Cooke MS, Akil M et al (2000) Aberrant processing of oxidative DNA damage in systemic lupus erythematosus. Biochem Biophys Res Commun 273:894–898

Ghee JY, Han DH, Song HK et al (2008) The role of macrophage in the pathogenesis of chronic cyclosporine-induced nephropathy. Nephrol Dial Transplant 23:4061–4069

Araki S, Haneda M, Koya D et al (2007) Predictive impact of elevated serum level of IL-18 for early renal dysfunction in type 2 diabetes: an observational follow-up study. Diabetologia 50:867–873

Ridker PM, Cushman M, Stampfer MJ et al (1998) Plasma concentration of C-reactive protein and risk of developing peripheral vascular disease. Circulation 97:425–428

Konishi K, Tanabe F, Taniguchi M et al (1997) A simple and sensitive bioassay for the detection of human interleukin-18/interferon-gamma-inducing factor using human myelomonocytic KG-1 cells. J Immunol Methods 209:187–191

Kobayashi H, Ouchi N, Kihara S et al (2004) Selective suppression of endothelial cell apoptosis by the high molecular weight form of adiponectin. Circ Res 94:e27–e31

Pfeifer PH, Kawahara MS, Hugli TE (1999) Possible mechanism for in vitro complement activation in blood and plasma samples: futhan/EDTA controls in vitro complement activation. Clin Chem 45:1190–1199

Kamijo A, Sugaya T, Hikawa A et al (2006) Urinary liver-type fatty acid binding protein as a useful biomarker in chronic kidney disease. Mol Cell Biochem 284:175–182

Toyokuni S, Tanaka T, Hattori Y et al (1997) Quantitative immunohistochemical determination of 8-hydroxy-2′-deoxyguanosine by a monoclonal antibody N45.1: its application to ferric nitrilotriacetate-induced renal carcinogenesis model. Lab Invest 76:365–374

Dagenais GR, St-Pierre A, Gilbert P et al (2009) Comparison of prognosis for men with type 2 diabetes mellitus and men with cardiovascular disease. CMAJ 180:40–47

Neeli H, Gadi R, Rader DJ (2009) Managing diabetic dyslipidemia: beyond statin therapy. Curr Diab Rep 9:11–17

Sawicki PT, Mühlhauser I, Didjurgeit U et al (1995) Mortality and morbidity in treated hypertensive type 2 diabetic patients with micro- or macroproteinuria. Diabet Med 12:893–898

Freedman BI, Sedor JR (2008) Hypertension-associated kidney disease: perhaps no more. J Am Soc Nephrol 19:2047–2051

Luyckx VA, Cairo LV, Compston CA et al (2009) The oncostatin M pathway plays a major role in the renal acute phase response. Am J Physiol Renal Physiol 296:F875–F883

Gong D, Lu J, Chen X et al (2008) A copper(II)-selective chelator ameliorates diabetes-evoked renal fibrosis and albuminuria, and suppresses pathogenic TGF-β activation in the kidneys of rats used as a model of diabetes. Diabetologia 51:1741–1751

Esfandiari E, McInnes IB, Lindop G et al (2001) A proinflammatory role of IL-18 in the development f spontaneous autoimmune disease. J Immunol 167:5338–5347

Wong CK, Lit LC, Tam LS et al (2005) Elevation of plasma osteopontin concentration is correlated with disease activity in patients with systemic lupus erythematosus. Rheumatology (Oxford). 44:602–606

Zilverschoon GR, Tack CJ, Joosten LA et al (2008) Interleukin-18 resistance in patients with obesity and type 2 diabetes mellitus. Int J Obes (London) 32:1407–1414

Ruotsalainen E, Vauhkonen I, Salmenniemi U et al (2008) Markers of endothelial dysfunction and low-grade inflammation are associated in the offspring of type 2 diabetic subjects. Atherosclerosis 197:271–277

Wong CK, Ho CY, Li EK et al (2002) Elevated production of interleukin-18 is associated with renal disease in patients with systemic lupus erythematosus. Clin Exp Immunol 130:345–351

Tucci M, Quatraro C, Lombardi L et al (2008) Glomerular accumulation of plasmacytoid dendritic cells in active lupus nephritis: role of interleukin-18. Arthritis Rheum 58:251–262

Hinokio Y, Suzuki S, Hirai M et al (2002) Urinary excretion of 8-oxo-7, 8-dihydro-2′-deoxyguanosine as a predictor of the development of diabetic nephropathy. Diabetologia 45:877–882

Morgan CL, Currie CJ, Stott NC et al (2000) The prevalence of multiple diabetes-related complications. Diabet Med 17:146–151

Groop PH, Forsblom C, Thomas MC (2005) Mechanisms of disease: pathway-selective insulin resistance and microvascular complications of diabetes. Nat Clin Pract Endocrinol Metab 1:100–110

Sharma K, Ramachandrarao S, Qiu G et al (2008) Adiponectin regulates albuminuria and podocyte function in mice. J Clin Invest 118:1645–1656

Fujita T, Fujioka T, Murakami T et al (2007) Chylomicron accelerates C3 tick-over by regulating the role of factor H, leading to overproduction of acylation stimulating protein. J Clin Lab Anal 21:14–23
Acknowledgments
This work was supported in part by the fund of 50th anniversary of the foundation of Nihon University School of Medicine in 2007.
Conflicts of interest statement
All authors have no conflicts of interest.
About this article
Cite this article
Fujita, T., Ogihara, N., Kamura, Y. et al. Interleukin-18 contributes more closely to the progression of diabetic nephropathy than other diabetic complications. Acta Diabetol 49, 111–117 (2012). https://doi.org/10.1007/s00592-010-0178-4
Received:

Accepted:

Published:

Issue Date:

DOI: https://doi.org/10.1007/s00592-010-0178-4
Keywords