Abstract
Only few insulin-treated (IT) people with diabetes mellitus (DM) reach the target due to poor compliance and/or to sedentary lifestyle and/or to inadequate treatment regimen. The latter may be also brought about by often overlooked factors including insulin injection into altered skin areas, often brought about by incorrect habits, namely needle reutilization or poor compliance to the suggestion to continuously rotate skin injection areas. The aim of our study was to evaluate the rate of skin lesions within the sites commonly used for insulin injection in our IT DM patients and to verify whether a short-acting insulin analogue yielded different metabolic effects when injected in altered vs. normal skin areas. One hundred and eighty well-trained IT people with type 1 and type 2 DM (64 ± 15 years of age) consecutively referring to our unit underwent a standard clinical examination involving an accurate skin inspection protocol meant at looking for any alterations eventually affecting all possible injection sites, including bruising, multiple needle pricks and lipodystrophic nodules (LN). They were also tested for HPLC HbA1c determination and asked to fill in a standard questionnaire on injection habits. Furthermore, seven male, T1DM glulisine–glargine basal-bolus-treated patients in this group were randomly injected 10 IU glulisine into either normal skin (NS) or an LN by a nurse before a standard, 405 kcal breakfast, for blood glucose and free insulin determination at 0, 30, 45, 60, 75, 90, 120 and 150 min. More lesions were found in people over sixty (P < 0.01) and in women (P < 0.05). A higher prevalence of HbA1c >7.5% was found in patients with lesions (with an O.R. of 3.74) and further confirmed by data obtained from head-to-head comparison of insulin injection into an LN and NS. In fact, injection into an LN proved to impair and slow down insulin absorption, resulting in a higher absolute value and a larger variability of blood glucose levels than those observed by utilizing NS. This suggests us to pay more attention to all aspects of patient–team relationship to try and obtain good metabolic control in all people with diabetes and even more in the elderly.
Access options
Buy single article
Instant access to the full article PDF.
USD 39.95
Price includes VAT (USA)
Tax calculation will be finalised during checkout.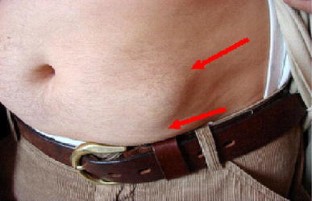 References
1.

Nicolucci A, Ciccarone E, Consoli A et al (2000) Relationship between patient practice-oriented knowledge and metabolic control in intensively treated type 1 diabetic patients: results of the validation of the knowledge and practices diabetes questionnaire. Diabetes Nutr Metab 13:276–283

2.

Gin H, Hanaire-Broutin H (2005) Reproducibility and variability in the action of injected insulin. Diabetes Metab 31:7–13

3.

Guerci B, Suavenet JP (2005) Subcutaneous insulin: pharmacokinetic variability and glycemic variability. Diabetes Metab 31:454–457

4.

Young RJ, Steel MJ, Frier BM, Duncan LJ (1981) Insulin injection sites in diabetes: a neglected area? BMJ 283:349

5.

Hambridge K (2007) The management of lipodystrophy in diabetes care. Br J Nurs 16:520–524

6.

Richardson T, Kerr D (2003) Skin-related complications of insulin therapy: epidemiology and emerging management strategies. Am J Clin Dermatol 4:661–667

7.

Schiazza L, Ocella C, Bleidi D, Rampini E (1990) Insulin lipohypertrophy. J Am Acad Dermatol 104:145–149

8.

Fujikura J (2005) Insulin-induced lipohypertrophy: report of a case with histopathology. Endocrine J 51:623–628

9.

Wallymahmed ME, Littler P, Clegg C et al (2004) Nodules of fibrocollagenous scar tissue induced by subcutaneous insulin injections: a cause of poor diabetic control. Postgrad Med J 80(950):732–733

10.

Lopez X, Castells M, Ricker A, Velazques EF et al (2008) Human insulin analog-induced lipoatrophy. Diabetes Care 31:442–444

11.

Géloën A, Collet AJ, Guay G, Bukowiecki LJ (1989) Insulin stimulates in vivo cell proliferation in white adipose tissue. Am J Physiol 256:C190–C196

12.

Johansson UB, Amsberg S, Hannerz L et al (2005) Impaired absorption of insulin aspart from lipoypertrophic injecton sites. Diabetes Care 28:2025–2027

13.

Gin H, Hanaire-Brutin H (2005) Reproducibility and variability in the action of injected insulin. Diabetes Metab 31:7–13

14.

Gentile S, Carbone L, Guarino G, De Blasi V et al (2007) Alterazioni di cute e sottocute da somministrazione di insulina e compenso glico-metabolico nel diabetico tipo 2 insulino-trattato. In: Atti XVI congresso nazionale AMD. Pacini, Pisa, pp 246–250

15.

The Diabetes control and complications trial/epidemiology of diabetes interventions and complications (DCCT/EDIC) study research group (2005). Intensive diabetes treatment and cardiovascular disease in patients with type 1 diabetes. N Engl J Med 353: 2643–2653

16.

Stratton I, Adler AL, Neil HA et al (2000) Association of glycaemia with macrovascular and microvascular complications of type 2 diabetes (UKPDS 35): prospective observational study. BMJ 21:405–412

17.

Gaede P, Vedel P, Larsen N et al (2003) Multifactorial intervention and cardiovasculardisease in patients with type 2 diabetes. N Engl J Med 348:383–393

18.

Rydén L, Standl E, Bartnik M, Van den Berghe G et al (2007) Guidelines on diabetes, pre-diabetes, and cardiovascular diseases: executive summary. The task force on diabetes and cardiovascular diseases of the European society of cardiology (ESC) and of the European association for the study of diabetes (EASD). Eur Heart J 28:88–136

19.

Italian Standards for Diabetes Mellitus (2007) In: Bonomo M et al (eds) Infomedica, Turin, pp 43–45
About this article
Cite this article
Gentile, S., Agrusta, M., Guarino, G. et al. Metabolic consequences of incorrect insulin administration techniques in aging subjects with diabetes. Acta Diabetol 48, 121–125 (2011). https://doi.org/10.1007/s00592-009-0172-x
Received:

Accepted:

Published:

Issue Date:
Keywords
Aging

Skin

Glucose

Insulin

Metabolism