Abstract
Patients with type 1 diabetes (a TH1 disease) have been reported to be at a lower risk of developing asthma (a TH2 disease). Both diseases are affected by environmental and genetic factors. Our objective is to examine this relationship in Lebanon, a Middle-Eastern country, where no previous similar studies are available. This is a cross-sectional observational study conducted at the Chronic Care Center, a referral medical center for type 1 diabetics. Patients with type 1 diabetes aged 6–39 years old, their unaffected siblings and age-matched control completed the International Primary Care Airways Group asthma screening questionnaire. The prevalence of asthma symptoms was compared among the three groups and separately within a subgroup of diabetics in relation to their carrier state of previously collected genetic data. Among 305 diabetics, 776 siblings and 187 controls, diabetics were at lower risk of having any asthma symptoms than controls; OR 0.48 (95% CI 0.32–0.72, p < 0.001) and siblings were at lower risk than diabetics and controls; OR 0.64 (95% CI 0.45–0.91, p = 0.01) and 0.28 (95% CI 0.19–0.42, p < 0.001), respectively. Among 66 diabetics, carriers of the HLA-DQB1*0201 allele were at lower risk of having any asthma symptoms than non-carriers (25.5 vs. 53.3%, p = 0.04). Only a statistically non-significant trend of higher risk was observed in carriers of HLA-DQB1*0301 and G allele at the 49 (A/G) nucleotide of CTLA-4 gene. The TH1–TH2 paradigm might partially explain these findings, since siblings were the least to report asthma symptoms. Future research is needed with diagnostic tests for asthma and extensive genetic testing.
Access options
Buy single article
Instant access to the full article PDF.
USD 39.95
Price excludes VAT (USA)
Tax calculation will be finalised during checkout.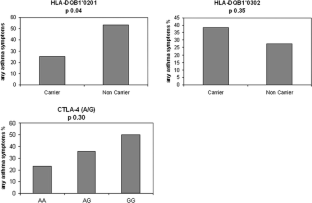 Abbreviations
Th1:

T helper type 1

Th2:

T helper type 1

T1DM:

Type 1 diabetes mellitus

IPAG:

International Primary Care Airways Group

CCC:

Chronic Care Center
References
Kero J, Gissler M, Hemminki E, Isolauri E (2001) Could TH1and TH2 diseases coexist? Evaluation of asthma incidence in children with celiac disease, type 1 diabetes, or rheumatois arthritis: a register study. J Allergy Clin Immunol 108:781–783

Chitnis T, Salama AD, Grusby MJ, Sayegh MH, Khoury SJ (2004) Defining Th1 and Th2 immune responses in a reciprocal cytokine environment in vivo. J Immunol 172:4260–4265

Cardwell C, Shields M, Carson D, Patterson C (2003) A meta-analysis of the association between childhood type 1 diabetes and atopic disease. Diabetes Care 26:2568–2574

Zalloua P, Abchee A, Shbaklo H, Zreik T, Terwedow H, Halaby G, Azar S (2004) Patients with early onset of type 1 diabetes have significantly higher GG genotype at position 49 of the CTLA4 gene. Hum Immunol 65(7):719–724

Zalloua P, Shbaklo H, Halaby G, Terwedow H, Xu X, Azar S (2002) Type-2 diabetes family history delays the onset of type-1 diabetes. J Clin Endocrinol Metab 87(7):3192–3196

Gao J, Lin Y, Qiu C, Liu Y, Ma Y, Liu Y (2003) Association between HLA-DQA1, -DQB1 gene polymorphisms and susceptibility to asthma in northern Chinese subjects. Chin Med J (Engl) 116(7):1078–1082

Mochizuchi M, Mochizuki M, Amemiya S, Kobayashi Ki, Kobayashi Ko, Shimura Y, Ishihara T, Nakagomi Y, Onigata K, Tamai S, Kasuga A, Nanazawa S (2003) Association of CTLA4 gene 49 A/G Polymorphism with Type 1 Diabetes and Autoimmune Thyroid Disease in Japanese Children. Diabetes Care 26:843–847

Waked M, Salameh P (2006) Asthma, allergic rhinitis and eczema in 13–14-year-old schoolchildren across Lebanon. J Med Liban 54(4):181–190

Waked M, Salameh P (2008) Asthma, allergic rhinitis and eczema in 5–12-year-old schoolchildren across Lebanon. Public health 122(9):965–973

Eder W, Ege M, Mutius Von E (2006) The asthma epidemic. N Engl J Med 355:2226–2235

International Primary Care Airways Group (IPAG). Chronic airway diseases: a guide for primary care physicians. http://www.Ipagguide.org/IPAG.copyrightdraft.pdf

Tanriverdi F, Silveira LF, MacColl GS, Bouloux PM (2003) The hypothalamic-pituitary-gonadal axis: immune function and autoimmunity. J Endocrinol 176:293–304

Tzeng S, Hsu S, Fu L, Chi C (2007) Prevalence of atopy in children with type 1 diabetes mellitus in central Taiwan. J Microbiol Immunol Infect 40:74–78

Berger A (2000) Th1 and Th2 responses: what are they? BMJ 321:424

Singh VK, Mehrotra S, Agarwal SS (1999) The paradigm of Th1 and Th2 cytokines: its relevance to autoimmunity and allergy. Immunol Res 20:147–161

Rachmiel M, Bloch O, Bistritzer T, Weintrob N, Ofan R, Koren–Morag N, Rapoport M (2006) TH1/TH2 cytokine balance in patients with both type diabetes and asthma. Cytokine 34:170–176

Azar S, Tamim H, Beyhum H, Habbal M, Almawi W (1999) Type T (Insulin Dependent) diabetes is a Th1- and Th2- mediated autoimmune disease. Clin Diagn Lab Immunol 6(3):306–310

Rabin R, Levinson A (2008) The nexus between atopic disease and autoimmunity: a review of the epidemiological and mechanistic literature. Clin Exp Immunol 153(1):19–30

Huang S, Hitchcock J (2002) Influence of the TH1/TH2 paradigm: the prevalence of asthma and allergic diseases in patients with type 1 diabetes in the United States. Pediatr Asthma Allerg Immunol 15(4):195–199

Douek I, Leech N, Gillmor H, Bingley P, Gale E (1999) Children with type-1 diabetes and their unaffected siblings have fewer symptoms of asthma. Lancet 353:1850

Parapanissiou E, Papastavrou T, Deligiannidis A, Adam K, Kanakoudi F, Daniilidis M, Polymenidis Z (2005) HLA antigens in Greek children with allergic bronchial asthma. Tissue Antigens 65(5):481–484

Santos J, Pérez-Bravo F, Carrasco E, Calvillán M, Albala C (2001) Association between HLA-DQB1 alleles and type 1 diabetes in a case-parents study conducted in Santiago, Chile. Am J Epidemiol 153:794–798

Horne C, Quintana PJ, Keown PA, Dimich-Ward H, Chan-Yeung M (2000) Distribution of DRB1 and DQB1 HLA class II alleles in occupational asthma due to western red cedar. Eur Respir J 15(5):911–914

Huang S (1999) Asthma and diabetes. Lancet 353:515–516

Munthe-Kaas MC, Carlsen KH, Helms PJ, Gerritsen J, Whyte M, Feijen M, Skinningsrud B, Main M, Kwong GN, Lie BA, Lødrup Carlsen KC, Undlien DE (2004) CTLA-4 polymorphisms in allergy and asthma and the TH1/TH2 paradigm. J Allergy Clin Immunol 114(2):280–287

Ober C, Hoffjan S (2006) Asthma genetics 2006: the long and winding road to gene discovery. Genes Immunity 7:95–100

Jasek M, Łuszczek W, Obojski A, Winiarska B, Hałubek K, Nowak I, Mańczak M, Wiśniewski A, Pawlik A, Jonkisz A, Lebioda A, Majorczyk E, Dobosz T, Kuśnierczyk P (2006) Distribution of CTLA-4 polymorphysmis in allergic asthma. Int Arch Allergy Immunol 141:223–229

Lee S, Lee Y, Shin C, Shim J, Kang K, Yoo S, In K (2002) Association of asthma severity and bronchial hyperresponsiveness with a polymorphism in the cytotoxic T-lymphocyte antigen-4 gene. Chest 122:171–176
Acknowledgments
The valuable assistance of Mrs. Claude Sadek, Colette Bitar and Pascal Nawfal in the collection of questionnaires at the Chronic Care Center is highly appreciated.
Additional information
N. Taleb and P. Bou Khalil have contributed equally to this work.
About this article
Cite this article
Taleb, N., Bou Khalil, P., Zantout, M.S. et al. Prevalence of asthmatic symptoms in Lebanese patients with type 1 diabetes and their unaffected siblings compared to age-matched controls. Acta Diabetol 47 (Suppl 1), 13–18 (2010). https://doi.org/10.1007/s00592-009-0108-5
Received:

Accepted:

Published:

Issue Date:

DOI: https://doi.org/10.1007/s00592-009-0108-5
Keywords