Abstract
Purpose
Coracoid fracture is a rare injury. The aim of this study is to present the demographics, clinical and radiologic characteristics, and outcomes of coracoid fracture in a cohort of 32 patients.
Methods
We queried our institutional electronic medical record database (years 2012–2020) to identify patients with coracoid fractures using specific International Classification of Disease-10 codes. Demographic data, injury details including mechanism of injury and associated injuries, imaging performed, and treatment outcomes were obtained from retrospective chart review. A radiologist reviewed all available imaging studies (radiographs/CT/MRI) and classified the fractures according to Ogawa and Eyres classifications. Missed diagnoses were determined by comparing initial imaging reports with the follow-up imaging obtained in the office.
Results
Thirty-two patients with coracoid fractures were identified during the study period. Sixteen fractures (50%) occurred in the setting of low-energy trauma. Twelve fractures were missed on initial radiographs, and diagnosis with three-view radiographs (AP, scapular-Y and axillary) was 88% compared to 33% (p < 0.03) with two views (AP, scapular-Y). The majority of fractures were non-displaced (94%), and 56% were Ogawa Type-II fractures. Associated injuries were seen in 81% of patients. Most fractures (94%) were treated without surgery with excellent outcomes.
Conclusion
Coracoid fractures continue to be a rare injury. In contrast to previous studies, in this case series of 32 patients, half of the fractures were associated with low-energy trauma, which correlated with higher percentage of non-displaced fractures and Ogawa Type-II fractures. Addition of the axillary view in the trauma radiographic series significantly improved the initial fracture detection rate.
Level IV
Retrospective study.
Access options
Buy single article
Instant access to the full article PDF.
USD 39.95
Price includes VAT (USA)
Tax calculation will be finalised during checkout.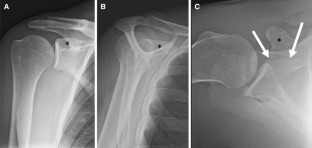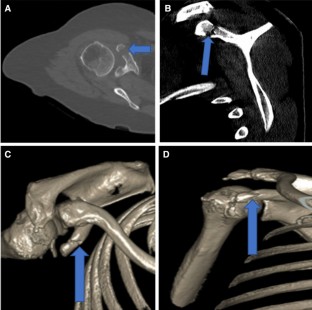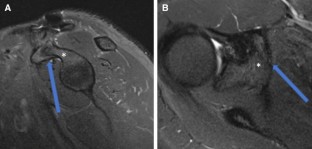 Data availability
The authors of this paper affirm that this manuscript is an honest, accurate, and transparent account of the study being reported; that no important aspects of the study have been omitted; and that there were no discrepancies from the study as planned. All data generated or analyzed during this study are included in this article.
References
1.

McGinnis M, Denation JR (1989) Fractures of the scapula: a retrospective study of 40 fractured scapulae. J Trauma 29(11):1488–1493

2.

Mohammed H, Skalski MR, Dakshesh BP, Tomasian A, Schein AJ, White EA et al (2016) Coracoid process: the lighthouse of the shoulder. Radiographics 36(7):2084–2101

3.

Li CH, Skalski MR, Matcuk GR, Patel DB, Gross JS, Tomasian A et al (2019) Coracoid process fractures: anatomy, injury patterns, multimodality imaging, and approach to management. Emerg Radiol 26(4):449–458

4.

van Doesburg PG, El Saddy S, Alta TD, van Noort A, van Bergen CJA (2021) Treatment of coracoid process fractures: a systematic review. Arch Orthop Trauma Surg 141(7):1091–1100. https://doi.org/10.1007/s00402-020-03496-2

5.

Galvin JW, Kang J, Ma R, Li X (2020) Fractures of the coracoid process. J Am Acad Orthop Surg 28(16):e706–e715

6.

Goldberg RP, Vicks B (1983) Oblique angled view for coracoid fractures. Skeletal Radiol 9:195–197

7.

Ogawa K, Matsumura N, Yoshida A (2020) Nonunion of the coracoid process: a systematic review. Arch Orthop Trauma Surg. https://doi.org/10.1007/s00402-020-036573

8.

Ogawa K, Matsumura N, Yoshida A, Inokuchi W (2021) Fractures of the coracoid process: a systematic review. JSES RRT 1(3):171–178

9.

Ogunleye TD, Schirmers J, Gilbertson JA, Schroder LK, Cole PA (2020) Malunions and nonunions of the acromion and coracoid processes: a comparison of functional outcomes before and after reconstruction. J Orthop Trauma 34(12):669–674

10.

Ogawa K, Matsumura N, Ikegami H (2012) Coracoid fractures. J Trauma Acute Care Surg 72(2):E20–E26

11.

Goss TP (1993) Double disruptions of superior suspensory complex. J Orthop Trauma 7(2):99–106

12.

Eyres KS, Brooks SD (1995) Fractures of the corcoid process. J Bone Joint Surg Br 77(B(3)):425–8

13.

Ogawa K, Yoshida A, Takahashi M, Ui M (1997) Fractures of the coracoid process. J Bone Joint Surg Br 79:17–9

14.

Hill BW, Jacobson AR, Anavian J, Cole PA (2014) Surgical management of coracoid fractures: technical tricks and clinical experience. J Orthop Trauma 28(5):e114–e122

15.

Martin-Herrero T, Rodriguez-Merchann C, Munuera-Martinez L (1990) Fractures of the coracoid process: presentation of seven cases and review of the literature. J Trauma 30(12):1597–1599

16.

Knapik DM, Patel SH, Wetzel RJ, Voos JE (2018) Prevalence and management of coracoid fracture sustained during sporting activities and time to return to sport: a systematic review. Am J Sports Med 46(3):753–758

17.

Skedros JG, Mears CS, Phippen CM (2014) Glenohumeral instability and coracoid fracture nonunion corrected without coracoid transfer or nonunion takedown. J Shoulder Elbow Surg 23(7):e166–e169

18.

Ogawa K, Ikegami H, Takeda T, Watanabe A (2009) Defining impairment and treatment of subacute and chronic fractures of the coracoid process. J Trauma 67(5):1040–1045

19.

Bishai SK, Maceroni M, King CN, Martinez MM (2021) The anterior-superior glenoid rim fracture with anterior shoulder dislocations: a beacon for an associated coracoid fracture. JSES RRT. https://doi.org/10.1016/j.xrrt.2021.06.002

20.

Tuček M, Chochola A, Klika D, Bartoníček J (2017) Epidemiology of scapular fractures. Acta Orthop Belg 83(1):8–15

21.

Robinson CM, Al-Hourani K, Malley TS, Murray IR (2012) Anterior shoulder instability associated with coracoid nonunion in patients with a seizure disorder. J Bone Joint Surg Am 94(7):e40

22.

Martetschläger F, Saier T, Weigert A, Herbst É, Winkler M, Henschel J et al (2016) Effect of coracoid drilling for acromioclavicular joint reconstruction techniques on coracoid fracture risk: a biomechanical study. Arthroscopy 32(6):982–987

23.

Milewski MD, Tompkins M, Giugale JM, Carson EW, Miller MD, Diduch DR (2012) Complications related to anatomic reconstruction of the coracoclavicular ligaments. Am J Sports Med 40(7):1628–1634

24.

Haapamaki VV, Kiuru MJ, Koskinen SK (2004) Multidetector CT in shoulder fractures. Emerg Radiol 11(2):89–94

25.

Bartoníček J, Tuček M, Strnad T, Naňka O (2021) Fractures of the coracoid process: pathoanatomy and classification—based on thirty nine cases with three dimensional computerised tomography reconstructions. Intl Orthop 45(4):1009–1015. https://doi.org/10.1007/s00264-020-04634-6

26.

Sporman C, Holzach P, Ryf C (1998) Isolated coracoid fracture: open reposition and osteosynthesis—report of 3 cases. Swiss Surg 4:198–202

27.

Güleç A, Kütahya H, Göncü RG, Toker S (2014) Isolated fracture of the coracoid process. Case Rep Orthop. https://doi.org/10.1155/2014/482130

28.

Vaienti E, Pogliacomi F (2012) Delayed diagnosis of isolated coracoid process fractures: results of 9 cases treated conservatively. Acta Biomed 83(2):138–146

29.

Chitre AR, Divecha HM, Hakimi M, Marynissen HAJ (2012) Traumatic isolated coracoid fractures in the adolescent. Case Rep Orthop. https://doi.org/10.1155/2012/371627
Funding
No funding was received for conducting this study.
Ethics declarations
Conflict of interest
Dr. Joseph D. Zuckerman is a design surgeon for Exactech Inc. and receives publishing royalties from Wolters Kluwer Health, Thieme Inc., and SLACK Inc. Dr. Zuckerman is a board member of the Musculoskeletal Transplant Foundation and has stocks in Hip Innovation Technology and Apos Therapy Inc. Dr. Virk is a consultant for Exactech Inc. All other authors have no relevant financial or non-financial interests to disclose.
Consent for publication
All authors gave their consent for publication of this study.
Ethical approval
This submission was reviewed and approved by the NYU. School of Medicine's Institutional Review Board (IRB) - study number: i19-01670.
Informed consent
According to the IRB approval for this study - a waiver of Informed Consent has been granted in accordance with 45 CFR 46.116 (d).
Additional information
Publisher's Note
Springer Nature remains neutral with regard to jurisdictional claims in published maps and institutional affiliations.
About this article
Cite this article
Ben-Ari, E., Pines, Y., Gordon, D. et al. Radiographic and clinical characterization of coracoid fractures: a retrospective cohort analysis. Eur J Orthop Surg Traumatol (2021). https://doi.org/10.1007/s00590-021-03144-4
Received:

Accepted:

Published:
Keywords
Coracoid fractures

Ogawa classification

Eyres classification

Acromioclavicular joint

Avulsion fractures