Abstract
Purpose
Retrograde intramedullary nailing of intra-articular distal femur fractures with metaphyseal and/or epiphyseal comminution is controversial and considered a contraindication to nailing. The purpose of this study was to report union rate, complications, and secondary procedures after open reduction and retrograde intramedullary nailing of comminuted, intra-articular, distal femur fractures.
Materials and methods
A retrospective review performed at an urban level one trauma center identified 16 patients AO/Orthopedic Trauma Association (OTA) 33-C2 and 33-C3 femur fractures treated with open reduction, lag screws, and retrograde intramedullary nail fixation. Radiographic union, complications, secondary operations were reviewed.
Results
At the 3-month follow-up 12 (86%) of the 14 patients with radiographs had healed. At last follow-up, all 16 femur fractures achieved radiographic union after the index procedure. No patient required a revision procedure for delayed union or nonunion. Complications occurred in 6 (38%) patients, including failed distal interlocking screws (n = 2), knee arthrofibrosis (n = 3), superficial wound infection (n = 1), and wound dehiscence (n = 1). Three (19%) patients required secondary procedures, which included knee manipulation under anesthesia (n = 3), distal interlocking screw removal (n = 2), and closure of a wound dehiscence (n = 1).
Conclusions
Comminuted intra-articular distal femur fractures that can be successfully treated with retrograde IMN fixation will reliably go on to union with a complication rate that is favorable to that reported for plate fixation.
Level of Evidence:
Level IV, retrospective case-series.
Access options
Buy single article
Instant access to the full article PDF.
USD 39.95
Price includes VAT (USA)
Tax calculation will be finalised during checkout.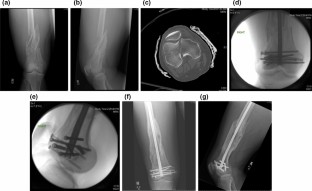 References
1.

Canadian Orthopaedic Trauma Society (2016) Are locking constructs in distal femoral fractures always best? A prospective multicenter randomized controlled trial comparing the less invasive stabilization system with the minimally invasive dynamic condylar screw system. J Orthop Trauma 30:e1-6. https://doi.org/10.1097/BOT.0000000000000450

2.

Langford J, Burgess A (2009) Nailing of proximal and distal fractures of the femur: limitations and techniques. J Orthop Trauma 23:S22–S25. https://doi.org/10.1097/BOT.0b013e31819f2797

3.

Hierholzer C, von Rüden C, Pötzel T et al (2011) Outcome analysis of retrograde nailing and less invasive stabilization system in distal femoral fractures: a retrospective analysis. Indian J Orthop 45:243–250. https://doi.org/10.4103/0019-5413.80043

4.

Tank JC, Schneider PS, Davis E et al (2016) Early mechanical failures of the synthes variable angle locking distal femur plate. J Orthop Trauma 30:e7–e11. https://doi.org/10.1097/BOT.0000000000000391

5.

Henderson CE, Kuhl LL, Fitzpatrick DC, Marsh JL (2011) Locking plates for distal femur fractures: is there a problem with fracture healing? J Orthop Trauma 25:S8–S14. https://doi.org/10.1097/BOT.0b013e3182070127

6.

Thomson AB, Driver R, Kregor PJ, Obremskey WT (2008) Long-term functional outcomes after intra-articular distal femur fractures: ORIF versus retrograde intramedullary nailing. Orthopedics 31:748–750

7.

Seifert J, Stengel D, Matthes G et al (2003) Retrograde fixation of distal femoral fractures: results using a new nail system. J Orthop Trauma 17:488–495

8.

Park J, Lee JH (2016) Comparison of retrograde nailing and minimally invasive plating for treatment of periprosthetic supracondylar femur fractures (OTA 33-A) above total knee arthroplasty. Arch Orthop Trauma Surg 136:331–338. https://doi.org/10.1007/s00402-015-2374-8

9.

Gill S, Mittal A, Raj M, et al (2017). Extra Articular Supracondylar Femur Fractures Managed with Locked Distal Femoral Plate or Supracondylar Nailing: A Comparative Outcome Study. J Clin DIAGNOSTIC Res 11:RC19–RC23. https://doi.org/10.7860/JCDR/2017/25062.9936

10.

Tibbo ME, Parry JA, Hevesi M et al (2021) Distal femoral replacement versus ORIF for severely comminuted distal femur fractures. Eur J Orthop Surg Traumatol. https://doi.org/10.1007/S00590-021-03061-6

11.

Gp H, Js K, Bd S et al (2017) Open reduction vs distal femoral replacement arthroplasty for comminuted distal femur fractures in the patients 70 years and older. J Arthroplast 32:202–206. https://doi.org/10.1016/J.ARTH.2016.06.006

12.

Koval KJ, Seligson D, Rosen H, Fee K (1995) Distal femoral nonunion: treatment with a retrograde inserted locked intramedullary nail. J Orthop Trauma 9:285–291. https://doi.org/10.1097/00005131-199509040-00003

13.

Heiney JP, Barnett MD, Vrabec GA et al (2009) Distal femoral fixation: a biomechanical comparison of trigen retrograde intramedullary (i.m.) nail, dynamic condylar screw (DCS), and locking compression plate (LCP) condylar plate. J Trauma 66:443–449. https://doi.org/10.1097/TA.0b013e31815edeb8

14.

Liporace FA, Yoon RS (2019) Nail plate combination technique for native and periprosthetic distal femur fractures. J Orthop Trauma 33:E64–E68. https://doi.org/10.1097/BOT.0000000000001332
Ethics declarations
Conflict of interest
This research did not receive any specific grant from funding agencies in the public, commercial, or not-for-profit sectors. The authors have no specific disclosures related to this study.
Ethical approval
All procedures performed in studies involving human participants were in accordance with the ethical standards of the institutional and/or national research committee and with the 1964 Helsinki declaration and its later amendments or comparable ethical standards.
Informed Consent
The institutional review board approved this study. Due to the retrospective nature of this work, informed consent was waived.
Additional information
Publisher's Note
Springer Nature remains neutral with regard to jurisdictional claims in published maps and institutional affiliations.
About this article
Cite this article
Nino, S., Parry, J.A., Avilucea, F.R. et al. Retrograde intramedullary nailing of comminuted intra-articular distal femur fractures results in high union rate. Eur J Orthop Surg Traumatol (2021). https://doi.org/10.1007/s00590-021-03140-8
Received:

Accepted:

Published:
Keywords
Retrograde nail fixation

Intraarticular distal femur fractures

AO/OTA 33C

Union

Nonunion

Comminuted

Extreme nailing