Abstract
Objective
Pediatric proximal femur fracture is extremely rare trauma comparing to other fractures. The proximal femur fracture is 1% of all pediatric fractures. The aim of current study is to compare the incidence of early complications and outcomes of pediatric proximal femur fractures regarding fracture types retrospectively.
Design
Our study includes 35 cases which are criticized by Delbet classification system, modalities of treatment, duration of waiting for surgery, duration of follow-up and also complications. Our inclusion criteria are age below 16 years old, proximal femur fractures with no evidence of tumoral, romathologic and methabolic conditions. Age, sex and surgery type (open-closed) were noted, and the data were statistically assessed. Assessment of the final outcome was made at the last follow-up visit using the Ratliff's method.
Results
The mean of age of patients in our study is 9.5 ± 5.06 years. The average follow-up was 25.6 ± 13.2 months. 15 patients (42.9%) are type 2 Delbet fracture, 5 patients (14.2%) are Delbet type 3 and 15 patients (42.9%) are Delbet type 4 fracture. Using the Ratliff's method, 25 patients (71.4%) had satisfactory outcomes. Ten patients (28.6%) had unsatisfactory outcomes. The complications as AVN, coxa vara and premature closure of physis, non-union and postoperative infections have been detected in this study. AVN was seen in four (11.4%) patients. In addition, coxa vara was seen in six (17.2%) patients.
Conclusion
Pediatric femoral neck fractures are extremely rare fractures and can be treated with low complication rates in cases with early treatment and anatomic reduction.
Access options
Buy single article
Instant access to the full article PDF.
USD 39.95
Price includes VAT (USA)
Tax calculation will be finalised during checkout.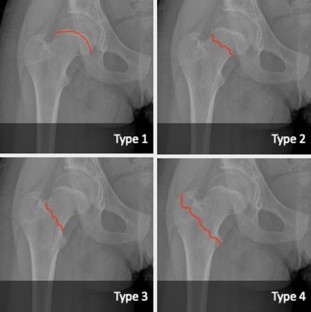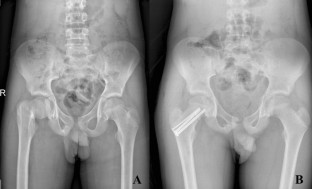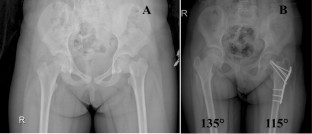 References
1.

Patterson JT, Tangtiphaiboontana J, Pandya NK (2018) Management of pediatric femoral neck fracture. J Am Acad Orthop Surg 26:411–419

2.

Sankar WS, Mehlman CT (2019) The community orthopaedic surgeon taking trauma call:pediatric femoral neck fracture pearls and pitfalls. J Orthop Trauma 33:22–26

3.

Pavone V, Testa G (2019) Surgical treatment with cannulated screws for pediatric femoral neck fractures: a case series. Injury 50:40–44

4.

Bali K, Sudesh P, Patel S, Kumar V, Saini U, Dhillon MS (2011) Pediatric femoral neck fractures: our 10 years of experience. Clin Orthop Surg 3:302–308

5.

Colonna PC (1929) Fracture of the neck of the femur in children. Am J Surg 6:793–797

6.

Ratliff AH (1962) Fractures of the neck of the femur in children. J Bone Joint Surg Br 44:528–542

7.

Togrul E, Bayram H, Gulsen M, Kalaci A, Ozbarlas S (2005) Fractures of the femoral neck in children: long-term follow-up in 62 hip fractures. Injury 36:123–130

8.

Inan U, Köse N, Ömeroglu H (2009) Pediatric femur neck fractures: a retrospective analysis of 39 hips. J Child Orthop 3:259–264

9.

Morsy HA (2001) Complications of fracture of the neck of the femur in children. A long-term follow-up study. Injury 32:45–51

10.

Canale ST, Bourland WL (1977) Fracture of the neck and intertrochanteric region of the femur in children. J Bone Joint Surg Am 59:431–443

11.

Ratliff AH (1974) Fractures of the neck of the femur in children. Orthop Clin North Am 5:903–924

12.

Mirdad T (2002) Fractures of the neck of femur in children: an experience at the Aseer Central Hospital, Abha, Saudi Arabia. Injury 33:823–827

13.

Bagatur AE, Zorer G (2002) Complications associated with surgically treated hip fractures in children. J Pediatr Orthop B 11:219–228

14.

Moon ES, Mehlman CT (2006) Risk factors for avascular necrosis after femoral neck fractures in children: 25 Cincinnati cases and meta-analysis of 360 cases. J Orthop Trauma 20:323–329

15.

Bombaci H, Centel T, Babay A, Türkmen IM (2006) Evaluation of complications of femoral neck fractures in children operated on at least 24 hours after initial trauma. Acta Orthop Traumatol Turc 40:6–14

16.

Tetsunaga T, Akazawa H, Tetsunaga T (2014) Intra-articular loose body caused by avascular necrosis of the femoral head in children. J Pediatr Orthop B 23:44–48

17.

Leung PC, Lam SF (1986) Long-term follow-up of children with femoral neck fractures. J Bone Joint Surg Br 68:537–540

18.

Flynn JM, Wong KL, Yeh GL, Meyer JS, Davidson RS (2002) Displaced fractures of the hip in children. Management by early operation and immobilisation in a hip spica cast. J Bone Joint Surg Br 84:108–112
Ethics declarations
Conflict of interest
The authors declare that they have no competing interests.
Additional information
Publisher's Note
Springer Nature remains neutral with regard to jurisdictional claims in published maps and institutional affiliations.
About this article
Cite this article
Yerli, M., Ocak, O., Yüce, A. et al. Retrospective analysis of 35 pediatric femoral neck fractures. Eur J Orthop Surg Traumatol (2021). https://doi.org/10.1007/s00590-021-03126-6
Received:

Accepted:

Published:
Keywords
Pediatric femoral neck fracture

Avascular necrosis

Coxa vara

Osteonecrosis