Abstract
Background
Proton pump inhibitors (PPIs) are one of the most frequently used drugs worldwide. Previous research has shown that they could increase the risk of fracture and interfere with the fracture healing process. In this study, we analyzed the effect of PPIs on the risk of fracture non-union in patients with femoral and tibial shaft fractures.
Methods
A case–control study was conducted at our institution, including a total of 254 patients who underwent fixation surgery for a femoral or tibial shaft fracture between January 2012 and December 2017. We defined cases as patients who experienced a delayed union (case group A; n = 44), or non-union (cases group B; n = 12). Cases were matched by age, sex, and fractured bone, to 144 controls who did not experience delayed fracture union and did not require further procedures. A conditional logistic regression analysis was performed adjusted to potential confounders, and to the proportion of days covered (PDC) with PPIs.
Results
Adjusted ORs (95% CI) for undergoing a nail dynamization following a tibial or femoral shaft fracture were 1.38 (0.70–2.65) for any use PPIs. Patients with a longer PPI treatment courses (PDC ≥ 0.5) had an adjusted OR of 1.86 (0.70–4.76) for undergoing nail dynamization when compared with controls. Contrastingly, patients with a PDC < 0.5 had an adjusted OR of 1.03 (0.43–2.48). The adjusted OR (95% CI) for undergoing additional surgical procedures due to non-union was 4.5 (0.62–32.8) for any use of PPIs, and 12.3 (1.9–81.0) in patients with a PDC ≥ 0.5.
Conclusions
A prolonged use of PPIs use was associated with a higher risk of fracture non-union in tibial and femoral shaft fractures.
Access options
Buy single article
Instant access to the full article PDF.
US$ 39.95
Tax calculation will be finalised during checkout.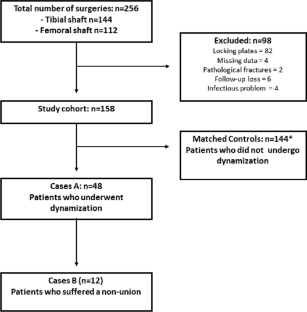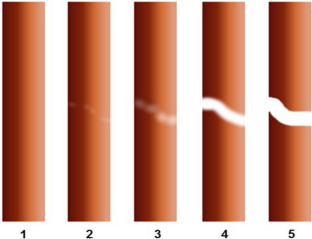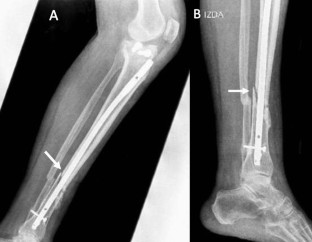 Data availability
The data are available to ensure transparency.
References
1.

Rupp M, Biehl C, Budak M et al (2018) Diaphyseal long bone nonunions - types, aetiology, economics, and treatment recommendations. Int Orthop 42:247–258. https://doi.org/10.1007/s00264-017-3734-5

2.

Antonova E, Le TK, Burge R, Mershon J (2013) Tibia shaft fractures: costly burden of nonunions. BMC Musculoskelet Disord 14:42. https://doi.org/10.1186/1471-2474-14-42

3.

Andrzejowski P, Giannoudis PV (2019) The 'diamond concept' for long bone non-union management. J Orthop Traumatol. https://doi.org/10.1186/s10195-019-0528-0

4.

Santolini E, West R, Giannoudis PV (2015) Risk factors for long bone fracture non-union: a stratification approach based on the level of the existing scientific evidence. Injury 46(Suppl 8):S8–S19. https://doi.org/10.1016/S0020-1383(15)30049-8

5.

Johansen ME, Huerta TR, Richardson CR (2014) National use of proton pump inhibitors from 2007 to 2011. JAMA Intern Med 174:1856–1858. https://doi.org/10.1001/jamainternmed.2014.2900

6.

Singh R, Trickett R, Meyer C et al (2016) Prophylactic proton pump inhibitors in femoral neck fracture patients - a life - and cost-saving intervention. Ann R Coll Surg Engl 98:371–375. https://doi.org/10.1308/rcsann.2016.0106

7.

Poly TN, Islam MM, Yang H-C et al (2019) Proton pump inhibitors and risk of hip fracture: a meta-analysis of observational studies. Osteoporos Int 30:103–114. https://doi.org/10.1007/s00198-018-4788-y

8.

Al Subaie A, Emami E, Tamimi I et al (2016) Systemic administration of omeprazole interferes with bone healing and implant osseointegration: an in vivo study on rat tibiae. J Clin Periodontol 43:193–203. https://doi.org/10.1111/jcpe.12506

9.

Sonn KA, Wallace SJ, Yuan FNF et al (2019) The effect of proton pump inhibitors on bone formation in a rat spinal arthrodesis model. Spine. https://doi.org/10.1097/BRS.0000000000002987

10.

World Medical Association (2013) World medical association declaration of Helsinki: ethical principles for medical research involving human subjects. JAMA 310:2191–2194. https://doi.org/10.1001/jama.2013.281053

11.

Meinberg E, Agel J, Roberts C et al (2018) Fracture and dislocation classification compendium—2018. J Orthopaedic Trauma 32:S1–S10. https://doi.org/10.1097/BOT.0000000000001063

12.

Richardson DB (2004) An incidence density sampling program for nested case-control analyses. Occup Environ Med 61:e59–e59. https://doi.org/10.1136/oem.2004.014472

13.

Hammer RR, Hammerby S, Lindholm B (1985) Accuracy of radiologic assessment of tibial shaft fracture union in humans. Clin Orthop Relat Res 199:233–238.

14.

Eimar H, Perez Lara A, Tamimi I et al (2013) Acetylcholinesterase inhibitors and healing of hip fracture in Alzheimer's disease patients: a retrospective cohort study. J Musculoskelet Neuronal Interact 13:454–463

15.

Giannoudis PV, Einhorn TA, Marsh D (2007) Fracture healing: the diamond concept. Injury 38(Suppl 4):S3-6. https://doi.org/10.1016/s0020-1383(08)70003-2

16.

Rodriguez-Buitrago AF, Hope N, Jahangir A (2020) Tibia Nonunion. In: StatPearls. StatPearls Publishing, Treasure Island (FL) 2021 Jan

17.

Donohue D, Sanders D, Serrano-Riera R et al (2016) Ketorolac administered in the recovery room for acute pain management does not affect healing rates of femoral and tibial fractures. J Orthop Trauma 30:479–482. https://doi.org/10.1097/BOT.0000000000000620

18.

Haubruck P, Tanner MC, Vlachopoulos W et al (2018) Comparison of the clinical effectiveness of Bone Morphogenic Protein (BMP) -2 and -7 in the adjunct treatment of lower limb nonunions. Orthop Traumatol Surg Res 104:1241–1248. https://doi.org/10.1016/j.otsr.2018.08.008

19.

O'Connell MB, Madden DM, Murray AM et al (2005) Effects of proton pump inhibitors on calcium carbonate absorption in women: a randomized crossover trial. Am J Med 118:778–781. https://doi.org/10.1016/j.amjmed.2005.02.007

20.

Maggio M, Lauretani F, Ceda GP et al (2013) Use of proton pump inhibitors is associated with lower trabecular bone density in older individuals. Bone 57:437–442. https://doi.org/10.1016/j.bone.2013.09.014

21.

Mangan JJ, Divi SN, McKenzie JC et al (2020) Proton pump inhibitor use affects pseudarthrosis rates and influences patient-reported outcomes. Global Spine J 10:55–62. https://doi.org/10.1177/2192568219853222

22.

Histing T, Stenger D, Scheuer C et al (2012) Pantoprazole, a proton pump inhibitor, delays fracture healing in mice. Calcif Tissue Int 90:507–514. https://doi.org/10.1007/s00223-012-9601-x
Acknowledgements
We thank the patients who took part in this study and the information provided by all the authors.
Funding
The authors received no special funding for this study. Approval from the ethical committee of our hospital was obtained to carry out the study.
Ethics declarations
Conflict of interest
The authors have no conflict of interests to declare.
Ethical statement
Approval from our ethical board was obtained to perform this study.
Human and animal rights
Additional declarations for articles in life science journals that report the results of studies involving humans and/or animals.
Consent to participate
All the operated patients in our center have to sign an informed consent form that includes acceptance to share clinical data for research purposes.
Consent for publication
We give our consent for the publication of these article.
Additional information
Publisher's Note
Springer Nature remains neutral with regard to jurisdictional claims in published maps and institutional affiliations.
Supplementary Information
Below is the link to the electronic supplementary material.
About this article
Cite this article
Fernandez-Arroyabe, N., García-Meléndez, G., De Castro-Almeida, A.R. et al. Non-union and use of proton pump inhibitors in the treatment of femoral and tibial shaft fractures: a nested case–control study. Eur J Orthop Surg Traumatol (2021). https://doi.org/10.1007/s00590-021-03122-w
Received:

Accepted:

Published:
Keywords
Proton pump inhibitors

Bone healing

Non-union

Pseudoarthrosis

Tibia

Fracture