Abstract
Introduction
Minimally invasive fluoroscopy-guided screw fixation is an established technique to stabilize fractures of the posterior pelvic ring in orthopaedic surgery. However, safe placement of the screws may be associated with prolonged intervention time and extensive fluoroscopy is a concern. In the current literature, the dose area product (DAP) and fluoroscopy time are often used to describe radiation exposure of the patient. It was the aim of the study to compare DAP to organ doses and the effective dose for four standard views commonly used in pelvic surgery.
Methods
An anthropomorphic cross-sectional dosimetry phantom, representing the body of a male human (173 cm/73 kg), was equipped with metal–oxide–semiconductor field-effect transistors (MOSFET) in different organ locations to measure radiation exposure. Anteroposterior (APV), lateral (LV), outlet (OLV) and inlet (ILV) of the phantom were obtained with a mobile C-arm, and effective dose and organ doses were calculated. DAP was measured in the built-in ionisation chamber beyond the collimator of the C-arm. The measurements were repeated with a fat layer to simulate an obese patient.
Results
Overall, the highest organ dose was measured in the stomach for ILV (0.918 mSv/min). Effective dose for ILV showed the highest values by far (1.85 mSv/min) and the lowest for LV (0.46 mSv/min). The DAP pattern was completely different to the effective dose with similar values for LV and ILV (12.2 and 12.3 µGy·m2/s). Adding a fat layer had no major effect on the measurements.
Conclusion
The exposure to radiation varies considerably between different orthopaedic standard views of the pelvis. About the fourfold amount of the effective dose was measured for ILV compared to LV. DAP and irradiation time do not respect either the body region in the field of radiation or the radiosensitivity of the affected organs. Thus, they do not allow a reliable interpretation of the radiation burden the patient is exposed to.
Access options
Buy single article
Instant access to the full article PDF.
US$ 39.95
Tax calculation will be finalised during checkout.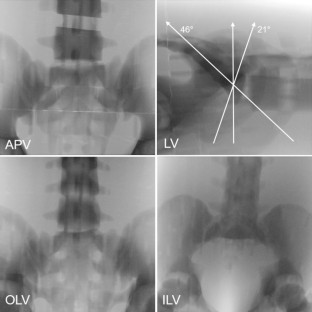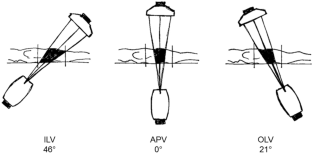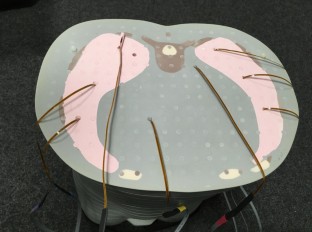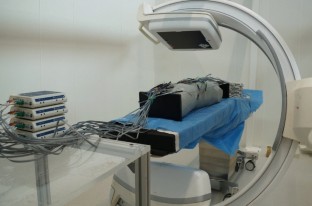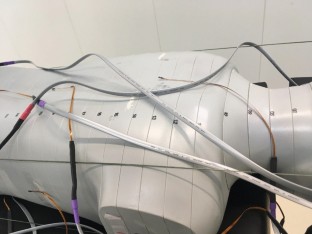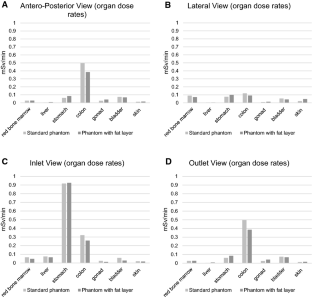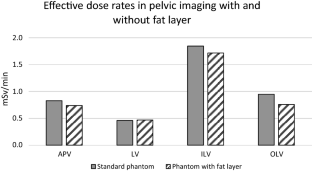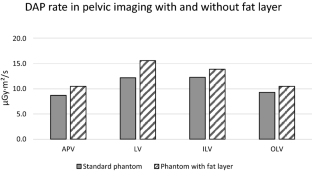 References
1.

Routt ML, Kregor PJ, Simonian PT, Mayo KA (1995) Early results of percutaneous iliosacral screws placed with the patient in the supine position. J Orthop Trauma. [Internet] 9(3):207–14

2.

Gardner MJ, Routt MLC (2011) Transiliac-transsacral screws for posterior pelvic stabilization. J Orthop Trauma [Internet]. 25(6):378–84

3.

Matta JM, Saucedo T (1989) Internal fixation of pelvic ring fractures. Clin Orthop Relat Res [Internet]. 1(242):83–97

4.

Chip Routt ML, Meier MC, Kregor PJ, Mayo KA (1993) Percutaneous iliosacral screws with the patient supine technique. Oper Tech Orthop [Internet]. 3(1):35–45

5.

Miller AN, Routt MLC (2012) Variations in Sacral Morphology and Implications for Iliosacral Screw Fixation. Am Acad Orthop Surg [Internet]. 20(1):8–16

6.

Hilgert RE, Finn J, Egbers HJ (2005) Technik der perkutanen SI-verschraubung mit unterstützung durch konventionellen C-bogen. Unfallchirurg 108:954–960

7.

Zwingmann J, Konrad G, Kotter E, Südkamp NP, Oberst M (2009) Computer-navigated iliosacral screw insertion reduces malposition rate and radiation exposure. Clin Orthop Relat Res [Internet]. 467(7):1833–8

8.

Dosimetry in Diagnostic Radiology: An International Code of Practice [Internet]. Vienna: International Atomic Energy Agency; 2007. Available from: https://www.iaea.org/publications/7638/dosimetry-in-diagnostic-radiology-an-international-code-of-practice

9.

The 2007 Recommendations of the International Commission on Radiological Protection. ICRP publication 103. Ann ICRP [Internet]. 2007;37:1–332. Available from: http://www.ncbi.nlm.nih.gov/pubmed/18082557

10.

Aalbers T, Duane S, Kapsch R-P, Meghzifene A. (2008) Measurement uncertainty - a practical guide for secondary standards dosimetry laboratories [Internet]. Available from: https://www-pub.iaea.org/MTCD/publications/PDF/te_1585_web.pdf

11

Routt ML, Simonian PT, Mills WJ (1997) Iliosacral screw fixation: early complications of the percutaneous technique. J Orthop Trauma [Internet]. 11(8):584–9

12

Briem D, Windolf J, Rueger JM (2007) Percutaneous, 2D-fluoroscopic navigated iliosacral screw placement in the supine position: technique, possibilities, and limits. Unfallchirurg [Internet]. 110(5):393–401

13.

Zwingmann J, Konrad G, Kotter E, Südkamp NP, Oberst M (2009) Computer-navigated iliosacral screw insertion reduces malposition rate and radiation exposure. Clin Orthop Relat Res. 467(7):1833–8

14

Richter PH, Steinbrener J, Schicho A, Gebhard F (2016) Does the choice of mobile C-arms lead to a reduction of the intraoperative radiation dose? Injury [Internet]. 47(8):1608–12
Acknowledgements
We thank Siemens Healthineers GmbH in Forchheim, Germany for supporting this study. A special thanks goes to Elizaveta Stepina, Hauke Prenzel, Robert Brauweiler and Peter Bartl for their technical support.
Ethics declarations
Conflict of interests
The authors declare that they have no conflict of interest. Each author certifies that he or she has no commercial associations (e.g. consultancies, stock ownership, equity interest, patent/licensing arrangements, etc.) that might pose a conflict of interest in connection with the submitted article.
Additional information
Publisher's Note
Springer Nature remains neutral with regard to jurisdictional claims in published maps and institutional affiliations.
About this article
Cite this article
Kuttner, H., Benninger, E., Fretz, V. et al. The impact of the fluoroscopic view on radiation exposure in pelvic surgery: organ involvement, effective dose and the misleading concept of only measuring fluoroscopy time or the dose area product. Eur J Orthop Surg Traumatol (2021). https://doi.org/10.1007/s00590-021-03111-z
Received:

Accepted:

Published:
Keywords
Fluoroscopy

Effective dose

Organ dose

Dose area product

Anteroposterior view

Lateral view

Outlet view

Inlet view

Posterior pelvic ring