Anterior cervical discectomy and fusion can restore cervical sagittal alignment in degenerative cervical disease
Original Article • SPINE - CERVICAL
Abstract
Objective
The purpose of this study was to evaluate its effect on the restoration and maintenance of cervical sagittal alignment in usual cervical degenerative diseases without preoperative sagittal malalignment.
Materials and methods
We retrospectively evaluated 108 patients who were diagnosed with degenerative cervical disease and underwent ACDF (allograft and plating) with > 1-year follow-up. For radiographic evaluation, we analysed segmental and C2–7 cervical lordosis, disc height, C2–7 sagittal vertical axis (SVA), T1 slope, and T1 slope minus C2–7 lordosis (T1S − CL) in lateral X-ray. Clinical assessment was based on arm VAS, neck VAS, and NDI scores. Correlation analysis was performed across the pre–post-changes in radiological parameters. Correlations between the changes in radiological and clinical parameters at final follow-up were also analysed.
Results
C2–7 lordosis was 7.13° preoperatively and increased to 13.06° (p < 0.001) and maintained at 10.08° at final follow-up (p = 0.007). Segmental lordosis increased from 0.66° to 8.33° and maintained at 5.19° (p < 0.001). Segmental disc height was 4.67 mm preoperatively (increased to 7.13 mm postoperatively and decreased to 5.74 mm at final follow-up) (p < 0.001). SVA distance (31.53 mm to 30.02 mm) (p = 0.750) and T1 slope (30.03° to 31.37°) did not show meaningful change after surgery. Increase in segmental lordosis was correlated to an increase in C2–7 lordosis (p < 0.001). C2–7 SVA change correlated with both the T1 slope change (p < 0.001) and T1S − CL (p = 0.012). Change in SVA was correlated to a change in segmental lordosis and T1 slope (p = 0.003, p = 0.014). Clinical outcomes did not correlate with radiological findings.
Conclusion
ACDF for the treatment of degenerative cervical disease without preoperative deformity was effective in restoring cervical sagittal alignment. Improvement of segmental lordosis related to an improvement in C2–7 lordosis and SVA. Radiological sagittal alignment did not show any relation with clinical outcomes in usual degenerative cases.
Keywords
Cervical 
Sagittal alignment 
Anterior discectomy and fusion 
C2–7 lordosis 
C2–7 SVA 
Introduction
Degenerative changes in the cervical spine can be devastating and usually lead to a significant decrease in function and health-related quality of life (HRQOL) [1]. Cervical sagittal balance has recently received great attention as being an important factor to determine the radiological and clinical outcomes in the setting of cervical degenerative disease. Kyphosis is the most prevalent cervical spine deformity and commonly presents with iatrogenic origin such as post-laminectomy kyphosis. Its correction results in improvement of clinical outcomes [2]. Malalignment of the cervical spine also plays a substantial role in the development of cervical myelopathy as cervical deformity can lead to spinal cord compression and cord tension. Surgical correction of sagittal malalignment should always be taken into consideration when treating cervical myelopathy [3]. Furthermore, postoperative malalignment and kyphosis are associated with the development of adjacent segment disease [2, 4].
Anterior cervical discectomy and fusion (ACDF) is one of the most commonly performed spine procedures for the treatment of degenerative cervical disease. Since anterior cervical discectomy and fusion (ACDF) was first introduced by Smith and Robinson, it has been considered as a standard of care for the treatment of cervical degenerative disease [5]. It is also a useful tool for the correction of cervical deformities, especially in cases of focal kyphosis [6]. Several studies report the radiological and clinical outcomes after ACDF according to diverse surgical techniques [5, 7, 8]. However, there is still little evidence as to which procedure would best restore sagittal alignment, especially in degenerative cases. The purpose of this study was to evaluate the impact of ACDF procedure on restoration and maintenance of sagittal balance in usual degenerative cervical disease by comparing the radiological and clinical results according to the fusion level and preoperative sagittal alignment.
Materials and methods
Study design
Following institutional review board approval, we retrospectively reviewed the medical records of 108 patients who were diagnosed with degenerative cervical disease and underwent ACDF using allograft and plate reinforcement from May 2013 to July 2015. Surgical procedures were performed by two surgeons at a single academic institution. An independent surgeon, uninvolved in the care of the patients, analysed the data. Inclusion criteria were patients of 18 years of age and older who underwent ACDF for the surgical treatment of cervical degenerative disease. Indications for surgery were radiculopathy or myelopathy secondary to herniated disc, spondylosis, or a combination of both, and failure of conservative therapies including activity modification, anti-inflammatory medications, physical therapy, and selective nerve root injections. Failure of conservative treatment was defined as either (1) progressive neurologic deficiency, (2) failure of medical treatment for more than 3 months, or (3) severe symptoms adversely affecting activities of daily living for a period. Exclusion criteria were (1) less than 1-year follow-up, (2) combined with other pathological types (e.g. neoplasm, infection, or trauma), (3) patients with cervical deformity or sagittal malalignment, ossification of the posterior longitudinal ligament, soft cervical disc herniation with cervical radiculopathy, (4) adjacent segment degeneration and revision surgeries.
Operative technique
Patients were operated on in supine position under general anaesthesia. A standard Smith–Robinson method was used to expose the cervical spine. After complete decompression by removing the osteophytes and remnant disc material, the endplate cartilage was removed with a high-speed burr and curette until bleeding occurred. Decompression was performed using the operative microscope in every case. After trial of appropriate trial interbody spacers, we implant premachined corticocancellous allograft block (Osteostim® Biomet spine, Broomfield, CO, USA) as intervertebral graft. The allograft as 9° of lordosis approximates the curvature of the cervical spine. Used allograft height was from 5 mm to 9 mm depending on the cases. Additional plate fixation was done using the semi-constrained plating with fixed proximal screws and dynamic distal screws (MaxAn® Anterior Cervical Plate System, Biomet spine, Broomfield, CO) or translational plate with proximal and distal variable screws (Atlantis Translational® Anterior Cervical Plate System, Medtronic, North Haven, CT). Patients were asked to wear a Philadelphia cervical orthosis for the first 6 weeks after operation.
Data collection
Demographic data including age, gender, and diagnosis at operation were collected. Anteroposterior and lateral standing radiographs were taken preoperatively, postoperative 6 weeks, and at last follow-up (FU) and used for radiological analysis.
Plain radiographs of the lateral cervical spine were taken with patients standing with their chins facing forward and their heads placed in neutral position. Films were centred at the shoulder, and the radiation was focused at C5. The radiation source was located around 1.8 m from the patient to reduce amplification errors. Radiographic evaluation comprised of (1) segmental disc height (2) C2–7 lordosis (defined as the angle between the inferior endplate of C2 and the inferior endplate of C7 on neutral lateral radiographs) (3) segmental angle (defined as the angle between the superior endplate of the uppermost instrumented vertebra and the inferior endplate of the lowermost instrumented vertebra) (4) C2–7 SVA (distance between the C2 plumb line and the superior posterior corner of C7 body, with positive sagittal alignment defined as an anterior deviation) (5) T1 slope (defined as the angle between the superior endplate of T1 and an horizontal line) (6) T1 slope minus C2–7 lordosis (T1S − CL) (Fig. 
1
) [
9
,
10
]. Range of motion (ROM) was analysed based on the differences in Cobb angles during flexion–extension movements.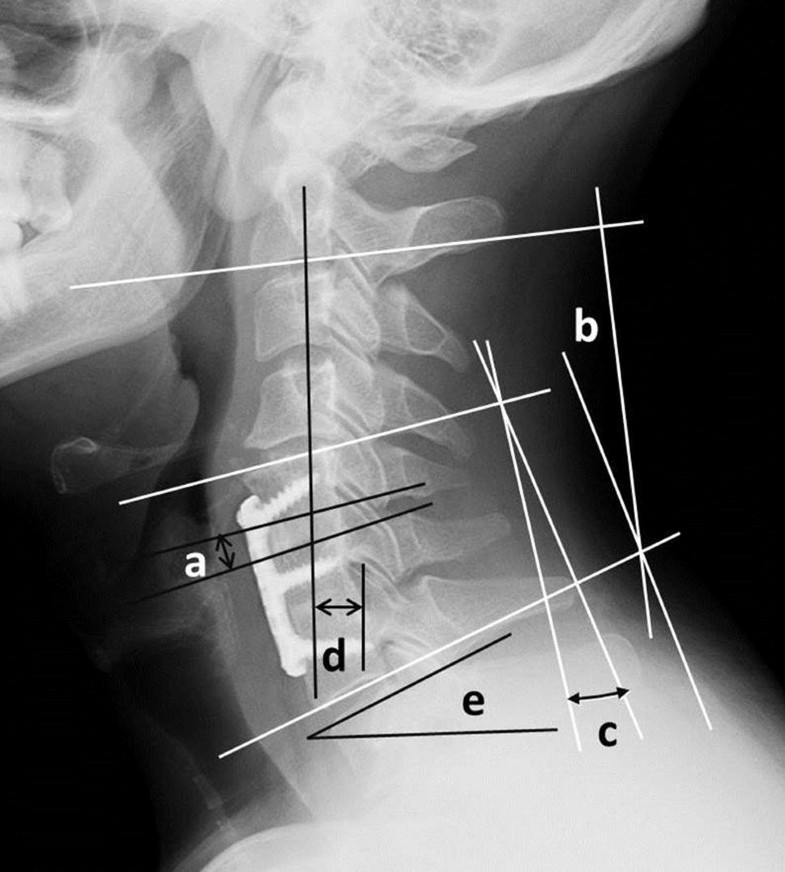 Evaluation criteria
Clinical analysis was done by comparing the improvement of visual analogue scale (VAS) score for neck pain, arm pain, and neck disability index (NDI) scores at final follow-up. Intraoperative and postoperative complications as well as re-operation rate during the follow-up period were also evaluated.
Correlation analysis of radiological and clinical parameters at preoperative period was done.
We evaluate the radiological and clinical differences after operation and during final FU according to the fusion number (one vs. two vs. three level), preoperative Cobb angle (kyphosis vs. lordosis), and preoperative SVA distance (SVA < 40 mm vs. > 40 mm), respectively.
Correlation between the changes in radiological parameters after operation was analysed. Correlation between the changes in radiological parameters and clinical outcomes at final follow-up from preoperative were calculated to determine the relationship between radiological and clinical parameters.
Statistical analysis
Statistical analyses were conducted using SPSS (Version 17.0, SPSS Inc., Chicago, IL, USA). Significance of the change in parameters after operation and during FU was analysed using paired t test. The Student t test was performed to compare the differences between groups. To evaluate the relation between the changes in each radiological parameter, correlation test was done. Statistical significance was set to p < 0.05.
Discussion
Our results showed that segmental lordosis was negatively correlated to SVA postoperatively and at last FU. Changes in SVA were correlated to changes in segmental lordosis. There was no correlation between C2–7 lordosis in postoperative period or FU period with SVA. Segmental lordosis was the only factor to correlate with sagittal alignment preoperatively and at last FU. We can suggest that ACDF is an efficient procedure to restore sagittal alignment, especially C2–7 SVA. Only few studies evaluate the impact of ACDF on sagittal alignment. Kwon et al. [10] investigated the longitudinal change in alignment parameters after two-level ACDF, comparing plate augmentation with stand-alone cages. They found that C2–7 SVA after ACDF was affected more significantly by the segmental angle. The use of plate augmentation was able to restore a better lordosis and a better sagittal alignment than ACDF with stand-alone cages. In our result, segmental lordosis increased from 0.66° to 8.33° postoperatively and 5.19° at final follow-up. Lee et al. [11] did comparative analysis comparing three different fusion construct system: cage alone, iliac bone block with plate, and cage with plate. The subsidence rate was lower for patients in the iliac bone with plate (28.1%) and cage with plate (38.5%) groups than for those in the cage alone group (58.6%). Song et al. [12] also compared the efficacy of anterior cervical discectomy and fusion with cage alone (ACDF-CA) with cage and plate construct (ACDF-CPC) in regard to fusion rate, radiologic, and clinical outcomes. They conclude that use of cage and plate construct in 1- or 2-level ACDF results in a more lordotic alignment, an increased disc height, a higher fusion rate, a lower subsidence rate, and a lower complication rate than that of cage alone. Even though the subsidence and loss of lordosis are inevitable during the follow-up, additional plating can be a one of the best methods to decrease them.
Recently, the concept of sagittal balance based on cervical SVA was proposed in the cervical spine. Several studies support that cervical sagittal balance appears to closely correlate with patients' HRQOL [1]. Cervical lordosis can influence postoperative clinical outcomes [13, 14]. Tang et al. [14] reported that a positive sagittal malalignment was correlated to the severity of the disability after posterior cervical reconstructive surgery. They found that the SVA negatively correlates with SF-36 physical component scores and presented regression models that were able to predict a threshold of C2–C7 SVA of approximately 40 mm. Protopsaltis et al. [15] reported that improvement in the cervical sagittal balance following corrective surgery of thoracolumbar deformity was related to HRQOL improvement. Even in healthy volunteers, cervical sagittal imbalance was shown to yield in poorer HRQOL scores [16, 17]. Our results do not support the relationship between cervical sagittal alignment and clinical outcomes. One of the reasons may be that preoperative sagittal alignment in our cohort was relatively well (7 degree of lordosis, 22.9 degree of T1S − CL, and 30 mm of SVA). In a cohort with worst sagittal malalignment, the clinical scores would have probably been correlated to radiographic changes, as reported by Ames et al. [1].
Even though there still have some controversies, many authors advocated for the superiority of the anterior approach in preventing postoperative cervical malalignment. Sakai compared the impact of sagittal balance between anterior fusion and posterior laminoplasty for degenerative cervical myelopathy [17]. The result showed that postoperative cervical sagittal alignment and balance were maintained after anterior fusion, but deteriorated in patients who underwent laminoplasty, especially when preoperative SVA was more than 40 mm.
In the setting of cervical imbalance, an increase in the SVA will invariably lead to an increase in cervical lordosis in order to maintain a horizontal gaze. In a biomechanical study using human spine specimens, Patwardhan et al. [18] found that normalization of C2–C7 SVA leads to a decrease in suboccipital (C0–C2) hyperextension, whereas T1 tilt decrease reduced the hyperextension in the C2–C7 segments. Kim et al. [19] evaluated 48 patients who underwent ACDF and concluded that ACDF affected the overall sagittal alignment, especially in patients with high cervical lordosis. They also found that patients with a high preoperative cervical lordosis showed a significant decrease in SVA and cervical lordosis postoperatively. However, our results showed a negative correlation between preoperative lordosis and SVA (r = − 217, p = 0.024). Moreover, changes in lordosis and SVA were greater when preoperative values were more severe. We think it depends on the driver of the deformity and the compensatory mechanisms. If the driver of the deformity is an increase in SVA (thus, probably a problem in the cervico-thoracic region), then the patients will have an increase in cervical lordosis in order to compensate and to maintain a horizontal gaze. But in cervical degenerative cases, the driver of the malalignment is more likely to be a loss of lordosis, leading to an increased SVA. The compensatory mechanism will therefore be a decrease in T1 slope. Our results show that preoperatively, cervical lordosis and T1 slope are correlated as well as postoperatively, restoration of cervical lordosis correlates with an increase in T1 slope. Gillis et al. [20] also showed that the improvement of focal lordosis was significantly correlated with an improvement in overall lordosis (C1–7 and C2–7), and overall lordosis as measured by the C2–7 Cobb angle was negatively correlated with cervical SVA after ACDF. Kwon et al. found a negative correlation between C2–7 lordosis restoration and C2–7 SVA [10]. Ames et al. [1] described that poor alignment can lead to compensatory mechanisms that alter alignment parameters of the cervical spine either in kyphosis or hyperlordosis. We can postulate that compensated abnormal cervical lordosis or kyphosis in cervical deformity or pathologic conditions can be normalized after ACDF. SVA may be a more reliable parameter than cervical lordosis as it reflects the overall sagittal alignment and correlates well with clinical scores. Other authors also supported C2–7 SVA as the best indicator of cervical malalignment and showed that it directly affected postoperative clinical outcomes [14, 21].
Our study also has limitations. First of all, procedures were performed by two different surgeons. However, both utilized a standardized operative method utilizing plates and allografts without the use of stand-alone cages or titanium or PEEK cages with plate augmentation techniques.
Conclusion
The results from this study confirm that ACDF is an efficient technique for the restoration of sagittal alignment in the setting of patients with degenerative conditions. Restoration of cervical lordosis and normalization of SVA were larger in patients with more severe preoperative malalignment. Even if the study failed to highlight relationships between radiological improvement and clinical scores, ACDF should be considered in patients with degenerative condition associated with cervical malalignment.
Notes
Compliance with ethical standards
Conflict of interest
All authors declare that they have no conflict of interest.
Ethical standard
All procedures performed in studies involving human participants were in accordance with the ethical standards of the institutional and/or national research committee and with the 1964 Helsinki Declaration and its later amendments or comparable ethical standards. The present study was approved by our institutional review board.
Informed consent
Informed consent was obtained from all individual participants included in the study.
Copyright information
© Springer-Verlag France SAS, part of Springer Nature 2019