Abstract
Background
Lumbar microdiscectomy is a common procedure with satisfactory results; however, postoperative events like progressive adjacent level degeneration and perineural fibrosis can contribute to long-term pain. The purpose of the study was to evaluate MRI changes 5 years after lumbar microdiscectomy and assess their association with clinical parameters.
Materials and methods
A prospective study enrolling 61 patients who underwent microdiscectomy. Changes between preoperative and postoperative MRI findings were recorded, and these findings were tested for associations with demographic, clinical and perioperative parameters. The measured imaging parameters were degeneration of the operated and adjacent discs and endplates, morphology of the disc herniation, facet joints arthritis and the presence of postoperative perineural fibrosis.
Results
Statistically significant differences were found between preoperative and postoperative morphology of the operated disc, facet joints arthritis and degeneration of the operated and caudal adjacent disc. There were no differences between preoperative and postoperative disc degeneration of the superior adjacent disc and in degeneration of the operated and adjacent endplates. Postoperatively perineural fibrosis was common; however, thecal sac compression and nerve root impingement were reduced. Age at the time of surgery was the only parameter associated with postoperative changes.
Conclusion
Five years after microdiscectomy, several postoperative MRI changes including operated disc's morphology, facet joints arthritis and degeneration of the operated and caudal adjacent disc were shown. Taking into consideration that participants were on average middle-aged, these changes could be attributed not only to the impact of the surgery but also to the natural history of lumbar spine degeneration.
This is a preview of subscription content, log in to check access.
Access options
Buy single article
Instant access to the full article PDF.
US$ 39.95
Price includes VAT for USA
Subscribe to journal
Immediate online access to all issues from 2019. Subscription will auto renew annually.
US$ 99
This is the net price. Taxes to be calculated in checkout.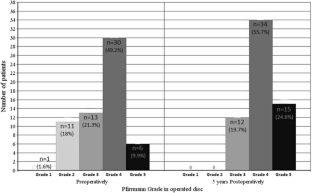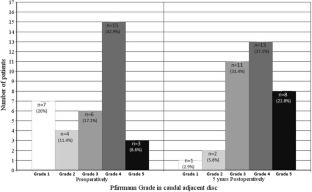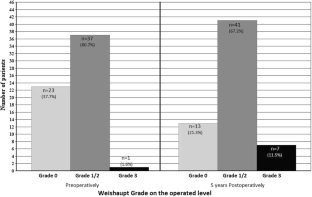 References
1.

McGirt MJ, Eustacchio S, Varga P, Vilendecic M, Trummer M, Gorensek M, Ledic D, Carragee EJ (2009) A prospective cohort study of close interval computed tomography and magnetic resonance imaging after primary lumbar discectomy. Factors associated with recurrent disc herniation and disc height loss. Spine (Phila Pa 1976) 34(19):2044–2051

2.

Hadjipavlou AG, Tzermiadianos MN, Bogduk N, Zindrick MR (2008) The pathophysiology of disc degeneration: a critical review. J Bone Joint Surg Br 90-B(10):1261–1270

3.

Weiner BK, Vilendecic M, Ledic D, Eustacchio S, Varga P, Gorensek M, Fernandez-Moure J, Hipp JA (2015) Endplate changes following discectomy: natural history and associations between imaging and clinical data. Eur Spine J 24(11):2449–2457

4.

Mariconda M, Galasso O, Attingenti P, Federico G, Milano C (2010) Frequency and clinical meaning of long-term degenerative changes after lumbar discectomy visualized on imaging tests. Eur Spine J 19(1):136–143

5.

Rahme R, Moussa R, Bou-Nassif R, Maarrawi J, Rizk T, Nohra G, Samaha E, Okais N (2010) What happens to Modic changes following lumbar discectomy? Analysis of a cohort of 41 patients with a 3- to 5-year follow-up period. J Neurosurg Spine 13(5):562–567

6.

Berjano P, Pejrona M, Damilano M (2013) Microdiscectomy for recurrent L5-S1 disc herniation. Eur Spine J 22:2915–2917. https://doi.org/10.1007/s00586-013-3114-9

7.

Lee YS, Choi ES, Song CJ (2009) Symptomatic nerve root changes on contrast-enhanced MR imaging after surgery for lumbar disk herniation. Am J Neuroradiol 30(5):1062–1067

8.

Fardon DF, Milette PC (2001) Nomenclature and classification of lumbar disc pathology. Recommendations of the combined task forces of the North American Spine Society, American Society of Spine Radiology, and American Society of Neuroradiology. Spine (Phila Pa 1976) 26(5):E93–E113

9.

Pfirrmann CWA, Metzdorf A, Zanetti M, Hodler J, Boos N (2001) Magnetic resonance classification of lumbar intervertebral disc degeneration. Spine (Phila Pa 1976) 26(17):1873–1878

10.

Modic MT, Steinberg PM, Ross JS, Masaryk TJ, Carter JR (1988) Degenerative disk disease: assessment of changes in vertebral body marrow with MR imaging. Radiology 166(1):193–199

11.

Weishaupt D, Zanetti M, Boos N, Hodler J (1999) MR imaging and CT in osteoarthritis of the lumbar facet joints. Skeletal Radiol 28:215–219

12.

Briseño MR, Phukan RD, Leonard DA, Herzog TL, Cho CH, Schwab JH, Wood KB, Bono CM, Cha TD (2016) The influence of adjacent level disc disease on discectomy outcomes. Eur Spine J 25(1):230–234

13.

Dalgic A, Yildirim AE, Okay O, Uckun O, Alagoz F, Polat O, Akdag R, Nacar O, Daglioglu E, Belen D (2015) Initial discectomy associated with aging lead to adjacent disc disease and recurrence. Turk Neurosurg 26(4):595–600

14.

Huang W, Han Z, Liu J, Yu L, Yu X (2016) Risk factors for recurrent lumbar disc herniation. A systematic review and meta-analysis. Medicine (Baltimore) 95(2):e2378

15.

Swartz KR, Trost TG (2003) Recurrent lumbar disc herniation. Neurosurg Focus 15(3):E10

16.

Park YK, Kim JH, Chung HS (2002) Outcome analysis of patients after ligament-sparing microdiscectomy for lumbar disc herniation. Neurosurg Focus 13:E4

17.

Kalichman L, Guermazi A, Li L, Hunter DJ (2009) Association between age, sex, BMI and CT-evaluated spinal degeneration features. J Back Musculoskelet Rehabil 22(4):189–195

18.

Cheung KM, Karppinen J, Chan D, Ho DW, Song YQ, Sham P, Cheah KS, Leong JC, Luck KD (2009) Prevalence and pattern of lumbar magnetic resonance imaging changes in a population study of one thousand forty-three individuals. Spine (Phila Pa 1976) 34(9):934–940

19.

Jarvik JG, Hollingworth W, Heagerty PJ, Haynor DR, Boyko EJ, Deyo RA (2005) Three-year incidence of low back pain in an initially asymptomatic cohort: clinical and imaging risk factors. Spine (Phila Pa 1976) 30(13):1541–1548 (discussion 1549)

20.

Jensen MC, Brant-Zawadzki MN, Obuchowski N, Modic MT, Malkasian DRJ (1994) Magnetic resonance imaging of the lumbar spine in people without back pain. N Engl J Med 331:69–73

21.

Savage RA, Whitehouse GH, Roberts N (1997) The relationship between the magnetic resonance imaging appearance of the lumbar spine and low back pain, age and occupation in males. Eur Spine J 6(2):106–114

22.

Brinjikji W, Luetmer PH, Comstock B, Bresnahan BW, Chen LE, Deyo RA, Halabi S, Turner JA, Avins AL, James K, Wald JT, Kallmes DF, Jarvik JG (2015) Systematic literature review of imaging features of spinal degeneration in asymptomatic populations. AJNR Am J Neuroradiol 36(4):811–816

23.

Saleem S, Aslam HM, Rehmani MAK, Raees A, Alvi AA, Ashraf J (2013) Lumbar disc degenerative disease: disc degeneration symptoms and magnetic resonance image findings. Asian Spine J 7(4):322–334

24.

Lee MJ, Dettori JR, Standaert CJ, Brodt ED, Chapman JR (2012) The natural history of degeneration of the lumbar and cervical spines: a systematic review. Spine (Phila Pa 1976) 37(22 Suppl):S18–S30

25.

Powell MC, Wilson M, Szypryt P et al (1986) Prevalence of lumbar disc degeneration observed by magnetic resonance in symptomless women. Lancet 2:1366–1367. https://doi.org/10.1016/S0140-6736(86)92008-8

26.

Zheng CJ, Chen J (2015) Disc degeneration implies low back pain. Theor Biol Med Model 12:24. https://doi.org/10.1186/s12976-015-0020-3

27.

Boos N, Weissbach S, Rohrbach H et al (2002) Classification of age-related changes in lumbar intervertebral discs: 2002 Volvo Award in basic science. Spine 27:2631–2644. https://doi.org/10.1097/00007632-200212010-00002
Ethics declarations
Conflict of interest
The authors declare that they have no conflict of interest.
About this article
Cite this article
Gelalis, I.D., Papanastasiou, E.I., Theodorou, D.J. et al. Postoperative MRI findings 5 years after lumbar microdiscectomy. Eur J Orthop Surg Traumatol 29, 313–320 (2019). https://doi.org/10.1007/s00590-018-2338-0
Received:

Accepted:

Published:

Issue Date:
Keywords
Lumbar microdiscectomy

MRI changes

Degeneration

Perineural fibrosis