Abstract
Introduction
Osteochondral lesions of the patellofemoral joint (OLPFJ) are defects of the cartilage surface and subchondral bone, which often require surgical treatment. Reparative treatments have shown some limitations in the long-term follow-up. The one-step bone marrow-derived cells transplantation (BMDCT) achieved good to excellent results in the treatment of osteochondral lesions of the femoral condyles. The aim of this study was to report the 48-month clinical and radiological results among 28 patients with OLPFJ treated with the one-step BMDCT technique associated with the anteromedialization tibial tuberosity (AMTT).
Materials and methods
Twenty-eight patients from 2010 to 2013 with OLPFJ underwent the BMDCT with the one-step technique associated with the AMTT. Clinical evaluation was performed at 6, 12, 18, 24, 36 and 48 months after surgery using the Kujala PF scale, the IKDC score and the Tegner activity scale. Eighteen lesions were located on patella and ten lesions on trochlea.
Results
The preoperative Kujala score improved from 68.2 ± 4.7 to 87.2 ± 1.2 at the mean final follow-up, while the IKDC subjective score improved from 55.1 ± 6.2 to 92.13 ± 5.5. Tegner scale showed an increase from 1.7 ± 1.3 preoperatively to 5.3 ± 2.7 at the final follow-up. MRI analysis at 24-month follow-up showed an overall good filling of the lesions.
Discussion and conclusions
The one-step BMDCT associated with the AMTT permitted good clinical results durable over time with a high rate of patients' satisfaction. These results confirm the validity of the one-step technique also in patellofemoral joint.
This is a preview of subscription content, log in to check access.
Access options
Buy single article
Instant access to the full article PDF.
US$ 39.95
Price includes VAT for USA
Subscribe to journal
Immediate online access to all issues from 2019. Subscription will auto renew annually.
US$ 99
This is the net price. Taxes to be calculated in checkout.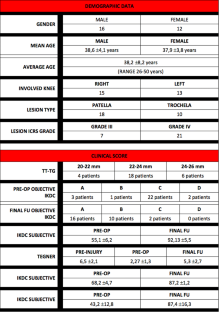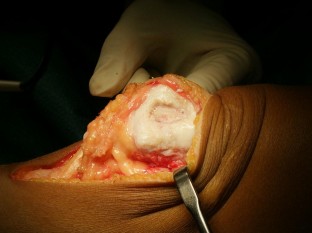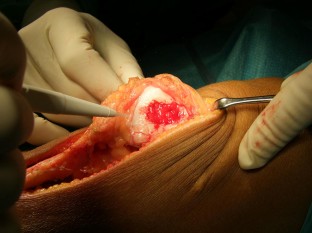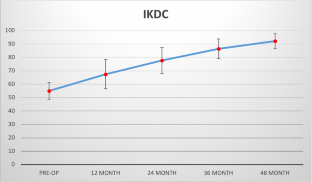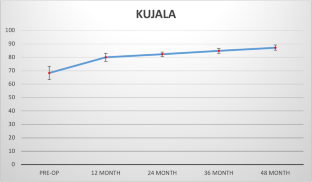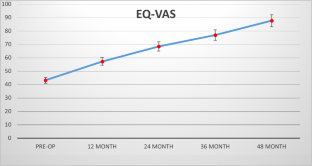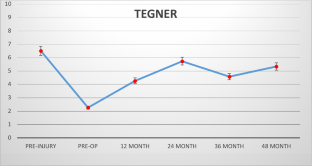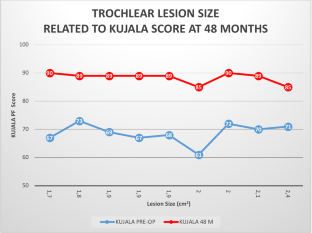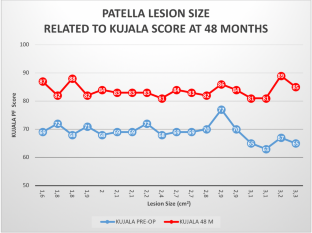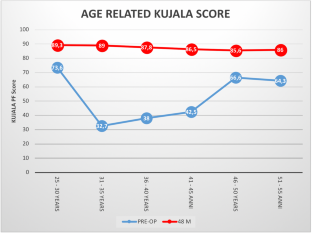 References
1.

Anderson DM, Michelle AE (2004) Mosby's medical, nursing, and allied health dictionary, vol 6. Piccin, Venice

2.

Curl WW, Krome J, Gordon ES, Rushing J, Smith BP, Poehling GG (1997) Cartilage injuries: a review of 31,516 knee arthroscopies. Arthroscopy 13:456–460

3.

Hunziker EB (2002) Articular cartilage repair: basic science and clinical progress: a review of the current status and prospects. Osteoarthr Cartil 10:432–463

4.

Nomura E, Inoue M, Kurimura M (2003) Chondral and osteochondral injuries associated with acute patellar dislocation. Arthroscopy 19:717–721

5.

Messner K, Maletius W (1996) The long-term prognosis for severe damage to weight-bearing cartilage in the knee: a 14-year clinical and radiographic follow-up in 28 young athletes. Acta Orthop Scand 67:165–168

6.

Hangody L, Kish G, Karpati Z, Szerb I, Udvarhelyi I (1997) Arthroscopic autogenous osteochondral mosaicplasty for the treatment of femoral condylar articular defects: a preliminary report. Knee Surg Sports Traumatol Arthrosc 5:262–267

7.

Peterson L, Minas T, Brittberg M et al (2000) Two- to 9-year outcome after autologous chondrocyte transplantation of the knee. Clin Orthop 374:212–234

8.

Gobbi A, Kon E, Berruto M, Filardo G, Delcogliano M, Boldrini L, Bathan L, Marcacci M (2009) Patellofemoral full-thickness chondral defects treated with second-generation autologous chondrocyte implantation: results at 5 years' follow-up. Am J Sports Med 37(6):1083–1089

9.

Macmull S, Jaiswal PK, Bentley G, Skinner JA, Carrington RWJ, Briggs TW (2012) The role of autologous chondrocyte implantation in the treatment of symptomatic chondromalacia patellae. Int Orthop 36(7):1371

10.

Cavallo C, Desando G, Cattini L, Cavallo M, Buda R, Giannini S, Facchini A, Grigolo B (2013) Bone marrow concentrated cell transplantation: rationale for its use in the treatment of human osteochondral lesions. J Biol Regul Homeost Agents 27(1):165–175

11.

Giannini S, Battaglia M, Buda R, Cavallo M, Ruffilli A, Vannini F (2009) Surgical treatment of osteochondral lesions of the talus by open-field autologous chondrocyte implantation: a 10-year follow-up clinical and magnetic resonance imaging T2-mapping evaluation. Am J Sports Med 37(Suppl 1):112S–118S

12.

Giannini S, Buda R, Faldini C et al (2005) Surgical treatment of osteochondral lesions of the talus (OLT) in young and active patients: guidelines for treatment and evolution of the technique. J Bone Joint Surg Am 87:28–41

13.

Brittberg M, Lindahl A, Nilsson A, Ohlsson C, Isaksson O, Peterson L (1994) Treatment of deep cartilage defects in the knee with autologous chondrocyte transplantation. N Engl J Med 331(14):889–895

14.

Mandelbaum B, Browne JE, Fu F, Micheli LJ, Moseley JB, Erggelet C, Anderson AF (2007) Treatment outcomes of autologous chondrocyte implantation for full-thickness articular cartilage defects of the trochlea. Am J Sports Med 35(6):915–921

15.

Minas T, Bryant T (2005) The role of autologous chondrocyte implantation in the patellofemoral joint. Clin Orthop Relat Res 436:30–39

16.

Peterson L, Brittberg M, Kiviranta I, Akerlund EL, Lindahl A (2002) Autologous chondrocyte transplantation: biomechanics and long-term durability. Am J Sports Med 30(1):2–12

17.

Trinh T, Harris J, Siston R, Flanigan D (2013) Improved outcomes with combined autologous chondrocyte implantation and patellofemoral osteotomy versus isolated autologous chondrocyte implantation. Arthroscopy 29(3):566–574

18.

Salter RB (1994) The physiological basis of continous passive motion for articular cartilage healing and regeneration. Hand Clin 10:211–219

19.

Ding DY, Kanevsky R, Strauss EJ, Jazrawi LM (2016) Anteromedialisation tibial tubercle osteotomy for recurrent patellar instability in young active patients: a retrospective case series. Injury 47(3):7373–41

20.

Kreuz PC, Steinwachs MR, Erggelet C et al (2006) Results after microfracture of full-thickness chondral defects in different compartments in the knee. Osteoarthr Cartil 14:1119–1125

21.

Saris DB, Vanlauwe J, Victor J et al (2008) Characterized chondrocyte implantation results in better structural repair when treating symptomatic cartilage defects of the knee in a randomized controlled trial versus microfracture. Am J Sports Med 36:235–246

22.

Lorentzon R, Alfredson H, Hildingsson C (1998) Treatment of deep cartilage defects of the patella with periosteal transplantation. Knee Surg Sports Traumatol Arthrosc 6:201

23.

Schonholtz GJ, Ling B (1985) Arthroscopic chondroplasty of the patella. Arthroscopy 1:92–96

24.

Brittberg M, Lindahl A, Nilsson A, Ohlsson C, Isaksson O, Peterson L (1994) Treatment of deep cartilage defects in the knee with autologous chondrocyte transplantation. N Engl J Med 331:889–895

25.

Farr J II (2008) Autologous chondrocyte implantation and anteromedialization in the treatment of patellofemoral chondrosis. Orthop Clin N Am 39:329–335

26.

Bosnakovski D, Mizuno M, Kim G, Takagi S, Okumura M, Fujinaga T (2006) Chondrogenic differentiation of bovine marrow mesenchymal stem cells (MSCs) in different hydrogels: influence of collagen type II extracellular matrix on MSC chondrogenesis. Biotechnol Bioeng 93:1152–1163

27.

Dominici M, Pritchard C, Garlits JE, Hofmann TJ, Persons DA, Horwitz EM (2004) Hematopoietic cells and osteoblasts are derived from a common marrow progenitor after bone marrow transplantation. PNAS 101:11761–11766

28.

Kacena MA, Gundberg CM, Horowitz MC (2006) A reciprocal regulatory interaction between megakaryocytes, bone cells and hematopoietic stem cells. Bone 39:978–984

29.

Longobardi L, O'Rear L, Aakula S, Johnstone B, Shimer K, Chytil A, Horton WA, Moses HL, Spagnoli A (2006) Effect of IGF-I in the chondrogenesis of bone marrow mesenchymal stem cells in the presence or absence of TGF-beta signaling. J Bone Miner Res 21:626–636

30.

Tsujii A, Hiramatsu K, Shimomura K, Kobayashi M, Mera H, Wakitani S, Nakamura N, Horibe S, Mitsuoka TJ (2018) Long-term results of autologous bone marrow mesenchymal stem cell transplantation for cartilage defects in the patella: Two case reports with more than 18 years of follow-up. Orthop Sci S0949–2658(18):30036–30038

31.

Wakitani S, Nawata M, Tensho K, Okabe T, Machida H, Ohgushi H (2007) Repair of articular cartilage defects in the patello-femoral joint with autologous bone marrow mesenchymal cell transplantation: three case reports involving nine defects in five knees. J Tissue Eng Regen Med 1(1):74–79

32.

Wakitani S, Mitsuoka T, Nakamura N, Toritsuka Y, Nakamura Y, Horibe S (2004) Autologous bone marrow stromal cell transplantation for repair of full-thickness articular cartilage defects in human patellae: two case reports. Cell Transpl 13(5):595–600
Ethics declarations
Conflict of interest
All the authors declare no conflict of interest.
About this article
Cite this article
Buda, R., Baldassarri, M., Perazzo, L. et al. A useful combination for the treatment of patellofemoral chondral lesions: realignment procedure plus mesenchymal stem cell—retrospective analysis and clinical results at 48 months of follow-up. Eur J Orthop Surg Traumatol 29, 461–470 (2019). https://doi.org/10.1007/s00590-018-2310-z
Received:

Accepted:

Published:

Issue Date:
Keywords
Patello-femoral

Knee

Ostechondral lesion

Stem cells