Abstract
Introduction
The use of Kinesio tape (KT) to improve proprioception is a matter of considerable debate. In comparison, the rupture of the anterior cruciate ligament is a sufficiently well-investigated injury with a proven compromise of proprioception. The objective of the present study was to assess a supportive effect on proprioception after KT application, taking the anterior cruciate ligament (ACL) rupture as an example.
Materials and methods
Forty-eight patients who had suffered an ACL rupture, confirmed clinically and by magnetic resonance imaging, and who were treated conservatively or were awaiting surgery were included in this study. In all patients, a gait analysis was performed on the affected leg before and after KT application. In addition, the IKDC score, the Lysholm score, stability using the Rolimeter, and the angle reproduction test were determined.
Results
Thirty-nine men and nine women who had had an ACL rupture for at least 3 weeks were included in the study. Significant improvements were achieved on the affected knee joint for the gait analysis parameters touchdown and unrolling, cadence, stability and stance phase as well as an extension of the hip joint. The Lysholm score improved from 79.3 to 85.8 (p < 0.001) and the IKDC score from 60.2 to 71.3 points (p < 0.001). Significant improvements were achieved in the Rolimeter and angle reproduction test.
Conclusions
The use of KT has a positive effect on proprioception in patients with an anterior cruciate ligament rupture. Therefore, the application may improve gait pattern as well as the subjective function of the affected knee joint.
Access options
Buy single article
Instant access to the full article PDF.
USD 39.95
Price excludes VAT (USA)
Tax calculation will be finalised during checkout.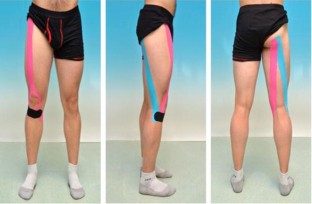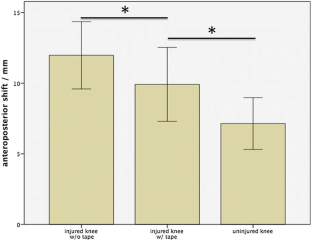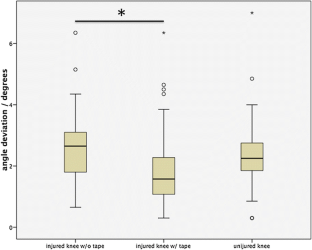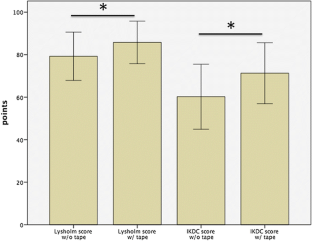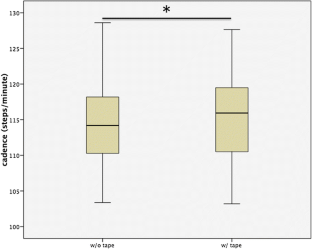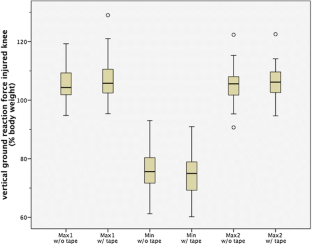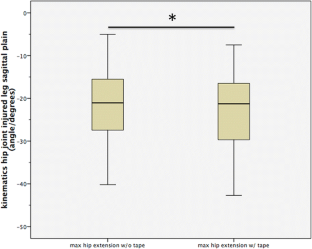 References
Kim K-S, Seo H-M, Lee H-D (2002) Effect of taping method on ADL, range of motion, hand function and quality of life in post-stroke Patients for 5 weeks. Korean J Rehabil Nurs 5(1):7–17

Lee M-S (2007) Effects of kinesio taping on muscle strength improvement, and the blood markers of muscle fatigue and damage. The Graduate School of Yonsei University, Seoul

Kase K, Wallis J, Kase T (2003) Clinical therapeutic application of the Kinesio taping method, 3rd edn. Kenikai Co. Ltd, Tokyo

Callaghan MJ, Selfe J (2012) Patellar taping for patellofemoral pain syndrome in adults. Cochrane Database Syst Rev 4:CD006717. https://doi.org/10.1002/14651858.cd006717.pub2

Simon J, Garcia W, Docherty CL (2014) The effect of kinesio tape on force sense in people with functional ankle instability. Clin J Sport Med 24(4):289–294

Halseth T, McChesney JW, Debeliso M, Vaughn R, Lien J (2004) The effects of kinesio taping on proprioception at the ankle. J Sports Sci Med 3(1):1–7

Williams S, Whatman C, Hume PA, Sheerin K (2012) Kinesio taping in treatment and prevention of sports injuries. Sports Med 42(2):153–164

Riemann BL, Lephart SM (2002) The sensorimotor system, part II: the role of proprioception in motor control and functional joint stability. J Athl Train 37(1):80

Cabuk H, Kusku Cabuk F (2016) Mechanoreceptors of the ligaments and tendons around the knee. Clin Anat 29(6):789–795. https://doi.org/10.1002/ca.22743

Tegner Y, Lysholm J (1985) Rating systems in the evaluation of knee ligament injuries. Clin Orthop Relat Res 198:43–49

Ganko A, Engebretsen L, Ozer H (2000) The rolimeter: a new arthrometer compared with the KT-1000. Knee Surg Sports Traumatol Arthrosc 8(1):36–39. https://doi.org/10.1007/s001670050008

Anders JO, Venbrocks RA, Weinberg M (2008) Proprioceptive skills and functional outcome after anterior cruciate ligament reconstruction with a bone-tendon-bone graft. Int Orthop 32(5):627–633. https://doi.org/10.1007/s00264-007-0381-2

Cho HY, Kim EH, Kim J, Yoon YW (2015) Kinesio taping improves pain, range of motion, and proprioception in older patients with knee osteoarthritis: a randomized controlled trial. Am J Phys Med Rehabil 94(3):192–200. https://doi.org/10.1097/PHM.0000000000000148

Torres R, Trindade R, Gonçalves RS (2016) The effect of kinesiology tape on knee proprioception in healthy subjects. J Bodyw Mov Ther 20(4):857–862. https://doi.org/10.1016/j.jbmt.2016.02.009

de Almeida Lins CA, Neto FL, de Amorim ABC, de Brito Macedo L, Brasileiro JS (2013) Kinesio Taping® does not alter neuromuscular performance of femoral quadriceps or lower limb function in healthy subjects: randomized, blind, controlled, clinical trial. Man Ther 18(1):41–45

Morris D, Jones D, Ryan H, Ryan C (2013) The clinical effects of Kinesio® Tex taping: a systematic review. Physiother Theory Pract 29(4):259–270

Cimino SR, Beaudette SM, Brown SH (2018) Kinesio taping influences the mechanical behaviour of the skin of the low back: a possible pathway for functionally relevant effects. J Biomech 67:150–156

Tu SJ, Woledge RC, Morrissey D (2016) Does 'Kinesio tape'alter thoracolumbar fascia movement during lumbar flexion? An observational laboratory study. J Bodyw Mov Ther 20(4):898–905

Csapo R, Alegre LM (2015) Effects of Kinesio® taping on skeletal muscle strength—a meta-analysis of current evidence. J Sci Med Sport 18(4):450–456

Słupik A, Dwornik M, Białoszewski D, Zych E (2007) Effect of Kinesio Taping on bioelectrical activity of vastus medialis muscle. Preliminary report. Ortop Traumatol Rehabil 9(6):644–651

Fu T-C, Wong AM, Pei Y-C, Wu KP, Chou S-W, Lin Y-C (2008) Effect of Kinesio taping on muscle strength in athletes—a pilot study. J Sci Med Sport 11(2):198–201

Wong OM, Cheung RT, Li RC (2012) Isokinetic knee function in healthy subjects with and without Kinesio taping. Phys Ther Sport 13(4):255–258

Parreira PdCS, Costa LdCM, Junior LCH, Lopes AD, Costa LOP (2014) Current evidence does not support the use of Kinesio Taping in clinical practice: a systematic review. J Physiother 60(1):31–39
Ethics declarations
Conflict of interest
We did not receive any benefits directly or indirectly from commercial parties.
About this article
Cite this article
Bischoff, L., Babisch, C., Babisch, J. et al. Effects on proprioception by Kinesio taping of the knee after anterior cruciate ligament rupture. Eur J Orthop Surg Traumatol 28, 1157–1164 (2018). https://doi.org/10.1007/s00590-018-2167-1
Received:

Accepted:

Published:

Issue Date:

DOI: https://doi.org/10.1007/s00590-018-2167-1
Keywords