Abstract
Deltoid palsy is a classical contraindication for reverse shoulder arthroplasty (RSA). However, in cases associating axillary nerve palsy and rotator cuff tear or glenohumeral arthritis, few options remain. We present a case in which combining RSA with transfer of the pectoralis major and upper and middle trapezius transfer provided satisfactory results in a patient suffering of both an irreparable rotator cuff tear and a deltoid palsy.
Level of evidence IV.
This is a preview of subscription content, log in to check access.
Access options
Buy single article
Instant access to the full article PDF.
US$ 39.95
Tax calculation will be finalised during checkout.
Subscribe to journal
Immediate online access to all issues from 2019. Subscription will auto renew annually.
US$ 99
Tax calculation will be finalised during checkout.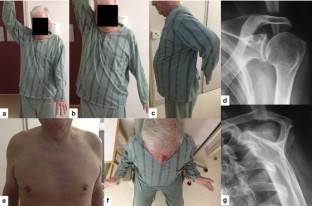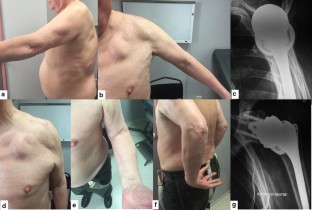 References
1.

Seidl AJ, Williams GR, Boileau P (2016) Challenges in reverse shoulder arthroplasty: addressing glenoid bone loss. Orthopedics 39(1):14–23

2.

Chalmers PN, Keener JD (2016) Expanding roles for reverse shoulder arthroplasty. Curr Rev Musculoskelet Med 9(1):40–48

3.

Boileau P, Walch G (2008) Prothèses d'épaule. État actuel. Elsevier Masson, Paris, France. (Cahier d'enseignement de la SOFCOT)

4.

Elhassan BT, Wagner ER, Werthel J-D, Lehanneur M, Lee J (2018) Outcome of reverse shoulder arthroplasty with pedicled pectoralis transfer in patients with deltoid paralysis. J Shoulder Elbow Surg 27(1):96–103

5.

Patte D (1990) Classification of rotator cuff lesions. Clin Orthop 254:81–86

6.

Goutallier D, Postel J-M, Bernageau J, Lavau L, Voisin M-C (1994) Fatty muscle degeneration in cuff ruptures: pre-and postoperative evaluation by CT scan. Clin Orthop 304:78–83

7.

Resch H, Povacz P, Maurer H, Koller H, Tauber M (2008) Pectoralis major inverse plasty for functional reconstruction in patients with anterolateral deltoid deficiency. J Bone Joint Surg Br 90(6):757–763

8.

Leechavengvongs S, Witoonchart K, Uerpairojkit C, Thuvasethakul P (2003) Nerve transfer to deltoid muscle using the nerve to the long head of the triceps, part II: a report of 7 cases. J Hand Surg 28(4):633–638

9.

Elhassan B, Bishop A, Shin A, Spinner R (2010) Shoulder tendon transfer options for adult patients with brachial plexus injury. J Hand Surg 35(7):1211–1219

10.

Chammas M, Meyer zu Reckendorf G, Allieu Y (1996) Arthrodesis of the shoulder for post-traumatic palsy of the brachial plexus. Analysis of a series of 18 cases. Rev Chir Orthopédique Réparatrice Appar Mot 82(5):386–395

11.

Goldner JL (1988) Strengthening of the partially paralyzed shoulder girdle by multiple muscle-tendon transfers. Hand Clin 4(2):323–336

12.

Saha AK (1967) Surgery of the paralysed and flail shoulder. Acta Orthop Scand Suppl 97:5–90

13.

Aziz W, Singer RM, Wolff TW (1990) Transfer of the trapezius for flail shoulder after brachial plexus injury. J Bone Joint Surg Br 72(4):701–704

14.

Monreal R, Paredes L, Diaz H, Leon P (2007) Trapezius transfer to treat flail shoulder after brachial plexus palsy. J Brachial Plex Peripher Nerve Inj 2:2

15.

Hou CL, Tai YH (1991) Transfer of upper pectoralis major flap for functional reconstruction of deltoid muscle. Chin Med J (Engl) 104(9):753–757

16.

Hirahara AM, Adams CR (2015) Arthroscopic superior capsular reconstruction for treatment of massive irreparable rotator cuff tears. Arthrosc Tech. 4(6):e637–e641

17.

Mihata T, Lee TQ, Watanabe C, Fukunishi K, Ohue M, Tsujimura T et al (2013) Clinical results of arthroscopic superior capsule reconstruction for irreparable rotator cuff tears. Arthrosc J Arthrosc Relat Surg 29(3):459–470

18.

Werthel J-D, Schoch B, Sperling JW, Cofield R, Elhassan BT (2016) Shoulder arthroplasty for sequelae of poliomyelitis. J Shoulder Elbow Surg 25(5):791–796

19.

Marinello PG, Amini MH, Peers S, O'Donnell J, Iannotti JP (2016) Reverse total shoulder arthroplasty with combined deltoid reconstruction in patients with anterior and/or middle deltoid tears. J Shoulder Elbow Surg 25(6):936–941

20.

Goel DP, Ross DC, Drosdowech DS (2012) Rotator cuff tear arthropathy and deltoid avulsion treated with reverse total shoulder arthroplasty and latissimus dorsi transfer: case report and review of the literature. J Shoulder Elbow Surg 21(5):e1–e7

21.

Itoh Y, Sasaki T, Ishiguro T, Uchinishi K, Yabe Y, Fukuda H (1987) Transfer of latissimus dorsi to replace a paralysed anterior deltoid. A new technique using an inverted pedicled graft. J Bone Joint Surg Br 69(4):647–651

22.

Petrucci FS, Morelli A, Raimondi PL (1982) Axillary nerve injuries—21 cases treated by nerve graft and neurolysis. J Hand Surg 7(3):271–278

23.

Selim NM (2012) Trapezius tendon transfer according to Saha after neglected complete axillary nerve injury. Acta Orthop Belg 78(4):436–441

24.

Brogan DM, Carofino BC, Kircher MF, Spinner RJ, Elhassan BT, Bishop AT et al (2014) Prevalence of rotator cuff tears in adults with traumatic brachial plexus injuries. J Bone Joint Surg Am 96(16):e139

25.

Eichinger JK, Galvin JW (2015) Management of complications after total shoulder arthroplasty. Curr Rev Musculoskelet Med 8(1):83–91

26.

Lädermann A, Lübbeke A, Mélis B, Stern R, Christofilopoulos P, Bacle G et al (2011) Prevalence of neurologic lesions after total shoulder arthroplasty. J Bone Joint Surg Am 93(14):1288–1293
Funding
Funding was provided by FH Orthopedics.
Ethics declarations
Conflict of interest
Dr. Werthel has a patent with FH Orthopedics for the Arrow shoulder arthroplasty with royalties paid. Dr. Valenti has a patent FH Orthopedics Arrow with royalties paid. Dr. Kermarrec and Dr. Canales have nothing to disclose.
About this article
Cite this article
Kermarrec, G., Werthel, J.D., Canales, P. et al. Review and clinical presentation in reverse shoulder arthroplasty in deltoid palsy. Eur J Orthop Surg Traumatol 28, 747–751 (2018). https://doi.org/10.1007/s00590-018-2126-x
Received:

Accepted:

Published:

Issue Date:
Keywords
Shoulder arthroplasty

Deltoid palsy

Axillary nerve palsy

Tendon transfer

Pectoralis major

Trapezius

Rotator cuff tear