Abstract
All-arthroscopic anchorless transosseous suture techniques combine the advantages of the open transosseous repair with the benefits of arthroscopic technique. However, all the techniques described until now are very complex, difficult to reproduce and associated with an increased surgical time. The authors developed a novel all-arthroscopic anchorless transosseous suture technique easy to perform and to reproduce. This procedure maximizes the tendon-footprint contact area obtaining both medial and lateral fixation without using any device, employing only 1 suture tape so to avoiding the risk of suture twist. The preparation of two transosseous tunnels is very easily and safely performed thanks to a dedicated instrument. The procedure is described in details. Moreover, the preliminary favorable results after a minimum follow-up of 12 months are reported.
Access options
Buy single article
Instant access to the full article PDF.
US$ 39.95
Tax calculation will be finalised during checkout.
Subscribe to journal
Immediate online access to all issues from 2019. Subscription will auto renew annually.
US$ 79
Tax calculation will be finalised during checkout.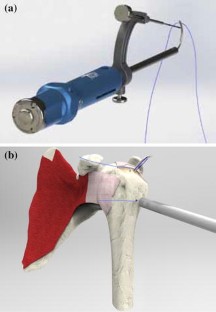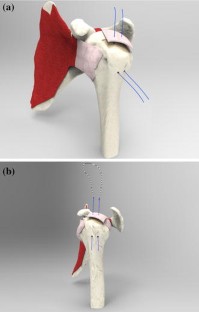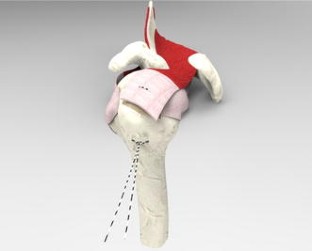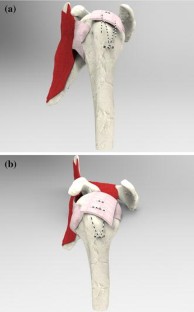 References
1.

Wilson F, Hinov V, Adams G (2002) Arthroscopic repair of full-thickness tears of the rotator cuff: 2- to 14-year follow-up. Arthroscopy 18(2):136–144

2.

Burkhart SS, Danaceau SM, Pearce CE (2001) Arthroscopic rotator cuff repair: analysis of results by tear size and by repair technique-margin convergence versus direct tendon-to-bone repair. Arthroscopy 17(9):905–912

3.

Barber FA, Hrnack SA, Snyder SJ, Hapa O (2011) Rotator cuff repair healing influenced by platelet-rich plasma construct augmentation. Arthroscopy 27(8):1029–1035

4.

Chillemi C, Petrozza V, Garro L et al (2011) Rotator cuff re-tear or non-healing: histopathological aspects and predictive factors. Knee Surg Sports Traumatol Arthrosc 19(9):1588–1596

5.

Apreleva M, Ozbaydar M, Fitzgibbons PG, Warner JJ (2002) Rotator cuff tears: the effect of the reconstruction method on three-dimensional repair site area. Arthroscopy 18(5):519–526

6.

Garofalo R, Castagna A, Borroni M, Krishnan SG (2012) Arthroscopic transosseous (anchorless) rotator cuff repair. Knee Surg Sports Traumatol Arthrosc 20(6):1031–1035

7.

Genuario JW, Donegan RP, Hamman D, Bell JE, Boublik M, Schlegel T, Tosteson AN (2012) The cost-effectiveness of single-row compared with double-row arthroscopic rotator cuff repair. J Bone Joint Surg Am 94(15):1369–1377

8.

DeHaan A, Axelrad T, Kaye E, Silvestri L, Puskas B, Foster T (2012) Does double-row rotator cuff repair improve functional outcome of patients compared with single-row technique? A systematic review. Am J Sports Med 40:1176–1185

9.

Tashjian RZ, Hollins AM, Kim HM, Teefey SA, Middleton WD, Steger-May K, Galatz LM, Yamaguchi K (2010) Factors affecting healing rates after arthroscopic double-row rotator cuff repair. Am J Sports Med 38(12):2435–2442

10.

Benson EC, MacDermid JC, Drosdowech DS, Athwal GS (2010) The incidence of early metallic suture anchor pull-out after arthroscopic rotator cuff repair. Arthroscopy 26(3):310–315

11.

Black EM, Lin A, Srikumaran U, Jain N, Freehill MT (2015) Arthroscopic transosseous rotator cuff repair: technical note, outcomes, and complications. Orthopedics 38(5):352–358

12.

Kuroda S, Ishige N, Mikasa M (2013) Advantages of arthroscopic transosseous suture repair of the rotator cuff without the use of anchors. Clin Orthop Relat Res 471(11):3514–3522

13.

Aramberri-Gutiérrez M, Martínez-Menduiña A, Valencia-Mora M, Boyle S (2015) All-suture transosseous repair for rotator cuff tear fixation using medial calcar fixation. Arthrosc Tech 4(2):169–173

14.

Lee TQ (2013) Current biomechanical concepts for rotator cuff repair. Clin Orthop Surg 5(2):89–97

15.

Ahmad CS, Stewart AM, Izquierdo R, Bigliani L (2005) Tendon-bone interface motion in transosseous suture and suture anchor rotator cuff repair techniques. Am J Sports Med 33(11):1667–1671

16.

Snyder SJ (2003) Arthroscopic classification of rotator cuff lesions and surgical decision making. In: Snyder SJ (ed) Shoulder arthroscopy. Lippincott Williams & Wilkins, Philadelphia, pp 201–207

17.

Kummer FJ, Hahn M, Day M, Meislin RJ, Jazrawi LM (2013) A laboratory comparison of a new arthroscopic transosseous rotator cuff repair to a double row transosseous equivalent rotator cuff repair using suture anchors. Bull Hosp Joint Dis 71(2):128–131

18.

Bisson LJ, Manohar LM (2010) A biomechanical comparison of the pullout strength of No. 2 FiberWire suture and 2-mm FiberWire tape in bovine rotator cuff tendons. Arthroscopy 26(11):1463–1468

19.

Neyton L, Godeneche A, Nove-Josserand L, Carrillon Y, Clechet J, Hardy MB (2013) Arthroscopic suture-bridge repair for small to medium size supraspinatus tear: healing rate and retear pattern. Arthroscopy 29(1):10–17

20.

Tauber M, Koller H, Resch H (2008) Transosseous arthroscopic repair of partial articular-surface supraspinatus tendon tears. Knee Surg Sports Traumatol Arthrosc 16:608–613

21.

Flanagin BA, Garofalo R, Lo EY, Feher L, Castagna A, Qin H, Krishnan SG (2016) Midterm clinical outcomes following arthroscopic transosseous rotator cuff repair. Int J Shoulder Surg 10(1):3–9
Ethics declarations
Conflict of interest
Claudio Chillemi declares that he has no conflict of interest. Matteo Mantovani designed and manufactured the Taylor Stitcher® + Superelastic Transosseus Needle®. Marcello Osimani declares that he has no conflict of interest. Alessandro Castagna declares that he has no conflict of interest.
Ethical approval
All procedures performed in studies involving human participants were in accordance with the ethical standards of the institutional and/or national research committee and with the 1964 Helsinki Declaration and its later amendments or comparable ethical standards.
Informed consent
Informed consent was obtained from all individual participants included in the study.
About this article
Cite this article
Chillemi, C., Mantovani, M., Osimani, M. et al. Arthroscopic transosseous rotator cuff repair: the eight-shape technique. Eur J Orthop Surg Traumatol 27, 399–404 (2017). https://doi.org/10.1007/s00590-017-1906-z
Received:

Accepted:

Published:

Issue Date:
Keywords
Rotator cuff

Tendon

Tear

Repair

Transosseous technique

Arthroscopy