Abstract
Smoking is a worldwide epidemic. Complications related to smoking behavior generate an economic loss around $193 billion annually. In addition to impacting chronic health conditions, smoking is linked to increased perioperative complications in those with current or previous smoking history. Numerous studies have demonstrated more frequent surgical complications including higher rates of infection, poor wound healing, heightened pain complaints, and increased pulmonary morbidities in patients with a smoking history. Longer preoperative cessation periods also seem to correlate with reduced rates. At roughly 4 weeks of cessation prior to surgery, complication rates more closely reflect individuals without a smoking history in comparison with those that smoke within 4 weeks of surgery. In the musculoskeletal system, a similar trend has been observed in smokers with higher rates of fractures, nonunions, malunions, infections, osteomyelitis, and lower functional scores compared to non-smoking patients. Unfortunately, the present literature lacks robust data suggesting a temporal relationship between smoking cessation and bone healing. In our review, we analyze pseudoarthrosis rates following spinal fusion to suggest that bone healing in the context of smoking behavior follows a similar time sequence as observed in wound healing. We also discuss the implications for further clarity on bone healing and smoking cessation within orthopedics including improved risk stratification and better identification of circumstances where adjunct therapy is appropriate.
Access options
Buy single article
Instant access to the full article PDF.
USD 39.95
Price excludes VAT (USA)
Tax calculation will be finalised during checkout.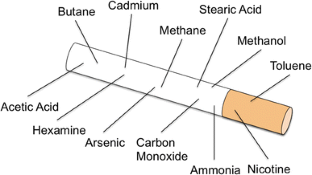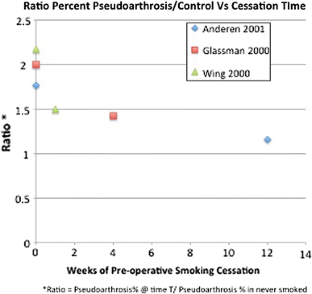 References
Prevention CfDCa (2011) Vital signs: current cigarette smoking among adults aged ≥ 18 years—United States, 2005–2010. Morb Mortal Wkly Rep 60(33):1207–1212

Czernin J, Waldherr C (2003) Cigarette smoking and coronary blood flow. Prog Cardiovasc Dis 45(5):395–404

Turan A, Mascha EJ, Roberman D, Turner PL, You J, Kurz A, Sessler DI, Saager L (2011) Smoking and perioperative outcomes. Anesthesiology 114(4):837–846

Wipfli H, Samet JM (2009) Global economic and health benefits of tobacco control: part 1. Clin Pharmacol Ther 86(3):263–271. doi:10.1038/clpt.2009.93

Mills E, Eyawo O, Lockhart I, Kelly S, Wu P, Ebbert JO (2011) Smoking cessation reduces postoperative complications: a systematic review and meta-analysis. Am J Med 124(2):144–154

Porter SE, Hanley EN (2001) The musculoskeletal effects of smoking. J Am Acad Orthop Surg 9(1):9–17

Gaston MS, Simpson AHRW (2007) Inhibition of fracture healing. J Bone Joint Surg Br 89(12):1553–1560

Castillo RC, Bosse MJ, MacKenzie EJ, Patterson BM, Group LS (2005) Impact of smoking on fracture healing and risk of complications in limb-threatening open tibia fractures. J Orthop Trauma 19(3):151–157

Adams CI, Keating JF, Court-Brown CM (2001) Cigarette smoking and open tibial fractures. Injury 32(1):61–65

Whiteford L (2003) Nicotine, CO and HCN: the detrimental effects of smoking on wound healing. Br J Community Nurs 8(12):22–26

Zevin S, Gourlay SG, Benowitz NL (1998) Clinical pharmacology of nicotine. Clin Dermatol 16(5):557–564

Morimoto N, Takemoto S, Kawazoe T, Suzuki S (2008) Nicotine at a low concentration promotes wound healing. J Surg Res 145(2):199–204

Raikin SM, Landsman JC, Alexander VA, Froimson MI, Plaxton NA (1998) Effect of nicotine on the rate and strength of long bone fracture healing. Clin Orthop Relat Res 353:231–237

Skott M, Andreassen TT, Ulrich-Vinther M, Chen X, Keyler DE, LeSage MG, Pentel PR, Bechtold JE, Soballe K (2006) Tobacco extract but not nicotine impairs the mechanical strength of fracture healing in rats. J Orthop Res 24(7):1472–1479. doi:10.1002/jor.20187

Wong LS, Green HM, Feugate JE, Yadav M, Nothnagel EA, Martins-Green M (2004) Effects of "second-hand" smoke on structure and function of fibroblasts, cells that are critical for tissue repair and remodeling. BMC Cell Biol 5:13

Fang MA, Frost PJ, Iida-Klein A, Hahn TJ (1991) Effects of nicotine on cellular function in UMR 106-01 osteoblast-like cells. Bone 12(4):283–286

Ma L, Zwahlen RA, Zheng LW, Sham MH (2011) Influence of nicotine on the biological activity of rabbit osteoblasts. Clin Oral Implant Res 22(3):338–342

van Adrichem LN, Hovius SE, van Strik R, van der Meulen JC (1992) Acute effects of cigarette smoking on microcirculation of the thumb. Br J Plast Surg 45(1):9–11

Jensen JA, Goodson WH, Hopf HW, Hunt TK (1991) Cigarette smoking decreases tissue oxygen. Arch Surg 126(9):1131–1134

Mosely LH, Finseth F (1977) Cigarette smoking: impairment of digital blood flow and wound healing in the hand. Hand 9(2):97–9101

McKenna WJ, Chew CY, Oakley CM (1980) Myocardial infarction with normal coronary angiogram. Possible mechanism of smoking risk in coronary artery disease. Br Heart J 43(5):493–498

Chassanidis CG, Malizos KN, Varitimidis S, Samara S, Koromila T, Kollia P, Dailiana Z (2012) Smoking affects mRNA expression of bone morphogenetic proteins in human periosteum. J Bone Joint Surg Br 94(10):1427–1432. doi:10.1302/0301-620X.94B10.28405

Moghaddam A, Weiss S, Wolfl CG, Schmeckenbecher K, Wentzensen A, Grutzner PA, Zimmermann G (2010) Cigarette smoking decreases TGF-b1 serum concentrations after long bone fracture. Injury 41(10):1020–1025

Kuri M, Nakagawa M, Tanaka H, Hasuo S, Kishi Y (2005) Determination of the duration of preoperative smoking cessation to improve wound healing after head and neck surgery. Anesthesiology 102(5):892–896

Lindstrom D, Sadr Azodi O, Wladis A, Tonnesen H, Linder S, Nasell H, Ponzer S, Adami J (2008) Effects of a perioperative smoking cessation intervention on postoperative complications: a randomized trial. Ann Surg 248(5):739–745

Wong J, Lam DP, Abrishami A, Chan MTV, Chung F (2012) Short-term preoperative smoking cessation and postoperative complications: a systematic review and meta-analysis. Can J Anaesth 59(3):268–279

Sorensen LT (2012) Wound healing and infection in surgery. The clinical impact of smoking and smoking cessation: a systematic review and meta-analysis. Arch Surg 147(4):373–383. doi:10.1001/archsurg.2012.5

Brown CW, Orme TJ, Richardson HD (1986) The rate of pseudarthrosis (surgical nonunion) in patients who are smokers and patients who are nonsmokers: a comparison study. Spine (Phila Pa 1976) 11(9):942–943

Andersen T, Christensen FB, Laursen M, Hoy K, Hansen ES, Bunger C (2001) Smoking as a predictor of negative outcome in lumbar spinal fusion. Spine (Phila Pa 1976) 26(23):2623–2628

Glassman SD, Anagnost SC, Parker A, Burke D, Johnson JR, Dimar JR (2000) The effect of cigarette smoking and smoking cessation on spinal fusion. Spine (Phila Pa 1976) 25(20):2608–2615

Wing KJ, Fisher CG, O'Connell JX, Wing PC (2000) Stopping nicotine exposure before surgery. The effect on spinal fusion in a rabbit model. Spine (Phila Pa 1976) 25(1):30–34

Hoogendoorn JM, Simmermacher RKJ, Schellekens PPA, van der Werken C (2002) Adverse effects if smoking on healing of bones and soft tissues. Unfallchirurg 105(1):76–81

Sorensen LT, Nielsen HB, Kharazmi A, Gottrup F (2004) Effect of smoking and abstention on oxidative burst and reactivity of neutrophils and monocytes. Surgery 136(5):1047–1053

Sorensen LT, Toft BG, Rygaard J, Ladelund S, Paddon M, James T, Taylor R, Gottrup F (2010) Effect of smoking, smoking cessation, and nicotine patch on wound dimension, vitamin C, and systemic markers of collagen metabolism. Surgery 148(5):982–990

Sorensen LT, Jorgensen LN, Zillmer R, Vange J, Hemmingsen U, Gottrup F (2006) Transdermal nicotine patch enhances type I collagen synthesis in abstinent smokers. Wound Repair Regen 14(3):247–251

Oncken C, Prestwood K, Cooney JL, Unson C, Fall P, Kulldorff M, Raisz LG (2002) Effects of smoking cessation or reduction on hormone profiles and bone turnover in postmenopausal women. Nicotine Tob Res 4(4):451–458

W-Dahl A, Toksvig-Larsen S (2007) No delayed bone healing in Swedish male oral snuffers operated on by the hemicallotasis technique: a cohort study of 175 patients. Acta Orthop 78(6):791–794. doi:10.1080/17453670710014563
Conflict of interest
The authors have no relevant financial relationships to disclose.
About this article
Cite this article
Truntzer, J., Vopat, B., Feldstein, M. et al. Smoking cessation and bone healing: optimal cessation timing. Eur J Orthop Surg Traumatol 25, 211–215 (2015). https://doi.org/10.1007/s00590-014-1488-y
Received:

Accepted:

Published:

Issue Date:

DOI: https://doi.org/10.1007/s00590-014-1488-y
Keywords
Smoking cessation

Bone healing

Wound healing

Cigarettes