Abstract
The surgical treatment of adult spinal deformity has been shown to offer superior clinical and radiographic outcomes compared with nonoperative approaches; furthermore, osteotomies are increasingly applied for treating spinal deformities. Establishing a plan for a patient suffering from marked spinal deformity is a matter of consideration of certain radiographic parameters which correlate with health-related quality of life scores, adherence to consistent principles of alignment and established formulas, and selecting the appropriate osteotomies. This is a review of the most recent work on vertebral osteotomies and includes a summary of a systematic and anatomically based osteotomy classification. A universal classification will facilitate communication, standardize outcomes research, and establish a framework upon which indications can be properly studied and described. Ongoing multicenter collaboration is certain to drive a more evidence-based approach to the complex clinical scenarios of patients suffering from spinal deformity.
Access options
Buy single article
Instant access to the full article PDF.
US$ 39.95
Tax calculation will be finalised during checkout.
Subscribe to journal
Immediate online access to all issues from 2019. Subscription will auto renew annually.
US$ 79
Tax calculation will be finalised during checkout.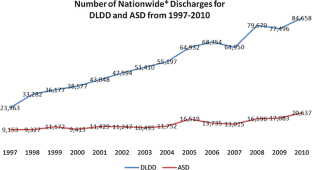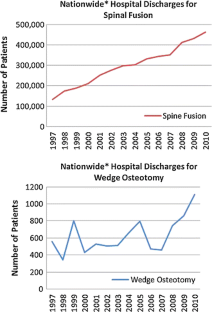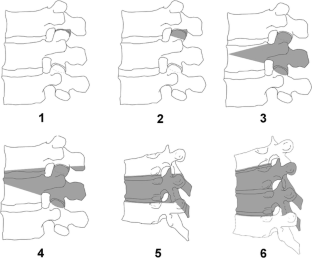 References
1.

Biot B, Perdrix D (1982) Fréquence de la scoliose lombaire à l'âge adulte. Ann Med Phys 25:251–254

2.

Francis RS (1988) Scoliosis screening of 3,000 college-aged women. The Utah Study–phase 2. Phys Ther 68:1513–1516

3.

Robin GC, Span Y, Steinberg R et al (1982) Scoliosis in the elderly: a follow-up study. Spine 7:355–359

4.

Grevitt M, Khazim R, Webb J et al (1997) The short form-36 health survey questionnaire in spine surgery. J Bone Joint Surg Br 79:48–52

5.

Kostuik JP, Bentivoglio J (1981) The incidence of low-back pain in adult scoliosis. Spine 6:268–273

6.

Schwab F, Dubey A, Gamez L et al (2005) Adult scoliosis: prevalence, SF-36, and nutritional parameters in an elderly volunteer population. Spine 30:1082–1085

7.

Shrestha LB (2006) CRS Report for Congress

8.

Carter OD, Haynes SG (1987) Prevalence rates for scoliosis in US adults: results from the first National Health and Nutrition Examination Survey. Int J Epidemiol 16:537–544

9.

Saban KL, Penckofer SM (2007) Patient expectations of quality of life following lumbar spinal surgery. J Neurosci Nurs 39:180–189

10.

Saban KL, Penckofer SM (2007) Patient expectations of quality of life following lumbar spinal surgery. J Neurosci Nurs 39(3):180–189

11.

Bridwell KH, Glassman S, Horton W et al (2009) Does treatment (nonoperative and operative) improve the two-year quality of life in patients with adult symptomatic lumbar scoliosis: a prospective multicenter evidence-based medicine study. Spine 34:2171–2178. doi:10.1097/BRS.0b013e3181a8fdc8

12.

Smith JS, Shaffrey CI, Berven S et al (2009) Improvement of back pain with operative and nonoperative treatment in adults with scoliosis. Neurosurgery 65:86–93. doi:10.1227/01.NEU.0000347005.35282.6C discussion 93–4

13.

Mok JM, Cloyd JM, Bradford DS et al (2009) Reoperation after primary fusion for adult spinal deformity. Spine 34:832–839

14.

Schwab F, Dubey A, Pagala M et al (2003) Adult scoliosis: a health assessment analysis by SF-36. Spine 28:602–606. doi:10.1097/01.BRS.0000049924.94414.BB

15.

Schwab F, El-Fegoun AB, Gamez L et al (2005) A lumbar classification of scoliosis in the adult patient: preliminary approach. Spine 30:1670–1673

16.

Schwab FJ, Smith VA, Biserni M et al (2002) Adult scoliosis: a quantitative radiographic and clinical analysis. Spine 27:387–392

17.

Lafage V, Schwab F, Patel A et al (2009) Pelvic tilt and truncal inclination: two key radiographic parameters in the setting of adults with spinal deformity. Spine 34:E599–E606. doi:10.1097/BRS.0b013e3181aad219

18.

Smith JS, Klineberg E, Schwab F et al (2013) Change in classification grade by the SRS-Schwab adult spinal deformity classification predicts impact on health-related quality of life measures: prospective analysis of operative and non-operative treatment. Spine 38:1663–1671. doi:10.1097/BRS.0b013e31829ec563

19.

Terran J, Schwab F, Shaffrey CI et al (2013) The SRS-Schwab adult spinal deformity classification: assessment and clinical correlations based on a prospective operative and nonoperative cohort. Neurosurgery 73:559–568. doi:10.1227/NEU.0000000000000012

20.

Protopsaltis TS, Schwab FJ, Smith JS et al (2013) The T1 Pelvic Angle (TPA), a novel radiographic parameter of sagittal deformity, correlates strongly with clinical measures of disability. Spine J 13:S61. doi:10.1016/j.spinee.2013.07.173

21.

Schwab F, Ungar B, Blondel B et al (2012) Scoliosis research society-Schwab adult spinal deformity classification: a validation study. Spine 37:1077–1082. doi:10.1097/BRS.0b013e31823e15e2

22.

Glassman SD, Bridwell K, Dimar JR et al (2005) The impact of positive sagittal balance in adult spinal deformity. Spine 30:2024–2029

23.

Hassanzadeh H, Jain A, El Dafrawy MH et al (2012) Three-column osteotomies in the treatment of spinal deformity in adult patients 60 years old and older: outcome and complications. Spine. doi:10.1097/BRS.0b013e31827c2415

24.

Smith JS, Shaffrey CI, Glassman SD et al (2013) Clinical and radiographic parameters that distinguish between the best and worst outcomes of scoliosis surgery for adults. Eur Spine J 22:402–410. doi:10.1007/s00586-012-2547-x

25.

Voos K, Boachie-Adjei O, Rawlins BA (2001) Multiple vertebral osteotomies in the treatment of rigid adult spine deformities. Spine 26:526–533

26.

Wang MY, Berven SH (2007) Lumbar pedicle subtraction osteotomy. Neurosurgery 60:ONS140–ONS146. doi:10.1227/01.NEU.0000249240.35731.8F discussion ONS146

27.

Moal B, Lafage V, Smith JS et al (2012) Clinical improvement through surgery for adult spinal deformity (ASD): what can be expected and who is likely to benefit most? In: Proceedings of the NASS 27th Annual Meeting. Spine J, pp 99S–165S

28.

Liu S, Schwab F, Smith JS et al (2014) Likelihood of reaching minimal clinically important difference in adult spinal deformity : a comparison of operative and nonoperative treatment. Ochsner J 14:1–12

29.

Li G, Passias P, Kozanek M et al (2009) Adult scoliosis in patients over sixty-five years of age: outcomes of operative versus nonoperative treatment at a minimum two-year follow-up. Spine 34:2165–2170. doi:10.1097/BRS.0b013e3181b3ff0c

30.

Bridwell KH (2006) Decision making regarding Smith-Petersen vs. pedicle subtraction osteotomy vs. vertebral column resection for spinal deformity. Spine 31:S171–S178. doi:10.1097/01.brs.0000231963.72810.38

31.

Weinstein SL, Ponseti IV (1983) Curve progression in idiopathic scoliosis. J Bone Joint Surg Am 65:447–455

32.

Bakaloudis G, Lolli F, Di Silvestre M et al (2011) Thoracic pedicle subtraction osteotomy in the treatment of severe pediatric deformities. Eur Spine J 20(Suppl 1):S95–S104. doi:10.1007/s00586-011-1749-y

33.

Smith-Petersen MN, Larson CB, Aufranc OE (1969) Osteotomy of the spine for correction of flexion deformity in rheumatoid arthritis. Clin Orthop Relat Res 66:6–9

34.

Smith-Petersen MN, Larson CB, Aufranc OE (1945) Osteotomy of the spine for correction of flexion deformity in rheumatoid arthritis. J Bone Joint Surg Am 27:1–11

35.

Ponte A, Vero B, Siccardi G (1984) Surgical treatment of scheuermann's hyperkyphosis. In: 19th Annual Meeting of the Scoliosis Research Society

36.

Heinig C (1984) Eggshell procedure. Segmental spinal instrumentation, pp 221–234

37.

Bridwell KH, Lewis SJ, Lenke LG et al (2003) Pedicle subtraction osteotomy for the treatment of fixed sagittal imbalance. J Bone Joint Surg Am 85-A:454–463

38.

Murrey DB, Brigham CD, Kiebzak GM et al (2002) Transpedicular decompression and pedicle subtraction osteotomy (eggshell procedure): a retrospective review of 59 patients. Spine 27:2338–2345. doi:10.1097/01.BRS.0000030853.62990.BC

39.

Berven S, Deviren V, Smith JA et al (2001) Management of fixed sagittal plane deformity: results of the transpedicular wedge resection osteotomy. Spine 26:2036–2043

40.

Schwab F, Blondel B, Chay E et al (2013) The comprehensive anatomical spinal osteotomy classification. Neurosurgery. doi:10.1227/NEU.0000000000000182

41.

Denis F (1983) The three column spine and its significance in the classification of acute thoracolumbar spinal injuries. Spine 8:817–831

42.

Schwab F, Blondel B, Chay E et al (2014) The comprehensive anatomical spinal osteotomy classification. Neurosurgery 74:112–120. doi:10.1227/NEU.0000000000000182o

43.

Burgos J, Rapariz J, Gonzalez-Herranz P (1998) Anterior endoscopic approach to the thoracolumbar spine. Spine 23:2427–2431

44.

Suh SW, Modi HN, Yang J et al (2009) Posterior multilevel vertebral osteotomy for correction of severe and rigid neuromuscular scoliosis: a preliminary study. Spine 34:1315–1320. doi:10.1097/BRS.0b013e3181a028bc

45.

Pascal-Moussellard H, Klein J, Schwab F, Farcy J (1999) Simultaneous anterior and posterior approaches to the spine for revision surgery: current indications and techniques. J Spinal Disord Tech 12:206–213

46.

Scudese V, Calabro J (1963) Vertebral wedge osteotomy. Correction of rheumatoid (ankylosing) spondylitis. JAMA 186:627–631

47.

Brodner W, Mun Yue W, Moller H et al (2003) Short segment bone-on-bone instrumentation for single curve idiopathic scoliosis. Spine 28:S224–S233

48.

Moal B, Schwab FJ, Ames CP et al (2012) Radiographic outcomes of adult spinal deformity correction: a critical analysis of variability and failures across deformity patterns. Congress of Neurological Surgeons, 2012 Annual Meeting, Chicago, Illionis, 6–10 October 2012

49.

Schwab F, Patel A, Shaffrey CI et al (2012) Sagittal realignment failures following pedicle subtraction osteotomy surgery: are we doing enough? J Neurosurg Spine 16:539–546. doi:10.3171/2012.2.SPINE11120

50.

Lafage V, Smith JS, Bess S et al (2012) Sagittal spino-pelvic alignment failures following three column thoracic osteotomy for adult spinal deformity. Eur Spine J 21:698–704. doi:10.1007/s00586-011-1967-3

51.

Jackson RP, McManus AC (1994) Radiographic analysis of sagittal plane alignment and balance in standing volunteers and patients with low back pain matched for age, sex, and size. A prospective controlled clinical study. Spine 19:1611–1618

52.

Schwab F, Lafage V, Patel A, Farcy J-P (2009) Sagittal plane considerations and the pelvis in the adult patient. Spine 34:1828–1833. doi:10.1097/BRS.0b013e3181a13c08

53.

Jackson RP, Hales C (2000) Congruent spinopelvic alignment on standing lateral radiographs of adult volunteers. Spine 25:2808–2815

54.

Smith JS, Bess S, Shaffrey CI et al (2012) Dynamic changes of the pelvis and spine are key to predicting postoperative sagittal alignment after pedicle subtraction osteotomy: a critical analysis of preoperative planning techniques. Spine 37:845–853. doi:10.1097/BRS.0b013e31823b0892

55.

Lafage V, Schwab F, Vira S et al (2011) Spino-pelvic parameters after surgery can be predicted: a preliminary formula and validation of standing alignment. Spine 36:1037–1045. doi:10.1097/BRS.0b013e3181eb9469

56.

Maier S, Smith JS, Schwab F et al (2014) Revision surgery after three-column osteotomy in 335 adult spinal deformity patients: inter-center variability and risk factors. Spine. doi:10.1097/BRS.0000000000000304

57.

Hart R, McCarthy I, O'brien M et al (2013) Identification of decision criteria for revision surgery among patients with proximal junctional failure following surgical treatment for spinal deformity. Spine 38:1223–1227. doi:10.1097/BRS.0b013e31829fedde

58.

Blam OG, Vaccaro AR, Vanichkachorn JS et al (2003) Risk factors for surgical site infection in the patient with spinal injury. Spine 28:1475–1480. doi:10.1097/01.BRS.0000067109.23914.0A

59.

Ames CP, Barry JJ, Keshavarzi S et al (2013) Perioperative outcomes and complications of pedicle subtraction osteotomy in cases with single versus two attending surgeons. Spine Deform 1:51–58. doi:10.1016/j.jspd.2012.10.004

60.

Goz V, Slobodyanyuk K, Cheriyan T et al (2013) Antifibrinolytics reduce blood loss in adult spinal deformity surgery: a prospective randomized controlled trial. Spine J 13:S1. doi:10.1016/j.spinee.2013.07.032

61.

Mummaneni PV, Tu T-H, Ziewacz JE et al (2013) The role of minimally invasive techniques in the treatment of adult spinal deformity. Neurosurg Clin N Am 24:231–248. doi:10.1016/j.nec.2012.12.004

62.

Moal B, Lafage VC, Maier SP et al (2014) Discrepancies in preoperative planning and operative execution in the correction of sagittal spinal deformities. In: North American Spine Society 29th Annual Meeting (San Francisco)

63.

Le Huec JC, Leijssen P, Duarte M, Aunoble S (2011) Thoracolumbar imbalance analysis for osteotomy planification using a new method: FBI technique. Eur Spine J 20(Suppl 5):669–680. doi:10.1007/s00586-011-1935-y

64.

Debarge R, Demey G (2010) Radiological analysis of ankylosing spondylitis patients with severe kyphosis before and after pedicle subtraction osteotomy. Eur Spine J 19:65–70. doi:10.1007/s00586-009-1158-7

65.

Vialle R, Levassor N, Rillardon L et al (2005) Radiographic analysis of the sagittal alignment and balance of the spine in asymptomatic subjects. J Bone Joint Surg Am 87:260–267. doi:10.2106/JBJS.D.02043

66.

Schwab F, Bess RS, Blondel B et al (2011) Combined assessment of pelvic tilt, lumbar lordosis/pelvic incidence mismatch and sagittal vertical axis predicts disability in adult spinal deformity: a prospective analysis. Spine J 11:S158–S159. doi:10.1016/j.spinee.2011.08.380

67.

Akbar M, Terran J, Ames CP et al (2013) Use of Surgimap Spine in sagittal plane analysis, osteotomy planning, and correction calculation. Neurosurg Clin N Am 24:163–172. doi:10.1016/j.nec.2012.12.007

68.

Schwab F, Farcy J, Bridwell K et al (2006) A clinical impact classification of scoliosis in the adult. Spine 31:2109–2114. doi:10.1097/01.brs.0000231725.38943.ab

69.

Glassman SD, Berven S, Bridwell K et al (2005) Correlation of radiographic parameters and clinical symptoms in adult scoliosis. Spine 30:682–688

70.

Obeid I, Hauger O, Aunoble S et al (2011) Global analysis of sagittal spinal alignment in major deformities: correlation between lack of lumbar lordosis and flexion of the knee. Eur Spine J 20(Suppl 5):681–685. doi:10.1007/s00586-011-1936-x

71.

Gangnet N, Pomero V, Dumas R et al (2003) Variability of the spine and pelvis location with respect to the gravity line: a three-dimensional stereoradiographic study using a force platform. Surg Radiol Anat 25:424–433. doi:10.1007/s00276-003-0154-6

72.

Lafage V, Schwab F, Skalli W et al (2008) Standing balance and sagittal plane spinal deformity: analysis of spinopelvic and gravity line parameters. Spine 33:1572–1578. doi:10.1097/BRS.0b013e31817886a2

73.

Aurouer N, Obeid I, Gille O et al (2009) Computerized preoperative planning for correction of sagittal deformity of the spine. Surg Radiol Anat 31:781–792. doi:10.1007/s00276-009-0524-9

74.

Barrey C, Roussouly P, Le Huec J-C et al (2013) Compensatory mechanisms contributing to keep the sagittal balance of the spine. Eur Spine J 22(Suppl 6):S834–S841. doi:10.1007/s00586-013-3030-z

75.

Ondra SL, Marzouk S, Koski T et al (2006) Mathematical calculation of pedicle subtraction osteotomy size to allow precision correction of fixed sagittal deformity. Spine 31:E973–E979. doi:10.1097/01.brs.0000247950.02886.e5

76.

Van Royen BJ, De Gast A, Smit TH (2000) Deformity planning for sagittal plane corrective osteotomies of the spine in ankylosing spondylitis. Eur Spine J 9:492–498

77.

Van Royen BJ, Scheerder FJ, Jansen E, Smit TH (2007) ASKyphoplan: a program for deformity planning in ankylosing spondylitis. Eur Spine J 16:1445–1449. doi:10.1007/s00586-007-0371-5

78.

Vialle R, Levassor N, Rillardon L et al (2005) Radiographic analysis of the sagittal alignment and balance of the spine in asymptomatic subjects. J Bone Joint Surg Am 87:260–267. doi:10.2106/JBJS.D.02043

79.

Lafage V, Schwab F, Vira S et al (2011) Does vertebral level of pedicle subtraction osteotomy correlate with degree of spinopelvic parameter correction? J Neurosurg Spine 14:184–191. doi:10.3171/2010.9.SPINE10129

80.

Ames CP, Smith JS, Scheer JK et al (2012) Impact of spinopelvic alignment on decision making in deformity surgery in adults: a review. J Neurosurg Spine 16:547–564. doi:10.3171/2012.2.SPINE11320

81.

Lafage V, Ames C, Schwab F et al (2012) Changes in thoracic kyphosis negatively impact sagittal alignment after lumbar pedicle subtraction osteotomy: a comprehensive radiographic analysis. Spine 37:E180–E187. doi:10.1097/BRS.0b013e318225b926
About this article
Cite this article
Diebo, B., Liu, S., Lafage, V. et al. Osteotomies in the treatment of spinal deformities: indications, classification, and surgical planning. Eur J Orthop Surg Traumatol 24, 11–20 (2014). https://doi.org/10.1007/s00590-014-1471-7
Received:

Accepted:

Published:

Issue Date:
Keywords
Spinal osteotomy

Anatomical classification

Adult spinal deformity

Surgical planning