Abstract
Infections from hepatitis viruses and human immunodeficiency virus (HIV) as well represent a continuous risk factor to health care providers, in particular those working in surgical departments. The aim of this study was to define the prevalence of HIV, hepatitis B (HBV) and hepatitis C (HCV) viruses in patients admitted in an urban, tertiary orthopaedic department in Greece. We retrospectively studied 1,694 consecutive patients who underwent several orthopaedic procedures. All patients were tested for HIV, HBV and HCV infections. Sixty-six (3.9%) of the patients were seropositive for at least one of the studied viruses. Thirty (1.7%) were positive for HBV, 34 (2%) for HCV and 2 (0.1%) for HIV. The majority of the seropositive patients were women (53%), urban areas citizens (89.4%), and of Greek nationality (83.3%). Non-Greek nationality was the only significantly predictive factor for seropositivity (χ2 = 590.2, P < 0.001). The majority of patients were not aware of their infection. A significant percentage of patients cared for at a Greek orthopaedic department were seropositive for blood-borne viruses. Non-Greek nationality is a risk factor. We believe that these data will increase awareness and will promote safer practices among health care providers in orthopaedic units.
Access options
Buy single article
Instant access to the full article PDF.
USD 39.95
Price includes VAT (USA)
Tax calculation will be finalised during checkout.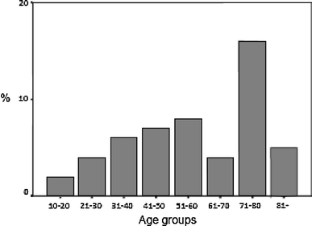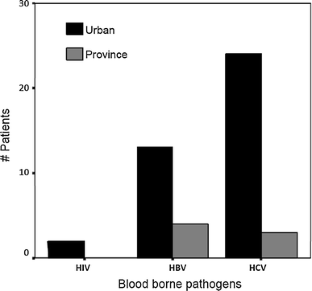 References
1.

Bell MD (1997) Occupational risk of human immunodeficiency virus infection in health care workers: an overview. Am J Med 102:9–15

2.

Leentvaar-Kuijpers A, Dekker MM, Coutinho RA, Dekker EE, Keeman JN, Ansink-Schipper MC (1990) Needlestick injuries, surgeons and HIV risks. Lancet 335:546–547

3.

Tokars JI, Chamberland ME, Schable CA et al (1992) A survey of occupational blood contact and HIV infection among orthopaedic surgeons: the AAOS study committee. JAMA 268:489–494

4.

Tokars JI, Bell DM, Culver DH et al (1992) Percutaneous injuries during surgical procedures. JAMA 267:2899–2904

5.

Lowenfels AB, Wormser GP, Jain R (1989) Frequency of puncture injuries in surgeons and estimated risk of HIV infection. Arch Surg 124:35–37

6.

Raptopoulou M, Papatheodoridis G, Antoniou A et al (2009) Epidemiology, cost and disease burden of chronic hepatitis B virus infection. HEPNET study for chronic hepatitis B: a multicentre Greek study. J Viral Hepat 16:195–202

7.

Manesis EK, Papatheodoridis GV, Touloumi G et al (2009) Natural course of treated and untreated chronic HCV infection: results of the nationwide Hepnet. Greece cohort study. Aliment Pharmacol Ther 29:1030–1121

8.

Annual edition of the Hellenic Centre for Disease Control and Prevention (2009) HIV/AIDS surveillance report in Greece. Data reported through 31.10.2009. http://www.keel.org.gr/images/stories/keelpno/Grafeio_HIV/epidimioligikiepit2009.pdf

9.

Martínez PM, Torres AR, Ortiz de Lejarazu R, Montoya A, Martín JF, Eiros JM (1999) Human immunodeficiency virus antibody testing by enzyme-linked fluorescent and western blot assays using serum, gingival-crevicular transudate, and urine samples. J Clin Microbiol 37:1100–1106

10.

Strader DB, Wright TL, Thomas DL, Seeff LB (2004) Diagnosis, management, and treatment of hepatitis C. Hepatology 39:1147–1171

11.

Stramer SL, Wend U, Candotti D et al (2011) Nucleic acid testing to detect HBV infection in blood donors. N Engl J Med 364:236–247

12.

Weiss E, Makary M, Wang T et al (2005) Prevalence of blood borne pathogens in an Urban, University based General Surgical Practice. Ann Surg 241:803–809
Conflict of interest
All authors state that no funds were received in support of this study.
About this article
Cite this article
Pneumaticos, S.G., Savvidou, C., Tsiakalos, A. et al. Seroprevalence of HIV, HBV and HCV in orthopaedic patients at a tertiary hospital in Greece. Eur J Orthop Surg Traumatol 22, 57–60 (2012). https://doi.org/10.1007/s00590-011-0791-0
Received:

Accepted:

Published:

Issue Date:
Keywords
Viral hepatitis

HIV

Orthopaedic department

Seroprevalence

Greece