Abstract
Assessing polyethylene wear is very important in following up patients after total hip replacement. Polyethylene wear contributes to osteolysis leading to loosening of the prosthesis. The most widely used technique of in vivo measurement of wear is the method of Livermore et al. (in J Bone Joint Surg Am 72:518–528, 1990) using on lay templates and callipers to measure polyethylene wear. Digital imaging software has also been used to calculate the wear. Our aim was to assess if Imagika™, a new computer software programme, can accurately assess polyethylene wear. We also compared the computer software with the Livermore method in calculating polyethylene thickness. This was done by comparing the inter-observer variation and intra-observer variation, in the measurements. There was no significant difference between the measurements taken by the Imagika™ software and the Livermore method. There was very good correlation between the two methods. The Imagika computer software proved to be better than the Livermore method in calculating the wear with regard to inter-observer variability. There was no statistically significant difference in the intra-observer variability of both groups. We conclude that the computer software may be a more accurate tool in the assessment of polyethylene wear.
Résumé
L'évaluation des débris de polyéthylène est très importante dans le suivi des prothèses totales de hanche (PTH). Ces débris contribuent à la formation d'ostéolyse qui va entraîner le descellement prothétique. La méthode la plus largement utilisée de cette mensuration in vivo est celle de Livermore et al, utilisant des canevas et des calibres. Des logiciels de numérisation ont également été utilisés. Le but de notre étude été de tester le logiciel Imagika™, un nouveau logiciel qui permet de mesurer avec précision les débris de polyéthylène. Nous avons aussi comparé cette méthode numérique avec celle de Livermore pour calculer l'épaisseur des débris. Ceci a été possible en comparant les variations inter-observateurs et intra-observateur. Il n'a pas été trouvé de différence significative entre les deux méthodes, au contraire nous avons trouvé une excellente corrélation. Le logiciel Imagika™ était meilleur pour le calcul en tenant compte des variations inter-observateurs. Il n'y avait pas de différence notable pour la variabilité intra-observateur dans les deux groupes. Notre conclusion est que le logiciel est un meilleur outil, plus sûr dans l'évaluation des débris de polyéthylène.
Access options
Buy single article
Instant access to the full article PDF.
USD 39.95
Price excludes VAT (USA)
Tax calculation will be finalised during checkout.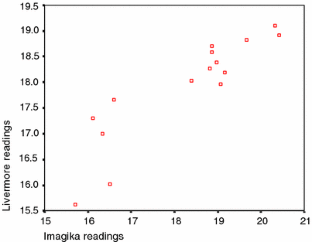 References
Charnley J, Cupic Z (1973) The nine and ten year results of the low friction arthroplasty of the hip. Clin Orthop 95:9–25

Devane PA, Horne JG (1999) Assessment of polyethylene wear in total hip replacement. Clin Orthop 369:59–72

Ebramzadeh E, Sangiorgio S, Lathiada F (2003) Accuracy of measurement of polyethylene wear with the use of radiographs of total hip replacements. J Bone Joint Surg Am 85:2378–2384

Halley DK, Charnley J (1975) Results of low friction arthroplasty in patients thirty years of age or younger. Clin Orthop 112:180–191

Hardinge K, Porter ML, Jones PR, Hukins DW, Taylor CJ (1991) Measurement of hip prosthesis using image analysis. The maxima hip technique. J Bone Joint Surg Br 73:724–728

Krismer M, Bauer R, Tschupik J, Mayerhofer P (1995) EBRA: a method to measure migration of acetabular components. J Biomech 28:1225–1236

Livermore J, Ilstrup D, Morrey B (1990) Effect of femoral head size on wear of polyethylene acetabular component. J Bone Joint Surg Am 72:518–528

Martell JM, Berdia S (1997) Determination of polyethylene wear in total hip replacements with the use of digital radiographs. J Bone Joint Surg Am 79:1635–1641

Pollock D, Sychterz CJ, Engh CA (2001) A clinically practical method of manually assessing polyethylene linear thickness. J Bone Joint Surg Am ;83:1803–1809

Shaver SM, Brown TD, Hillis SL, Callaghan JJ (1997) Digital edge-detection measurement of polyethylene wear after total hip arthroplasty. J Bone Joint Surg Am 79:690–700

Zhu YH, Chiu KY, Tang WM (2001) Polyethylene wear and osteolysis in total hip arthroplasty. J Ortho Surg Hong Kong 9(1):91–100
About this article
Cite this article
Kumar, V., Attar, F. & Savvidis, P. Comparison of the calliper method and two-dimensional computer software to measure polyethylene wear after total hip arthroplasty. Eur J Orthop Surg Traumatol 16, 219–222 (2006). https://doi.org/10.1007/s00590-005-0064-x
Received:

Accepted:

Published:

Issue Date:

DOI: https://doi.org/10.1007/s00590-005-0064-x
Keywords
Mots clés