Abstract
Purpose
Biopsy of the spine can be performed by open surgery or percutaneous needle sampling. The first has the highest diagnostic yield while the second is a less invasive procedure with lower rate of complications and shorter hospitalization time. We described a modified technique of percutaneous biopsy using semi-rigid grasping forceps that may offer the advantages of both, open and minimally invasive surgery.
Methods
Thirty consecutive patients with spinal lesions requiring biopsy were admitted to Neurosurgical Unit of Belcolle Hospital (Viterbo, Italy) from January 2017 to September 2021. There was a suspicion of spondylodiscitis in 25 cases and of tumor in 5 cases. Percutanous trans-pedicular spine biopsy has been performed using this new semi-rigid grasping forceps. Combining the opening width, jaw length and full 360° rotation, the device allows a wide and precise sampling.
Results
Sampling was sufficient in all cases (100%); tumors was observed in 5 cases (16.7%%) with a percentage of definitive histopathologic diagnosis of 100% (n = 5); among the remaining patients histological examination yielded a diagnosis of spinal infection in 25 cases (100%), and microbiologic culture provided an aetiologic diagnosis in 23 cases (92%). All procedures were well tolerated, and no postoperative complications were observed. Levels involved included: thoracic (T5-T9) in 8 cases, thoracolumbar junction (T10-L2) in 12 cases and lumbar (L3-L5) in 10 cases.
Conclusions:
Percutaneous biopsy with the semi-rigid grasping forceps is a safe and effective procedure that can be used for diagnosis of both infectious and tumor lesions of the spine. It allows to obtain a larger specimen volume and to use a multidirectional trajectory for sampling, resulting in a minimally invasive technique with strong ability to yield etiologic diagnosis.
Access options
Buy single article
Instant access to the full article PDF.
USD 39.95
Price excludes VAT (USA)
Tax calculation will be finalised during checkout.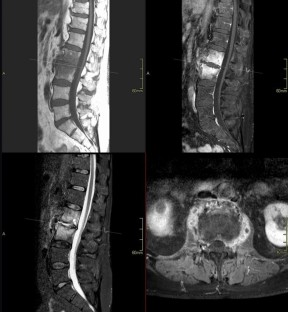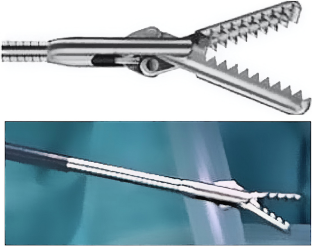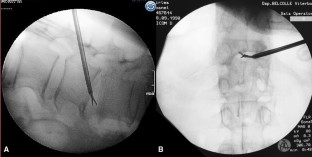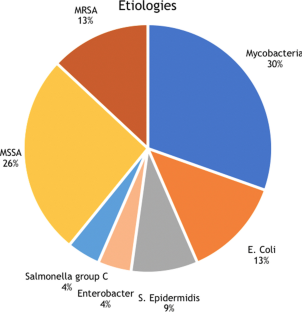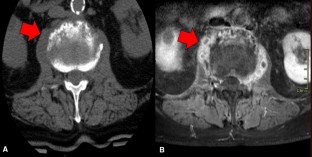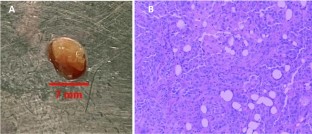 References
Ravikanth R (2020) Diagnostic yield and technical aspects of fluoroscopy-guided percutaneous transpedicular biopsy of the spine: a single-center retrospective analysis of outcomes and review of the literature. J Craniovertebral Junction Spine 11(2):93–98. https://doi.org/10.4103/jcvjs.JCVJS_43_20JC

Ball RP (1934) Needle (aspiration) biopsy. J Tenn Med Assoc 27:203–206

Urits I, Burshtein A, Sharma M, Testa L, Gold PA, Orhurhu V et al (2019) Low back pain, a comprehensive review: pathophysiology, diagnosis, and treatment. Curr Pain Headache Rep 23(3):23. https://doi.org/10.1007/s11916-019-0757-1 (PMID: 30854609)

Tehranzadeh J, Tao C, Browning CA (2007) Percutaneous needle biopsy of the spine. Acta Radiol 48(8):860–868

Skaf GS, Domloj NT, Fehlings MG, Bouclaous CH, Sabbagh AS, Kanafani ZA, Kanj SS (2010) Pyogenic spondylodiscitis: an overview. J Infect Public Health 1:5–16. https://doi.org/10.1016/j.jiph.2010.01.001 (Epub Feb 19 PMID: 20701886)

Lener S, Hartmann S, Barbagallo GMV, Certo F, Thomé C, Tschugg A (2018) Management of spinal infection: a review of the literature. Acta Neurochir. https://doi.org/10.1007/s00701-018-3467-2

Sobottke R, Seifert H, Fätkenheuer G, Schmidt M, Gossmann A, Eysel P (2008) Current diagnosis and treatment of spondylodiscitis. Dtsch Arztebl Int 105(10):181–187

Kattapuram SV, Khurana JS, Rosenthal DI (1976) (1992) Percutaneous needle biopsy of the spine. Spine (Phila Pa) 17(5):561–4

Tay BK, Deckey J, Hu SS (2002) Spinal infections. J Am Acad Orthop Surg 10(3):188–197

Sertic M, Parkes L, Mattiassi S, Pritzker K, Gardam M, Murphy K (2019) The efficacy of computed tomography-guided percutaneous spine biopsies in determining a causative organism in cases of suspected infection: a systematic review. Can Assoc Radiol J. 70(1):96–103

Nam KH, Song GS, Han IH, Choi BK, Cha SH (2011) Diagnostic value of biopsy techniques in lumbar spondylodiscitis: percutaneous needle biopsy and open biopsy. Korean J Spine 8(4):267–271

Kim CJ, Song KH, Park WB, Kim ES, Park SW, Bin KH et al (2012) Microbiologically and clinically diagnosed vertebral osteomyelitis: impact of prior antibiotic exposure. Antimicrob Agents Chemother 56(4):2122–2124

Enoch DA, Cargill JS, Laing R, Herbert S, Corrah TW, Brown NM (2008) (2008) Value of CT-guided biopsy in the diagnosis of septic discitis. J Clin Pathol 61(6):750–753

Hassoun A, Taur YSC (2006) Evaluation of thin needle aspiration biopsy in the diagnosis and management of vertebral osteomyelitis (VO). Int J Infect Dis 10(6):486–487

Marco de Lucas E, González Mandly A, Gutiérrez A, Pellón R, Martín-Cuesta L, Izquierdo J et al (2009) CT-guided fine-needle aspiration in vertebral osteomyelitis: true usefulness of a common practice. Clin Rheumatol 28(3):315–320

Marschall J, Bhavan KP, Olsen MA, Fraser VJ, Wright NM, Warren DK (2011) The impact of prebiopsy antibiotics on pathogen recovery in hema- togenous vertebral osteomyelitis. Clin Infect Dis 52(7):867–872

Joo EJ, Yeom JS, Ha YE, Park SY, Lee CS, Kim ES et al (2016) Diagnostic yield of computed tomography-guided bone biopsy and clinical outcomes of tuberculous and pyogenic spondylitis. Korean J Intern Med 31(4):762–771

Agarwal V, Wo S, Lagemann GM, Tsay J, Delfyett WT (2016) Image- guided percutaneous disc sampling: impact of antecedent antibi- otics on yield. Clin Radiol 71(3):228–234

McNamara AL, Dickerson EC, Gomez-Hassan DM, Cinti SK, Srinivasan A (2017) Yield of image-guided needle biopsy for infectious discitis: a systematic review and meta-analysis. AJNR Am J Neuroradiol 38(10):2021–2027

Hoang D, Fisher S, Oz OK, La Fontaine J, Chhabra A (2019) Percutaneous CT guided bone biopsy for suspected osteomyelitis: diagnostic yield and impact on patient's treatment change and recovery. Eur J Radiol 114:85–91
Ethics declarations
Conflict of interest
All authors certify that they have no affiliations with or involvement in any organization or entity with any financial interest or non-financial interest in the subject matter or materials discussed in this manuscript.
Additional information
Publisher's Note
Springer Nature remains neutral with regard to jurisdictional claims in published maps and institutional affiliations.
Rights and permissions
Springer Nature or its licensor holds exclusive rights to this article under a publishing agreement with the author(s) or other rightsholder(s); author self-archiving of the accepted manuscript version of this article is solely governed by the terms of such publishing agreement and applicable law.
About this article
Cite this article
Marruzzo, D., Mancini, F., Ricciuti, V. et al. Modified percutaneous biopsy of the spine: improvement of the technique. Eur Spine J 32, 221–227 (2023). https://doi.org/10.1007/s00586-022-07384-8
Received:

Accepted:

Published:

Issue Date:

DOI: https://doi.org/10.1007/s00586-022-07384-8
Keywords
Spine biopsy

Spondylodiscitis

Spine tumors

Infection