Abstract
Purpose
The purpose of this study was to investigate and determine whether there are differences in L5 pedicles morphology between isthmic and degenerative L5–S1 spondylolisthesis.
Methods
One hundred and nineteen patients with isthmic spondylolisthesis and 45 patients with degenerative spondylolisthesis at L5–S1 were enrolled in the IS group and DS group, respectively, and 164 lumbar disc herniation patients without spondylolysis or spondylolisthesis were classified into the normal (NL) group. A series of pedicle parameters of the fifth lumbar vertebra, including pedicle length (PL), pedicle width (PW), pedicle screw trajectory length (PSTL), pedicle height (PH), and the pedicle camber angle (PCA), were measured using multi-slice spiral computed tomography (MSCT). The slip distance of the L5 vertebra was measured on radiography, and the percentage of slip was also recorded.
Results
The pedicles of the fifth lumbar vertebra were shorter and wider, and the PCA was larger in the IS group compared to the DS group and NL group. On the contrary, the pedicles in the DS group were elongated and thinner, and the PCA was smaller. The pedicle parameters of PL were significantly positively correlated with the percentage of slip in the DS group, but PW and PCA were negatively correlated with the percentage of slip. There was no correlation between the percentage of slip and L5 pedicle parameters in the IS group.
Conclusions
The L5 pedicles morphology in L5–S1 isthmic spondylolisthesis shows abduction, shortness, and width, while that in the degenerative spondylolisthesis shows adduction, lengthening, and thinning compared with the normal populations. The morphology changes may be the result of pedicle stress remodelling in the development of spondylolisthesis, which should be taken into consideration when placing at the insertion of pedicle screws.
Access options
Buy single article
Instant access to the full article PDF.
USD 39.95
Price includes VAT (USA)
Tax calculation will be finalised during checkout.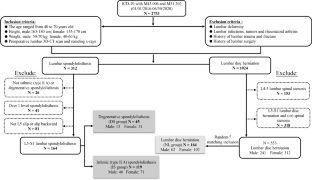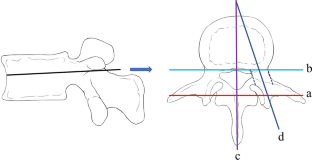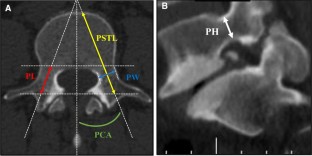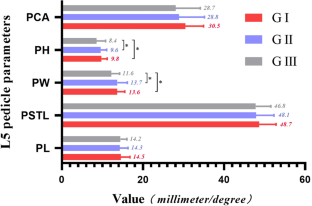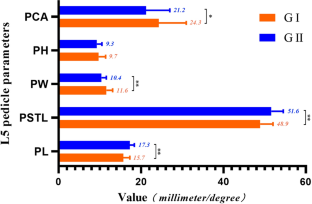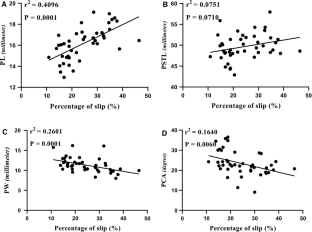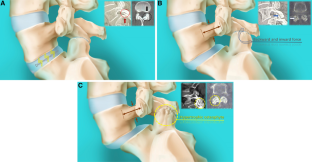 References
1.

Wiltse LL, Newman PH, MacNab I (1976) Classification of spondylolysis and spondylolisthesis. Clin Orthop Relat Res 117:23–29

2.

Madan S, Boeree NR (2002) Outcome of posterior lumbar interbody fusion versus posterolateral fusion for spondylolytic spondylolisthesis. Spine (Phila Pa 1976) 27:1536–1542

3.

Nojiri K, Matsumoto M, Chiba K, Toyama Y, Momoshima S (2005) Comparative assessment of pedicle morphology of the lumbar spine in various degenerative diseases. Surg Radiol Anat 27(4):317–321

4.

Mehta JS, Kochhar S, Harding IJ (2012) A slip above a slip: retrolisthesis of the motion segment above a spondylolytic spondylolisthesis. Eur Spine J 21:2128–2133

5.

Bajwa NS, Toy JO, Ahn NU (2012) L5 pedicle length is increased in subjects with spondylolysis: an anatomic study of 1072 cadavers. Clin Orthop Relat Res 470(11):3202–3206

6.

Foreman P, Griessenauer CJ, Watanabe K, Conklin M, Shoja MM, Rozzelle CJ, Loukas M, Tubbs RS (2013) L5 spondylolysis/spondylolisthesis: a comprehensive review with an anatomic focus. Childs Nerv Syst 29(2):209–216

7.

Choi HJ, Park JY, Chin DK, Kim KS, Cho YE, Kuh SU (2014) Anatomical parameters of fifth lumbar vertebra in L5–S1 spondylolytic spondylolisthesis from a surgical point of view. Eur Spine J 23(9):1896–1902

8.

Abu-Leil S, Floman Y, Bronstein Y, Masharawi Y (2016) A morphometric analysis of all lumbar intervertebral discs and vertebral bodies in degenerative spondylolisthesis. Eur Spine J 25(8):2535–2545

9.

Olsewski JM, Simmons EH, Kallen FC, Mendel FC, Severin CM, Berens DL (1990) Morphometry of the lumbar spine: anatomical perspectives related to transpedicular fixation. J Bone Joint Surg Am 72(4):541–549

10.

Vaccaro AR, Rizzolo SJ, Allardyce TJ, Ramsey M, Salvo J, Balderston RA, Cotler JM (1995) Placement of pedicle screws in the thoracic spine. part I: Morphometric analysis of the thoracic vertebrae. J Bone Joint Surg Am 77(8):1193–1199

11.

Bourassa-Moreau E, Mac-Thiong J-M, Labelle H (2010) Redefining the technique for the radiologic 23 measurement of slip in spondylolisthesis. Spine (Phila Pa 1976) 35:1401–5

12.

Hou S, Hu R, Shi Y (1993) Pedicle morphology of the lower thoracic and lumbar spine in a Chinese population. Spine 18:1850–1855

13.

Robertson PA, Novotny JE, Grobler LJ, Agbai JU (1998) Reliability of axial landmarks for pedicle screw placement in the lower lumbar spine. Spine 23:60–66

14.

Hailong Y, Wei L, Zhensheng M, Hongxun S (2007) Computer analysis of the safety of using three different pedicular screw insertion points in the lumbar spine in the Chinese population. Eur Spine J 16(5):619–623

15.

Fredrickson BE, Baker D, McHolick WJ, Yuan HA, Lubicky JP (1984) The natural history of spondylolysis and spondylolisthesis. J Bone Joint Surg Am 66(5):699–707

16.

Kalichman L, Kim DH, Li L, Guermazi A, Berkin V, Hunter J (2009) Spondylolysis and spondylolisthesis: prevalence and association with low back pain in the adult community-based population. Spine 34:199–205

17.

Love TW, Fagan AB, Fraser RD (1999) Degenerative spondylolisthesis: developmental or acquired? J Bone Joint Surg Br 81:670–674

18.

Boden SD, Riew KD, Yamaguchi K, Branch TP, Schellinger D, Wiesel SW (1996) Orientation of the lumbar facet joints: association with degenerative disc disease. J Bone Joint Surg Am 78:403–411

19.

Le Huec JC, Thompson W, Mohsinaly Y, Barrey C, Faundez A (2019) Sagittal balance of the spine. Eur Spine J 28(9):1889–1905

20.

Barrey C, Jund J, Noseda O, Roussouly P (2007) Sagittal balance of the pelvis-spine complex and lumbar degenerative diseases. A comparative study about 85 cases. Eur Spine J 16:1459–1467

21.

Barrey C, Jund J, Perrin G, Roussouly P (2007) Spinopelvic alignment of patients with degenerative spondylolisthesis. Neurosurgery 61:981–986

22.

Le Huec JC, Faundez A, Dominguez D, Hoffmeyer P, Aunoble S (2015) Evidence showing the relationship between sagittal balance and clinical outcomes in surgical treatment of degenerative spinal diseases: a literature review. Int Orthop 39(1):87–95

23.

Labelle H, Roussouly P, Berthonnaud E, Transfeldt E, O'Brien M, Chopin D (2004) Spondylolisthesis, pelvic incidence, and spinopelvic balance: a correlation study. Spine (Phila Pa 1976) 29:2049–2054

24.

Rajnics P, Templier A, Skalli W, Lavaste F, Illés T (2002) The association of sagittal spinal and pelvic parameters in asymptomatic persons and patients with isthmic spondylolisthesis. J Spinal Disord Tech 15:24–30

25.

Lim JK, Kim SM (2013) Difference of sagittal spinopelvic alignments between degenerative spondylolisthesis and isthmic spondylolisthesis. Journal of Korean Neurosurgical Society 53(2):96–101

26.

Seitsalo S, Osterman K, Hyvarinen H, Tallroth K, Schlenzka D, Poussa M (1991) Progression of spondylolisthesis in children and adolescents: a long-term follow-up of 272 patients. Spine 16:417–421

27.

Troup JDG (1976) Mechanical factors in spondylolisthesis and spondylolysis. Clin Orthop 117:59–67

28.

Floman Y (2000) Progression of lumbosacral isthmic spondylolisthesis in adults. Spine (Phila Pa 1976) 25(3):342–347

29.

Beutler WJ, Fredrickson BE, Murtland A, Sweeney CA, Grant WD, Baker D (2003) The natural history of spondylolysis and spondylolisthesis. 45-year follow-up evaluation. Spine 28:1027–1035

30.

Grobler LJ, Robertson PA, Novotny JE, Ahern JW (1993) Decompression for degenerative spondylolisthesis and spinal stenosis at L4–5. The effects on facet joint morphology. Spine 18:1475–1482

31.

Morimoto M, Higashino K, Manabe H, Tezuka F, Yamashita K, Takata Y, Takao S, Sakai T, Chikawa T, Nagamachi A, Sairyo K (2019) Age-related changes in axial and sagittal orientation of the facet joints: comparison with changes in degenerative spondylolisthesis. J Orthop Sci 24(1):50–56

32.

Cho BY, Murovic JA, Park J (2009) Imaging correlation of the degree of degenerative L4–5 spondylolisthesis with the corresponding amount of facet fluid. J Neurosurg Spine 11(5):614–619

33.

Kundakci YE, Unver Dogan N, Guler I, Uysal II, Fazliogullari Z, Karabulut AK (2018) Evaluation of the facet joints with magnetic resonance images in the patients with disc degeneration and spondylolisthesis. Surg Radiol Anat 40(9):1063–1075
Acknowledgements
The authors would like to thank all the patients of the Affiliated Hospital of Southwest Medical University for allowing to publish the paper and to use their images taken during hospital admission.
Funding
The manuscript submitted does not contain information about medical device(s)/drug(s).
No funds were received in support of this work. All subjects gave informed consent to participate, and the study was approved by an institutional review board (No. KY2020155).
Ethics declarations
Conflict of interest
None.
Additional information
Publisher's Note
Springer Nature remains neutral with regard to jurisdictional claims in published maps and institutional affiliations.
About this article
Cite this article
Tang, C., Liao, Y.H., Tang, Q. et al. What is the difference in pedicle morphology of the fifth lumbar vertebra between isthmic and degenerative L5–S1 spondylolisthesis? An anatomic study of 328 patients via multi-slice spiral computed tomography. Eur Spine J 30, 2301–2310 (2021). https://doi.org/10.1007/s00586-021-06884-3
Received:

Revised:

Accepted:

Published:

Issue Date:
Keywords
Pedicle

Morphology

Isthmic spondylolisthesis

Degenerative spondylolisthesis

Computed tomography