Abstract
Purpose
Four-rod instrumentation and interbody fusion may reduce mechanical complications in degenerative scoliosis surgery compared to 2-rod instrumentation. The purpose was to compare clinical results, sagittal alignment and mechanical complications with both techniques.
Methods
Full spine radiographs were analysed in 97 patients instrumented to the pelvis: 58 2-rod constructs (2R) and 39 4-rod constructs (4R). Clinical scores (VAS, ODI, SRS-22, EQ-5D-3L) were assessed preoperatively, at 3 months, 1 year and last follow-up (average 4.2 years). Radiographic measurements were: thoracic kyphosis, lumbar lordosis, spinopelvic parameters, segmental lordosis distribution. The incidence of non-union and PJK were investigated.
Results
All clinical scores improved significantly in both groups between preoperative and last follow-up. In the 2R-group, lumbar lordosis increased to 52.8° postoperatively and decreased to 47.0° at follow-up (p = 0.008). In the 4R-group, lumbar lordosis increased from 46.4 to 52.5° postoperatively and remained at 53.4° at follow-up. There were 8 (13.8%) PJK in the 2R-group versus 6 (15.4%) in the 4R-group, with a mismatch between lumbar apex and theoretic lumbar shape according to pelvic incidence. Non-union requiring revision surgery occurred on average at 26.9 months in 28 patients (48.3%) of the 2R-group. No rod fracture was diagnosed in the 4R-group.
Conclusion
Multi-level interbody fusion combined with 4-rod instrumentation decreased risk for non-union and revision surgery compared to select interbody fusion and 2-rod instrumentation. The role of additional rods on load sharing still needs to be determined when multiple cages are used. Despite revision surgery in the 2R group, final clinical outcomes were similar in both groups.
Level of evidence
III.
Access options
Buy single article
Instant access to the full article PDF.
USD 39.95
Price includes VAT (USA)
Tax calculation will be finalised during checkout.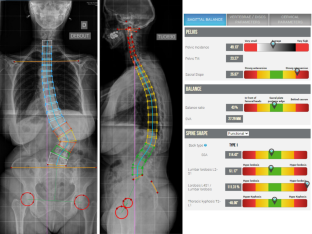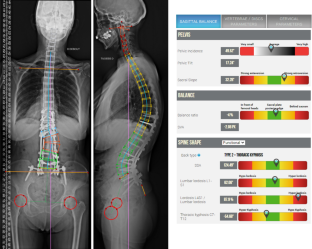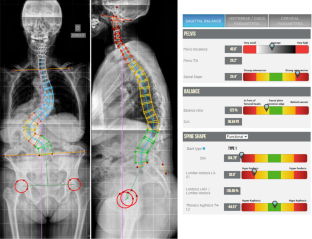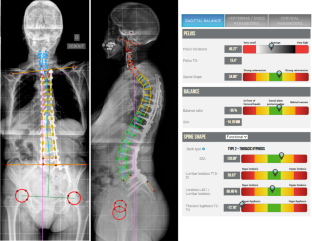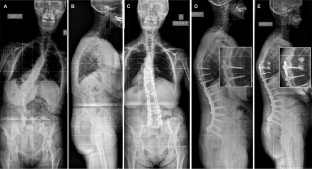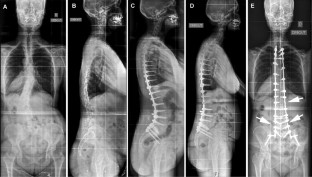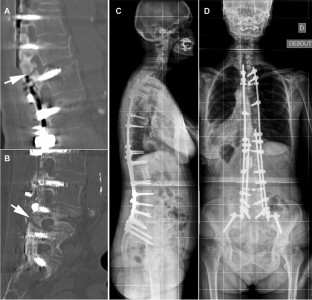 Funding
All the authors participated in the study with no study funding involved.
Ethics declarations
Conflict of interest
Vincent Lamas has no conflict of interest. Yann Philippe Charles is a consultant for Stryker, Clariance and Ceraver; he received royalties and grants unrelated to this study from Stryker and Clariance. Nicolas Tuzin has no conflict of interest. Jean-Paul Steib is a consultant for Clariance and Zimmer-Biomet; he received royalties from Clariance, Zimmer-Biomet and Medtronic.
Additional information
Publisher's Note
Springer Nature remains neutral with regard to jurisdictional claims in published maps and institutional affiliations.
Communicated by FRANCE.
About this article
Cite this article
Lamas, V., Charles, Y.P., Tuzin, N. et al. Comparison of degenerative lumbar scoliosis correction and risk for mechanical failure using posterior 2-rod instrumentation versus 4-rod instrumentation and interbody fusion. Eur Spine J 30, 1965–1977 (2021). https://doi.org/10.1007/s00586-021-06870-9
Received:

Accepted:

Published:

Issue Date:
Keywords
Adult spinal deformity

Degenerative scoliosis

Four-rod instrumentation

Sagittal alignment

Non-union

Proximal junctional kyphosis