Abstract
Purpose
Although risk factors for new low back pain (LBP) episodes and acute-to-chronic transition have been identified, risk factors for flares of LBP remain largely unknown. This case-crossover study aimed to identify: (1) risk factors LBP flares and (2) whether risk factors differed when flare is defined by pain increase (pain-defined flare: PDF) or identified by participants according to a broader flare definition that considered emotions and coping (self-reported flare: SRF).
Methods
One hundred and twenty-six participants with LBP for > 3 months were included. Candidate risk factors and flares (PDF/SRF) were assessed daily using a smartphone application for 28 days. Data on exposure to risk factors one, two and three days preceding PDF/SRF were compared to control periods. Conditional logistic regression estimated associations between risk factors and PDF/SRF.
Results
Odds of PDF and SRF were increased by poor sleep quality and morning pain. Good sleep quality reduced odds of flare. Odds for increased pain (PDF), but not SRF, were increased after days with higher afternoon and evening pain, fatigue, fear of physical activity and leisure physical activity.
Conclusion
LBP flare has been largely ignored but is more reflective of the LBP experience than conventional definitions of acute, sub-acute and chronic LBP. This study highlights risk factors for flare and that these differ depending on whether flare is defined by pain alone (PDF) or a broad multidimensional definition (SRF). Potential targets to reduce the intensity/frequency of LBP flares are identified, with strong indication for the potential role of sleep intervention to mitigate LBP flare risk.
Access options
Buy single article
Instant access to the full article PDF.
USD 39.95
Price includes VAT (USA)
Tax calculation will be finalised during checkout.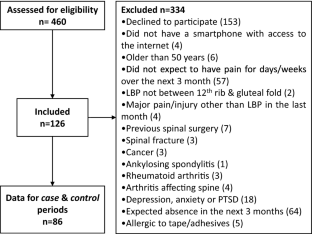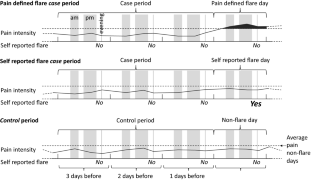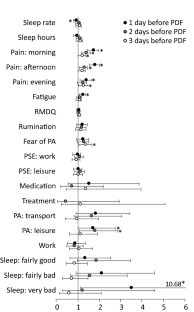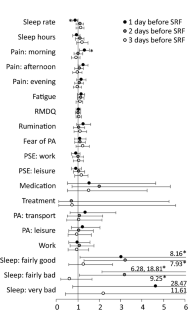 References
1.

Kongsted A, Kent P, Hestbaek L, Vach W (2015) Patients with low back pain had distinct clinical course patterns that were typically neither complete recovery nor constant pain. A latent class analysis of longitudinal data. Spine J 15:885–894

2.

Young AE, Wasiak R, Phillips L, Gross DP (2011) Workers' perspectives on low back pain recurrence: "it comes and goes and comes and goes, but it's always there." Pain 152:204–211. https://doi.org/10.1016/j.pain.2010.10.033

3.

Suri P, Rainville J, Fitzmaurice GM, Katz JN, Jamison RN, Martha J, Hartigan C, Limke J, Jouve C, Hunter DJ (2011) Acute low back pain is marked by variability: An internet-based pilot study. BMC Musculoskelet Disord 12:220. https://doi.org/10.1186/1471-2474-12-220

4.

Steffens D, Ferreira ML, Latimer J, Ferreira PH, Koes BW, Blyth F, Li Q, Maher CG (2015) What triggers an episode of acute low back pain? A case-crossover study. Arthritis Care Res 67:403–410. https://doi.org/10.1002/acr.22533

5.

Campbell P, Foster NE, Thomas E, Dunn KM (2013) Prognostic indicators of low back pain in primary care: five-year prospective study. J Pain 14:873–883. https://doi.org/10.1016/j.jpain.2013.03.013

6.

Shiri R, Karppinen J, Leino-Arjas P, Solovieva S, Viikari-Juntura E (2010) The association between smoking and low back pain: a meta-analysis. Am J Med 123(87):e87–e35. https://doi.org/10.1016/j.amjmed.2009.05.028

7.

Hoogendoorn WE, van Poppel MN, Bongers PM, Koes BW, Bouter LM (2000) Systematic review of psychosocial factors at work and private life as risk factors for back pain. Spine 25:2114–2125

8.

Tang NK, Wright KJ, Salkovskis PM (2007) Prevalence and correlates of clinical insomnia co-occurring with chronic back pain. J Sleep Res 16:85–95. https://doi.org/10.1111/j.1365-2869.2007.00571.x

9.

Alsaadi SM, McAuley JH, Hush JM, Lo S, Lin CW, Williams CM, Maher CG (2014) Poor sleep quality is strongly associated with subsequent pain intensity in patients with acute low back pain. Arthritis Rheumatol 66:1388–1394. https://doi.org/10.1002/art.38329

10.

Costa N, Hodges PW, Ferreira ML, Makovey J, Setchell J (2019) What Triggers an LBP Flare? A Content Analysis of Individuals' Perspectives Pain Med. https://doi.org/10.1093/pm/pnz021

11.

Suri P, Rainville J, de Schepper E, Martha J, Hartigan C, Hunter DJ (2018) Do Physical Activities Trigger Flare-ups During an Acute Low Back Pain Episode?: A Longitudinal Case-Crossover Feasibility Study. Spine 43:427–433. https://doi.org/10.1097/BRS.0000000000002326

12.

Setchell J, Costa N, Ferreira M, Makovey J, Nielsen M, Hodges PW (2017) What constitutes back pain flare? A cross sectional survey of individuals with low back pain. Scand J Pain 17:294–301. https://doi.org/10.1016/j.sjpain.2017.08.003

13.

Costa N, Ferreira ML, Setchell J, Makovey J, Dekroo T, Downie A, Diwan A, Koes B, Natvig B, Vicenzino B, Hunter D, Roseen EJ, Rasmussen-Barr E, Guillemin F, Hartvigsen J, Bennell K, Costa L, Macedo L, Pinheiro M, Underwood M, Van Tulder M, Johansson M, Enthoven P, Kent P, O'Sullivan P, Suri P, Genevay S, Hodges PW (2019) A Definition of "Flare" in Low Back Pain: A Multiphase Process Involving Perspectives of Individuals With Low Back Pain and Expert Consensus. J Pain 20:1267–1275. https://doi.org/10.1016/j.jpain.2019.03.009

14.

Makovey J, Metcalf B, Zhang Y, Chen JS, Bennell K, March L, Hunter DJ (2015) Web-Based Study of Risk Factors for Pain Exacerbation in Osteoarthritis of the Knee (SPARK-Web): Design and Rationale. JMIR Res Protoc 4:e80. https://doi.org/10.2196/resprot.4406

15.

Heffner KL, France CR, Trost Z, Ng HM, Pigeon WR (2011) Chronic low back pain, sleep disturbance, and interleukin-6. Clin J Pain 27:35–41. https://doi.org/10.1097/ajp.0b013e3181eef761

16.

Abbadie C (2005) Chemokines, chemokine receptors and pain. Trends Immunol 26:529–534. https://doi.org/10.1016/j.it.2005.08.001

17.

Harvey AG, Murray G, Chandler RA, Soehner A (2011) Sleep disturbance as transdiagnostic: consideration of neurobiological mechanisms. Clin Psychol Rev 31:225–235. https://doi.org/10.1016/j.cpr.2010.04.003

18.

Goldstein AN, Greer SM, Saletin JM, Harvey AG, Nitschke JB, Walker MP (2013) Tired and apprehensive: anxiety amplifies the impact of sleep loss on aversive brain anticipation. J Neurosci 33:10607–10615. https://doi.org/10.1523/JNEUROSCI.5578-12.2013

19.

Gujar N, McDonald SA, Nishida M, Walker MP (2011) A role for REM sleep in recalibrating the sensitivity of the human brain to specific emotions. Cereb Cortex 21:115–123. https://doi.org/10.1093/cercor/bhq064

20.

Sanchez-Villegas A, Ara I, Dierssen T, de la Fuente C, Ruano C, Martinez-Gonzalez MA (2012) Physical activity during leisure time and quality of life in a Spanish cohort: SUN (Seguimiento Universidad de Navarra) project. Br J Sports Med 46:443–448. https://doi.org/10.1136/bjsm.2010.081836

21.

Cooney GM, Dwan K, Greig CA, Lawlor DA, Rimer J, Waugh FR, McMurdo M, Mead GE (2013) Exercise for depression. Cochrane Database Syst Rev. https://doi.org/10.1002/14651858.CD004366.pub6

22.

McCracken LM, Vowles KE (2006) Acceptance of chronic pain. Curr Pain Headache Rep 10:90–94. https://doi.org/10.1007/s11916-006-0018-y

23.

Serbic D, Pincus T (2017) The relationship between pain, disability, guilt and acceptance in low back pain: a mediation analysis. J Behav Med 40:651–658. https://doi.org/10.1007/s10865-017-9826-2

24.

Maclure M, Mittleman MA (2000) Should we use a case-crossover design? Annu Rev Public Health 21:193–221. https://doi.org/10.1146/annurev.publhealth.21.1.193

25.

Johansen B, Wedderkopp N (2010) Comparison between data obtained through real-time data capture by SMS and a retrospective telephone interview. Chiropr Osteopat 18:10. https://doi.org/10.1186/1746-1340-18-10

26.

Gerhart JI, Burns JW, Post KM, Smith DA, Porter LS, Burgess HJ, Schuster E, Buvanendran A, Fras AM, Keefe FJ (2017) Relationships Between Sleep Quality and Pain-Related Factors for People with Chronic Low Back Pain: Tests of Reciprocal and Time of Day Effects. Ann Behav Med 51:365–375. https://doi.org/10.1007/s12160-016-9860-2
Funding
This study is supported by a Program grant (APP1091302); Centre of Research Excellence grant (APP1079078) and Fellowships (PH—APP1102905; MF—APP1143593) from the National Health and Medical Research Council (NHMRC) of Australia.
Ethics declarations
Conflicts of interest
The authors have no conflict of interest to declare.
Availability of data and material
Available on request.
Consent to participate
Participants provided written informed consent.
Ethics approval
The University of Queensland Approval #: 2,010,000,045.
Additional information
Publisher's Note
Springer Nature remains neutral with regard to jurisdictional claims in published maps and institutional affiliations.
Supplementary Information
Below is the link to the electronic supplementary material.
About this article
Cite this article
Costa, N., Smits, E., Kasza, J. et al. ISSLS PRIZE IN CLINICAL SCIENCE 2021: What are the risk factors for low back pain flares and does this depend on how flare is defined?. Eur Spine J 30, 1089–1097 (2021). https://doi.org/10.1007/s00586-021-06730-6
Received:

Revised:

Accepted:

Published:

Issue Date:
Keywords
Low back pain

Risk factors

Triggers

Flares