Abstract
Objective
To appraise the available evidence on advanced practice physiotherapy (APP) models of care (MoC) in specialized secondary care such as orthopaedic, rheumatology or neurosurgery outpatients' clinics for adults with spinal pain.
Methods
Systematic review with meta-analysis. Electronic searches were conducted up to July 2020 in Medline, Embase, Cochrane CENTRAL and CINAHL. Studies on APP MoC in specialized secondary care for adults with spinal pain were included.
Results
Eighteen studies (n = 9405), including two randomized controlled trials and sixteen observational studies were included. One study was considered at high quality, fourteen studies were considered of moderate quality and three were considered of low quality. Pooled results for change in disability for patients with spinal pain reported no significant difference between APP and usual medical care (UMC). Mean wait time for initial consultation was lower with APP (1–9.4 weeks) than with UMC MoC (23–65 weeks). Following the implementation of APP MoC, wait time for a consultation with a medical specialist was reduced (6–16 weeks). Physiotherapists in APP MoC managed independently 89.2% of the patients referred (n = 8393). Stakeholders and patients reported high satisfaction with APP care.
Conclusions
APP MoC and UMC likely result in comparable pain, disability and quality of life improvement for adults with spinal pain. However, APP MoC have the potential to improve health care access by reducing wait time for consultation in specialized care and maintaining a high level of satisfaction among stakeholders and patients.
Access options
Buy single article
Instant access to the full article PDF.
US$ 39.95
Tax calculation will be finalised during checkout.
Subscribe to journal
Immediate online access to all issues from 2019. Subscription will auto renew annually.
US$ 119
Tax calculation will be finalised during checkout.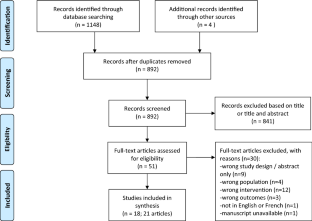 References
1.

Woolf AD, Erwin J, March L (2012) The need to address the burden of musculoskeletal conditions. Best Pract Res Clin Rheumatol 26(2):183–224

2.

Hoy D, Bain C, Williams G, March L, Brooks P, Blyth F, Woolf A, Vos T, Buchbinder R (2012) A systematic review of the global prevalence of low back pain. Arthritis Rheum 64(6):2028–2037

3.

Hoy D, March L, Woolf A, Blyth F, Brooks P, Smith E, Vos T, Barendregt J, Blore J, Murray C (2014) The global burden of neck pain: estimates from the global burden of disease 2010 study. Ann Rheum Dis 73(7):1309–1315

4.

Barua B, Moir M (2019) Waiting your turn wait times for Health Care in Canada, 2019 report. Fraser Institute, Vancouver

5.

Barua B, Palacios M, Emes J (2017) The sustainability of health care spending in Canada 2017. Fraser Institute, Vancouver

6.

Dall TM, Gallo PD, Chakrabarti R, West T, Semilla AP, Storm MV (2013) An aging population and growing disease burden will require alarge and specialized health care workforce by 2025. Health Aff 32(11):2013–2020

7.

Denton FT, Spencer BG (2010) Chronic health conditions: changing prevalence in an aging population and some implications for the delivery of health care services. Can J Aging 29(1):11–21

8.

Lynch ME, Campbell F, Clark AJ, Dunbar MJ, Goldstein D, Peng P, Stinson J, Tupper H (2008) A systematic review of the effect of waiting for treatment for chronic pain. Pain 136(1):97–116. https://doi.org/10.1016/j.pain.2007.06.018

9.

Braybrooke J, Ahn H, Gallant A, Ford M, Bronstein Y, Finkelstein J, Yee A (2007) The impact of surgical wait time on patient-based outcomes in posterior lumbar spinal surgery. Eur Spine J 16(11):1832–1839

10.

Moir M, Barua B (2020) The private cost of public queues for medically necessary care. Fraser Institute

11.

Byles S, Ling R (1989) Orthopaedic out-patients—a fresh approach. Physiotherapy 75(7):435–437

12.

Overman SS, Larson JW, Dickstein DA, Rockey PH (1988) Physical therapy care for low back pain: Monitored program of first-contact nonphysician care. Phys Ther 68(2):199–207

13.

Desmeules F, Roy J-S, MacDermid JC, Champagne F, Hinse O, Woodhouse LJ (2012) Advanced practice physiotherapy in patients with musculoskeletal disorders: a systematic review. BMC Musculoskelet Disord 13(1):107. https://doi.org/10.1186/1471-2474-13-107

14.

Harding P, Prescott J, Sayer J, Pearce A (2015) Advanced musculoskeletal physiotherapy clinical education framework supporting an emerging new workforce. Aust Health Rev 39(3):271–282

15.

Saxon RL, Gray MA, Oprescu FI (2014) Extended roles for allied health professionals: an updated systematic review of the evidence. J Multidiscip Healthc 7:479–488. https://doi.org/10.2147/JMDH.S66746

16.

Stanhope J, Grimmer-Somers K, Milanese S, Kumar S, Morris J (2012) Extended scope physiotherapy roles for orthopedic outpatients: an update systematic review of the literature. J Multidiscip Healthc 5:37

17.

Chang AT, Gavaghan B, O'Leary S, McBride L-J, Raymer M (2018) Do patients discharged from advanced practice physiotherapy-led clinics re-present to specialist medical services? Aust Health Rev 42(3):334–339. https://doi.org/10.1071/AH16222

18.

Marks D, Comans T, Bisset L, Scuffham PA (2017) Substitution of doctors with physiotherapists in the management of common musculoskeletal disorders: a systematic review. Physiotherapy 103(4):341–351

19.

Matifat E, Méquignon M, Cunningham C, Blake C, Fennelly O, Desmeules F (2019) Benefits of musculoskeletal physical therapy in emergency departments: a systematic review. Phys Ther 99(9):1150–1166

20.

Oakley C, Shacklady C (2015) The clinical effectiveness of the extended-scope physiotherapist role in musculoskeletal triage: a systematic review. Musculoskeletal Care 13(4):204–221

21.

Wijnhoven HA, De Vet HC, Picavet HSJ (2006) Prevalence of musculoskeletal disorders is systematically higher in women than in men. Clin J Pain 22(8):717–724

22.

World Confederation for Physical Therapy (2020) WCPT Policy Statement: advanced physical therapy practice. https://www.wcpt.org/policy/ps-advanced-pt-practice. Accessed 23 Mar 2020

23.

Thomas B, Ciliska D, Dobbins M, Micucci S (2004) A process for systematically reviewing the literature: providing the research evidence for public health nursing interventions. Worldviews Evid Based Nurs 1(3):176–184

24.

Armijo-Olivo S, Stiles CR, Hagen NA, Biondo PD, Cummings GG (2012) Assessment of study quality for systematic reviews: a comparison of the Cochrane Collaboration Risk of Bias Tool and the Effective Public Health Practice Project Quality Assessment Tool: methodological research. J Eval Clin Pract 18(1):12–18

25.

MacDermid J (2008) Critical appraisal of study quality for psychometric articles, evaluation form. Evidence-based rehabilitation. Slack Inc, Thorofare, pp 387–388

26.

Daker-White G, Carr AJ, Harvey I, Woolhead G, Bannister G, Nelson I, Kammerling M (1999) A randomised controlled trial: shifting boundaries of doctors and physiotherapists in orthopaedic outpatient departments. J Epidemiol Commun Health 53(10):643–650

27.

Samsson KS, Bernhardsson S, Larsson MEJ (2016) Perceived quality of physiotherapist-led orthopaedic triage compared with standard practice in primary care: a randomised controlled trial. BMC Musculoskelet Disord 17(1):257

28.

Samsson KS, Larsson MEH (2015) Physiotherapy triage assessment of patients referred for orthopaedic consultation—Long-term follow-up of health-related quality of life, pain-related disability and sick leave. Manual Ther 20(1):38–45

29.

Cottrell MA, O'Leary SP, Swete-Kelly P, Elwell B, Hess S, Litchfield M-A, McLoughlin I, Tweedy R, Raymer M, Hill AJ (2018) Agreement between telehealth and in-person assessment of patients with chronic musculoskeletal conditions presenting to an advanced-practice physiotherapy screening clinic. Musculoskelet Sci Pract 38:99–105

30.

Booth R (2019) An advanced practice physiotherapy spine triage service for adults with neck and back pain: a feasibility study (Doctoral dissertation)

31.

Robarts S, Stratford P, Kennedy D, Malcolm B, Finkelstein J (2017) Evaluation of an advanced-practice physiotherapist in triaging patients with lumbar spine pain: surgeon-physiotherapist level of agreement and patient satisfaction. Can J Surg 60(4):266–272. https://doi.org/10.1503/cjs.013416

32.

Blackburn MS, Cowan SM, Cary B, Nall C (2009) Physiotherapy-led triage clinic for low back pain. Aust Health Rev 33(4):663–670

33.

Bath B, Janzen B (2012) Patient and referring health care provider satisfaction with a physiotherapy spinal triage assessment service. J Multidiscip Healthc 5:1–15. https://doi.org/10.2147/JMDH.S26375

34.

Bath B, Lovo Grona S (2015) Biopsychosocial predictors of short-term success among people with low back pain referred to a physiotherapy spinal triage service. J Pain Res 8:189–202. https://doi.org/10.2147/JPR.S81485

35.

Bath B, Pahwa P (2012) A physiotherapy triage assessment service for people with low back disorders: evaluation of short-term outcomes. Patient related outcome measures 3:9–19. https://doi.org/10.2147/PROM.S31657

36.

Caffrey A, Smart KM, FitzGerald O (2019) Physiotherapist-led triage at a rheumatology-based musculoskeletal assessment clinic: an 18-month service evaluation of activity and outcomes. ACR Open Rheumatol 1(4):213–218

37.

Hattam P (2004) The effectiveness of orthopaedic triage by extended scope physiotherapists. Clin Gov Int J 9(4):244–252

38.

Heywood JW (2005) Specialist physiotherapists in orthopaedic triage–the results of a military spinal triage clinic. J R Army Med Corps 151(3):152–156

39.

Kerridge-Weeks M, Langridge NJ (2016) Orthopaedic spinal triage An evaluation of decision making and outcome in a physiotherapy led service. Int J Health Gov 21(1):5–17. https://doi.org/10.1108/IJHG-08-2015-0026

40.

Smyth C, Smart K, Fitzpatrick M, Caffrey A, McLoughlin C, Doody C (2019) Physiotherapist-led triage of patients with thoracic spine pain in a musculoskeletal assessment clinic: a service evaluation of activity and outcomes. Physiother Practice Res 40(2):145–153. https://doi.org/10.3233/PPR-190136

41.

Bath B, Grona SL, Janzen B (2012) A spinal triage programme delivered by physiotherapists in collaboration with orthopaedic surgeons. Physiother Can 64(4):356–366. https://doi.org/10.3138/ptc.2011-29

42.

Curley AE, Cassells M, Cooke G, Dowling F (2004) Physiotherapy-led low back pain triage: results of the first two years. Physiother Ireland 25(2):3–9

43.

Murphy S, Blake C, Power CK, Fullen BM (2013) The role of clinical specialist physiotherapists in the management of low back pain in a spinal triage clinic. Ir J Med Sci 182(4):643–650. https://doi.org/10.1007/s11845-013-0945-7

44.

Wood L, Hendrick P, Boszczyk B, Dunstan E (2016) A review of the surgical conversion rate and independent management of spinal extended scope practitioners in a secondary care setting. Ann R Coll Surg Engl 98(03):187–191

45.

O'Farrell S, Smart K, Caffrey A, Daly O, Doody C (2014) Orthopaedic triage at a physiotherapist-led 'Musculoskeletal Assessment Clinic': a seven-month service evaluation of outcomes. Ir J Med Sci (1971-) 183(4):565–571

46.

Passalent L, Hawke C, Lawson DO, Omar A, Alnaqbi KA, Wallis D, Steinhart H, Silverberg M, Wolman S, Derzko-Dzulynsky L (2020) Advancing early identification of axial spondyloarthritis: an interobserver comparison of extended role practitioners and rheumatologists. J Rheumatol 47(4):524–530

47.

Gagnon R, Perreault K, Berthelot S, Laroche M, Neste CV, Achou B, Desmeules F, Tremblay S, Hébert L (2020) L'intégration du physiothérapeute à l'urgence: un moyen efficace d'améliorer l'accès aux soins, l'évolution clinique des patients et l'utilisation des ressources. Paper presented at the Journée scientifique REPAR-INTER, Sherbrooke, May 22, 2020

48.

Desmeules F, Toliopoulos P, Roy J-S, Woodhouse LJ, Lacelle M, Leroux M, Girard S, Feldman DE, Fernandes JC (2013) Validation of an advanced practice physiotherapy model of care in an orthopaedic outpatient clinic. BMC Musculoskelet Disord 14(1):162. https://doi.org/10.1186/1471-2474-14-162
Acknowledgements
We are grateful to Dr. Keith Smart and Dr. Karin S. Samsson for sharing their data in order to stratify results for patients with spinal pain from their published articles. We thank Savannah Stewart for the copy edit of this review.
Funding
The project was funded with Dr. Desmeules' Canadian Institutes of Health Research Program New Investigator Salary and Research Award in Clinical Rehabilitation (201609NCR-375311–130299) and Simon Lafrance, PhD, scholarship (Fondation de l'Hôpital Maisonneuve-Rosemont).
Ethics declarations
Conflict of interest
Carlo Satanguida declares being the Chief Medical Officer for CareAxis, a non-profit network of care involving advanced practice physiotherapists for adults with spinal pain and being a consultant for Medtronic and for Stryker, two medical devices and technology firms. All the other authors declare no conflict or appearance of conflict of interest.
Additional information
Publisher's Note
Springer Nature remains neutral with regard to jurisdictional claims in published maps and institutional affiliations.
Electronic supplementary material
Below is the link to the electronic supplementary material.
About this article
Cite this article
Lafrance, S., Lapalme, JG., Méquignon, M. et al. Advanced practice physiotherapy for adults with spinal pain: a systematic review with meta-analysis. Eur Spine J (2020). https://doi.org/10.1007/s00586-020-06648-5
Received:

Revised:

Accepted:

Published:
Keywords
Advanced practice

Physiotherapy

Spine

Specialized care

Health care system