Abstract
Objective
The objective of the study was to compare the safety, efficacy, and accuracy of the pedicle screws with the three-dimensional (3D) printed navigation template to the free-hand screws for type II odontoid fractures.
Patients and methods
A total of 60 patients with type II odontoid fractures, treated with either template guiding pedicle screws or free-hand screws, were retrospectively assessed. The guiding group was treated with pedicle screws with the assistance of a virtual reality (VR) software-designed, 3D printed navigation template with two guide tubes. The safety rate and treatment efficacy of the screw placement, as well as the trajectory accuracy, were evaluated by respective measures and compared between two surgical groups.
Results
There were reduced surgical time (P < 0.05), blood loss (P < 0.01), and C-arm shots (P < 0.01) with 3D printed template guiding screws. The rates of safe pedicle screws in both C1 and C2 were significantly higher in 3D guiding group (P < 0.01) compared to the free-hand group, and the scores of visual analogue scale (VAS) and impairment scale (ASIA) were improved in guiding group at 1 week post-surgery (P < 0.01 and P < 0.05, respectively). Postoperative CT and image reconstruction showed the 3D guiding group had better horizontal screw accuracy on both sides of C1 (L: P < 0.001, R: P < 0.01) and C2 (L: P < 0.001, R: P < 0.01) than free-hand group.
Conclusion
The herein screw technique using 3D printed navigation template leads to greater improvement in the screw safety, efficacy, and accuracy, which may be a promising alternative to free-hand surgery for the treatment of odontoid fractures.
Access options
Buy single article
Instant access to the full article PDF.
US$ 39.95
Tax calculation will be finalised during checkout.
Subscribe to journal
Immediate online access to all issues from 2019. Subscription will auto renew annually.
US$ 119
Tax calculation will be finalised during checkout.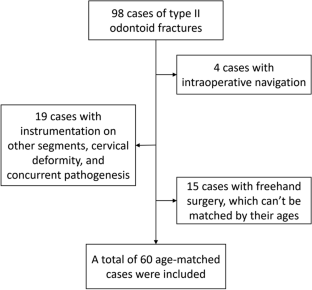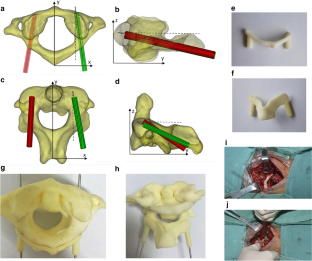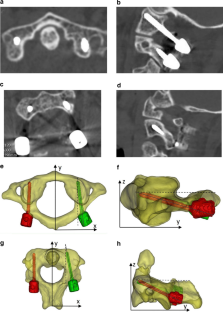 References
1.

Du JY, Aichmair A, Kueper J et al (2015) Biomechanical analysis of screw constructs for atlantoaxial fixation in cadavers: a systematic review and meta-analysis. J Neurosurg Spine 22(2):151–161

2.

Scheyerer MJ, Zimmermann SM, Simmen HP et al (2013) Treatment modality in type II odontoid fractures defines the outcome in elderly patients. BMC Surg 13:13–54

3.

Lohrer L, Raschke MJ, Thiesen D et al (2012) Current concepts in the treatment of Anderson Type II odontoid fractures in the elderly in Germany. Austria Switz Inj 43(4):462–469

4.

Pal D, Sell P, Grevitt M (2011) Type II odontoid fractures in the elderly: an evidence-based narrative review of management. Eur Spine J 20(2):195–204

5.

Goel A, Laheri V (1994) Plate and screw fixation for atlanto-axial subluxation. Acta Neurochir (Wien) 129(1–2):47–53

6.

Harms J, Melcher RP (2001) Posterior C1–C2 fusion with polyaxial screw and rod fixation. Spine (Phila Pa 1976) 26(22):2467–2471

7.

Cecchinato R, Berjano P, Zerbi A et al (2019) Pedicle screw insertion with patient-specific 3D-printed guides based on low-dose CT scan is more accurate than free-hand technique in spine deformity patients: a prospective, randomized clinical trial. Eur Spine J 28(7):1712–1723

8.

Pu X, Yin M, Ma J et al (2018) Design and application of a novel patient-specific three-dimensional printed drill navigational guiding in atlantoaxial pedicle screw placement. World Neurosurg 114:e1–e10

9.

Huang DG, Hao DJ, Li GL et al (2014) C2 nerve dysfunction associated with C1 lateral mass screw fixation. Orthop Surg 6(4):269–273

10.

Steltzlen C, Lazennec JY, Catonne Y et al (2013) Unstable odontoid fracture: surgical strategy in a 22-case series, and literature review. Orthop Traumatol Surg Res 99(5):615–623

11.

Jacobson ME, Khan SN, An HS (2012) C1–C2 posterior fixation: indications, technique, and results. Orthop Clin North Am 43(1):11–8, vii

12.

Huybregts JG, Jacobs WC, Vleggeert-Lankamp CL (2013) The optimal treatment of type II and III odontoid fractures in the elderly: a systematic review. Eur Spine J 22(1):1–13

13.

Barnes AH, Eguizabal JA, Acosta FL, Jr. et al (2009) Biomechanical pullout strength and stability of the cervical artificial pedicle screw. Spine (Phila Pa 1976) 34(1):E16-20

14.

Yoshimoto H, Sato S, Hyakumachi T et al (2005) Spinal reconstruction using a cervical pedicle screw system. Clin Orthop Relat Res 431:111–119

15.

Tan M, Li X, Dong L (2013) Review of surgical treatment of atlantoaxial dislocation in recent 20 years in Chinese on in recent years in Chinese. Chin J Spine Spin Cord 23(5):399–404

16.

Richter M, Cakir B, Schmidt R (2005) Cervical pedicle screws: conventional versus computer-assisted placement of cannulated screws. Spine (Phila Pa 1976) 30(20):2280–2287

17.

Weng C, Tian W, Li ZY et al (2012) Surgical management of symptomatic os odontoideum with posterior screw fixation performed using the magerl and harms techniques with intraoperative 3-dimensional fluoroscopy-based navigation. Spine (Phila Pa 1976) 37(21):1839–1846

18.

Uehara M, Takahashi J, Hirabayashi H et al (2012) Computer-assisted C1–C2 transarticular screw fixation "magerl technique" for atlantoaxial instability. Asian Spine J 6(3):168–177

19.

Chen XL, Xie YF, Li JX et al (2019) Design and basic research on accuracy of a novel individualized three-dimensional printed navigation template in atlantoaxial pedicle screw placement. PLoS ONE 14(4):e0214460

20.

Jiang L, Dong L, Tan M et al (2016) Accuracy assessment of atlantoaxial pedicle screws assisted by a novel drill guide template. Arch Orthop Trauma Surg 136(11):1483–1490
Funding
Funding was provided by National Natural Science Foundation (Grant No. 81772367) and Major Military Science Research (Grant No. AWS17J004).
Ethics declarations
Conflict of interest
The authors declare that they have no conflict of interest.
Informed consent
Formal consent is not required for this type of study.
Additional information
Publisher's Note
Springer Nature remains neutral with regard to jurisdictional claims in published maps and institutional affiliations.
About this article
Cite this article
Li, Y., Lin, J., Wang, Y. et al. Comparative study of 3D printed navigation template-assisted atlantoaxial pedicle screws versus free-hand screws for type II odontoid fractures. Eur Spine J (2020). https://doi.org/10.1007/s00586-020-06644-9
Received:

Revised:

Accepted:

Published:
Keywords
Odontoid fractures

Atlantoaxial pedicle screw

Navigation template

Virtual reality

3D printing