Abstract
Objective
To study radiological and clinical differences between robotic-assisted pedicle screw fixation with and without real-time optical tracking.
Methods
Patients who underwent lumbar internal fixation in our hospital from June 2017 to February 2020 were divided into Tinavi group (with optical tracking) and Renaissance group (without optical tracking) according to assisted technology. The imaging data of the patients were collected, and the accuracy of screw implantation was measured according to Rampersaud A–D grade. Clinical outcomes such as operative time, fluoroscopic time and radiations dose were also collected.
Results
A total of 376 patients were included, including 201 patients in the Tinavi group with 968 screws implanted and 175 patients in the Renaissance group with 822 screws implanted. The accuracy of "perfect" and "clinically acceptable" pedicle screw implantation in the Tinavi group was 94.9%–98.7%, respectively, while in the Renaissance group was 91.2%–94.5%, respectively. There was significant difference between the two groups (P < 0.05). The operative time and operative time per screw in the Tinavi group were lower than those in the Renaissance group. However, fluoroscopic time per screw and radiations dose of the Tinavi group were significantly higher than those of the Renaissance group.
Conclusion
Optical tracking in robotic system appears to increase accuracy because of the ability to detect the real-time position of the patient. Although there are still many problems to be solved, robot with optical tracking system shows its great potential in clinical application.
Access options
Buy single article
Instant access to the full article PDF.
US$ 39.95
Tax calculation will be finalised during checkout.
Subscribe to journal
Immediate online access to all issues from 2019. Subscription will auto renew annually.
US$ 119
Tax calculation will be finalised during checkout.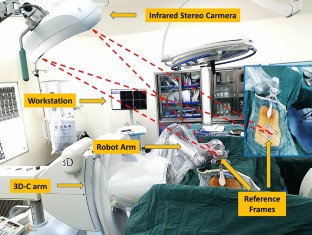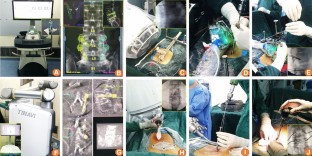 References
1.

Han X, Tian W, Liu Y, Liu B, He D, Sun Y, Han X, Fan M, Zhao J, Xu Y, Zhang Q (2019) Safety and accuracy of robot-assisted versus fluoroscopy-assisted pedicle screw insertion in thoracolumbar spinal surgery: a prospective randomized controlled trial. J Neurosurg Spine. https://doi.org/10.3171/2018.10.spine18487

2.

Du JP, Fan Y, Wu QN, Wang DH, Zhang J, Hao DJ (2017) Accuracy of pedicle screw insertion among three image-guided navigation systems: a systematic review and meta-analysis. World Neurosurg. https://doi.org/10.1016/j.wneu.2017.07.154

3.

Tian W, Liu Y, Zheng S, Lv Y (2013) Accuracy of lower cervical pedicle screw placement with assistance of distinct navigation systems: a human cadaveric study. Euro Spine J 22:148–155. https://doi.org/10.1007/s00586-012-2494-6

4.

Tian NF, Huang QS, Zhou P, Zhou Y, Wu RK, Lou Y, Xu HZ (2011) Pedicle screw insertion accuracy with different assisted methods: a systematic review and meta-analysis of comparative studies. Euro Spine J 20:846–859. https://doi.org/10.1007/s00586-010-1577-5

5.

Devito DP, Kaplan L, Dietl R, Pfeiffer M, Horne D, Silberstein B, Hardenbrook M, Kiriyanthan G, Barzilay Y, Bruskin A, Sackerer D, Alexandrovsky V, Stuer C, Burger R, Maeurer J, Donald GD, Schoenmayr R, Friedlander A, Knoller N, Schmieder K, Pechlivanis I, Kim IS, Meyer B, Shoham M (2010) Clinical acceptance and accuracy assessment of spinal implants guided with spineassist surgical robot: retrospective study. Spine 35:2109–2115. https://doi.org/10.1097/BRS.0b013e3181d323ab

6.

Gautschi OP, Schatlo B, Schaller K, Tessitore E (2011) Clinically relevant complications related to pedicle screw placement in thoracolumbar surgery and their management: a literature review of 35,630 pedicle screws. Neurosurg Focus 31:E8. https://doi.org/10.3171/2011.7.focus11168

7.

Hyun SJ, Kim KJ, Jahng TA, Kim HJ (2016) Minimally invasive, robotic-vs. open fluoroscopic-guided spinal instrumented fusions-a randomized, controlled trial. Spine. https://doi.org/10.1097/brs.0000000000001778

8.

Kim HJ, Jung WI, Chang BS, Lee CK, Kang KT, Yeom JS (2016) A prospective, randomized, controlled trial of robot-assisted vs freehand pedicle screw fixation in spine surgery. Int J Med Robot. https://doi.org/10.1002/rcs.1779

9.

Lieberman IHMD, Hardenbrook MAMD, Wang JCMD, Guyer RDMD (2012) Assessment of pedicle screw placement accuracy, procedure time, and radiation exposure using a miniature robotic guidance system. J Spinal Disord Tech 25:241–248

10.

Ringel F, Stuer C, Reinke A, Preuss A, Behr M, Auer F, Stoffel M, Meyer B (2012) Accuracy of robot-assisted placement of lumbar and sacral pedicle screws: a prospective randomized comparison to conventional freehand screw implantation. Spine 37:E496-501. https://doi.org/10.1097/BRS.0b013e31824b7767

11.

Hu XB, Ohnmeiss DD, Lieberman IH (2013) Robotic-assisted pedicle screw placement: lessons learned from the first 102 patients. Euro Spine J 22:661–666

12.

Tsai TH, Tzou RD, Su YF, Wu CH, Tsai CY, Lin CL (2017) Pedicle screw placement accuracy of bone mounted miniature robot system. Medicine 96(3):e5835

13.

Fan Y, Peng DJ, Liu JJ, Zhang JN, Liu SC, Hao DJ (2018) Radiological and clinical differences among three assisted technologies in pedicle screw fixation of adult degenerative scoliosis. Sci Rep 8:890

14.

Rampersaud YR, Pik JH, Salonen D, Farooq S (2005) Clinical accuracy of fluoroscopic computer-assisted pedicle screw fixation: a CT analysis. Spine 30:E183-190

15.

Kim TH, Lee BH, Moon SH, Lee SH, Lee HM (2013) Comparison of adjacent segment degeneration after successful posterolateral fusion with unilateral or bilateral pedicle screw instrumentation: a minimum 10-year follow-up. Spine J 13:1208–1216. https://doi.org/10.1016/j.spinee.2013.07.431

16.

Fan Y, Du J, Zhang J, Liu S, Xue X, Huang Y, Zhang J, Hao D (2017) Comparison of accuracy of pedicle screw insertion among 4 guided technologies in spine surgery. Med Sci Monit 23:5960–5968

17.

Matis GK, Silva D, Chrysou OI, Birbilis TA, Bernardo A, Stieg PE (2012) Robotics for spinal operations: reality or alice in wonderland? Int J Med Robot 8:125–126. https://doi.org/10.1002/rcs.433

18.

Zhang JN, Fan Y, Hao DJ (2019) Risk factors for robot-assisted spinal pedicle screw malposition. Sci Rep 9:3025. https://doi.org/10.1038/s41598-019-40057-z

19.

Waschke A, Walter J, Duenisch P, Reichart R, Kalff R, Ewald C (2013) CT-navigation versus fluoroscopy-guided placement of pedicle screws at the thoracolumbar spine: single center experience of 4,500 screws. Euro Spine J 22:654–660. https://doi.org/10.1007/s00586-012-2509-3

20.

Zhang Q, Han XG, Xu YF, Fan MX, Zhao JW, Liu YJ, He D, Tian W (2020) Robotic navigation during spine surgery. Expert Rev Med Devices 17:27–32. https://doi.org/10.1080/17434440.2020.1699405

21.

Li HM, Zhang RJ, Shen CL (2020) Accuracy of pedicle screw placement and clinical outcomes of robot-assisted technique versus conventional freehand technique in spine surgery from nine randomized controlled trials: a meta-analysis. Spine 45:E111-e119. https://doi.org/10.1097/brs.0000000000003193

22.

Chen X, Feng F, Yu X, Wang S, Tu Z, Han Y, Li Q, Chen H, Chen Z, Lao L, Shen H (2020) Robot-assisted orthopedic surgery in the treatment of adult degenerative scoliosis: a preliminary clinical report. J Orthop Surg Res 15:282. https://doi.org/10.1186/s13018-020-01796-2

23.

Zhang Q, Han XG, Xu YF, Liu YJ, Liu B, He D, Sun YQ, Tian W (2019) Robot-assisted versus fluoroscopy-guided pedicle screw placement in transforaminal lumbar interbody fusion for lumbar degenerative disease. World Neurosurg 125:e429–e434. https://doi.org/10.1016/j.wneu.2019.01.097

24.

Gruetzner P, Wentzensen A, Waelti H, Vock B, Hebecker A, Nolte LP (2004) Navigation using fluoro-CT technology: concept and clinical experience in a new method for intraoperative navigation. Euro J Trauma 30:161–170

25.

Keric N, Eum DJ, Afghanyar F, Rachwal-Czyzewicz I, Renovanz M, Conrad J, Wesp DM, Kantelhardt SR, Giese A (2017) Evaluation of surgical strategy of conventional vs. percutaneous robot-assisted spinal trans-pedicular instrumentation in spondylodiscitis. J Robot Surg 11:17–25. https://doi.org/10.1007/s11701-016-0597-5

26.

Feng S, Tian W, Sun Y, Liu Y, Wei Y (2019) Effect of robot-assisted surgery on lumbar pedicle screw internal fixation in patients with osteoporosis. World Neurosurg 125:e1057–e1062. https://doi.org/10.1016/j.wneu.2019.01.243

27.

L'Orsa R, Macnab CJ, Tavakoli M (2013) Introduction to haptics for neurosurgeons. Neurosurgery 72(Suppl 1):139–153. https://doi.org/10.1227/NEU.0b013e318273a1a3

28.

Roser F, Tatagiba M, Maier G (2013) Spinal robotics: current applications and future perspectives. Neurosurgery 72(Suppl 1):12–18. https://doi.org/10.1227/NEU.0b013e318270d02c

29.

Schizas C, Thein E, Kwiatkowski B, Kulik G (2012) Pedicle screw insertion: robotic assistance versus conventional C-arm fluoroscopy. Acta Orthop Belg 78:240–245

30.

Fan MX, Liu YJ, Duan FF, Han XG, Zhao JW, Tian W (2018) Learning curve and clinical outcomes of robot assisted thoracolumbar pedicle screw fixation. J Clin Orthop Res 003:213–217
Funding
This study was funded by the Key Program from the National Natural Science Funds (81830077); the General Program from the National Natural Science Funds (81772357); the Key Project from the Science and Technology Commission of Shaanxi (2017ZDXM-SF-054); the Major Research from the Xi'an Science and Technology Department (2017123SF/YX017).
Ethics declarations
Conflict of interest
The authors declare that there are no conflicts of interest.
Additional information
Publisher's Note
Springer Nature remains neutral with regard to jurisdictional claims in published maps and institutional affiliations.
About this article
Cite this article
Du, J., Gao, L., Huang, D. et al. Radiological and clinical differences between robotic-assisted pedicle screw fixation with and without real-time optical tracking. Eur Spine J (2020). https://doi.org/10.1007/s00586-020-06641-y
Received:

Revised:

Accepted:

Published:
Keywords
Tinavi

Robot

Renaissance

Screw fixation

Lumbar

Optical tracking