Abstract
Purpose
To determine whether 'topping-off' lumbar fusions, using posterior dynamic stabilising devices (PDSs) with specific biomechanical parameters, reduces the risk of adjacent segment disease (ASD).
Methods
Survival analysis of two non-randomised cohorts, with or without 'topping-off' (T/O or NoT/O), compared the risk of further surgery for ASD following multi-level posterior lumbar interbody fusion (PLIF). The study sample comprised consecutive patients, aged 55 + years, with degenerative pathology at 2, 3 or 4 levels. The NoT/O cohort underwent surgery between August 1993 and September 2019 (n = 425) and the T/O cohort between September 2011 and September 2019 (n = 146). Comparison of ASD risk between cohorts used Cox proportional hazards (CPH) modelling and Kaplan–Meier survivorship analysis.
Results
Analysis was completed on 571 operations across 507 patients. Median follow-up was 63 months (range 0.3–196) and 37 months (range 1.7–98) for the NoT/O and T/O cohorts, respectively. Of 423 patients, 125 (29.6%) patients in the NoT/O cohort underwent further surgery for ASD and 16/145 (11.03%) in the T/O cohort. The hazard ratio (T/O: NoT/O) from the CPH model was 0.42 (95% CL: 0.24–0.74, P = 0.003). Mean annual incidence across the first 5 years was 5.0% in the NoT/O cohort compared with 2.8% in the T/O cohort (P = 0.029). No patient required surgery or developed ASD at a 'topped-off' level. Two patients developed asymptomatic pedicle screw loosening at the level of the PDS device. PROMs were similar between cohorts.
Conclusion
This large, non-randomised, observational study found an approximately 60% reduction in further surgery for ASD with the use of the PDS to 'top-off' PLIF fusions. PDS device-related complications were very low.
Access options
Buy single article
Instant access to the full article PDF.
US$ 39.95
Tax calculation will be finalised during checkout.
Subscribe to journal
Immediate online access to all issues from 2019. Subscription will auto renew annually.
US$ 119
Tax calculation will be finalised during checkout.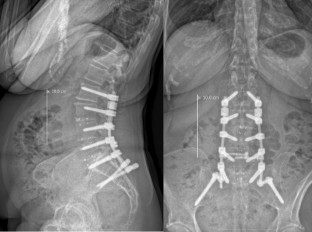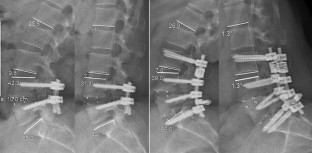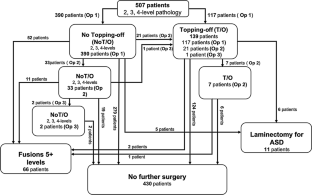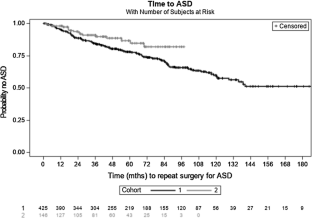 References
1.

Martin BI, Mirza SK, Spina N, Spiker WR, Lawrence B, Brodke DS (2019) Trends in lumbar fusion procedure rates and associated hospital costs for degenerative spinal diseases in the United States 2004 to 2015. Spine (Phila Pa 1976) 44:369–376

2.

Lund T, Oxland TR (2011) Adjacent level disk disease—is it really a fusion disease? Orthop Clin North Am 42:529–541

3.

Harrop JS, Youssef JA, Maltenfort M, Vorwald P, Jabbour P, Bono CM, Goldfarb N, Vaccaro AR, Hilibrand AS (2008) Lumbar adjacent segment degeneration and disease after arthrodesis and total disc arthroplasty. Spine (Phila Pa 1976) 33:1701–1707

4.

Hashimoto K, Aizawa T, Kanno H, Itoi E (2019) Adjacent segment degeneration after fusion spinal surgery—a systematic review. Int Orthop 43:987–993

5.

Malakoutian M, Volkheimer D, Street J, Dvorak MF, Wilke HJ, Oxland TR (2015) Do in vivo kinematic studies provide insight into adjacent segment degeneration? A qualitative systematic literature review. Eur Spine J 24:1865

6.

Volkheimer D, Malakoutian M, Oxland TR, Wilke H-J (2015) Limitations of current in vitro test protocols for investigation of instrumented adjacent segment biomechanics: critical analysis of the literature. Eur Spine J 24:1882–1892

7.

Chou PH, Lin HH, An HS, Liu KY, Su WR, Lin CL (2017) Could the topping-off technique be the preventive strategy against adjacent segment disease after pedicle screw-based fusion in lumbar degenerative diseases? Syst Rev Biomed Res Int 2017:4385620

8.

Bothmann M, Kast E, Boldt GJ, Oberle J (2008) Dynesys fixation for lumbar spine degeneration. Neurosurg Rev 31:189–196

9.

Gedet P, Haschtmann D, Thistlethwaite PA, Ferguson SJ (2009) Comparative biomechanical investigation of a modular dynamic lumbar stabilization system and the Dynesys system. Eur Spine J 18:1504–1511

10.

Herren C, Sobottke R, Pishnamaz M, Scheyerer MJ, Bredow J, Westermann L, Berger EM, Oikonomidis S, Eysel P, Siewe J (2018) The use of the DTO™ hybrid dynamic device: a clinical outcome- and radiological-based prospective clinical trial. BMC Musculoskelet Disord 19:199

11.

Putzier M, Schneider SV, Funk JF, Tohtz SW, Perka C (2005) The surgical treatment of the lumbar disc prolapse: nucleotomy with additional transpedicular dynamic stabilization versus nucleotomy alone. Spine (Phila Pa 1976) 30:E109–E114

12.

Li Z, Li F, Yu S, Ma H, Chen Z, Zhang H, Fu Q (2013) Two-year follow-up results of the isobar semi-rigid rod system for the treatment of lumbar degenerative disease. J Clin Neurosci 20:394–399

13.

Wilke HJ, Heuer F, Schmidt H (2009) Prospective design delineation and subsequent in vitro evaluation of a new posterior dynamic stabilization system. Spine (Phila Pa 1976) 34:255–261

14.

Sears WR, Sergides IG, Kazemi N, Smith M, White GJ, Osburg B (2011) Incidence and prevalence of surgery at segments adjacent to a previous posterior lumbar arthrodesis. Spine J 11:11–20

15.

Allison PD (2010) Survival analysis using SAS®: a practical guide, 2nd edn. SAS Institute Inc, Cary, North Carolina

16.

Copay AG, Glassman SD, Subach BR, Berven S, Schuler TC, Carreon LY (2008) Minimum clinically important differences in lumbar spine surgery patients: a choice of methods using the Oswestry Disability Index, medical outcomes study questionnaire short form 36, and pain scales. Spine J 8:968–974

17.

Schmoelz W, Huber JF, Nydegger T, Claes L, Wilke HJ (2006) Influence of a dynamic stabilisation system on load bearing of a bridged disc: an in vitro study of intradiscal pressure. Eur Spine J 15:1276–1285

18.

Cunningham B, Colleran D, Holsapple G, et al (2006) Lumbar spine kinematics: a radiographic assessment of the change in interpedicular distance throughout the range of motion. In: SAS proceedings—symposia handouts, abstracts of podium presentations and poster presentations. Montreal, Quebec, Canada 58
Acknowledgements
Paradigm Spine (Wurmlingen, Germany) for funding the statistical analysis. Mr Gavin White for maintaining the clinical research registry and reviewing the manuscript. Ms Alexandra Sydney-Jones and Ms Mellanie Taimaaiono for patient follow-up.
Ethics declarations
Conflict of interest
William R Sears is a Consultant to Paradigm Spine, Wurmlingen, Germany and receives Royalties for a lumbar spinal fusion implant from Medtronic, TN, USA. Funding for the study's statistical analysis was provided by Paradigm Spine, Wurmlingen, Germany.
Additional information
Publisher's Note
Springer Nature remains neutral with regard to jurisdictional claims in published maps and institutional affiliations.
Communicated by AUSTRALIA.
About this article
Cite this article
Sears, W.R., Solterbeck, A.C. & Kos, J.A. Risk of adjacent segment disease after 'topping-off' multi-level lumbar fusions with posterior dynamic stabilisers: an observational cohort study. Eur Spine J (2020). https://doi.org/10.1007/s00586-020-06628-9
Received:

Revised:

Accepted:

Published:
Keywords
Topping-off

Adjacent segment disease

Spinal fusion

Posterior dynamic stabilisation