Abstract
Purpose
Recent studies have revealed the impact of spinopelvic factors on the risk of dislocation after total hip arthroplasty (THA). This study examined the risk factors of impingement that can lead to dislocation using pre- and postoperative spinopelvic radiographs.
Methods
We studied 143 consecutive patients with end-stage hip osteoarthritis who were eligible for THA at our institute. Pre-operative pelvic incidence (PI), sacral slope (SS), lumbar lordosis (LL), sagittal vertical axis (SVA) in the standing and sitting position, and centre-edge angle (CE) were measured. The post-operative SS, LL, SVA, femoral shaft angle, and radiographic alignment of the acetabular component were also measured. We performed a multiple linear regression analysis to determine the risk factors for anterior and posterior impingement using pre-operative demographic and radiographic parameters. The clearance of anterior and posterior implant impingement was used for the surrogate-dependent variable for dislocation.
Results
A total of 95 patients were included in the analysis. There were significant differences in SS, LL, and SVA between the standing and sitting positions (P < 0.001). A multiple linear regression analysis showed that the PI–LL, LL changes, and CE were associated with the posterior impingement (β = − 0.21, 0.24, and −0.27, respectively). Moreover, PI–LL was also associated with the anterior impingement in the sitting position (β = − 0.27).
Conclusion
Our results suggest that a flatback with a rigid spine leads to posterior impingement, and a well-balanced spine leads to anterior impingement, which can be a potential risk factor for dislocation.
Access options
Buy single article
Instant access to the full article PDF.
US$ 39.95
Tax calculation will be finalised during checkout.
Subscribe to journal
Immediate online access to all issues from 2019. Subscription will auto renew annually.
US$ 119
Tax calculation will be finalised during checkout.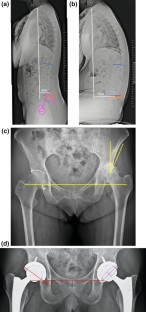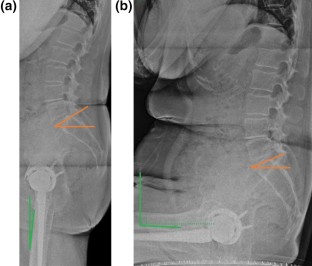 References
1.

Khatod M, Barber T, Paxton E, Namba R, Fithian D (2006) An analysis of the risk of hip dislocation with a contemporary total joint registry. Clin Orthop Relat Res 447:19–23. https://doi.org/10.1097/01.blo.0000218752.22613.78

2.

Onggo JR, Nambiar M, Onggo JD, Phan K, Ambikaipalan A, Babazadeh S, Hau R (2019) Clinical outcomes and complication profile of total hip arthroplasty after lumbar spine fusion: a meta-analysis and systematic review. Eur Spine J. https://doi.org/10.1007/s00586-019-06201-z

3.

Lewinnek GE, Lewis JL, Tarr R, Compere CL, Zimmerman JR (1978) Dislocations after total hip-replacement arthroplasties. J Bone Joint Surg Am 60(2):217–220

4.

Buckland AJ, Puvanesarajah V, Vigdorchik J, Schwarzkopf R, Jain A, Klineberg EO, Hart RA, Callaghan JJ, Hassanzadeh H (2017) Dislocation of a primary total hip arthroplasty is more common in patients with a lumbar spinal fusion. Bone Joint J 99-B(5):585–591. https://doi.org/10.1302/0301-620x.99b5.bjj-2016-0657.r1

5.

Gausden EB, Parhar HS, Popper JE, Sculco PK, Rush BNM (2018) Risk factors for early dislocation following primary elective total hip arthroplasty. J Arthroplasty 33(5):1567–1571. https://doi.org/10.1016/j.arth.2017.12.034

6.

Bedard NA, Martin CT, Slaven SE, Pugely AJ, Mendoza-Lattes SA, Callaghan JJ (2016) Abnormally High dislocation rates of total hip arthroplasty after spinal deformity surgery. J Arthroplasty 31(12):2884–2885. https://doi.org/10.1016/j.arth.2016.07.049

7.

Ike H, Dorr LD, Trasolini N, Stefl M, McKnight B, Heckmann N (2018) Spine-pelvis-hip relationship in the functioning of a total hip replacement. J Bone Joint Surg Am 100(18):1606–1615. https://doi.org/10.2106/jbjs.17.00403

8.

Phan D, Bederman SS, Schwarzkopf R (2015) The influence of sagittal spinal deformity on anteversion of the acetabular component in total hip arthroplasty. Bone Joint J 97-B(8):1017–1023. https://doi.org/10.1302/0301-620x.97b8.35700

9.

Abdel MP, von Roth P, Jennings MT, Hanssen AD, Pagnano MW (2016) What safe zone? the vast majority of dislocated THAs are within the Lewinnek safe zone for acetabular component position. Clin Orthop Relat Res 474(2):386–391. https://doi.org/10.1007/s11999-015-4432-5

10.

Dorr LD, Callaghan JJ (2019) Death of the Lewinnek "Safe Zone". J Arthroplasty 34(1):1–2. https://doi.org/10.1016/j.arth.2018.10.035

11.

Luthringer TA, Vigdorchik JM (2019) A preoperative workup of a "Hip-Spine" total hip arthroplasty patient: a simplified approach to a complex problem. J Arthroplasty 34(7S):S57–S70. https://doi.org/10.1016/j.arth.2019.01.012

12.

Jean L (2014) Influence of age and sagittal balance of the spine on the value of the pelvic incidence. Eur Spine J 23(7):1394–1399. https://doi.org/10.1007/s00586-014-3207-0

13.

Morvan G, Mathieu P, Vuillemin V, Guerini H, Bossard P, Zeitoun F, Wybier M (2011) Standardized way for imaging of the sagittal spinal balance. Eur Spine J 20(Suppl 5):602–608. https://doi.org/10.1007/s00586-011-1927-y

14.

Esposito CI, Miller TT, Kim HJ, Barlow BT, Wright TM, Padgett DE, Jerabek SA, Mayman DJ (2016) Does degenerative lumbar spine disease influence femoroacetabular flexion in patients undergoing total hip arthroplasty? Clin Orthop Related Res 474(8):1788–1797. https://doi.org/10.1007/s11999-016-4787-2

15.

Wiberg G (1939) Studies on dysplastic acetabula and congenital subluxation of the hip joint: with special reference to the complication of osteoarthritis. Acta Chir Scand 83(58):53–68

16.

Schwab F, Ungar B, Blondel B, Buchowski J, Coe J, Deinlein D, DeWald C, Mehdian H, Shaffrey C, Tribus C, Lafage V (2012) Scoliosis research society-schwab adult spinal deformity classification: a validation study. Spine 37(12):1077–1082. https://doi.org/10.1097/brs.0b013e31823e15e2

17.

Ochi H, Baba T, Homma Y, Matsumoto M, Nojiri H, Kaneko K (2016) Importance of the spinopelvic factors on the pelvic inclination from standing to sitting before total hip arthroplasty. Eur Spine J 25(11):3699–3706. https://doi.org/10.1007/s00586-015-4217-2

18.

Walter SD, Eliasziw M, Donner A (1998) Sample size and optimal designs for reliability studies. Stat Med 17(1):101–110. https://doi.org/10.1002/(sici)1097-0258(19980115)17:1%3c101:aid-sim727%3e3.0.co;2-e

19.

Saadat E, Diekmann G, Takemoto S, Ries MD (2012) Is an algorithmic approach to the treatment of recurrent dislocation after THA effective? Clin Orthop Relat Res 470(2):482–489. https://doi.org/10.1007/s11999-011-2101-x

20.

Jolles BM, Zangger P, Leyvraz PF (2002) Factors predisposing to dislocation after primary total hip arthroplasty: a multivariate analysis. J Arthroplasty 17(3):282–288. https://doi.org/10.1054/arth.2002.30286

21.

Widmer KH, Zurfluh B (2004) Compliant positioning of total hip components for optimal range of motion. J Orthop Res 22(4):815–821. https://doi.org/10.1016/j.orthres.2003.11.001

22.

Lazennec JY, Brusson A, Rousseau MA (2013) Lumbar-pelvic-femoral balance on sitting and standing lateral radiographs. Orthop Traumatol Surg Res 99(1 Suppl):S87–S103. https://doi.org/10.1016/j.otsr.2012.12.003

23.

Lazennec JY, Clark IC, Folinais D, Tahar IN, Pour AE (2017) What is the impact of a spinal fusion on acetabular implant orientation in functional standing and sitting positions? J Arthroplasty 32(10):3184–3190. https://doi.org/10.1016/j.arth.2017.04.051

24.

Roussouly P, Pinheiro-Franco JL (2011) Biomechanical analysis of the spino-pelvic organization and adaptation in pathology. Eur Spine J 20(Suppl 5):609–618. https://doi.org/10.1007/s00586-011-1928-x

25.

Okuda T, Fujita T, Kaneuji A, Miaki K, Yasuda Y, Matsumoto T (2007) Stage-specific sagittal spinopelvic alignment changes in osteoarthritis of the hip secondary to developmental hip dysplasia. Spine 32(26):E816–E819. https://doi.org/10.1097/brs.0b013e31815ce695

26.

Loppini M, Longo UG, Ragucci P, Trenti N, Balzarini L, Grappiolo G (2017) Analysis of the pelvic functional orientation in the sagittal plane: a radiographic study with EOS 2D/3D technology. J Arthroplasty 32(3):1027–1032. https://doi.org/10.1016/j.arth.2016.09.015
Acknowledgements
This work was supported by JSPS KAKENHI Grant Number 19K18487.
Ethics declarations
Conflict of interest
None of the authors has any potential conflict of interest.
Additional information
Publisher's Note
Springer Nature remains neutral with regard to jurisdictional claims in published maps and institutional affiliations.
About this article
Cite this article
Hagiwara, S., Orita, S., Nakamura, J. et al. Impact of spinal alignment and stiffness on impingement after total hip arthroplasty: a radiographic study of pre- and post-operative spinopelvic alignment. Eur Spine J (2020). https://doi.org/10.1007/s00586-020-06589-z
Received:

Revised:

Accepted:

Published:
Keywords
Spinal alignment

Total hip arthroplasty

Impingement

Risk factor

Spinal flexibility