Abstract
Study design
A systematic review and meta-analysis.
Objective
The purpose of this study was to evaluate the clinical outcome and safety of sacroplasty for patients with secondary metastatic lesions to the sacrum.
Methods
Several databases, including the Cochrane library, PubMed and EMBASE, were systematically searched to identify potentially eligible articles in English language. All the above databases were searched until December 2019. The search strategy was based on the combination of the following keywords: sacroplasty AND secondary tumours OR metastasis OR metastases. The reference list of the selected literature was also reviewed and a standard PRISMA template utilised.
Results
From a total of 102 articles initially identified, a final seven studies were identified as meeting the inclusion criteria. A total of 107 patients from these studies were included. The follow-up ranged from immediate post-operatively to 30.5 months. The mean preoperative VAS was 8.38 (range 6.9–9.3), which improved significantly to 3.01 (range 1.12–4.7) post-operatively (p < 0.001). The most frequent complication reported was cement leakage, which occurred in 26 patients (25.4%), but without any neurological or other adverse sequelae.
Conclusions
Sacroplasty in the management of secondary sacral tumours is a safe procedure that can achieve a significant reduction in pain, as quantified by VAS scores, and low complication rate.
This is a preview of subscription content, log in to check access.
Access options
Buy single article
Instant access to the full article PDF.
US$ 39.95
Tax calculation will be finalised during checkout.
Subscribe to journal
Immediate online access to all issues from 2019. Subscription will auto renew annually.
US$ 199
Tax calculation will be finalised during checkout.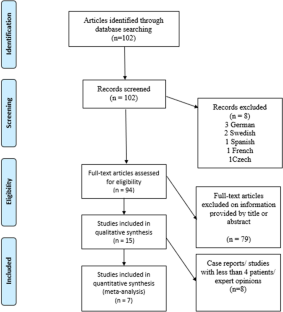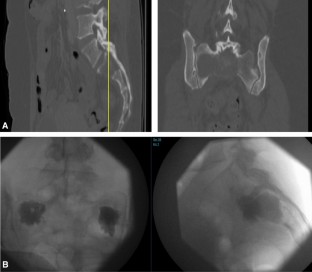 References
1.

Aaron AD (1994) The management of cancer metastatic to bone. JAMA 272(15):1206–1209

2.

Quraishi NA, Giannoulis KE, Edwards KL et al (2012) Management of metastatic sacral tumours. Eur Spine J 21(10):1984–1993

3.

Quraishi NA, Giannoulis KE, Manoharan SR et al (2013) Surgical treatment of cauda equina compression as a result of metastatic tumours of the lumbosacral junction and sacrum. Eur Spine J 22(1):S33–S37

4.

Kelley SP, Ashford RU, Rao AS et al (2007) Primary bone tumours of the spine: a 42-year survey from the Leeds Regional Bone Tumour Registry. Eur Spine J 16(3):405–409

5.

Vialle LR (2015) AOSpine Masters Series. Thieme Medical Publishers, New York

6.

Bilsky MH, Lis E, Raizer J et al (1999) The diagnosis and treatment of metastatic spinal tumor. Oncologist 4(6):459–469

7.

Raque GH Jr, Vitaz TW, Shields CB (2001) Treatment of neoplastic diseases of the sacrum. J Surg Oncol 76(4):301–307

8.

Verlaan JJ, Kuperus JS, Slooff WB et al (2014) Complications, secondary interventions and long term morbidity after en bloc sacrectomy. Eur Spine J 24(10):2209–2219

9.

Moussazadeh N, Laufer I, Werner T et al (2015) Sacroplasty for cancer-associated insufficiency fractures. Neurosurgery 76(4):446–450 discussion 50

10.

Bayley E, Srinivas S, Boszczyk BM (2009) Clinical outcomes of sacroplasty in sacral insufficiency fractures: a review of the literature. Eur Spine J 18(9):1266–1271

11.

Sun G, Jin P, Li M et al (2012) Three-dimensional C-arm computed tomography reformation combined with fluoroscopic-guided sacroplasty for sacral metastases. Support Care Cancer 20(9):2083–2088

12.

Andresen R, Radmer S, Ludtke CW et al (2014) Balloon sacroplasty as a palliative pain treatment in patients with metastasis-induced bone destruction and pathological fractures. Rofo 186(9):881–886

13.

Georgy BA (2009) Percutaneous cement augmentations of malignant lesions of the sacrum and pelvis. AJNR Am J Neuroradiol 30(7):1357–1359

14.

Basile A, Tsetis D, Cavalli M et al (2010) Sacroplasty for local or massive locaization of multiple myeloma. Cardiovasc Intervent Radiol 33(6):1270–1277

15.

Kortman K, Ortiz O, Miller T et al (2013) Multicenter study to assess the efficacy and safety of sacroplasty in patients with osteoporotic sacral insufficincey fractures or pathologic sacral lesions. J Neurointerv Surg 5(5):461–466

16.

Tian QH, Liu HF, Wang T et al (2019) Percutaneous sacroplasty for painful sacral metastases involving multiple sacral vertebral bodies: initial experience with an interpedicular approach. Korean J Radiol 20(6):939–946

17.

Galibert P, Deramond H, Rosat P et al (1987) Preliminary note on the treatment of vertebral angioma by percutaneous acrylic vertebroplasty. Neurochirurgie 33(2):166–168

18.

Mendel E, Bourekas E, Gerszten P et al (2009) Percutaneous techniques in the treatment of spine tumors: what are the diagnostic and therapeutic indications and outcomes? Spine (Phila Pa 1976) 34(22 Suppl):S93–100

19.

Barr JD, Barr MS, Lemley TJ et al (2000) Percutaneous vertebroplasty for pain relief and spinal stabilization. Spine (Phila Pa 1976) 25(8):923–928

20.

Chow E, Wong R, Hruby G et al (2001) Prospective patient-based assessment of effectiveness of palliative radiotherapy for bone metastases. Radiother Oncol 61(1):77–82

21.

Gomez-Iturriaga A, Cacicedo J, Navarro A et al (2015) Incidence of pain flare following palliative radiotherapy for symptomatic bone metastases: multicenter prospective obsevational study. BMC Palliat Care 14:48

22.

Pilitsis JG, Rengachary SS (2001) The role of vertebroplasty in metastatic spinal disease. Neurosurg Focus 11(6):e9

23.

Whitlow CT, Yazdani SK, Reedy ML et al (2007) Investigating sacroplasty: technical considerations and finite element analysis of polymethylmethacrylate infusion into cadaveric sacrum. AJNR Am J Neuroradiol 28(6):1036–1041

24.

Roedel B, Clarencon F, Touraine S et al (2015) Has the percutaneous vertebroplasty a role to prevent progression or local recurrence in spinal metastases of breast cancer? J Neuroradiol 42(4):222–228

25.

Nelson DA, Barker ME, Hamlin BH (1997) Thermal effects of acrylic cementation at bone tumour sites. Int J Hyperthermia 13(3):287–306

26.

Pereira LP, Clarencon F, Cormier E et al (2013) Safety and effectiveness of sacroplasty: a large single-centre experience in 58 patients with tumours or osteoporotic insufficient fractures treated under fluoroscopic guidance. Eur Radiol 23(10):2764–2772
Ethics declarations
Conflict of interest
All authors declare that they have no conflict of interest.
Additional information
Publisher's Note
Springer Nature remains neutral with regard to jurisdictional claims in published maps and institutional affiliations.
About this article
Cite this article
Tarawneh, A.M., Sabou, S., AlKalbani, S. et al. Clinical outcomes of sacroplasty for metastatic sacral tumours: a systematic review and meta-analysis. Eur Spine J (2020). https://doi.org/10.1007/s00586-020-06562-w
Received:

Revised:

Accepted:

Published:
Keywords
Sacroplasty

Cement augmentation

Sacral metastases

Secondary tumours