Abstract
Purpose
We often encounter elementary school-aged children with fresh lumbar spondylolysis and non-union of bone. They may have factors that impede healing, and treatment outcomes need improvement. The purpose of this study was to investigate elementary school-aged patients with fresh lumbar spondylolysis and to identify characteristics that can aid in prompt diagnosis and proper therapy.
Methods
We retrospectively compared the characteristics of fresh lumbar spondylolysis in elementary school-aged children with those of older patients. We included patients aged 6–18 years with lower back pain and evidence of bone marrow oedema of lumbar pedicles on magnetic resonance imaging (MRI). The elementary school-aged group (group E) included 100 patients aged 6–12 years, and the senior group (group S) included 251 patients aged 13–18 years. We recorded patient sex, duration of lower back pain, injured site (lumbar level, unilateral/bilateral), presence of contralateral pars defect with evidence of high signal change on MRI (short tau inversion recovery), presence of spina bifida occulta (SBO), and follow-up treatment interruption rate.
Results
One-third of the patients in group E were female, and there was an even smaller proportion of females in group S. L5 lumbar spondylolysis was more common in group E. The treatment interruption rate was lower in group E. L5 SBO and contralateral pars defect were more common in group E.
Conclusion
L5 lumbar spondylolysis, L5 SBO, and contralateral pars defect were important diagnostic factors in elementary school-aged patients. Identification of these characteristics will aid in prompt diagnosis and proper therapy.
Access options
Buy single article
Instant access to the full article PDF.
US$ 39.95
Tax calculation will be finalised during checkout.
Subscribe to journal
Immediate online access to all issues from 2019. Subscription will auto renew annually.
US$ 119
Tax calculation will be finalised during checkout.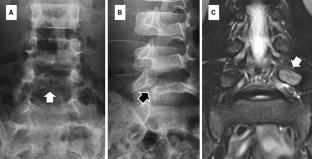 Data Availability
The datasets analysed during the current study are available from the corresponding author on reasonable request.
References
1.

Tatsumura M, Gamada H, Ishimoto R et al (2018) Prevalence of curable and pseudoarthrosis stages of adolescent lumbar spondylolysis. J Rural Med 13:105–109

2.

Nitta A, Sakai T, Goda Y et al (2016) Prevalence of symptomatic lumbar spondylolysis in pediatric patients. Orthopedics 39:e434–e437

3.

Sakai T, Goda Y, Tezuka F et al (2015) Characteristics of lumbar spondylolysis in elementary school age children. Eur Spine J 25:602–606

4.

Sairyo K, Katoh S, Ikata T et al (2001) Development of spondylolytic olisthesis in adolescents. Spine J 1:171–175

5.

Fujii K, Katoh S, Sairyo K et al (2004) Union of Defects in the Pars Interarticularis of the Lumbar Spine in Children and Adolescents. The Radiological Outcome After Conservative Treatment. J Bone Joint Surg Br 86:225–231

6.

Sakai T, Tezuka F, Yamashita K et al (2017) Conservative treatment for bony healing in pediatric lumbar spondylolysis. Spine 42:e716–e720

7.

Ali MA, Lestrel PE, Ohtsuki F (2001) Adolescent growth events in eight decades of Japanese cohort data: sex differences. Am J Hum Biol 13:390–397

8.

Ohta-Fukushima M, Mutoh Y, Takasugi S et al (2002) Characteristics of stress fractures in young athletes under 20 years. J Sports Med Phys Fitness 42:198–206

9.

Urrutia J, Zamora T, Cuellar J (2017) Does the prevalence of spondylolysis and spina bifida occulta observed in pediatric patients remain stable in adults? Clin Spine Surg 30:e1117–e1121

10.

Sakai T, Sairyo K, Takao S et al (2009) Incidence of lumbar spondylolysis in the general population in Japan based on multidetector computed tomography scans from two thousand subjects. Spine 34:2346–2350

11.

Crawford CH, Ledonio CG, Bess RS et al (2015) Current evidence regarding the etiology, prevalence, natural history, and prognosis of pediatric lumbar spondylolysis: a report from the scoliosis research society evidence-based medicine committee. Spine Deform 3:12–29

12.

Sakai T, Goto T, Sugiura K et al (2018) Bony healing of discontinuous laminar stress fractures due to contralateral pars defect or spina bifida occulta. Spine Surg Relat Res 3:67–70

13.

Kim WC, Hiroshima K, Imaeda T (2006) Multicenter study for Legg-Calve-Perthes disease in Japan. J Orthop Sci 11:333–341

14.

Goda Y, Sakai T, Sakamaki T et al (2014) Analysis of MRI signal changes in the adjacent pedicle of adolescent patients with fresh lumbar spondylolysis. Eur Spine J 23:1892–1895

15.

Urrutia J, Cuellar J, Zamora T (2016) Spondylolysis and spina bifida occulta in pediatric patients: prevalence study using computed tomography as a screening method. Eur Spine J 25:590–595

16.

Ucar DH, Omeroglu H, Eren A et al (2003) Occult spinal dysraphism and its association with hip dysplasia in females. Int Orthop 27:70–72

17.

Yamada A, Sairyo K, Shibuya I et al (2013) Lumbar spondylolysis in juveniles from the same family: a report of three cases and a review of the literature. Case Rep Orthop 2013:272514. https://doi.org/10.1155/2013/272514
Funding
None of the authors received financial support for this study.
Ethics declarations
Conflict of interest
The authors declare no conflicts of interest.
Ethics approval
The Research Ethics Committee of our institution has confirmed that no ethical approval was required for this retrospective observational study.
Informed consent
We obtained no written patient consent for this retrospective survey. The retrospective review of medical records and radiographs received the approval of our institutional review board.
Additional information
Publisher's Note
Springer Nature remains neutral with regard to jurisdictional claims in published maps and institutional affiliations.
Electronic supplementary material
Below is the link to the electronic supplementary material.
About this article
Cite this article
Tsukagoshi, Y., Kamegaya, M., Tatsumura, M. et al. Characteristics and diagnostic factors associated with fresh lumbar spondylolysis in elementary school-aged children. Eur Spine J 29, 2465–2469 (2020). https://doi.org/10.1007/s00586-020-06553-x
Received:

Revised:

Accepted:

Published:

Issue Date:
Keywords
Lumbar spondylolysis

Elementary school

Spina bifida occulta

Pseudarthrosis

Pars defect