Abstract
Purpose
The aim of this study was to identify factors that are independently associated with the 30-day unplanned readmission rate of patients who underwent elective spine surgery.
Methods
This study was a retrospective cohort study conducted in a single tertiary academic hospital. The study analyzed the electronic health records of adult patients aged 18 years or older who underwent inpatient elective spine surgery under general anesthesia between January 2010 and March 2018. The primary endpoint was an unplanned readmission within 30 days. The study used uni- and multivariable logistic regression analyses.
Result
A total of 7,025 patients were included in the analysis. Among the patients included in the analysis, 215 patients (3.1%) had unplanned readmission within 30 days after being discharged following elective spine surgery. In the complete-case analysis in the multivariable model, the factors associated with a 30-day unplanned readmission were found to be preoperative ASA physical status of ≥ 3 (vs 1) (OR: 2.21, 95% CI: 1.27, 3.84; P = 0.005), cancer (OR: 4.60, 95% CI: 2.72, 7.77; P < 0.001), and pRBC transfusion (OR: 1.81, 95% CI: 1.20, 2.71; P = 0.004).
Conclusion
The present study showed that preoperative ASA physical status of ≥ 3, diagnosis of cancer, and transfusion of pRBC were associated with an increased 30-day unplanned readmission rate after elective spine surgery.
Access options
Buy single article
Instant access to the full article PDF.
USD 39.95
Price excludes VAT (USA)
Tax calculation will be finalised during checkout.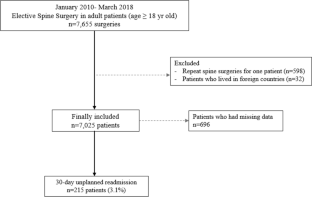 Similar content being viewed by others
References
Fehlings MG, Tetreault L, Nater A, Choma T, Harrop J, Mroz T, Santaguida C, Smith JS (2015) The aging of the global population: the changing epidemiology of disease and spinal disorders. Neurosurgery 77(Suppl 4):S1–5. https://doi.org/10.1227/NEU.0000000000000953

Kobayashi K, Ando K, Nishida Y, Ishiguro N, Imagama S (2018) Epidemiological trends in spine surgery over 10 years in a multicenter database. Eur Spine J 27(8):1698–1703. https://doi.org/10.1007/s00586-018-5513-4

Soffin EM, Vaishnav AS, Wetmore DS, Barber L, Hill P, Gang CH, Beckman JD, Albert TJ, Qureshi SA (2019) Design and implementation of an enhanced recovery after surgery (ERAS) Program for minimally invasive lumbar decompression spine surgery: initial experience. Spine (Phila Pa 1976) 44(9):E561–E570. https://doi.org/10.1097/BRS.0000000000002905

Wainwright TW, Immins T, Middleton RG (2016) Enhanced recovery after surgery (ERAS) and its applicability for major spine surgery. Best Pract Res Clin Anaesthesiol 30(1):91–102. https://doi.org/10.1016/j.bpa.2015.11.001

Bernatz JT, Anderson PA (2015) Thirty-day readmission rates in spine surgery: systematic review and meta-analysis. Neurosurg Focus 39(4):E7. https://doi.org/10.3171/2015.7.FOCUS1534

Copeland LA, Graham LA, Richman JS, Rosen AK, Mull HJ, Burns EA, Whittle J, Itani KM, Hawn MT (2017) A study to reduce readmissions after surgery in the veterans health administration: design and methodology. BMC Health Serv Res 17(1):198. https://doi.org/10.1186/s12913-017-2134-2

Jencks SF, Williams MV, Coleman EA (2009) Rehospitalizations among patients in the Medicare fee-for-service program. N Engl J Med 360(14):1418–1428. https://doi.org/10.1056/NEJMsa0803563

Merkow RP, Ju MH, Chung JW, Hall BL, Cohen ME, Williams MV, Tsai TC, Ko CY, Bilimoria KY (2015) Underlying reasons associated with hospital readmission following surgery in the United States. JAMA 313(5):483–495. https://doi.org/10.1001/jama.2014.18614

Elsamadicy AA, Sergesketter A, Adogwa O, Ongele M, Gottfried ON (2018) Complications and 30-Day readmission rates after craniotomy/craniectomy: a single Institutional study of 243 consecutive patients. J Clin Neurosci 47:178–182. https://doi.org/10.1016/j.jocn.2017.09.021

Spataro E, Durakovic N, Kallogjeri D, Nussenbaum B (2017) Complications and 30-day hospital readmission rates of patients undergoing tracheostomy: a prospective analysis. Laryngoscope 127(12):2746–2753. https://doi.org/10.1002/lary.26668

Xiao H, Quan H, Pan S, Yin B, Luo W, Tang M, Ouyang Y, Tang W (2018) Incidence, causes and risk factors for 30-day readmission after radical gastrectomy for gastric cancer: a retrospective study of 2,023 patients. Sci Rep 8(1):10582. https://doi.org/10.1038/s41598-018-28850-8

Singh S, Sparapani R, Wang MC (2018) Variations in 30-day readmissions and length of stay among spine surgeons: a national study of elective spine surgery among US Medicare beneficiaries. J Neurosurg Spine 29(3):286–291. https://doi.org/10.3171/2018.1.SPINE171064

Sivaganesan A, Zuckerman S, Khan I, Nian H, Harrell FE Jr, Pennings JS, Harbaugh R, Foley KT, Bydon M, Asher AL, Devin CJ, Archer KR (2019) Predictive model for medical and surgical readmissions following elective lumbar spine surgery: a national study of 33,674 patients. Spine (Phila Pa 1976) 44(8):588–600. https://doi.org/10.1097/BRS.0000000000002883

Karahalios A, Baglietto L, Carlin JB, English DR, Simpson JA (2012) A review of the reporting and handling of missing data in cohort studies with repeated assessment of exposure measures. BMC Med Res Methodol 12:96. https://doi.org/10.1186/1471-2288-12-96

Rubin DB, Schenker N (1991) Multiple imputation in health-are databases: an overview and some applications. Stat Med 10(4):585–598

De Cassai A, Boscolo A, Tonetti T, Ban I, Ori C (2019) Assignment of ASA-physical status relates to anesthesiologists' experience: a survey-based national-study. Korean J Anesthesiol 72(1):53–59. https://doi.org/10.4097/kja.d.18.00224

Balakumar V, Murugan R, Sileanu FE, Palevsky P, Clermont G, Kellum JA (2017) Both positive and negative fluid balance may be associated with reduced long-term survival in the critically Ill. Crit Care Med 45(8):e749–e757. https://doi.org/10.1097/CCM.0000000000002372

Selewski DT, Cornell TT, Lombel RM, Blatt NB, Han YY, Mottes T, Kommareddi M, Kershaw DB, Shanley TP, Heung M (2011) Weight-based determination of fluid overload status and mortality in pediatric intensive care unit patients requiring continuous renal replacement therapy. Intensive Care Med 37(7):1166–1173. https://doi.org/10.1007/s00134-011-2231-3

O'Connor ME, Prowle JR (2015) Fluid overload. Crit Care Clin 31(4):803–821. https://doi.org/10.1016/j.ccc.2015.06.013

Yoo S, Lee HB, Han W, Noh DY, Park SK, Kim WH, Kim JT (2019) Total intravenous anesthesia versus inhalation anesthesia for breast cancer surgery: a retrospective cohort study. Anesthesiology 130(1):31–40. https://doi.org/10.1097/ALN.0000000000002491

Henderson WG, Daley J (2009) Design and statistical methodology of the national surgical quality improvement program: why is it what it is? Am J Surg 198(5 Suppl):S19–27. https://doi.org/10.1016/j.amjsurg.2009.07.025

Benzon H, Rathmell JP, Wu CL, Turk DC, Argoff CE (2008) Raj's practical management of pain. Elsevier Health Sciences, Amsterdam

Jacox A, Carr D, Payne R, Berde C, Breitbart W, Cain J, Chapman R, Cleeland C, Ferrell B, Finley R (1994) Management of cancer pain. Am Fam Phys 49(8):1853–1868

Little RJ, Rubin DB (2014) Statistical analysis with missing data, vol 333. Wiley, New York

White IR, Royston P (2009) Imputing missing covariate values for the Cox model. Stat Med 28(15):1982–1998. https://doi.org/10.1002/sim.3618

Phan K, Kim JS, Lee NJ, Kothari P, Cho SK (2017) Relationship between ASA scores and 30-day readmissions in patients undergoing anterior cervical discectomy and fusion. Spine (Phila Pa 1976) 42(2):85–91. https://doi.org/10.1097/BRS.0000000000001680

Park JH, Kim DH, Kim BR, Kim YW (2018) The American society of Anesthesiologists score influences on postoperative complications and total hospital charges after laparoscopic colorectal cancer surgery. Medicine (Baltimore) 97(18):e0653. https://doi.org/10.1097/MD.0000000000010653

Glance LG, Kellermann AL, Osler TM, Li Y, Mukamel DB, Lustik SJ, Eaton MP, Dick AW (2014) Hospital readmission after noncardiac surgery: the role of major complications. JAMA Surg 149(5):439–445. https://doi.org/10.1001/jamasurg.2014.4

Bakar D, Tanenbaum JE, Phan K, Alentado VJ, Steinmetz MP, Benzel EC, Mroz TE (2016) Decompression surgery for spinal metastases: a systematic review. Neurosurg Focus 41(2):E2. https://doi.org/10.3171/2016.6.FOCUS16166

Chang HT, Chen CK, Lin MH, Chou P, Chen TJ, Hwang SJ (2016) Readmissions in cancer patients after receiving inpatient palliative care in Taiwan: a 9-year nationwide population-based cohort study. Med (Baltimore) 95(8):e2782. https://doi.org/10.1097/MD.0000000000002782

Mercadante S, Adile C, Ferrera P, Casuccio A (2017) Characteristics of advanced cancer patients who were readmitted to an acute palliative/supportive care unit. Support Care Cancer 25(6):1947–1952. https://doi.org/10.1007/s00520-017-3604-0

Elsamadicy AA, Adogwa O, Vuong VD, Mehta AI, Vasquez RA, Cheng J, Karikari IO, Bagley CA (2016) Patient body mass index is an independent predictor of 30-day hospital readmission after elective spine surgery. World Neurosurg 96:148–151. https://doi.org/10.1016/j.wneu.2016.08.097

Saleh A, Thirukumaran C, Mesfin A, Molinari RW (2017) Complications and readmission after lumbar spine surgery in elderly patients: an analysis of 2,320 patients. Spine J 17(8):1106–1112. https://doi.org/10.1016/j.spinee.2017.03.019

Flegal KM, Carroll MD, Kit BK, Ogden CL (2012) Prevalence of obesity and trends in the distribution of body mass index among US adults, 1999–2010. JAMA 307(5):491–497. https://doi.org/10.1001/jama.2012.39

Yoon YS, Oh SW (2017) Recent shift of body mass index distribution in Korea: a population-based korea national health insurance database, 2002–2013. J Korean Med Sci 32(3):434–438. https://doi.org/10.3346/jkms.2017.32.3.434

Elsamadicy AA, Adogwa O, Vuong VD, Mehta AI, Vasquez RA, Cheng J, Bagley CA, Karikari IO (2017) Association of intraoperative blood transfusions on postoperative complications, 30-day readmission rates, and 1-year patient-reported outcomes. Spine (Phila Pa 1976) 42(8):610–615. https://doi.org/10.1097/BRS.0000000000001803

Khanna R, Harris DA, McDevitt JL, Fessler RG, Carabini LM, Lam SK, Dahdaleh NS, Smith ZA (2017) Impact of anemia and transfusion on readmission and length of stay after spinal surgery: a single-center study of 1187 operations. Clin Spine Surg 30(10):E1338–E1342. https://doi.org/10.1097/BSD.0000000000000349
Ethics declarations
Conflict of interest
The authors declare that they have no conflict of interest.
Additional information
Publisher's Note
Springer Nature remains neutral with regard to jurisdictional claims in published maps and institutional affiliations.
Electronic supplementary material
Below is the link to the electronic supplementary material.
About this article
Cite this article
Oh, T.K., Ryu, JH., Han, JW.o. et al. Factors associated with a 30-day unplanned readmission after elective spine surgery: a retrospective cohort study. Eur Spine J 30, 191–199 (2021). https://doi.org/10.1007/s00586-020-06541-1
Received:

Revised:

Accepted:

Published:

Issue Date:

DOI: https://doi.org/10.1007/s00586-020-06541-1
Keywords