Abstract
Purpose
To compare transoral and endoscopic transnasal anterior release without odontoidectomy and posterior reduction and fixation to treat irreducible atlantoaxial dislocation (IAAD).
Methods
From June 2006 to January 2017, 35 consecutive patients with IAAD underwent transoral (Tr-Oral group) or endoscopic transnasal (Tr-Nasal group) release and posterior fixation and fusion in our department. Clinical neurological recovery (Japanese Orthopedic Association (JOA) score) and radiological reduction parameters including atlantodontoid interval (ADI), space available for the cord (SAC) and cervicomedullary angle (CMA) were analyzed and compared. The operation duration, blood loss, length of intensive care unit (ICU)/hospital stay and complications were recorded.
Results
All 35 patients (18 and 17 patients in the Tr-Oral and Tr-Nasal groups, respectively) were followed up for a mean of 36.4 months (range, 21–60 months). All patients achieved excellent anatomical reduction and clinical neurological recovery, with no significant differences between the two groups. The JOA score, ADI, SAC and CMA were not significantly different between the two groups at various postoperative points. Although the Tr-Oral group had shorter operation time and less blood loss than the Tr-Nasal group, the Tr-Nasal group tended to have a significantly shorter hospital/ICU stay, earlier extubation and earlier oral intake than the Tr-Oral group.
Conclusion
The transoral and endoscopic transnasal approaches can achieve equivalent release and reduction effects when treating IAAD. Compared to the transoral approach, the endoscopic transnasal route is less invasive with earlier extubation and oral intake, shorter hospital/ICU stays and lower medical costs, which is conducive to enhanced recovery after surgery.
Access options
Buy single article
Instant access to the full article PDF.
US$ 39.95
Tax calculation will be finalised during checkout.
Subscribe to journal
Immediate online access to all issues from 2019. Subscription will auto renew annually.
US$ 119
Tax calculation will be finalised during checkout.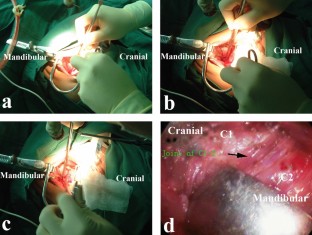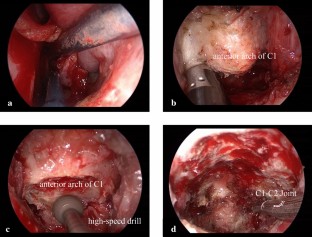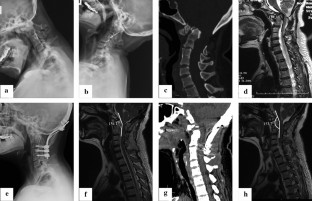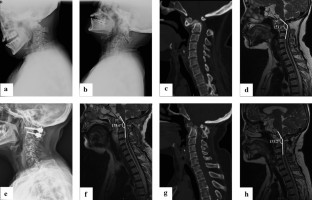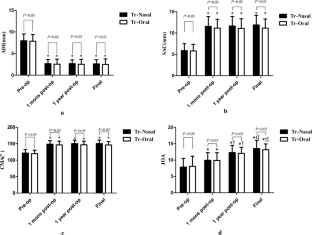 Data availability
The datasets analyzed during the current study are available from the corresponding author on reasonable request.
Funding
This study was funded by Capital Characteristic Clinical project of Beijing Municipal Science & Technology Commission (http: //www. bjkw.gov.cn/n8785584/index.html) (Grant No. Z161100000516009).
Ethics declarations
Conflict of interest
The authors declare that they have no conflict of interest.
Ethical approval
Our retrospective study was approved by the institutional ethics committee of the China-Japan Friendship Hospital.
Additional information
Publisher's Note
Springer Nature remains neutral with regard to jurisdictional claims in published maps and institutional affiliations.
Electronic supplementary material
Below is the link to the electronic supplementary material.
About this article
Cite this article
Dong, C., Yang, F., Wei, H. et al. Anterior release without odontoidectomy for irreducible atlantoaxial dislocation: transoral or endoscopic transnasal?. Eur Spine J 30, 507–516 (2021). https://doi.org/10.1007/s00586-020-06527-z
Received:

Revised:

Accepted:

Published:

Issue Date:
Keywords
Irreducible

Atlantoaxial dislocation

Anterior release

Transoral

Endoscopic transnasal