Abstract
Purpose
Separation of C2 growth plates and dens fractures are the most common types of injuries to the axis (C2) in children. Operative treatment of these injuries with the use of direct osteosynthesis requires a profound knowledge of detailed anatomy and dimensions of the axis. The main issue addressed by the study was the age at which the size of the dens is adequate at all levels to accommodate two screws, and the size of the posterior dens angulation angle (PDAA) in a healthy child in individual age periods.
Methods
Dimensions and angles of the dens and C2 in individual age categories in both boys and girls were measured in a series of 203 CT scans of individuals 0–18 years old and on anatomical specimens (42 samples). In addition, 5 histological series of this region from the fetal period were reviewed.
Results
Dimensions of the dens gradually increase with age, with a considerable acceleration during growth spurt periods that are different in boys and girls. PDAA is markedly changing with age; in the fetal period, the dens shows a slight anterior angulation which gradually transforms into posterior angulation, as early as between 4 and 6 years of age. The screw insertion angle changes accordingly.
Conclusion
During growth, there occur changes in PDAA that should be respected in evaluation of transformation of anterior into posterior angulation, as shown by imaging methods. Dens dimensions theoretically allow insertion of two 3.5 mm screws as early as from the age of 1 year.
Access options
Buy single article
Instant access to the full article PDF.
US$ 39.95
Tax calculation will be finalised during checkout.
Subscribe to journal
Immediate online access to all issues from 2019. Subscription will auto renew annually.
US$ 119
Tax calculation will be finalised during checkout.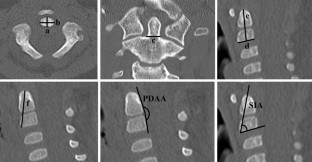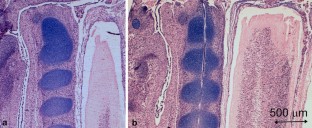 References
1.

Babu RA, Arivazhagan A, Devi BI et al (2016) Peculiarities and patterns of cervical spine injuries in children and adolescents: a retrospective series of 84 patients from a single institute. Pediatr Neurosurg 51:1–8. https://doi.org/10.1159/000439540

2.

Fassett DR, McCall T, Brockmeyer DL (2006) Odontoid synchondrosis fractures in children. Neurosurg Focus 20:E7. https://doi.org/10.3171/foc.2006.20.2.8

3.

Fulkerson DH, Hwang SW, Patel AJ, Jea A (2012) Open reduction and internal fixation for angulated, unstable odontoid synchondrosis fractures in children: a safe alternative to halo fixation? J Neurosurg Pediatr 9:35–41. https://doi.org/10.3171/2011.10.PEDS11256

4.

Tokunaga S, Ishii Y, Aizawa T et al (2011) Remodeling capacity of malunited odontoid process fractures in kyphotic angulation in infancy: an observation up to maturity in three patients. Spine 36:E1515–E1518. https://doi.org/10.1097/BRS.0b013e31820f6da6

5.

Huber H, Ramseier LE, Boos N (2010) Open mouth digital reduction of an odontoid synchondrosis fracture: a case report. J Pediatr Orthop 30:115–118. https://doi.org/10.1097/BPO.0b013e3181cefe45

6.

Godard J, Hadji M, Raul JS (1997) Odontoid fractures in the child with neurological injury. Direct anterior osteosynthesis with a cortico-spongious screw and literature review. Childs Nerv Syst 13:105–107. https://doi.org/10.1007/s003810050054

7.

Wang J, Vokshoor A, Kim S et al (1999) Pediatric atlantoaxial instability: management with screw fixation. Pediatr Neurosurg 30:70–78. https://doi.org/10.1159/000028766

8.

Castellana C, Kósa F (1999) Morphology of the cervical vertebrae in the fetal-neonatal human skeleton. J Anat 194:147–152. https://doi.org/10.1046/j.1469-7580.1999.19410147.x

9.

Ogden JA (1984) Radiology of postnatal skeletal development. XII. The second cervical vertebra. Skelet Radiol 12:169–177. https://doi.org/10.1007/bf00361083

10.

Çokluk C, Aydın K, Rakunt C et al (2006) The borders of the odontoid process of c2 in adults and in children including the estimation of odontoid/body ratio. Eur Spine J 15:278–282. https://doi.org/10.1007/s00586-005-0946-y

11.

Lee HJ, Kim JT, Shin MH et al (2015) Quantification of pediatric cervical spine growth at the cranio-vertebral junction. J Korean Neurosurg Soc 57:276–282. https://doi.org/10.3340/jkns.2015.57.4.276

12.

Koebke J, Saternus K-S (1986) Inclination of the odontoid process in children and adults—an anatomical and functional investigation. In: Wenker H, Klinger M, Brock M, Reuter F (eds) Spinal cord tumors experimental neurosurgery neurosurgical intensive care: advances in neurosurgery, vol 14. Springer, Berlin, pp 165–169

13.

Tubbs RS, Wellons JC, Blount JP et al (2003) Inclination of the odontoid process in the pediatric Chiari I malformation. J Neurosurg 98:43–49. https://doi.org/10.3171/spi.2003.98.1.0043

14.

Ladner TR, Dewan MC, Day MA et al (2015) Posterior odontoid process angulation in pediatric Chiari I malformation: an MRI morphometric external validation study. J Neurosurg Pediatr 16:138–145. https://doi.org/10.3171/2015.1.PEDS14475

15.

Štulík J, Hodasová G, Podhráský M et al (2019) Anatomy of the dens and its implications for fracture treatment: an anatomical and radiological study. Eur Spine J 28:317–323. https://doi.org/10.1007/s00586-018-5793-8

16.

Baumann F, Ernstberger T, Neumann C et al (2015) Pediatric cervical spine injuries: a rare but challenging entity. J Spinal Disord Tech 28:E377–E384. https://doi.org/10.1097/BSD.0000000000000307

17.

Piatt JH, Grissom LE (2011) Developmental anatomy of the atlas and axis in childhood by computed tomography. J Neurosurg Pediatr 8:235–243. https://doi.org/10.3171/2011.6.PEDS11187

18.

Gore PA, Chang S, Theodore N (2009) Cervical spine injuries in children: attention to radiographic differences and stability compared to those in the adult patient. Semin Pediatr Neurol 16:42–58. https://doi.org/10.1016/j.spen.2009.03.003

19.

Karwacki GM, Schneider JF (2012) Normal ossification patterns of atlas and axis: a CT study. AJNR Am J Neuroradiol 33:1882–1887. https://doi.org/10.3174/ajnr.A3105

20.

Hosalkar HS, Greenbaum JN, Flynn JM et al (2009) Fractures of the odontoid in children with an open basilar synchondrosis. J Bone Joint Surg Br 91:789–796. https://doi.org/10.1302/0301-620X.91B6.22173

21.

Rusin JA, Ruess L, Daulton RS (2015) New C2 synchondrosal fracture classification system. Pediatr Radiol 45:872–881. https://doi.org/10.1007/s00247-014-3224-5

22.

Gupta R, Narayan S (2015) Sublaminar wiring for odontoid synchondrotic fracture stabilization in a 4-year-old: a case report. Childs Nerv Syst 31:2185–2187. https://doi.org/10.1007/s00381-015-2770-y

23.

Labbe J, Peres O, Leclair O et al (2016) Posterior C1–C2 fixation using absorbable suture for type II odontoid fracture in 2-year-old child: description of a new technique and literature review. J Pediatr Orthop. https://doi.org/10.1097/BPO.0000000000000637

24.

Bapuraj JR, Bruzek AK, Tarpeh JK et al (2019) Morphometric changes at the craniocervical junction during childhood. J Neurosurg Pediatr 24:227–235. https://doi.org/10.3171/2019.4.PEDS1968

25.

Krmpotić-Nemanić J, Keros P (1972) Functional significance of adaptation of dens axis in the human. Verh Anat Ges 67:393–397
Funding
Supported by Ministry of Health, Czech Republic—conceptual development of research organization, Motol Univesity Hospital, Prague, Czech Republic 00064203—Jan Štulík. Petr Fojtík and Lucie Salavcová are grateful to Charles University for support in program of Specific University Research.
Ethics declarations
Conflict of interest
On behalf of all authors, the corresponding author states that there is no conflict of interest.
Ethics approval
We certify that the study was performed in accordance with the ethical standards as laid down in the 1964 Declaration of Helsinki and its later amendments.
Additional information
Publisher's Note
Springer Nature remains neutral with regard to jurisdictional claims in published maps and institutional affiliations.
About this article
Cite this article
Štulík, J., Geri, G., Salavcová, L. et al. Pediatric dens anatomy and its implications for fracture treatment: an anatomical and radiological study. Eur Spine J 30, 416–424 (2021). https://doi.org/10.1007/s00586-020-06490-9
Received:

Revised:

Accepted:

Published:

Issue Date:
Keywords
Pediatric C2 anatomy

Developmental changes

Posterior dens angulation angle

Screw insertion angle