Abstract
Purpose
Enhanced recovery after surgery (ERAS), still emerging for the spine, proposes a multimodal approach of perioperative care involving the optimization of every procedural step, with the patient in a proactive position regarding his/her management. We aimed to demonstrate a reduction in the length of hospital stay for ACDF without increasing the risk for patients by comparing 2 groups before and after ERAS implementation using propensity score (PS)-matched analysis.
Methods
We selected 2 periods of 1 year, before (n = 268 patients) and after ERAS implementation (n = 271 patients). Data were collected on patient demographics, operative and perioperative details, 90-day readmissions and morbidity. ERAS-trained nurses were involved to support patients at each pre/per/postoperative step with the help of a mobile app. A satisfaction survey was included. PS analyses were used for dealing with confounding bias in this retrospective observational study.
Results
After PS matching, the outcomes of 202 well-balanced pairs of patients were compared (conventional vs ERAS). LOS was reduced from 2.96 ± 1.35 to 1.40 ± 0.6 days (Student, p < 0.001). All 90-day surgical morbidity was similar between the 2 groups, including 30-day readmission (0.5% vs 0%; p = 1), 30- to 90-day readmission (0.5% vs 0.0%; p = 1), 90-day reoperation (0% vs 1%; p = 0.49), major complications (3.0% vs 3.5%; p = 1) and minor complications (2.0% vs 3.5%; p = 0.54). There was no significant difference concerning the satisfaction survey.
Conclusions
The introduction of ERAS for ACDF in our institution has resulted in a significant decrease in LOS, without causing an increase in postoperative complications and has maintained patients' satisfaction.
Access options
Buy single article
Instant access to the full article PDF.
USD 39.95
Price excludes VAT (USA)
Tax calculation will be finalised during checkout.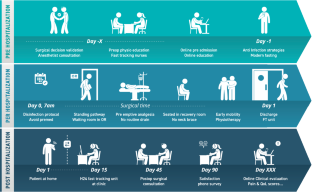 Acknowledgements
The authors are grateful to Antoine Guillain for his collaboration with the preparation of the manuscript and for the organization of the phone survey.
Funding
No funds were received in support of this work.
Ethics declarations
Conflict of interest
The authors report no conflict of interest.
Ethical approval
The manuscript submitted does not contain information about medical device(s)/drug(s).
Additional information
Publisher's Note
Springer Nature remains neutral with regard to jurisdictional claims in published maps and institutional affiliations.
About this article
Cite this article
Debono, B., Sabatier, P., Boniface, G. et al. Implementation of enhanced recovery after surgery (ERAS) protocol for anterior cervical discectomy and fusion: a propensity score-matched analysis. Eur Spine J 30, 560–567 (2021). https://doi.org/10.1007/s00586-020-06445-0
Received:

Revised:

Accepted:

Published:

Issue Date:

DOI: https://doi.org/10.1007/s00586-020-06445-0
Keywords