Abstract
Purpose
There is controversy regarding age-related deterioration of spinal sagittal alignment in cross-sectional study. Although we reported that deterioration in spinal alignment originated at the cervical spine in males and the pelvis in females, others studies have indicated that the lumbar spine is initially implicated in both sexes. The purpose of this study was to clarify these differences in a longitudinal cohort study.
Methods
Our analysis was based on 237 individuals aged 60–89 years who participated in our health screening study in 2014 and 2018. They were classified into six groups by birth year and sex: 60–69 years (26 males, 49 females); 70–79 years (35 males, 88 females); and 80–89 years (19 males, 20 females). The following parameters were measured from standing radiographs: pelvic tilt (PT), sacral slope (SS), lumbar lordosis (LL), thoracic kyphosis, T1 slope, cervical lordosis, C7 sagittal vertical axis (C7 SVA), and C2-7 SVA.
Results
In males, the first significant change was an increase in the PT angle (19°, in 2014, to 21°, in 2018) in the 80–89 years age group (P < 0.05), with no significant deterioration in cervical parameters. In females, spinal deterioration included a change in the SS (32°–30°), PT (18°–20°), and SVA (− 8 to 6 mm) in the 60–69 years age group (P < 0.05), with no change in the LL.
Conclusions
Contrary to prior studies, our longitudinal data indicated that deterioration in spinal alignment originates in the pelvis for both sex but develops earlier in females than males.
This is a preview of subscription content, log in to check access.
Access options
Buy single article
Instant access to the full article PDF.
US$ 39.95
Price includes VAT for USA
Subscribe to journal
Immediate online access to all issues from 2019. Subscription will auto renew annually.
US$ 199
This is the net price. Taxes to be calculated in checkout.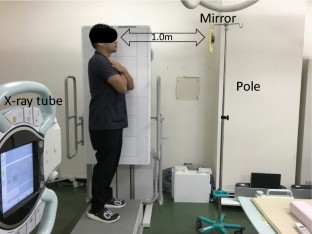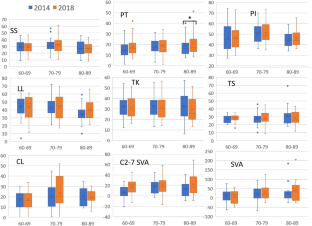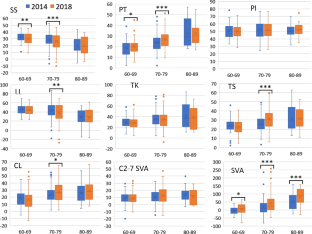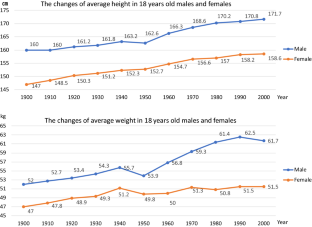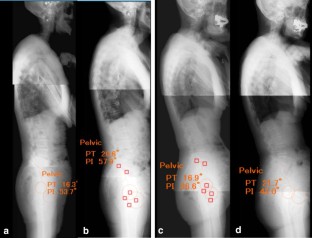 References
1.

Glassman SD, Bridwell K, Dimar JR et al (2005) The impact of positive sagittal balance in adult spinal deformity. Spine 30:2024–2029

2.

Schwab F, Dubey A, Pagala M et al (2003) Adult scoliosis: a health assessment analysis by SF-36. Spine 28:602–606

3.

Oe S, Togawa D, Nakai K et al (2015) The influence of age and sex on cervical spinal alignment among volunteers aged over 50. Spine 40:1487–1494

4.

Uehara M, Takahashi J, Ikegami S et al (2019) Sagittal spinal alignment deviation in the general elderly population: a Japanese cohort survey randomly sampled from a basic resident registry. Spine J 19:349–356

5.

Asai Y, Tsutsui S, Oka H et al (2017) Sagittal spino-pelvic alignment in adults: the Wakayama Spine Study. PLoS ONE 12:e0178697

6.

Zhu Z, Xu L, Zhu F et al (2014) Sagittal alignment of spine and pelvis in asymptomatic adults: norms in Chinese populations. Spine 39:E1–E6

7.

Mac-Thiong JM, Roussouly P, Berthonnaud E et al (2010) Sagittal parameters of global spinal balance: normative values from a prospective cohort of seven hundred nine Caucasian asymptomatic adults. Spine 35:E1193–E1198

8.

Vialle R, Levassor N, Rillardon L et al (2005) Radiographic analysis of the sagittal alignment and balance of the spine in asymptomatic subjects. J Bone Jt Surg Am 87:260–267

9.

Legaye J, Duval-Beaupère G, Hecquet J et al (1998) Pelvic incidence: a fundamental pelvic parameter for three-dimensional regulation of spinal sagittal curves. Eur Spine J 7:99–103

10.

Mendoza-Lattes S, Ries Z, Gao Y et al (2010) Natural history of spinopelvic alignment differs from symptomatic deformity of the spine. Spine 35:E792–E798

11.

Takemitsu Y, Harada Y, Iwahara T et al (1988) Lumbar degenerative kyphosis. Clinical, radiological and epidemiological studies. Spine 13:1317–1326

12.

Kim YB, Kim YJ, Ahn YJ et al (2014) A comparative analysis of sagittal spinopelvic alignment between young and old men without localized disc degeneration. Eur Spine J 23:1400–1406

13.

Milne JS, Lauder IJ (1974) Age effects in kyphosis and lordosis in adults. Ann Hum Biol 1:327–337

14.

Fon GT, Pitt MJ, Thies AC Jr (1980) Thoracic kyphosis: range in normal subjects. Am J Roentgenol 134:979–983

15.

Oe S, Togawa D, Yoshida G et al (2018) Effects of mirror placement on sagittal alignment of the spine during acquisition of full-spine standing X-Rays. Eur Spine J 27:442–447

16.

Genant HK, Wu CY, van Kuijk C et al (1993) Vertebral fracture assessment using a semiquantitative technique. J Bone Miner Res 8:1137–1148

17.

Kobayashi T, Atsuta Y, Matsuno T et al (2004) A longitudinal study of congruent sagittal spinal alignment in an adult cohort. Spine 29:671–676

18.

Statistics Bureau, Ministry of Internal Affairs and Communications in Japan: Specific age and gender height (Table 24-3) and Specific age and gender weight (Table 24-4). https://www.stat.go.jp/data/chouki/24.html. Accessed 3 Oct 2019

19.

Bailey JF, Sparrey CJ, Williams FMK et al (2020) The effect of parity on age-related degenerative changes in sagittal balance. Spine (Phila Pa 1976) 45:E210-6
Acknowledgements
The study protocol was approved by the institutional review board of Hamamatsu University School of Medicine, Shizuoka, Japan (IRB No. 201201).
Funding
Shin Oe and Yu Yamato are members of the Division of Geriatric Musculoskeletal Health which is funded by a donor. Medtronic Sofamor Danek Inc. Japan Medical Dynamic Marketing Inc. Meitoku Medical Institution Jyuzen Memorial Hospital. We have not received funding from the NIH or HHMI.
Ethics declarations
Conflict of interest
Tomohiko Hasegawa, Go Yoshida, MD, Sho Kobayashi, Tatsuya Yasuda,Tomohiro Banno, Hideyuki Arima, Yuki Mihara, Hiroki Ushirozako, Tomohiro Yamada, Koichiro Ide, Yuh Watanabe, Daisuke Togawa, Haruo Niwa, and Yukihiro Matsuyama has no conflict of interest.
Additional information
Publisher's Note
Springer Nature remains neutral with regard to jurisdictional claims in published maps and institutional affiliations.
The original article has been revised to update the figure 3.
About this article
Cite this article
Oe, S., Yamato, Y., Hasegawa, T. et al. Deterioration of sagittal spinal alignment with age originates from the pelvis not the lumbar spine: a 4-year longitudinal cohort study. Eur Spine J (2020). https://doi.org/10.1007/s00586-020-06431-6
Received:

Revised:

Accepted:

Published:
Keywords
Spinal alignment

Longitudinal cohort study

Sex difference

Spinal deformity

Age-related change