Abstract
Purpose
This study aims at evaluating the effects of RTS (rotation softened trauma fixation system) compared with PCPSF (percutaneous conventional pedicle screw fixation) on type A thoracolumbar fractures.
Methods
In this retrospective cohort study, 116 patients with type A thoracolumbar fractures from March 2014 to June 2018 were enrolled. PCPSF was performed in 60 patients, meanwhile the other 56 patients accepted RTS. VAS scores, Cobb angle, anterior vertebral height (AVH) and perioperative data were compared between the two groups.
Results
Both groups were consistent with baseline on demographic and clinical characteristics. No significant difference was observed in VAS score between-group before and after operation. One year after surgery, the VAS score of RTS group was lower than that of PCPSF group (0.7 ± 0.3 vs. 1.5 ± 0.4). The postoperative AVH (%) in PCPSF was 82.3% (95%CI, 81.7–84.6), and 91.78% (95% CI, 91.1–92.4) in RTS. The postoperative improvement rate of AVH (%) in RTS was higher than that in PCPSF (30.6 ± 5.0 [95% CI, 29.2–32.0] vs. 22.0 ± 7.3 [95% CI, 20.2–24.2]). The postoperative Cobb angle (°) in PCPSF was 2.6 ± 3.4 (95%CI,11.7–13.5), and 7.5 ± 2.0 (95%CI,7.0–8.0) in RTS. The postoperative correction of Cobb angle (°) in RTS was higher than that in PCPSF (16.1 ± 3.8 95%CI,15.1–17.1] vs. 11.6 ± 5.2 95%CI,10.3–13.1]).
Conclusions
Compared with PCPSF, RTS has advantages in restoring the anterior vertebral height and reducing local kyphosis.
Access options
Buy single article
Instant access to the full article PDF.
US$ 39.95
Tax calculation will be finalised during checkout.
Subscribe to journal
Immediate online access to all issues from 2019. Subscription will auto renew annually.
US$ 119
Tax calculation will be finalised during checkout.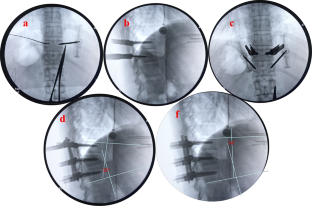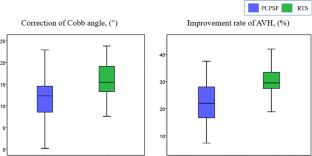 References
1.

Hu R, Mustard CA, Burns C (1996) Epidemiology of Incident Spinal Fracture in a Complete Population [J]. Spine 21(4):492–499

2.

Spiegl UJ, Fischer K, Schmidt J, Schnoor J, Delank S, Josten C, Schulte T, Heyde CE (2018) The conservative treatment of traumatic thoracolumbar vertebral fractures. Dtsch Arztebl Int 115(42):697–704

3.

Shimer AL, Su BW (2010) Operative versus nonoperative treatment of thoracolumbar burst fractures. Semin Spine Surg 22(1):38–43

4.

Magel F, Aebi M, Gertzbein SD et al (1994) A comprehensive classification of thoracic and lumbar injuries [J]. Eur spine J. 3(4):184

5.

Kocis J, Kelbl M, Kocis T, Návrat T (2018) Percutaneous versus open pedicle screw fixation for treatment of type A thoracolumbar fractures. Eur J Trauma Emerg Surg. 46(1):147–152

6.

Li K, Li Z, Ren X, Xu H, Zhang W, Luo D, Ma J (2016) Effect of the percutaneous pedicle screw fixation at the fractured vertebra on the treatment of thoracolumbar fractures. Int Orthop 40(6):1103–1110

7.

Siebenga J, Leferink VJM, Segers MJM, Elzinga MJ, Bakker FC, Haarman HJTM, Henk TM, Rommens PM, Patka P (2006) Treatment of traumatic thoracolumbar spine fractures: a multicenter prospective randomized study of operative versus nonsurgical treatment. Spine 31(25):2881–2890

8.

Alanay A, Acaroglu E, Yazici M, Oznur A, Surat A (2001) Short-segment pedicle instrumentation of thoracolumbar burst fractures: does transpedicular intracorporeal grafting prevent early failure? Spine 26(2):213–217

9.

Willen J, Anderson J, Toomoka K et al (1990) The natural history of burst fractures at the thoracolumbar junction. J Spinal Disord 3:39–46

10.

Norton RP, Milne EL, Kaimrajh DN, Eismont FJ, Latta LL, Williams SK (2014) Biomechanical analysis of four- versus six-screw constructs for short-segment pedicle screw and rod instrumentation of unstable thoracolumbar fractures. Spine J 14(8):1734–1739

11.

Stagnara P, De Mauroy JC, Dran G et al (1982) Reciprocal angulation of vertebral bodies in a sagittal plane: approach to references for the evaluation of kyphosis and lordosis. Spine 7:335–342

12.

Ailon T, Shaffrey CI, Lenke LG, Harrop JS, Smith JS (2015) Progressive spinal kyphosis in the aging population. Neurosurgery 77(Suppl 4):S164–172

13.

Choi MK, Jo DJ, Park CK (2019) Late-onset neurological deficits induced by proximal adjacent segment degeneration related to severe post-tuberculous kyphotic deformities of the spine: a series of 7 cases and surgical correction concept. J Neurosurg Spine 31(3):418–423. https://doi.org/10.3171/2019.3.SPINE18937

14.

Shahidi B, Hubbard JC, Gibbons MC, Ruoss S, Zlomislic V, Allen RT, Garfin SR, Samuel R, Ward SR (2017) Lumbar multifidus muscle degenerates in individuals with chronic degenerative lumbar spine pathology. J Orthop Res 35(12):2700–2706

15.

Hebert JJ, Fritz JM, Thackeray A, Koppenhaver SL, Teyhen D (2015) Early multimodal rehabilitation following lumbar disc surgery: a randomised clinical trial comparing the effects of two exercise programmes on clinical outcome and lumbar multifidus muscle function. Br J Sports Med 49(2):100–106

16.

Goubert D, De Pauw R, Meeus M, Willems T, Cagnie B, Schouppe S, Schouppe S, Van Oosterwijck J, Dhondt E, Danneels L (2017) Lumbar muscle structure and function in chronic versus recurrent low back pain: a cross-sectional study. Spine J 17(9):1285–1296

17.

Sions JM, Elliott JM, Pohlig RT, Hicks GE (2017) Trunk muscle characteristics of the multifidi, erector spinae, psoas, and quadratus lumborum in older adults with and without chronic low back pain. J Orthop Sports Phys Ther 47(3):173–179

18.

Xu GJ, Li ZJ, Ma JX, Zhang T, Fu X, Ma XL (2013) Anterior versus posterior approach for treatment of thoracolumbar burst fractures:a meta-analysis. Eur Spine J 22:2176–2183

19.

Walker CT, Xu DS, Godzik J, Turner JD, Uribe JS, Smith WD (2018) Minimally invasive surgery for thoracolumbar spinal trauma. Ann Transl Med 6(6):102
Ethics declarations
Conflict of interest
The authors report no conflict of interest concerning the materials or methods used in this study or the findings specified in this paper.
Additional information
Publisher's Note
Springer Nature remains neutral with regard to jurisdictional claims in published maps and institutional affiliations.
About this article
Cite this article
Jiang, W.q., Ke, Z.y., Wu, K. et al. Effect of RTS versus percutaneous conventional pedicle screw fixation on type A thoracolumbar fractures: a retrospective cohort study. Eur Spine J 29, 2484–2490 (2020). https://doi.org/10.1007/s00586-020-06418-3
Received:

Revised:

Accepted:

Published:

Issue Date:
Keywords
Thoracolumbar fracture

RTS

Percutaneous pedicle screw fixation

Vertebral height