Abstract
Purpose
The purpose of the present paper is (1) to describe the occupational distribution of persons with incident back disorders and (2) to determine the incidence rate ratio (RR) for back pain amongst patients working in specific occupation groups.
Methods
Using Danish registries, a total of 20,921 employed persons with incidents back disorders aged 18–64 years were identified in 2016 based on the inclusion criteria from the Danish Back Register. RR was estimated to test for differences in incident back disorder diagnoses across occupations. Pearson's Chi-square test was used to test for homogeneity in back disorder incidence across occupations.
Results
The distribution of back disorder incidence for employed is above the distribution of employment in the background population for all age groups above 35 years. For employed women the three occupation groups with the highest RR of back pain incidence are: 'water, sewage and waste'; 'residential institutions and home care'; and 'transport of passengers', while similarly, amongst employed men: 'hairdressers and other personal care'; 'hospitals'; and 'cleaning'. RR of incident back pain disorders is lowest for women employed in 'universities and research' and for men employed in 'IT and telecommunications'.
Conclusions
This study is the first to investigate the occupational status and RR of back disorder incidence across occupation groups in Denmark. The distribution of back pain disorder incidents in the cross-sectional study is weighted to occupation groups involving hard physical activity. This evidence may be useful for considering work environment or pension reforms.
Graphic abstract
These slides can be retrieved under Electronic Supplementary Material.

Access options
Buy single article
Instant access to the full article PDF.
USD 39.95
Price excludes VAT (USA)
Tax calculation will be finalised during checkout.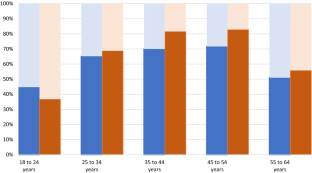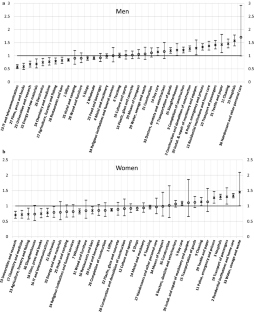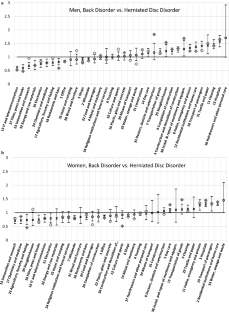 References
Hoy D, Bain C, Williams G, March L, Brooks P, Blyth F, Woolf A, Vos T, Buchbinder R (2012) A systematic review of the global prevalence of low back pain. Arthritis Rheum 64(6):2028–2037. https://doi.org/10.1002/art.34347

Schneider S, Lipinski S, Schiltenwolf MJESJ (2006) Occupations associated with a high risk of self-reported back pain: representative outcomes of a back pain prevalence study in the Federal Republic of Germany. Eur Spine J 15(6):821–833. https://doi.org/10.1007/s00586-005-1015-2

Hartvigsen J, Hancock MJ, Kongsted A, Louw Q, Ferreira ML, Genevay S, Hoy D, Karppinen J, Pransky G, Sieper JJTL (2018) What low back pain is and why we need to pay attention. Lancet 391(10137):2356–2367

Foster NE, Anema JR, Cherkin D, Chou R, Cohen SP, Gross DP, Ferreira PH, Fritz JM, Koes BW, Peul W (2018) Prevention and treatment of low back pain: evidence, challenges, and promising directions. Lancet 391(10137):2368–2383

Sundstrup E, Andersen LL (2017) Hard physical work intensifies the occupational consequence of physician-diagnosed back disorder: prospective cohort study with register follow-up among 10,000 workers. Int J Rheumatol. https://doi.org/10.1155/2017/1037051

Bevan S (2015) Economic impact of musculoskeletal disorders (MSDs) on work in Europe. Best Pract Res Clin Rheumatol 29(3):356–373

Hoy D, March L, Brooks P, Blyth F, Woolf A, Bain C, Williams G, Smith E, Vos T, Barendregt J (2014) The global burden of low back pain: estimates from the Global Burden of Disease 2010 study. Ann Rheum Dis 73(6):968–974

Cunningham C, Flynn T, Blake C (2006) Low back pain and occupation among Irish health service workers. Occup Med (Lond) 56(7):447–454. https://doi.org/10.1093/occmed/kql056

Walker BF (2000) The prevalence of low back pain: a systematic review of the literature from 1966 to 1998. J Spinal Disord 13(3):205–217

Regionernes kliniske kvalitetsudviklingsprogram Dansk Rygdatabase. https://www.rkkp.dk/om-rkkp/de-kliniske-kvalitetsdatabaser/dansk-rygdatabase/. Accessed Mar 2019

Xu Y, Bach E, Ørhede E (1996) Occupation and risk for the occurrence of low-back pain (LBP) in Danish employees. Occup Med 46(2):131–136

Halonen JI, Shiri R, Mänty M, Sumanen H, Solovieva S, Viikari-Juntura E, Kähönen M, Lehtimäki T, Raitakari OT, Lallukka T (2019) Exposure to heavy physical work from early to later adulthood and primary healthcare visits due to musculoskeletal diseases in midlife: a register linked study. BMJ Open 9(8):e031564

Lallukka T, Viikari-Juntura E, Viikari J, Kähönen M, Lehtimäki T, Raitakari O, Solovieva S (2017) Early work-related physical exposures and low back pain in midlife: the cardiovascular risk in Young Finns study. Occup Environ Med 74(3):163–168

Lynge E, Sandegaard JL, Rebolj M (2011) The Danish national patient register. Scand J Public Health 39(7_suppl):30–33. https://doi.org/10.1177/1403494811401482

Schmidt M, Pedersen L, Sørensen HT (2014) The Danish civil registration system as a tool in epidemiology. Eur J Epidemiol 29(8):541–549. https://doi.org/10.1007/s10654-014-9930-3

Dansk Rygdatabase—National Klinisk Kvalitetsdatabase (2017) DaRD, Beskrivelse af indikatorer

Det Nationale Forskningscenter for Arbejdsmiljø (2017) Danskernes arbejdsmiljø 2016. Denmark

Bern Uo (2009) STROBE statement—checklist of items that should be included in reports of cross-sectional studies STROBE statement. https://www.strobe-statement.org/fileadmin/Strobe/uploads/checklists/STROBE_checklist_v4_cross-sectional.pdf. Accessed Mar 2019

Fulmer S, Buchholz B, Scribani M, Jenkins P (2017) Musculoskeletal disorders in Northeast lobstermen. Saf Health Work 8(3):282–289. https://doi.org/10.1016/j.shaw.2016.12.004

Det Nationale Forskningscenter for Arbejdsmiljø, Arbejdsmiljøakademiet, Arbejdsmiljørådgiverne (2019) Anbefalinger til rådgivning om smerter i muskler og led på arbejdspladsen—en sammenfatning af evidens og praktiske erfaringer
Ethics declarations
Conflict of interest
The authors declare that they have no conflict of interest.
Additional information
Publisher's Note
Springer Nature remains neutral with regard to jurisdictional claims in published maps and institutional affiliations.
Electronic supplementary material
Below is the link to the electronic supplementary material.
About this article
Cite this article
Wiben, A., Skovsgaard, C.V., Schiøttz-Christensen, B. et al. Back disorder incidence and occupation in Denmark: a cross-sectional register-based study. Eur Spine J 29, 1860–1869 (2020). https://doi.org/10.1007/s00586-020-06382-y
Received:

Revised:

Accepted:

Published:

Issue Date:

DOI: https://doi.org/10.1007/s00586-020-06382-y
Keywords